This post may contain affiliate links, meaning that if you click and make a purchase, I may earn a commission at no additional cost to you. Read the full disclosure here.
Last Updated: June 4, 2023
As the spouse of a French citizen, I recently renewed my carte de séjour "vie privée et familiale" (CdS VPF). This residence permit allows me to continue living and working in France and has a duration of two years.
At the time of this renewal, I was holding a one-year temporary CdS VPF because I switched to the VPF status while in France on a long-stay visitor visa shortly after marriage to a Frenchman. Whether you hold a temporary one-year card or you simply have a visa sticker in your passport, this post applies to you.
**Please note that the following post is my personal experience in Paris and at the Paris préfecture at Cité. I cannot guarantee that others will have the same exact experience. This post does not constitute legal advice.
Renewal Versus First Request
Whether you have a visa in your passport or a temporary one-year carte de séjour "vie privée et familiale" (CdS VPF), when your titre de séjour is close to expiration, you will need to apply for a renewal. Even for a spouse visa sticker in the passport, this process is considered a renewal and not a first request. It would be considered a first request only if you do not currently hold the "vie privée et familiale" status.
➡️ Note: If you do not yet have the status of "vie privée et familiale" and would like to learn more about this status and/or change to this status, check out my post about how I got the carte de séjour "vie privée et familiale" through marriage after arriving on a long-stay visitor visa.
When to Renew
You are expected to apply for a renewal in the two months prior to your visa or card expiring. This is your responsibility. I have heard that some préfectures send a reminder notification but in Paris, no one reminds you to renew your residence permit. If you are late to renew, you may be asked to pay a fee.
It's important to check the website of your préfecture to inform yourself of the current procedure. It seems that most préfectures are moving towards an online submission process for renewals, but many have not made the transition yet. Depending on your préfecture, you will either be expected to mail in your dossier, submit your file online, or turn in all your paperwork in person. If you need to submit paperwork in person, be sure to check for appointments early on as openings can be hard to come by.
In Paris, renewals are done in person, and you can schedule an appointment online. You may be given a convocation for the central préfecture at Cité or you may be sent to the Centre de réception d'étrangers in the 9th arrondissement. My renewal appointment in August 2021 was at Cité, but I've heard from a number of people who were sent to a smaller office in the 9th.
⚠️ Update (June 2023): As of April 2023, the Paris préfecture has moved to the online télé-procedure for renewals of the visa or carte de séjour "vie privée et familiale" for certain family members of French citizens, like spouses. Using this procedure, your request should be submitted between two and four months before the expiration of your titre de séjour. After some initial trouble trying to log in and request my renewal, I am now able to do so! Check back for an update with more details! NOTE: The rest of this post has not been updated yet to reflect this new procedure. However, many of the documents and requirements mentioned are still current practice.
Fees and Cost of the Card
The total cost for this procedure and card is 225 euros (about 266 USD). If you are late to renew, you may be subject to a fee of 180 euros (about 211 USD).
You will settle your balance upon receiving your card and not when you submit your paperwork. All fees will be paid by timbres fiscaux.
Required Paperwork
As the spouse of a French citizen applying for this renewal through marriage, I supplied the most recent relevant document in each case. For example, I brought our most recent rent payment and not evidence of our rent payments for every month over the course of the past year.
It is important to note that the first time you apply for this card, you may be subject to more scrutiny. During my appointment to change to this status as a first request, they were highly critical of the documents that we brought and wanted a great deal of evidence of our life together. This time, our agent just glanced at the documents, piled them up, and checked things off their list. Be prepared for anything!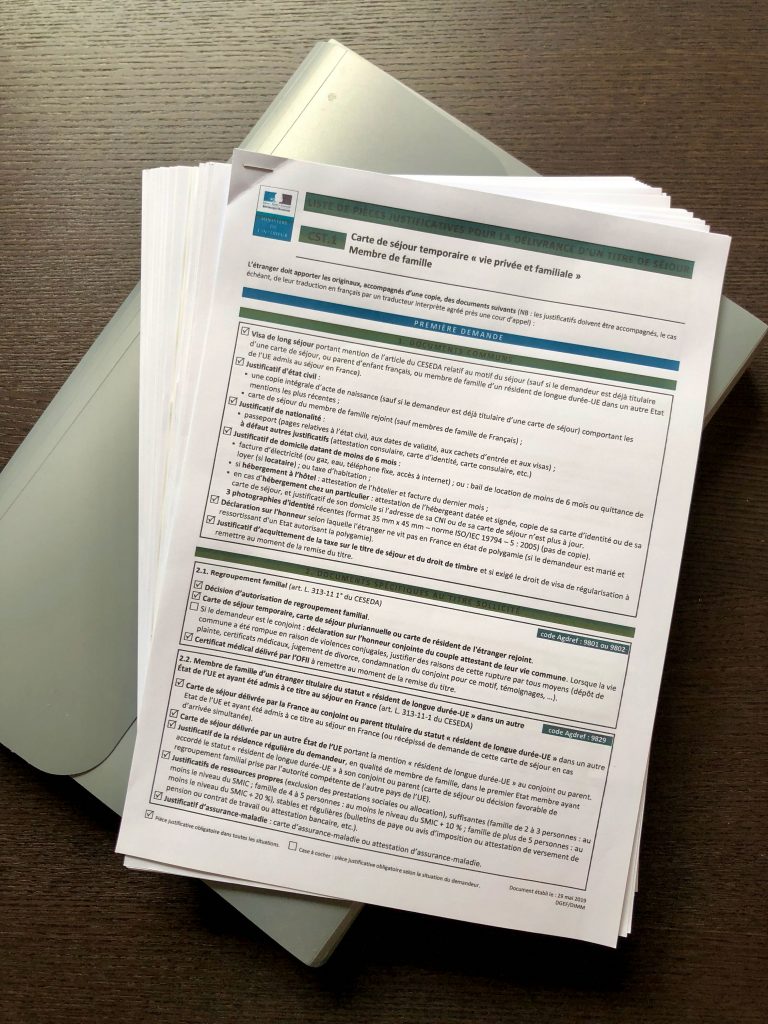 Here is the list of required documents (in French) as well as the application for the carte de séjour "vie privée et familiale":
Appointment convocation printed out

The Paris préfecture is very strict about only allowing in people with an appointment.

Fiche ETR—Titre de séjour application

This application is used regardless of the residence permit you are applying for. They hand out the latest version in the préfecture de Paris. Your préfecture will likely have their own version of this form.
Identification & Proof of Address
Carte de séjour (if you already have one) & photocopy
Passport and photocopies of ID page, visa(s), and any pages that have stamps (particularly into or out of France)
Birth certificate with apostille and translation (by a certified translator) dated within six months

A birth certificate is only needed if you do not have a carte de séjour yet
Since American birth certificates are never updated, there is no need to get a new birth certificate, and I've been able to turn in an "old" one on more than one occasion

2 photos

The list of documents indicates 3 photos, but this is the second time that they've only taken 2 photos. One is to make the récépissé (paper receipt) for you and the other is for the card itself

Justificatif de domicile—Proof of address

Pretty much anything in the Vie commune section below will work for this
My French Husband's Paperwork
Passport & photocopy of ID page
Husband (optional 😂)

Jonathan came with me when I did the first request for the carte de séjour as well as this renewal. However, the agent in Paris told us that I could have just brought his passport because the spouse's presence is not required for the renewal. Personally, I'd rather he just come with me so that we can suffer together. That's what marriage is, isn't it?
**Please note that this anecdote is specific to Paris. If it's your first time going to the préfecture, definitely bring your partner. And in any case, check to see if your préfecture requires your partner's presence. If in doubt, it's probably better that you go there together!
Vie commune
If you qualify for this card as the spouse of a French citizen, the préfecture wants to see that you have a legitimate vie commune (life together). From what I understand, proof of vie commune has to come in the form of a document with both partners' names on it, or else both partners need to supply the same document showing they both receive a service at the same address. For example, Jonathan and I have top-up health insurance (mutuelle). The proof of this has both of our names on it. Individually, we are both enrolled in the national health insurance program, and our individual proof of this is at the same address.
You should bring as many documents as possible. Here is what we brought:
Attestation de vie commune—Simple document saying that you have established a life together for X amount of time
Acte de mariage—Recent marriage certificate dated within three months
Avis d'échéance—Rent & rental fees payment notice
Quittance de loyer—Rent payment receipt
Assurance habitation—Renter's insurance
EDF (titulaire de contrat, facture)—Electricity (contract, bill)
Mutuelle, justificatif d'assurance—Proof of joint top-up health insurance
Attestation de droits à l'assurance maladie—Proof of enrollment in national health insurance (Ameli)
Taxe d'habitation—Residence tax
Avis d'impôt—Income tax statement (needs to be a joint return)
Other examples of paperwork to bring:
Contrat de bail—Rental contract
Relevé de comptebancaire—Bank statement

Either a joint bank account or separate accounts at the same address

Facture Internet—Internet bill
Facture Mobile—Cell Phone bill
**If your home country allows polygamy, you need a sworn statement saying that you are not practicing polygamy.
OFII Obligations
In order to qualify for the 2-year card, you need to have completed your requirements with OFII (l'Office de l'Immigration et de l'Intégration), namely, go to a medical exam, sign the integration contract, prove A1 level of French, and attend four civics classes. I initially arrived in France on a long-stay visitor visa so I completed the medical exam after validating my visa and fulfilled the other requirements with OFII after I switched to the spouse card (CdS VPF).
In Paris, I was given certificates at each step of the process. We were instructed to hold onto these papers in order to present them to the Paris préfecture upon renewal. Not all OFII offices do it this way. It is possible that your local Office of Immigration sends your information directly to the préfecture. Just bring whatever you have. Likewise, if you were excused from any or all of these requirements, bring evidence of that.
If you were unable to complete these requirements in your first year, you will likely still be able to renew your residence permit, but you may only be granted the one-year temporary card.
I gave the agent photocopies and kept the originals for my records. I also have all of these certificates scanned to my computer.
Certificat de contrôle médical—Medical Exam certificate

Unless you already handed it in while on another status

Contrat d'intégration républicain (CIR)—Integration contract
A1 language certificate and/or completion of language classes

I was excused from the language classes and was given an Attestation de dispense de formation linguistique

Formation civique—Series of four civics classes

I was given an Attestation nominative de presence at the end of each civics class
---
Still have questions?
---
The Appointment at the Préfecture
➡️ Note: While your French partner's presence is generally required for a first request, the agent at the Paris préfecture told us that my husband didn't need to be there for the renewal. There probably won't be any problem with your spouse accompanying you, but apparently, I could have just brought his passport. Check with your préfecture to see what the expectation is so that you can have a successful appointment.
At the Paris préfecture at Cité, the security officers outside typically won't let you in any earlier than 30 minutes before your scheduled appointment time. First, you'll cue for security. It's fast and easy and quite similar to going through security for a museum.
Then, you have to find the correct room. The signage in the main préfecture has been improved and updated with colors! As an American, renewing a family visa to stay in France, we reported to Salle 4 (bleu), which was located near stairwell F, on the ground floor. Just look for the blue signs!
Upon entering Room 4, I signed in with the receptionist who asked for my convocation, checked me off on her list, and gave me a numbered ticket. In the waiting area, there is a small electronic screen that displays the current number being called and the window to report to.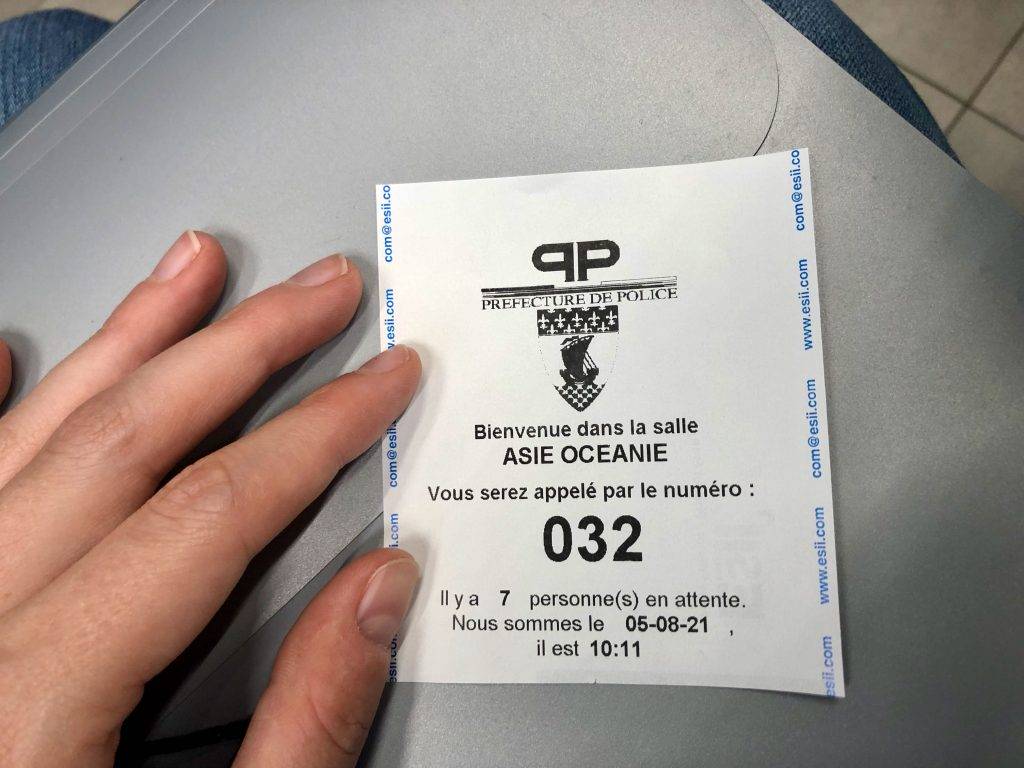 Our meeting with the préfecture employee was quick and easy. He collected all of the paperwork, checked it off his list, and neatly piled it up. I don't think we spent anymore than 20 minutes total with the agent.
This renewal felt like a simple formality. Unlike our first request, we didn't have to wait for someone to make a decision about our paperwork. It was clear that he was satisfied, and he printed out my récépissé right away. This paper receipt is valid for six months in conjunction with my expiring titre de séjour.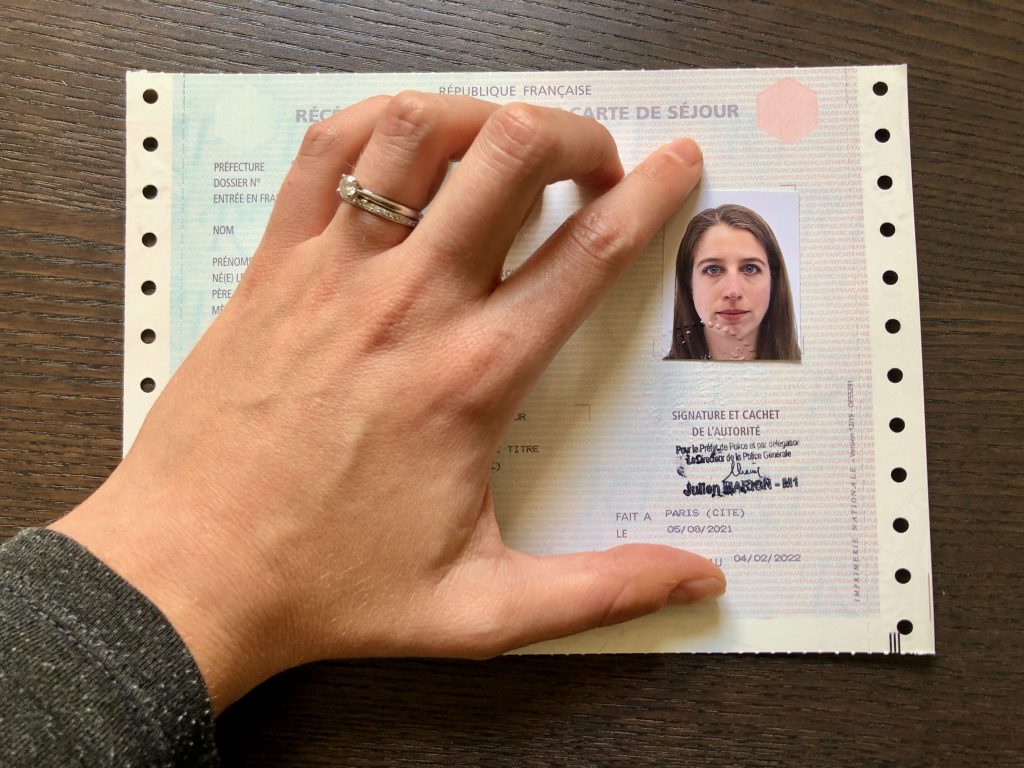 So nice to get in this appointment before my two-year France-versary!
Processing Times
After your paperwork has been accepted, the card itself can take several weeks to be printed. This is all dependent on your préfecture and where they are at with processing paperwork. It's hard to say for sure when you can expect to have your card, but as long as you have your récépissé, there is generally no need to worry about it.
Be sure to ask about processing times when you are at your appointment so you can get an idea of the expected timeframe which will allow you to follow up if necessary. The Paris préfecture told me that my card would be ready in about a month and a half, and I'll update this post when I actually get to pick it up! When I applied as a first request last year, I was able to pick up my card two months after the in-person appointment.
UPDATE: After waiting 2 months with no word, I called the Paris préfecture to get an update on my file. Apparently, the card was ready. I was able to secure an appointment to pick up my card for a few weeks after my call. See more details below on the steps you should follow.
Picking Up the Carte de séjour
In Paris, when your card is ready, you should be notified via text message. Then you can schedule an appointment time to pick up your card. On the appointment website, you can select any guichet (desk/window). It seriously does not matter. They are all in the same room. It's just a poorly designed website experience.
What to Bring
Appointment convocation
Passport
Current titre de séjour (carte de séjour or visa)
Récépissé
Timbre électronique/Timbre fiscal (same thing—two different names)

225 euros (about 266 USD)
The tax is paid online, but you need to provide proof of purchase. You have a few options for receiving the scannable code. I recommend having the PDF emailed to you and then downloading it to your phone. In my experience, the Paris préfecture did not have any trouble scanning the QR code directly from my phone.
On the day you pick up your card, you will enter the préfecture the same way you did to apply for the card. There is a room designated for handing out residence permits (Salle des remises—Salle 1). It's on the ground floor. Look for the purple signs!
Once inside, the process is again the same as the first appointment. You receive a ticket from the receptionist and wait for your number to be shown on the electronic calling system. When it's your turn, you'll hand over all your documents, show the timbre fiscal, and sign a paper in order to receive your official plastic card. You should be in and out in under an hour.
➡️If you're not sure if your carte de séjour is ready or if you're struggling to schedule an appointment time to pick up your residence permit, check out this guide: How to Pick Up Your Carte de Séjour at the Paris Préfecture. There are some tips in this article that can be applied to other préfectures as well.
---
Did this guide help you? Say thanks with a cup of coffee!

---
CdS Duration & Next Steps
The carte de séjour pluriannuelle for this status has a duration of two to four years. The length of validity is at the discretion of the prefecture. You can opt to renew this card every few years, but that sounds like a major pain. Fortunately, there are other options.
10-year Residence Card
After three years of marriage to a French citizen, you are eligible for the 10-year carte de résident. You largely need to provide the same amount of paperwork and pay the same tax amount. One of the big differences is that you need to show that you have attained at least a level A2 level of French. As long as you provide this language certificate, you will be automatically granted the 10-year card.
According to the Paris préfecture officer that I sat down with, you can apply for this card as soon as you hit the three-year mark. There is no need to wait for your card to expire. Typically, many préfectures will not process a change or renewal of this nature until your current residence permit is due to expire, so I was quite surprised that the agent mentioned this, and I am unsure if they would actually honor this request in practice.
Nationality
After 4 years of marriage to a French citizen, you are potentially eligible to apply for nationality, a process that can take a year or more total but only costs 55 euros. The language requirement for nationality is level B1 in both speaking and writing. There is other paperwork needed that can be found here. I plan on applying as soon as I am eligible!
How to Renew Your Visa or Carte de séjour "vie privée et familiale"