This post may contain affiliate links, meaning that if you click and make a purchase, I may earn a commission at no additional cost to you. Read the full disclosure here.
I am writing this post as an American, planning to marry a Frenchman and settle in France. In the summer of 2019, I applied for and received a visa long séjour valant titre de séjour (VLS-TS), a long-stay visa that acts as a temporary residence permit after validation. Having arrived at the beginning of September, I am currently navigating the next steps of the visa process and our upcoming civil ceremony. While some information in this post is very specific to this particular case, much of the information here, regarding the visa process, can be applied towards other types of long-stay visas.
**Please note that the following post is my personal experience and I cannot guarantee that others will have the same exact experience. I hope that you find useful information here, but do keep in mind that you should proceed based on your own unique situation. Also note that requirements can and do change! Use this post as a starting point, but stay up to date on the information that is supplied on government websites.

The Long-Stay Visitor Visa
When I started the visa process, I had a lot of questions, and I found it difficult to locate reliable and up-to-date information. As a direct result of this, I decided that if I managed to get through it all and be granted a visa, I would start a blog to help others figure it out. Well, here I am! My biggest source of information was other blogs. However, while I did find a few blogs addressing how to get the visa process started as the spouse of a French citizen, I never found a blog that spoke of the process as someone who was not yet married. I turned to comment sections for advice and ultimately used my best judgment when deciding how to proceed.
Given that my plan in the long run is a permanent move to France, I knew that a long-stay visa would be best to start out with, but I was unsure how to indicate the category of my visa and to make the purpose of my stay clear. It's not as simple as choosing a long-stay visa. You have to know the type: spouse, worker, visitor, etc. In my case, I wanted to make sure I selected the visa that would allow me to get married and then apply for a residence card later.
---
Are you in the beginning stages of figuring out how to move to France to join your French partner? I know there's a lot to sort through and figure out. Allow me to lay out your options and provide you with a roadmap for success.
---
The former long-stay visa application, which was used before VFS Global began handling applications, had a box to check if you intended to get married in France. The new application does not mention marriage as a reason for coming to France, at all. I was unable to locate any official resources about what to do if you plan to get married to a French citizen and move to France. This scenario was not mentioned among the long-stay visa categories.
To see if I was on the right track, I decided to call VFS Global. I explained my situation and asked for advice on the type of visa to apply for. I also asked follow up questions to see if additional documents would be necessary. They essentially told me, after each question that I asked, that they could not give me any advice. I should refer to their website, and, using the information provided, make my own decisions about which visa to apply for and how to apply for it. Very helpful, thank you.
I thought I might have better luck soliciting the New York City French Consulate for information, but I was immediately told that the visa branch of the consulate was closed, and I should contact VFS Global with any questions I might have. Great, yes, cool. In retrospect, I should have contacted the Washington French Consulate, as they are the ones who now handle the visa applications, but this was not clear to me at the time, so I didn't even consider it. I wish you the best of luck if you attempt to call either VFS or one of the consulates!
The United States government, while known for being strict about granting visas of this nature, at least provides detailed information about how to do it on official websites. And so, I turned to the website of the US Embassy in Paris for more information. According to their Marriage in France document, "If you plan to settle in France [after marrying a French citizen], you should apply for a long-stay visitor visa." France – 0, USA – 1
UPDATE (July 2020): The Marriage in France document no longer exists. It seems to have been replaced with the General Guidelines for Marriage and Civil Partnerships (PACS) in France.

Applying for the Visa and Booking Your Appointment
The visa application must be completed and submitted online. The online application is fairly straightforward to use and generates a PDF version of the application for you to print out. Other than the application, there are no other documents that need to be submitted electronically. The maximum length of a long-stay visa is one year. On the application, I indicated my stay would be more than one year.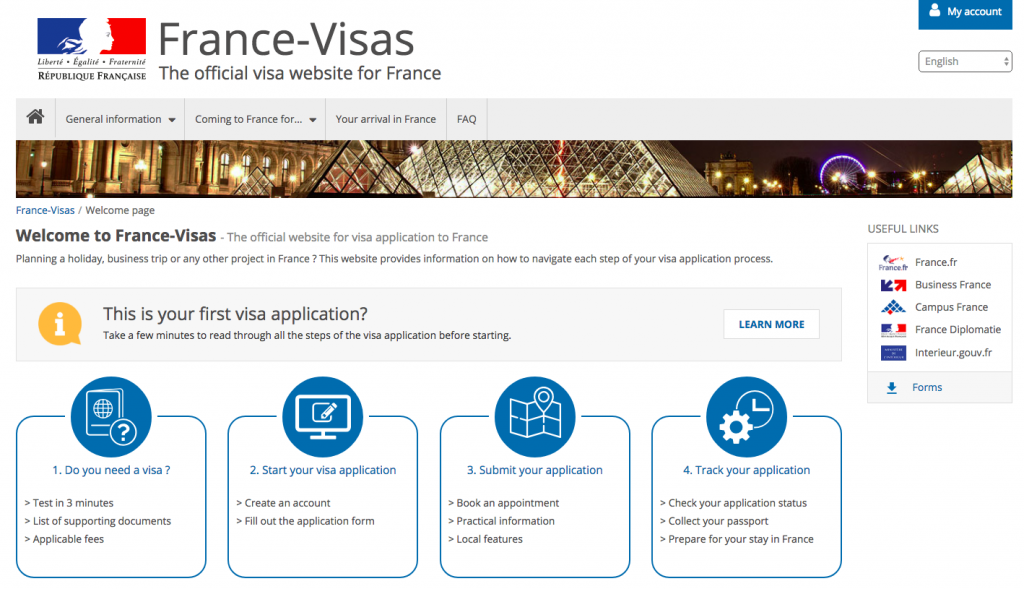 In the spring of 2018, the French consulates of the USA began outsourcing the collection of visa applications and documents to VFS Global. There are centers located in many major cities in the USA, and you can apply at whichever one you like, regardless of where you live. I booked my appointment, via the online booking system, at the New York City location (145 West 45th Street). There was a booking fee of $28.45.

When I submitted my application at the end of June, the first available appointment date was three weeks away. Summer is a busy time for visa applications, so this did not surprise me. Depending on the time of year, the availability of appointments can fluctuate. Plan ahead, while also keeping in mind that you cannot apply for a long-stay visa more than three months before your departure. If there's an appointment cancellation, the new opening will be reflected on the site, so check back frequently if you want an earlier date.
Documents to Prepare
When it comes to preparing for the visa appointment, err on the side of being over prepared. If you're in doubt about a certain document, bring it with you. Be sure to keep photocopies for your own records.
After submitting your application, you'll receive a list of required documents that you will need to bring with you to your appointment. As an American citizen, residing in the United States and applying for the long-stay visitor visa, here's what I ended up bringing:

Appointment confirmation page
Current passport

Valid at least three months after your return date
At least two free pages
You will be handing this over, so make sure you photocopy your passport page for your own records

Old passport

I submitted photocopies of my previous visas (not necessarily required but I thought it might aid my application)

Application

Printed, signed, and dated

One ID photo

US passport photo size works for this. Mine was slightly too big, and he just cut it to size.
Annoyingly, they're just going to staple this to your printed out application form, because France.

Sworn statement saying that I will not work in France for the duration of the visa
Proof of professional status

I recently quit my teaching job, so I brought the letter from my employer accepting my resignation. Seeing as how I was unemployed at the time of my application, I don't think that I actually had to bring anything for this.
Essentially, prove your status as a working professional or student, if either of those cases applies to you.

Proof of accommodations in France

I had my boyfriend write an attestation d'hébergement based on this example, in which he stated that he would be housing me for the duration of my visa.
I also brought one copy each of his rental agreement, a recent electricity bill, and his passport, for good measure!

Proof of funds

Three months of bank statements (savings & checking)
Three months of credit card statements
The amount of resources you must justify depends on whether you have already paid for accommodations or not.

Medical Insurance for the duration of the stay

I brought a Confirmation of Coverage letter and a copy of the insurance card.
I paid a little over $400 for one year of coverage with IMG – Patriot International, and I bought it through Insubuy, which helps you compare a few different plans. When you indicate that you want Schengen Visa medical insurance, it makes sure that all the requirements are met. Upon purchase, you immediately get temporary cards and a Confirmation of Coverage letter in your email. If you need to cancel the insurance, as long as no claims have been made, you get a prorated refund from the date of cancellation.

Credit card for paying the fees

I was charged a total of $145, which paid for the visa ($110) and mailing fees ($35). If you choose to pick up your visa in person, you will only be charged for the visa. The visa itself costs 99 euros, so I think the actual amount you pay changes depending on the exchange rate for the day.

Copy of my plane ticket so they would know my departure date (not required)
Based on my desire to marry and settle in France, I brought a couple of supplemental documents with me that I thought might help:
Letter of Motivation

I wrote a letter in both French and English explaining my intent to marry and to integrate myself within French society. Without going into too many details, I briefly gave some background information on myself as a French teacher and on my relationship.

Sworn statement regarding marital status

I created a simple document in French and English indicating that I was not currently nor ever have been married.
The Appointment
I showed my appointment confirmation upon entering the center in New York City (145 West 45th Street) and was then directed to the elevators to begin my ascent to the fourth floor. This building handles a lot of visas, with each floor housing a few different countries. There was a small queue to check in at the desk on the 4th floor, where I was given a ticket with a number. We were instructed to turn off our phones, and then a security guard did a quick inspection of our belongings. I was directed into the French visa waiting room where screens above indicated the ticketed number currently being served. It was easy to know when my number was called and which window to go to.

The man who assisted me really didn't seem particularly knowledgeable about the visa process. He only asked for things that were explicitly listed. For example, the paragraph above the list says that I should bring copies of previous visas, but since this was not on the actual list, he didn't ask me for them. As another example, when proving I had sufficient means, I wanted to give him my credit card statements, but he said it wouldn't be necessary since it's not real money. It should be noted that credit cards are listed as a way to prove you can provide for yourself on the application itself, so I insisted he take the statements anyways. He eventually ended up saying that I could include whatever I wanted in my application, at which point I emptied out the folder I had brought with me. I'm not sure whether any of those extra documents actually helped my application, but I don't think they hurt it!
After handing in my application and supporting documents, I was directed to take a seat again in the waiting area. I didn't have to wait long before I was called to a small room for the biometrics fingerprinting. This is also when they took the picture that would later be on my visa.
In total, I was in and out of the building in under 15 minutes, which left me feeling anxious about the outcome of my visa. The last two times I had gotten visas, I had applied directly at the French consulate, where after meeting with a visa specialist, you had a good idea of whether your documentation was sufficient or not. The specialist would actually take the time to look at your supporting materials, which puts you at ease (once it's over!). What if I forgot something or they needed something else? Would they actually take the time to contact me about it or would they just refuse my visa? Fortunately, I didn't have to find out.
---
Did this guide help you? Say thanks with a cup of coffee!

---
Receiving the Results
The good thing about VFS Global now handling the collection of applications and their subsequent transportation is that you'll receive electronic notifications about the status of your application. The downside is that these notifications really don't tell you anything about your application except where it is literally located. It was nice knowing that my visa application had made it to Washington, for example, but imagine my chagrin upon receiving this text: "Your processed application ref no.XXX is being dispatched via courier on 26-07-2019." What does that even mean?? Am I getting my visa? Was my application rejected?? I was especially anxious because, after being told the application review would take a couple of weeks, my passport was on its way back to me exactly one week after I had dropped it off in New York. I was told I could track my application with the long reference number printed on my receipt, but don't torture yourself with that. No real information is given via this tracking service either.
No one was home when they attempted to deliver my passport. It's one of those instances where someone actually needs to sign for the delivery. A note was left saying that it was being brought to UPS and I could get it there. I signed for the envelope and found my passport with it's pretty new sticker inside.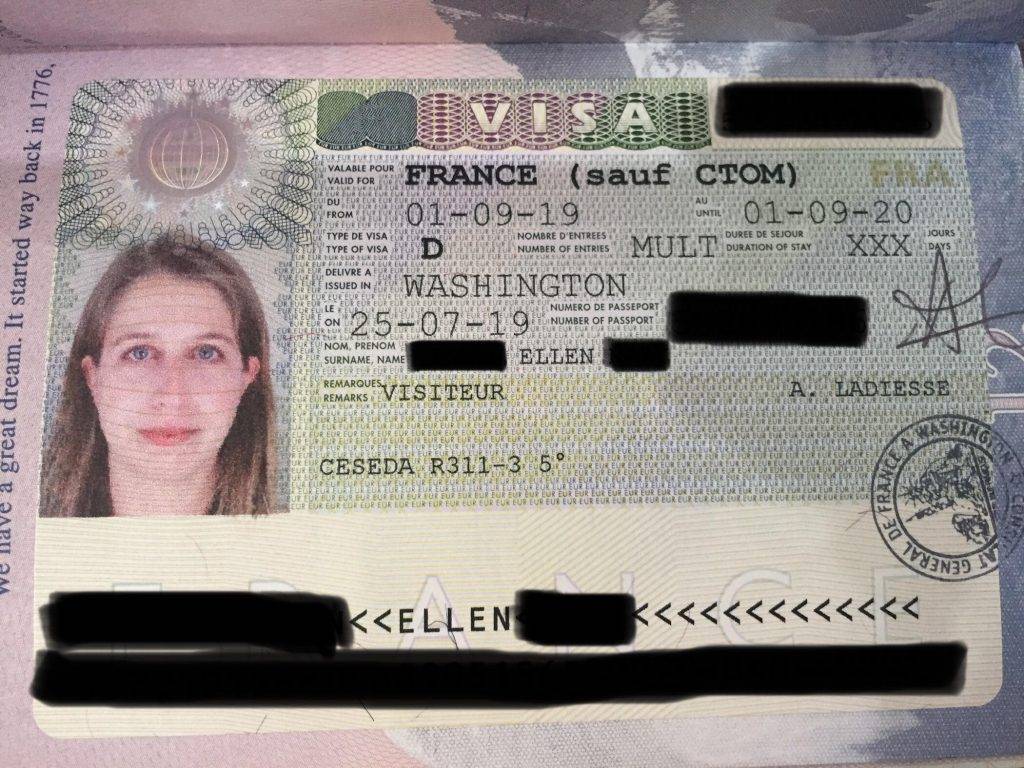 Arriving in France and Next Steps
Upon entering France, if you were granted a long-stay visa, the border police will only ask to see your passport containing the visa. In my case, they did not even look at that page at all, but as long as I have a stamp indicating my entrance date into the country, I'm all set.
The next step for me is getting my visa validated within three months. Only people with visas valid for between six and twelve months are required to do this. According to the slip of paper I received with my visa, this process is apparently done online. Once married, I should be able to change my visa status from a visitor to the spouse of a French citizen, which will allow me to work.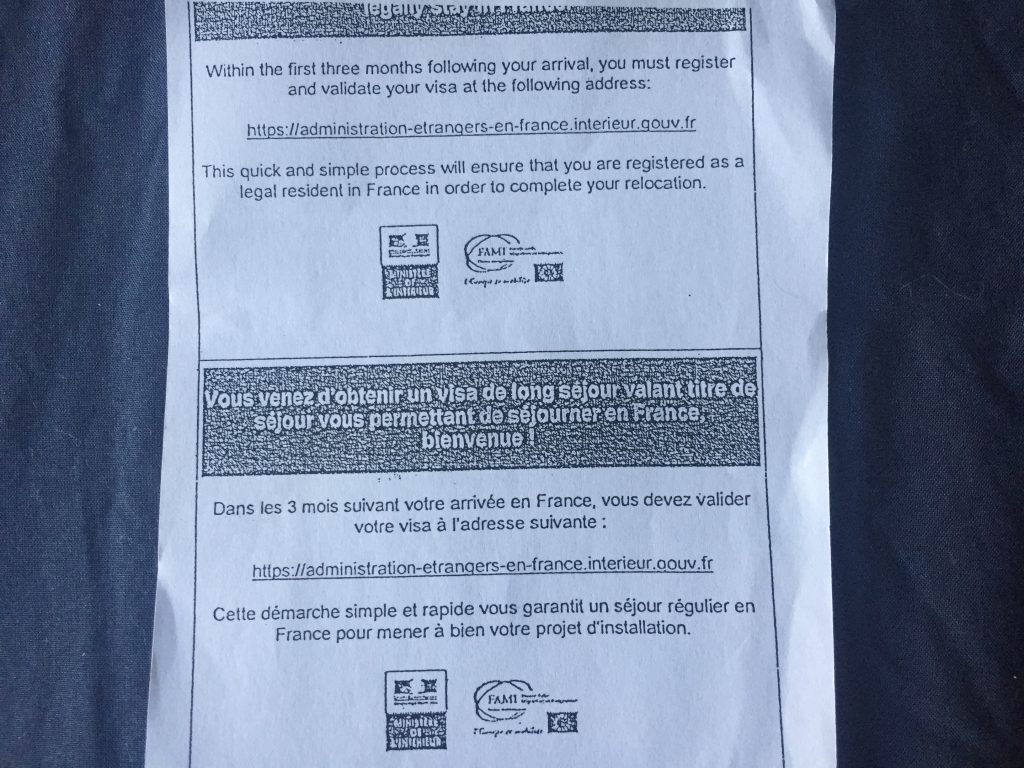 Questions? Comments? Similarities or differences between your visa experience and mine? Reply below!

Long-Stay Visa for France