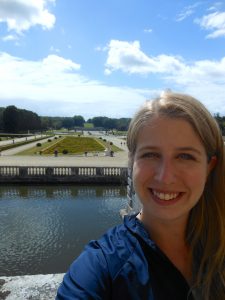 Bonjour et bienvenue ! My name is Ellen. I'm a former middle school French teacher from the United States of America who's basically living out every world language teacher's dream… While studying abroad in Paris, I met a French guy, we fell in love, and now I'm living in the City of Light.
Here's me with my French guy, doing a tasting at the Connecticut Wine Festival: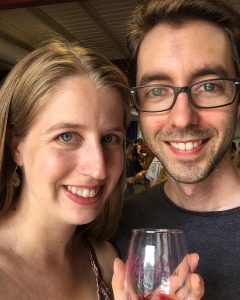 I made the move from Connecticut to Paris in September 2019, but this is not my first time living in France. I've been lucky enough to have been afforded multiple opportunities to come to France, and I've held a few different statuses: tourist, visitor, student, and temporary worker. Most recently, I'm able to stay in France permanently now as the spouse of a French citizen.
These experiences have given me a unique perspective into French administration and bureaucracy. Not many people can claim having applied (and been accepted!) to the national healthcare system more than once!
This brings us to the main reason why I launched this blog. Some of my blog posts go into great detail regarding different administrative procedures, and I don't hold back in sharing all of my best tips based on my numerous experiences as an American expat moving to and living in France. From visas to marriage to opening a bank account to applying for health insurance, you'll discover tons of information about immigration. I truly hope that through this blog I may be able to help someone avoid some of the mistakes that I've made. If you want to pick my brain, book a call to speak with me one on one!
In my writing, you'll quickly detect my love of French culture and language. It's true that I very much enjoy life in Paris but while I'm clearly biased, I do my best to be fair in presenting both the pros and the cons. Unlike Emily in Paris, I actually talk about the real daily life of an American in Paris, and spoiler alert: it's not always pretty!
Whether you've stumbled across this site because you are an avid Francophile, you are considering a move to France yourself, or you've simply been duped into checking it out because you're one of my lovely relations and/or friends, I hope that you might find some inspiration here, as I share my successes and failures, commentary on French culture, and insider tips on Paris.
Connect with me on Instagram for daily stories and Facebook for interesting articles and discussions!