This post may contain affiliate links, meaning that if you click and make a purchase, I may earn a commission at no additional cost to you. Read the full disclosure here.
Last updated: February 17, 2022
I am a blogger. It feels weird to say that, but I've decided to embrace my new identity. How did I get here?
I Didn't Choose the Teacher Life. The Teacher Life Chose Me.
When I was little, I used to do workbooks for fun. Please tell me I'm not the only one who received workbooks alongside coloring books in my Christmas stocking every year? As a child, I enjoyed playing school. By myself. I assigned work. To myself. I was both teacher and student. Was I a nerd? Maybe. All I know is that I really liked rules and routine, so school was a great place for me. This still holds true.
From a young age, I revelled in a natural love of learning and for me, it was never a question of whether I would be a teacher. It was a question of what I would teach. Although I like kids, teaching elementary school was ruled out early on, because as we all know, math is the pits and as an elementary school teacher, you have to teach all the subjects. When I started learning French in middle school, I immediately loved it. My French teacher was the real deal. From France. I loved listening to her speak. And so it was, at the age of twelve, I had already picked out my future career. Like many things in my life, I just decided that that was how it was going to be.
My trajectory to the teacher life was purposeful and direct. I spent five years at the University of Connecticut, completing my bachelor's and master's degrees in French and Secondary Education. Afterwards, I headed to France for a year to teach English with the Teaching Assistant Program in France (TAPIF). Upon returning, I landed an awesome job teaching French in a middle school where I stayed for six years. During the first four summers of my career, I enrolled in a French immersion program at Middlebury College and completed my second master's degree.
These are just a few highlights, but as you can see, nearly everything I chose to do in my life was in preparation for my future, as a French teacher. Obviously, my twelve year old self couldn't have predicted what (or rather who?) was coming next.
Why I Started Blogging
Even before deciding to move to France, I was scouring the internet to find resources. I had so many questions. The first question: Can I do this? The second question: How?! And what about all my stuff? While sifting through inadequate government websites, I realized that what I truly wanted was a real account of how someone in a similar situation to me successfully moved to France and married a French person. I wanted to see that it was possible, and I also wanted insider tips about the process. During my research, I discovered many blogs that I liked and that I still reference today, but none of them were exactly what I needed. As a result, when applying for my long-stay visitor visa, I decided that if I managed to acquire it, I would create a blog to help others. Well, here we are.
I envisioned this blog to be a resource and inspiration for others, especially Americans, making a move to France or embracing the expat life. I imagined I would document my transition to Frenchness (or Frenchitude?) and all of the momentous life changes to come. I thought it would be a nice way to stay connected with family and friends in the States. Most recently, it's simply been something to do during this prolonged quarantine period. To be honest, I didn't actually expect this side project to amount to much of anything, but I'm learning to dream bigger and to embrace a much more significant change in my life.
What is Blogging Anyway?
If blogging were easy, everyone would do it. I am absolutely amazed at how much work goes into blogging. The internet was already classified as dark magic to me, and I now have an even bigger appreciation for creating a website and making buttons work. Blogging is more than just writing articles and setting up a website. There is a lot of planning that happens behind the scenes. For example, before publishing an article, I consider data regarding the best day and time for posting in order to maximize exposure. Therein lies one of the biggest hurdles. The internet is vast. How can I promote my blog through various channels and leverage search engine optimization tools in order to make sure that my work is found? I'm also not sure how to prioritize my tasks. In the beginning, it all seems important! Surely making my blog look pretty is just as important as the content itself? Because if my blog doesn't look nice, who will be interested in reading more??
Blogging is a completely new field for me. Every time I learn about some new concept, I discover some other piece of knowledge that I'm missing. As a result, it's hard to judge how long it will take for me to accomplish a new task, because each new task reveals more work to be done! Let me give you an example. Setting up a new email service sounded easy. Essentially, I had to configure the program, set up test emails, and make sure I'm in compliance with laws and not spamming people. Mission accomplished. Or so I thought. When I sent my first email, it landed in the "Promotions" tab of my inbox. Well, that's not what I wanted. Cue research into "email deliverability." Why didn't my email land in the inbox and how do I ensure it does next time? I'm researching things that I had no idea even existed.
I'm sure as I gain more experience, things will get easier, but it's still very new to me, and therefore time-consuming. Compared to what I did to prepare for the teacher life, I feel very unqualified for this blogging thing. On the plus side, this challenge of having no idea what I am doing is allowing me to embrace my passion for learning!
Overcoming the Massive Learning Curve
Given the current quarantine situation, I've decided to really throw myself into new learning. I've enrolled in several webinars and courses. I'm learning about marketing and monetizing, developing email lists, leveraging Instagram, promoting my blog, and developing strategies so that my blog can be found through organic searches. I'm taking notes, highlighting things just for fun (that is what highlighting is for, right?), creating to-do lists, and getting my "homework" done. This is my happy place! It is incredibly rewarding to put strategies in place and see results right away.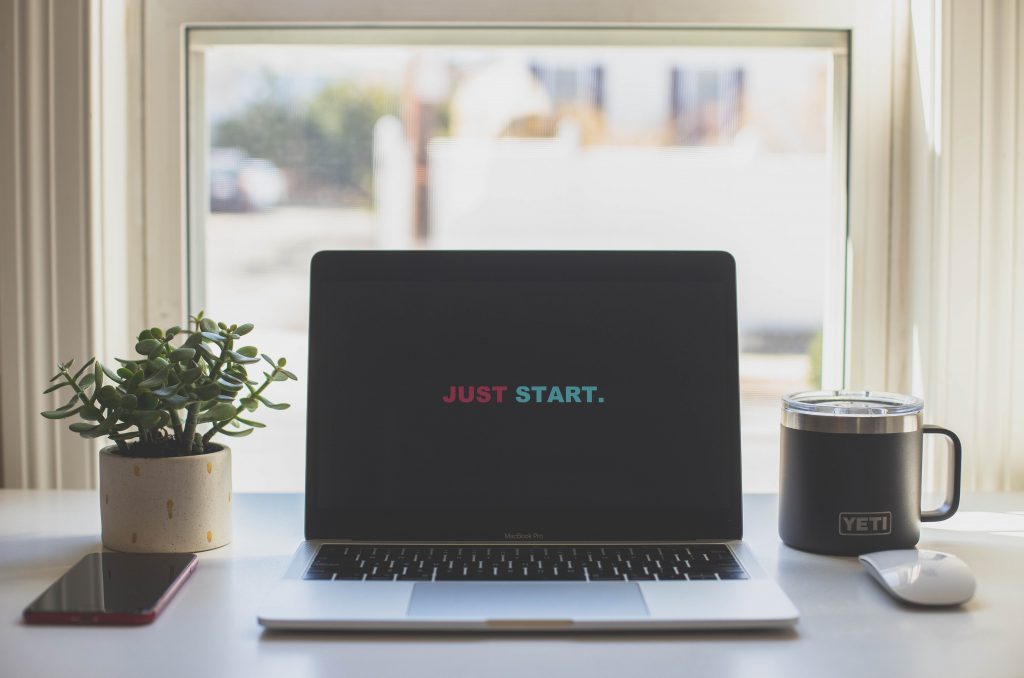 At the same time, I'm trying to set a schedule for myself with reasonable goals and an editorial calendar of publish dates for my blog and social media posts. This is where I'm struggling. Without any real accountability, it's so easy to push off a publish date. As a result, I've been reverting back to some of my college ways. No, I'm not staying up all night finishing a post, but I will cram some intense work into the couple hours before my post is "due". I do generally work well under pressure, but this is a terrible habit to have! One of the reasons why I'm having a hard time with deadlines is because writing has always been a long process for me. I have to remind myself to just start. Fortunately, that's when I remember that I actually like writing, which is good news, since I've decided that this is my new official job.
Unexpected Joys
It's been an absolute joy to discover a whole community through blogging and social media. I cannot express to you how cool it is to see people reading my work, commenting on it, and reaching out to me. (I'm talking to YOU. Thank you for reading.) Not to mention, my blog is getting hits all over the world! In a very short period of time, I've connected with expats living in Paris from various backgrounds. I even met a whole group of fellow bloggers and youtubers when I was invited to tour the Catacombs. It might seem silly, but I hadn't even considered my blog as a way to make friends, so it's been a nice bonus.
Thank goodness I have this community to hold me up, because I have a very serious love-hate relationship with writing. It takes me a long time to sort out how I want to say something. When I allow myself to be in the zone, I really do enjoy the process as well as the final result. Writing is a great way to develop your thoughts and a blog can be a lot like a journal. There's a reason why journaling is considered good for self-care. This blog serves as a creative, albeit very public, outlet. I'm considering taking some classes on writing since my process is probably unconventional by most standards, and I could use a method to make things less time-consuming, which may in turn ease that love-hate relationship.
Once a Teacher, Always a Teacher
I still think of myself as a teacher, and I'll always be a teacher. It's my true passion in life. Recently, a friend of mine asked me to go over some Instagram basics with her for her professional account. In preparation, I wrote an outline of the points I wanted to cover and consciously considered my student learning outcomes. What did I want her to be able to do at the end of the lesson? If that doesn't scream teacher, I don't know what does. I didn't have to prove anything to anyone with data. I just cared about transmitting some knowledge and having my "student" receive it, care about it, and be able to use it.
I suppose you'd call these my glory days:
2016 – French Toast, 2017 – Eiffel Tower, 2018 – French Diction-Fairy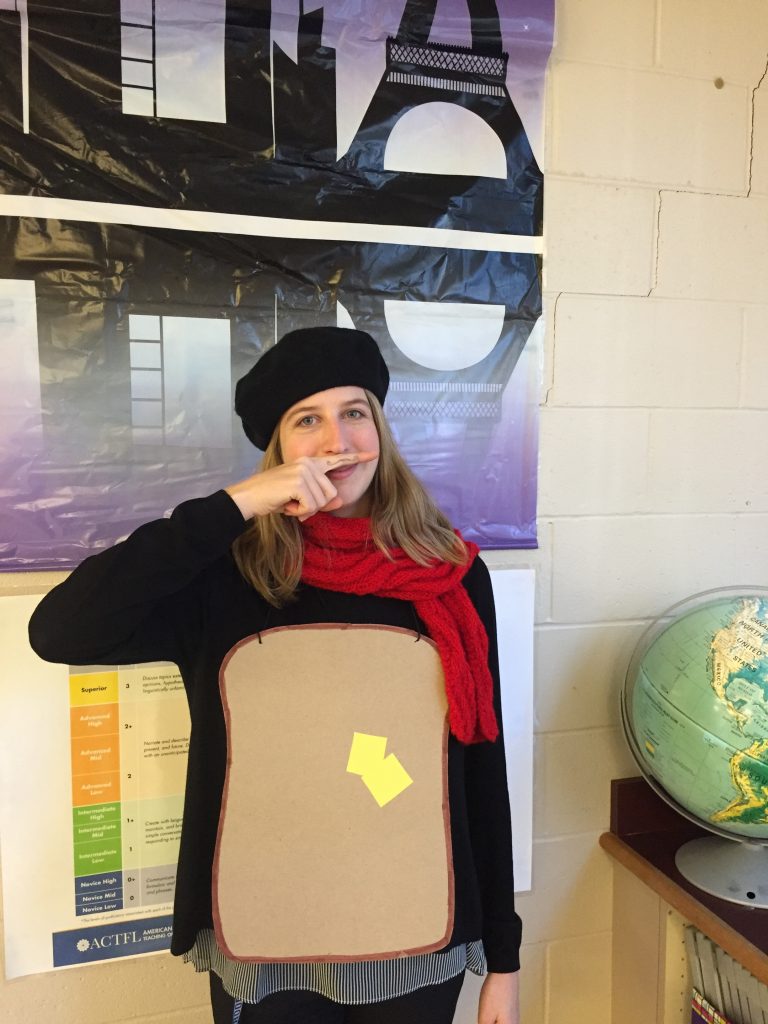 That being said, at this point, I cannot picture myself entering a regular classroom ever again. There are far too many negatives that I can see all the more clearly now that I'm away from it all. I do miss actually teaching, but I've realized that blogging can be my new medium. It has everything I miss: the community and connection, the creativity, and even the teaching. I've realized that I can still do this teaching thing, just in a different format, with a different audience, if you'll let me.
I Need YOU
In a nutshell, more engagement from the Américaine in France community equals more opportunities for growth and therefore, more services I can offer and bring back to you. That includes all of the free content on my blog and social media!
You may not realize how important your role in all this is. Even small actions can make a big difference. To be honest, hearing from readers like you is also incredibly encouraging so that I don't feel like I'm writing into a void. (That awkward moment when your students have no idea what you're saying because it's all in French, am I right?)
There are a lot of ways that you can support me as I transition to this new life. Here are some ideas:
Comment on articles to show your interest and add to the conversation
Ask questions—along with comments, questions give me insight into what you're interested in and what I can write about next
Share articles on social media or talk it up with others to grow our community
Find me on Instagram for daily stories and pictures: americaine_in_france
Join me on Facebook for regular blog updates, links to French culture articles, memes, and more discussion
Say thanks with a Ko-Fi
Sign up for a letter from Paris right to your inbox
Email me with feedback and suggestions: ellen [@] americaineinfrance.com
Without YOU, I wouldn't be here. Thank you for all your support so far and for your continued support down the road. I really do appreciate it.
From French Teacher to Expat Blogger