This post may contain affiliate links, meaning that if you click and make a purchase, I may earn a commission at no additional cost to you. Read the full disclosure here.
Last Updated: July 22, 2023
As an American coming to France, whether you are moving here or just visiting, you can drive using your US driver's license for a limited period of time. In the case of a long stay or establishing residence in France, it is important to note that your American license will typically only be valid for the first year of your residence.
Fortunately, France has agreements in place with certain countries, allowing eligible drivers to swap their foreign license for a French one. If you are not eligible for this exchange and would like to continue driving after your first year, you will need to pass the French driving test (written & practical). Both of these processes, the exchange and the tests, are time-consuming. Therefore, it's important to plan ahead in order to complete all requirements and file your paperwork within your first year of living here. Otherwise, you might find yourself unable to drive when your initial year comes to an end.
Read on to find out for how long your US license is valid in France and how to exchange it for a French driving permit (permis de conduire).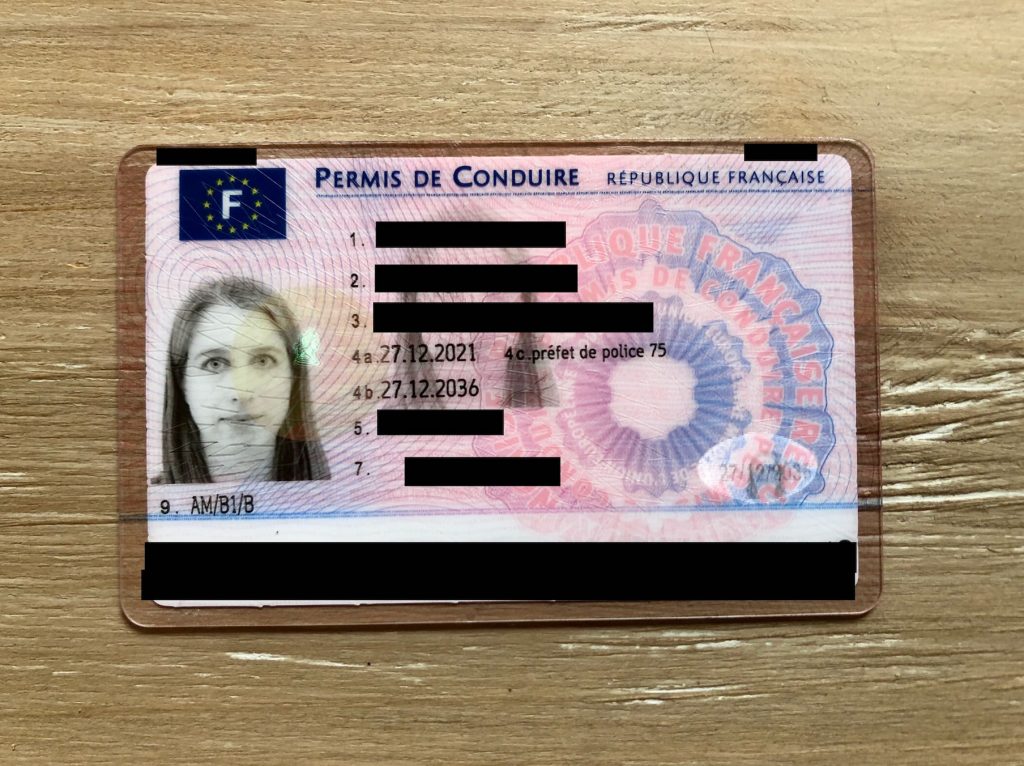 Is an American driver's license valid in France?
Yes, you can generally drive on a valid US license in France. If you are coming to France as a tourist and/or for a short stay of less than a year, your American license, accompanied by an official French translation or an IDP, should be recognized.
An International Driving Permit (IDP) is a translation of your license into multiple languages. It is not a license in and of itself, but must be accompanied by your official driving license. You can quickly and easily attain an IDP from your local American Automotive Association (AAA). It costs $20 and is valid for one year.
Read more: Tips for Americans Driving in France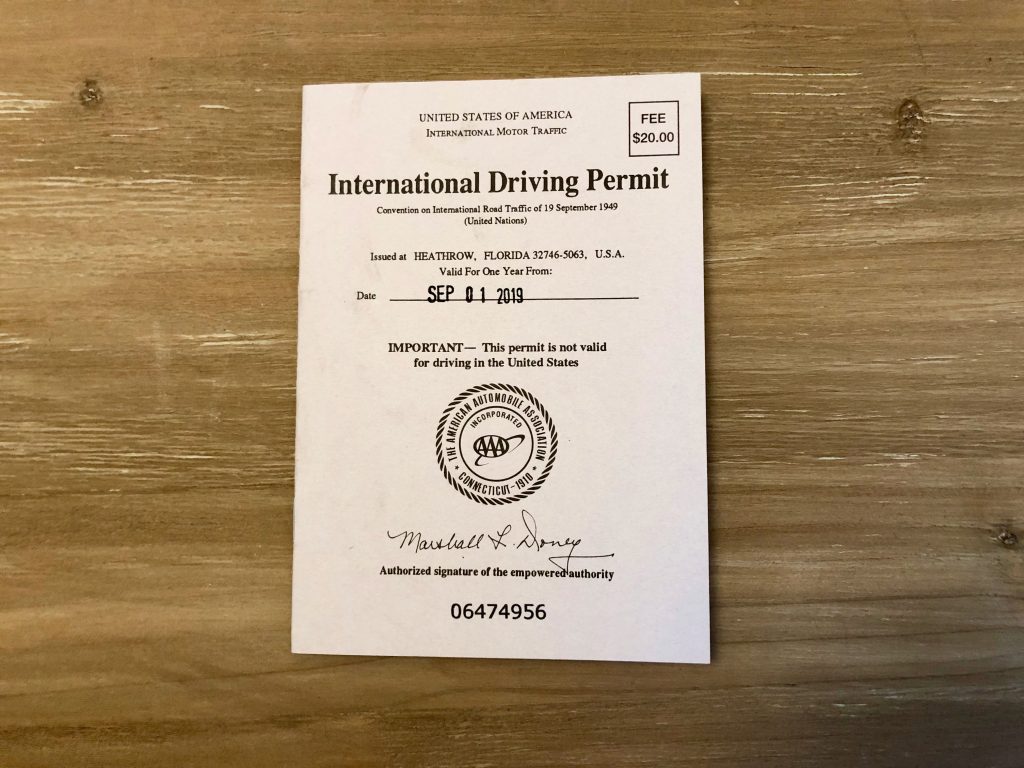 After one year, an American driver's license is no longer valid on French territory.
Students, however, are exempt from this rule and can continue driving on their American license for the duration of their studies. They must respect the minimum age requirement for driving in France according to French law (18 years old to drive a regular car). If they change to another type of titre de séjour, their one-year countdown begins.
Who is eligible for the exchange?
Your American license is only valid for one year in France. If you are eligible to exchange your driver's license, the request must be submitted within your first year. After this window of time has passed, you will no longer have the option to apply for a French license through the exchange program. To be clear, the application likely won't be processed and completed within your first year of living in France, but the application needs to be submitted by that deadline.
The one-year countdown starts from when you establish your residence in France. Establishing a résidence normale in France generally means that you intend to spend more than 6 months of the year in France. As an example, if you arrived in France on a long-stay visa, the year starts from the date of your online visa validation with OFII.
There are a number of conditions to meet in order to be eligible for the driver's license exchange. Namely, you can exchange your valid foreign driver's license for a French permit if it was issued from a country that has a reciprocity agreement in place with France. An expired license is not eligible for the exchange, so be sure to renew your license before leaving the United States, if needed.
Which states have driver's license reciprocity with France?
Unfortunately, France does not have a reciprocity agreement with the United States of America as a whole. France has reciprocity agreements with only 18 states.
Driver's licenses from the following states are eligible for the exchange: Arkansas (Class B), Colorado (Class B), Connecticut (Classes A & B), Delaware (Class B), Florida (Classes A & B), Illinois (All Classes), Iowa (All Classes), Maryland (Class B), Massachusetts (All Classes), Michigan (All Classes), New Hampshire (All Classes), Ohio (Class B), Oklahoma (Class B), Pennsylvania (Classes A & B), South Carolina (All Classes), Texas (Class B), Virginia (Class B), Wisconsin (Class B)
The classes above refer to the French license equivalent that you can receive in exchange for your American license:
Class/Category A: motorcycle
Class/Category B: car
For example, the standard driver's license in Connecticut is a Class D license which allows me to drive a car. In exchange, I received a French Class B license.
This list can and does change. Be sure to check the French government website to access the most recent PDF list of countries and states eligible for the driver's license exchange.
How do you exchange your license?
Driving license requests are handled through ANTS (Agence nationale des titres sécurisés). Since 2020, the license exchange process is done completely online. All forms and paperwork are uploaded to the ANTS online portal.
There is a fantastic Facebook group where you can get step-by-step guidance. The creator of this group has written out the basic directions with screenshots of each section of the application. As I am not one to reinvent the wheel, I will gladly invite you to take a look at the work that has already been done: Applying for a French Driving Licence. (Note: This Facebook group is paused/archived on weekends and holidays to give the admin a break.)
As for the rest of this blog post, stick around as I detail out exactly what I included and uploaded to my application specifically as an American from the great state of Connecticut.
Required Documents
While the application process is undoubtedly streamlined since going online, it is still a bit clunky and outdated. You need to upload each of your documents separately in the right spaces.
For each line item, there are a certain number of pages you can upload. I typically filled however many slots I was allotted. More is usually better when it comes to French bureaucracy.
Here are all the documents I gathered for my driver's license exchange as an American living in France with a immediate prior residence in the United States (Connecticut), in the order in which they appear on the application:
Photo-signature numérique
Attestation de droits à conduire

Driving History document should show that you have a clean driving record (not cancelled or suspended) as well as the date when you first attained driving rights (not all states include this date on this document, so you may need to ask for multiple documents or ask for proof in another way)

Request this document through your state Department of Motor Vehicles (DMV); each state might have a different name for this
If your state's driving record/history doesn't show when you first passed your driving test, you can try requesting a driver's license history or specifically ask your state's DMV to provide evidence from when you first passed the test. As a last resort, you can try submitting an "attestation sur l'honneur," in which you explain that the record does not exist and you swear that you passed your driving test on DD/MM/YYYY
Documents must be dated less than 3 months

Justificatif de domicile

Proof of residence, dated within 6 months
There were 5 page slots available for this one, but I only used 2: mobile telephone bill & electricity bill
Other options: income tax return, residence tax (taxe d'habitation), rent receipt (quittance de loyer), etc

Permis de conduire actuel

Color photocopy of American driving license (front & back)

Pièce d'identité
Justificatif de résidence normale en France

Proof of living legally in France

Traduction (par un traducteur agréé) de l'attestation de droits à conduire
Traduction (par un traducteur agréé) du titre de permis de conduire

Driving License translation in French, by a sworn translator
You might need other documents according to your unique situation.
➡️ Note: Your French driver's license will be issued in your last name from birth even if you've indicated a nom d'usage.
---
Do you still have questions? Let's go over your paperwork together.
---
Timeline & Next Steps
Before the online submission process was put in place, most people were left waiting a year or two to receive their French license. Since the application became digital, the process seems to be moving along more quickly, with many people receiving their French license in a matter of months to a year. However, the timeline can still vary greatly, especially since the system is particularly overloaded with an influx of license requests from British folks who, prior to Brexit, did not generally have a need to request a French license.
Related: French Bureaucracy: Tips for Tackling Paperwork in France
Try not to get too caught up in predicting how soon you'll get a license based on other people's experiences. The process may move at a different pace for you! It might seem like there is no rhyme or reason to why certain applications are moved along quicker than others. Spoiler alert: you're not crazy, there really is no rhyme or reason 😅
Submit online application via ANTS portal

Immediately receive an email & an SMS text confirming submission
10 minutes later, a second notification confirming the transmission of the application to the proper authorities

Receive text & email asking for the original driving license to be mailed (permis physique actuel)—2 months to a year after submitting the application

Print two documents: 1. Attestation de dépôt sécurisée (ADS) (This document along with a photocopy of your original permit allows you to drive temporarily and is valid for 12 months.) 2. Courrier d'accompagnement du titre
Mail your physical American license via registered mail (lettre recommandée avec accusé de réception) & accompanied by second document mentioned above

Use the address they give you; it will be different based on whether you are in Paris or outside of Paris
Receive receipt back confirming delivery—a few days later

Receive French driver's license—2 weeks to a month after sending in your US license
When you've been notified to send in your original US license, you can generally breath easy. This is the last step! Your application has been accepted, and they'll likely send your French license within a week or two of receiving your American license. Indeed, most people receive their French driver's license within 2 weeks to a month after sending in their US license. (This was not the case for me as you can read in the Troubleshooting section below.)
If at any point in time your application remains unchanged for 6 months in a row, you will receive a notification letting you know that your request is still being processed. The message is, "Votre demande en ligne XXX est toujours en cours d'instruction. Vous serez tenu informé si des pièces complémentaires étaient nécessaires."
---
Did this guide help you? Say thanks with a cup of coffee!

---
Can you keep your American license?
You are expected to give up your American license during the exchange. (That's why it's called an exchange 😉) The French authorities will not be returning your original license to you.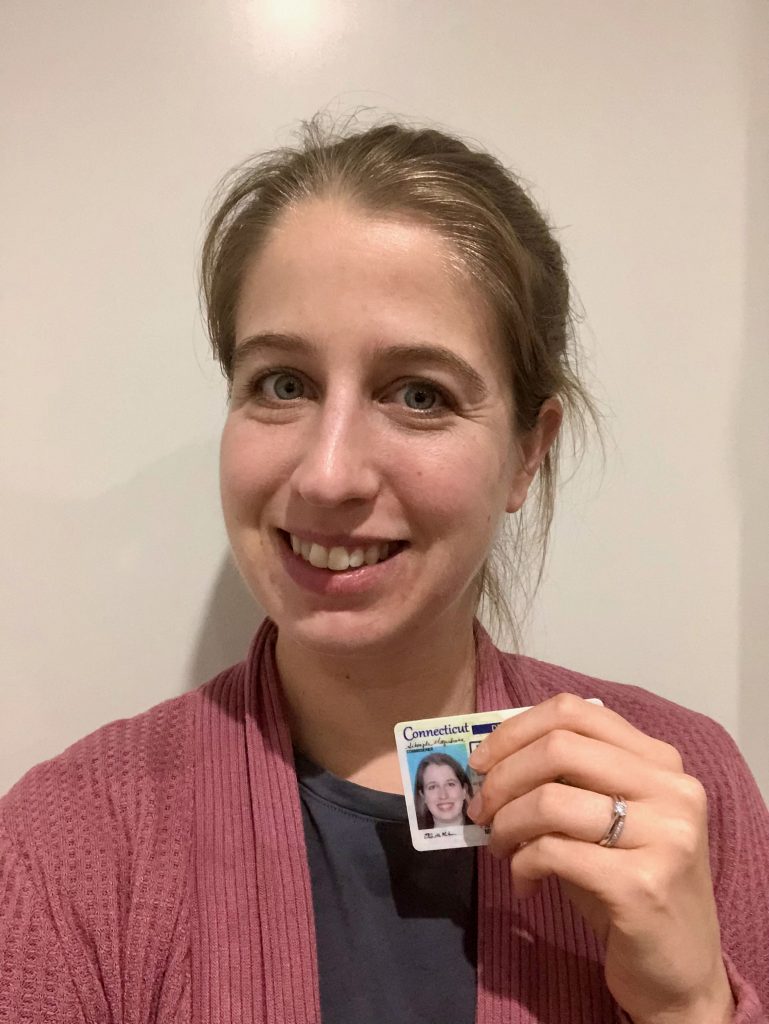 Furthermore, most states in the US have a requirement that in order to hold a driver's license for a certain state, you need to be a resident of that state. This is the case for Connecticut. As such, I did not request a replacement license. I do not anticipate having any problems driving in the States with a French license (accompanied by an international driving permit issued by France, if needed). If you move back to the United States later, you can reexchange, as long as you've settled in a state with an agreement in place with France.
What should you do if there is an error on your French driver's license?
You waited months to get your French driving permit, and there is an error on it! Fortunately, there is a process to correct errors to a French driving permit that has been recently printed and mailed out. You must submit this paperwork within 6 months of receiving the French license. Errors that can be reported in this way include spelling mistakes, missing or incorrect categories, incorrect validity dates, and unjustified restrictions.
To report an error, log into the ANTS portal and start a new request, just like you did when you requested the driver's license the first time. Then you will select, "Je souhaite signaler une erreur sur mon permis de conduire reçu il y a moins de 6 mois." Fill in the required information, upload any supporting documentation, and submit your request.
You'll receive an SMS text message notifying you that your request has been successfully submitted, and you can follow its progress on the ANTS website.
Troubleshooting & Anecdotes
I submitted my application on October 12, 2020 and received notification that they wanted my original driver's license on December 31, 2020. After promptly sending in my American license in January 2021 and receiving notification that it had arrived, my application seemed to come to a screeching halt.
From my numerous calls and emails, it seems that they had a problem with my license because it was very new. I had no choice but to renew it right before moving to France as it was set to expire. Supposedly, my recent license wasn't in their database, so they had difficulty verifying its authenticity.
I eventually got my French driver's license in January 2022. Yes, the French authorities were in possession of my American license for so long that my year-long temporary paper license expired.
But it gets even better! Unlike an American license which only shows an issuing date of the card itself, a French driving permit displays the date when driving rights were first granted in addition to the issuing date of the card. Instead of using the date when I first started driving in 2006 (which was on the driving record I supplied them), they used the issuing date of my latest driver's license, making it seem like I've only been driving since 2019.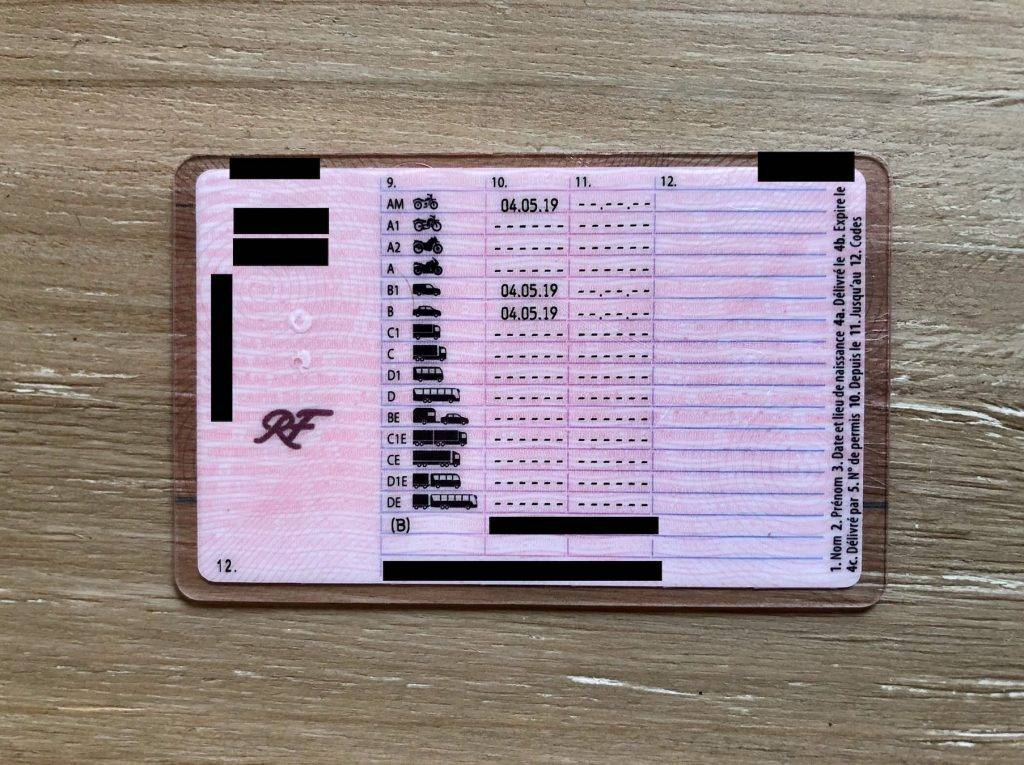 As a result, I was given a probationary license. This type of license is generally reserved for new drivers. The probation period of a French license can last up to 3 years, but the consequences of being an "inexperienced" driver extend beyond those three years. On a probationary license I would maybe have a harder time renting a car. Later on, even when the probation period has ended, I would have higher insurance to pay for rentals as well as for our own car if we bought one.
I submitted a request for this error to be fixed mid-January 2022. Everything is now sorted and they sent me a corrected driver's license a few months later. Here's the update ⬇️
UPDATE (May 2022): I have my new, error-free French driver's license. Believe it or not, I have a voicemail recording on my cellphone in which they admit that they made an error and will be correcting it. (And I will never be deleting this voicemail evidence!) I received this message mid-April and finally had the new license in hand one month later. Although I had to wait a few months for this application to be processed, everything got sorted out in the end!
Contact Information
CREPIC
If you are in Paris, the driving license exchange is processed through CREPIC (Centre de ressources des échanges de permis de conduire étrangers et permis internationaux de conduite), located in the Paris préfecture.
Telephone: 3430, Monday-Thursday 9-12
Email: pp-dpg-permisdeconduire@interieur.gouv.fr
Update (March 2022): Email address was recently changed to: pp-dtpp-permisdeconduire@interieur.gouv.fr
If you need to change your address while your application is being processed, send an email along with a proof of address.
CERT
All driving license exchange requests outside of Paris are sent for processing to CERT EPE (Centre d'expertise et de ressources des titres) at the Préfecture Loire-Atlantique in Nantes.
According to the CERT contact page, only ANTS can give you information about the progress of your application.
ANTS
This is the platform through which you apply as well as the center that actually prints and mails your French license. They handle foreign driver's license exchanges, permit production, and international driving permits for French licenses as well as other identification documents.
Telephone: 3400, Monday-Friday 7:45am-7:00pm, Saturday 8:00am-5pm
ANTS Contact Form
How to Exchange Your American Driver's License in France