This post may contain affiliate links, meaning that if you click and make a purchase, I may earn a commission at no additional cost to you. Read the full disclosure here.
Last Updated: February 3, 2022
Within the first three months following arrival to France on a long-stay visa, you must register with the government in order to make your stay legal. There are a couple of steps to validating a long-stay visa, and the procedure you follow depends on the type of visa that you've been granted. For the type of visa that I got, a long-stay visitor visa, you need to pay a tax and go to a medical exam. Seems easy, right? Read on…
Online Payment
The validation process is now initiated online (as of August 1, 2019). This website is accessible in French, English, and Chinese. Personally, I recommend using the French version of government websites, because the English translations are not always very clear.
Fill in your visa and contact information, pay the fee online (by selecting and buying the appropriate timbre fiscal électronique), and then get immediate confirmation via email. They send you a downloadable PDF stating that your visa has been validated. I am so impressed with France landing squarely in the 21st century on this one. Step one was surprisingly easy and painless, minus the money paying part, of course! I paid a tax of 250 euros ($278) for my long-stay visitor visa.
➡️ If you are eligible to exchange your foreign driver's license for a French license, you generally have one year to do so after validating your visa online: How to Exchange Your American Driver's License in France.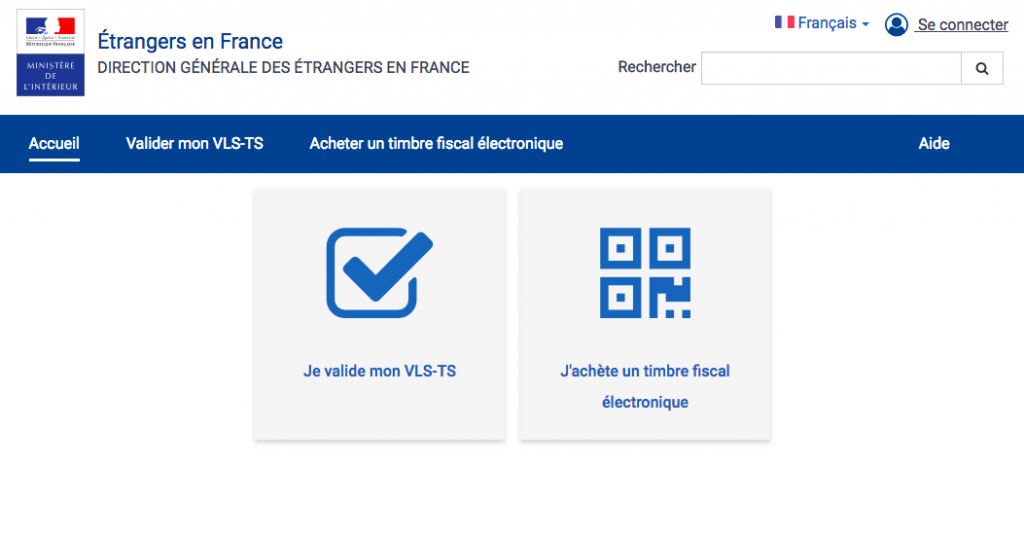 Obligatory Medical Exam
If you're staying in the country for more than 3 months, you may be required to have a medical exam. Nothing to worry about, but you do have to wait for the Office of Immigration to notify you of your appointment. The sooner you complete step one of the validation process, the sooner you will be contacted. I suppose the amount of time you have to wait also depends on your location in France, the time of year (holiday/vacation season, etc), whether France is currently on strike, and how lucky you are. I pulled the short end of the stick on all of these points. Paris—probably one of the longest waits, I paid the tax in October and nothing gets done over the holidays (Toussaint and Christmas/New Year's), the literally indefinite transportation strike, and do you see that dark cloud hovering over my head? Remember when I tried to open a bank account…? Yea, dealing with French administration is hard enough, but my luck doesn't make it any easier.
Getting the Appointment
After about three months of waiting for notification of my medical exam, I decided to give them a call. Quand même. The website for L'Office de l'Immigration et de l'Intégration (OFII) is quite uninformative. I mean, it has information, for sure. But no information that you're actually looking for. For example: How long is the expected wait to get a medical exam appointment? What should you do if you haven't gotten an appointment yet? Which office will you be expected to report to? To whom should you address your questions? You know, the basics.
I ended up calling an office located in Paris that seemed the most logical based on where I'm living. For about twenty minutes, I waited on the phone, listening to "OFII Paris, Bonjour et bienvenue. Nous allons vous répondre dans quelques instants. Hello and welcome to OFII Paris. We will take your call in a moment." This entire message played on a loop, with only a few seconds in between. So. Fun. I put them on speaker phone so that I could get on with my life while I waited.
When someone finally picked up, I explained that I had gotten my confirmation by email but hadn't received a medical appointment date yet. The lady I spoke to was not very pleasant, helpful, or articulate. She started by asking me for my date of birth, which didn't seem very logical given that she didn't have any other information on me yet, not even my name, but I went along with it. Then she asked if I had a number… Ummm, phone number? Number on my visa? Passport number? Number from 1-10 of how frustrated I currently am that you just keep asking for my number!? I finally won the guessing game when I asked if she wanted the reference number on my visa validation confirmation PDF. Maybe that was obvious, but maybe if she said numéro de référence, I might have gotten there a little sooner and saved us both time and needless frustration.
Well, she plugged in that information and told me right away—Il faut juste attendre. (You just have to wait.) At first, given her quick response, I thought she meant that I needed to wait for her computer to tell her things. But when, after a lengthy pause, she asked—Vous comprenez? (Do you understand?)—I realized my mistake. Any idea how much longer I'll need to wait? Il faut juste attendre. But, how long does it usually take to get an appointment? Il faut juste attendre. So, to confirm, you have all required documents, but you don't know how long it will take? Il faut juste attendre. I might have been talking to a robot. Not sure.
My appointment convocation arrived by email 3.5 months after paying the tax. The appointment was about a month in the future. According to the convocation letter, you can reschedule the appointment if the date does not work for you, but honestly, I suggest clearing your schedule and making it work! For the record, I do not think that my phone call in any way shortened my wait time, but at least it confirmed that they had my name on file. Dealing with French administration is all about celebrating the little things.
Documents Needed
According to the convocation PDF, here's what you need to bring to the appointment:
Convocation (appointment letter)
Passport
Vaccination records
Recent lung x-rays
Hospitalization records
Glasses, if needed
Maternity records
If some of the records don't apply to you or you've never had a chest x-ray, don't worry about it! I additionally brought my health insurance card, but was not asked about it.
---
Did this guide help you? Say thanks with a cup of coffee!

---
OFII Montrouge
I believe everyone in Paris is sent to the OFII located in Montrouge, just outside of Paris. You can use a regular metro ticket to get there. My appointment was scheduled for 8:30 in the morning. I arrived 15 minutes early, but was not let in until 8:25. The doorman called out appointment times, which seem to be scheduled on the hour and on the half hour. I was among the first few people from my time slot to enter. In between letting people in, the door remained firmly closed with the doorman conveniently inside, out of earshot.
Checking In
There was no line outside the building—just a small mob of people who rushed the door every time it opened a crack. If you do not have an appointment, you will not be let in. The doorman was very strict about this, and I really sympathized with the people who probably felt they had to show up at the office to get information after not getting answers online or by phone. He pointedly kept telling them that they needed to call or email for an appointment, which is such a joke. He also said (in English) that he spoke no English, and then kept repeating the same instructions in French, pointing at the sign on the door.
I'm sure his job is not easy, but he showed no compassion or civility whatsoever. If the system worked better, people wouldn't just be showing up at the door trying to get answers to their questions. On a related note, it would be helpful for the people who work in the immigration office, especially the first person you make contact with, to be able to speak English. The system is complicated to navigate even for those with a good command of French.
Back to getting in the door… You'll need to show your appointment time and passport in order to enter the building, so it's best to print out your convocation form. After a quick security checkpoint, I handed my convocation letter to the woman at the reception desk. She stamped it and added it to a pile. One girl entered the building by showing her convocation on her phone, but I'm not sure how that worked out for her at the reception desk. Then, you are directed to have a seat in the salle d'attente (waiting room). Within the waiting room, there is a vending machine with coffee and a pumping room. There is a bathroom down the hall.
When I entered the waiting room, there was no one there from the 8:00 time slot, and I took this as a good sign. They must be running on time! Excellent. Minor detail—in my time waiting outside, I hadn't seen anyone exit the building…
Stations 1 & 2
At 9:15, a woman came in with a small stack of papers—our convocation forms. The first people from my time slot were called, and it was all people who got there after me… What?! (bad luck acting up again) At 9:30, I was called up with a small group of people to go wait in the next area. It was kind of like a wide hallway. There were two rows of chairs placed down the middle, with their backs together. Kind of like a musical chairs setup, but much less fun, because there was no music. Hanging from the ceiling were numbered signs designating different stations. Each station was manned by a couple of doctors. This setup had the potential to be efficient, but I think there just weren't enough doctors working.
The first station was a check-in with the woman who brought us in. She was kind and patient and spoke English. We were asked to have our passport and phone number ready. The woman asked me a few questions regarding insurance, marital status, and pregnancy. At the next station, a doctor checked my weight and height. Then I did an eye exam. One of my eyes is clearly showing its age, but the doctor said it wasn't serious. Everything was going very well so far!
Station 3
The third station was a chest x-ray. The doctor brought me over to a small closet sized room. There were several at the end of the hallway that then opened into a larger room where the x-ray machine was located. It kind of felt like the holding pen where a bull is kept before they are released into the arena. The male doctor who would be doing the x-ray asked, in French, if I spoke English or French, to which I responded (in French), "both" and the doctor who brought me over responded, "French." Naturally, this doctor decided he would speak to me in English. Ok, fine. He retreated back to the bigger room, closing the door on the way. I was left in the closet to strip from the waist up, tie up my hair, remove jewelry, and cover myself while I waited. Finally, the door leading to the larger room was opened and I was summoned in.
While I appreciated that all the doctors seemed willing to speak English if needed, this guy's English was not good. It made an awkward situation more uncomfortable, because he could not explain very well how I needed to position myself. He kept repeating directions that didn't make sense in English and ended up having to physically push me into position. Apparently, your chest needs to be flat against (read: touching) the machine, with your hands behind your back, holding a little lead apron.
Please note, this is my second time going to an immigration medical exam in France, and this was not how it went down last time. On another note, I also question a male doctor overseeing this procedure. For me, it was mostly the fact that the procedure was unnecessarily drawn out due to poor communication that I was uncomfortable, but I wonder about women who, for religious reasons, cannot be undressed in front of a male outside of their family. This doesn't seem like best practice on France's part.
Station 4
Afterwards, I was so excited to go back to my closet, put my clothes on, and leave behind my feelings of vulnerability! When I left that little space, it was 10am. I had only sat for a couple minutes before I was moved on to the next station. The final station! This doctor asked about vaccines. It's easiest if you bring a copy of your vaccination record and just hand them over for the doctor to interpret, but if don't have a record, it's no problem. If you are missing any vaccinations according to French standards, you will receive a sheet informing you of which vaccinations you are missing and where you can go to get them for free.
The doctor also asked about medications, took my blood pressure, listened to my lungs and heart, and told me the x-ray was fine. The last time I did a medical exam in France, I got to keep a full-size print out of my x-ray, and I'm absolutely gutted that I didn't get one this time, because we're really in need of decoration in the apartment… There must have been some budget cuts!
She returned my convocation to me along with two certificates stating I had completed the medical visit. You need to get them stamped at the reception desk on the way out. One is for your records and the other is to be brought to the préfecture when and if you renew your visa or apply for your first carte de séjour. In the meantime, the visa sticker in your passport functions as a titre de séjour (residence permit).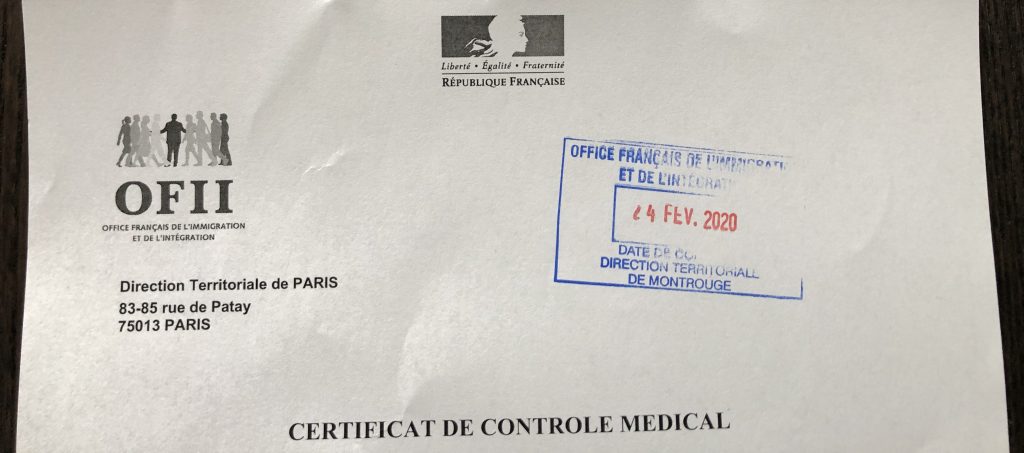 Final Remarks
Aside from the unhelpful doorman, whose demeanor made me nervous about what I might encounter during my appointment, and the radiologist, everyone was pleasant and professional. Despite the numerous negative reviews on Google about this establishment, the experience as a whole was not as bad as I was expecting. Walking out the door at 10:13, I was also satisfied with how early I was able to leave. Then again, I figured I would be spending literally all morning there, because that's how little faith I have in the system. It helps when your expectations all around are very low!
UPDATE! Now that I've changed my status to the carte de séjour vie privée et familiale (CdS VPF), I have additional requirements with OFII.
Visa Validation & OFII Appointment