This post may contain affiliate links. Read the full disclosure here.
Last updated: July 2021
I arrived in France on a long-stay visitor visa, got married to a Frenchman, and applied for the carte de séjour "vie privée et familiale" (CdS VPF) in Paris. This residence permit provides stability, allowing me to stay in France and work. Since I came with visitor status and I applied for family and private life status, my specific situation is considered a changement de statut (status change). Those applying directly for the VPF card or after arrival on a VPF visa will be subjected to a process similar to the one described in this post.
**Please note that the following post is my personal experience, and I cannot guarantee that others will have the same exact experience. I hope that you find useful information here, but do keep in mind that you should proceed based on your own unique situation. Also note that requirements can and do change! Use this post as a starting point, but stay up to date on the information that is supplied on government websites. Different prefectures might have different requirements regarding paperwork.
Eligibility
As the name suggests, the carte de séjour "vie privée et familiale" (CdS VPF) is mainly for family members such as spouses through marriage or partners through PACS (pacte civil de solidarité). Your current status has an effect on the paperwork needed and the fees you will pay for this procedure.
You can apply for this card if you arrived on a VPF visa or on another type of long-stay visa (VLS). Those arriving on a Working Holiday Visa (WHV), also known as the Programme Vacances-Travail (PVT), are also potentially eligible. Keep in mind that you may need to pay some extra fees as this visa is not the typical long-stay visa. Additionally, since this visa is not as well known, be prepared to do some extra advocating for yourself if you encounter difficulties at your local préfecture about your status.
It is possible to apply directly for this card even if you didn't arrive on any visa at all as long as you meet certain conditions, such as getting married in France and living in France with your partner for at least six months. This is considered overstaying your visit, and you would be required to pay a tax to resolve that. (Although there is a specific procedure to follow for this route, I would not recommend it since it means living in France without papers for a period of time.)
This post will focus mainly on my personal experience in Paris as an American arriving on a long-stay visitor visa and married to a French person. However, I have added some extra tips for other situations including those applying through PACS.
Making an Appointment
You will need to submit your documents to your local préfecture. Here is the contact information for the Paris préfecture:
Préfecture de Police
Place Louis Lépine
75004
(The closest metro stop is Cité)
Phone number: 34 30 (9am-4pm)
You'll be charged 6 euro cents a minute. This will be frustrating, especially considering you might not get through to anyone. I've had better luck calling first thing in the morning.
You can also send them a message through their contact form.
If you arrived in France on a VPF visa, you can generally set up an appointment online as a renewal. If you will be changing your status, you will need to call to set up an appointment. After scheduling a date, they will email you immediately with your convocation paper and a list of documents that you need. Set up your appointment online or call to request an appointment around 4-5 months before your visa expires (yes, really). If you are applying directly for the carte de séjour*, because you overstayed your visit, you can call or start the process online.
Normally, your appointment to renew will not be scheduled any earlier than two months before the expiration date of your current titre de séjour* / visa*. If you are going to be changing the status of your current titre de séjour / visa, you can schedule it for earlier than that if you feel you have all the paperwork ready. This is called a changement de statut.
*Confused by these terms? Read this explanation.
Resources
Don't ask me why France has several official websites, all with more or less the same information. These are my go-to websites for trying to decipher French administrative procedures. I cross-check all of them and will be referencing them throughout this post.
Service Public—Le site officiel de l'administration française.
Ministère de l'intérieur—Search bar to find your procedure
Préfecture de police (Paris)—My least favorite site for its lack of clarity, but a necessary evil
Paperwork
After setting up my appointment by phone call, I received two documents (other than my convocation) through email:
Each prefecture will provide you with something similar. The application I've attached here is already outdated. The new version now has a specific spot for a mobile phone number. (How modern!)
The instructions indicate that you should bring an original and a copy of all documents, but the agent seemed happy enough when I only offered copies. Truth be told, since most bills are online these days, you don't really receive an "original" copy anymore. Logically, you will only print out one copy. I think they simply haven't updated the directions to reflect current practice.
While preparing your documents, keep these two ideas in mind: Ultimately, they want to see that you have a legitimate life with your partner and that you are putting down roots in France.
Personal Documents
Appointment convocation
Application form

They had a huge stack of them at the Paris préfecture and gave you one whether you brought your own or not

Copy of passport & arrival stamp into France
Copy of visa
Birth certificate with apostille and translation (by a certified translator)
OFII medical certificate (Certificat de contrôle médical) from medical exam
Livret de famille & copy
Marriage certificate (dated within 3 months)
**If your home country allows polygamy, you'll need a sworn statement saying that you are not practicing polygamy.
Copy of Jonathan's passport
3 ID photos (They only took 2…)

You can get this done very cheaply using the photo booths found in many metro stops in Paris
Proof of Address & Proof of "Vie commune"
I'm not going to lie. This was confusing and seemed rather subjective. Of the documents listed below, I'm honestly still not completely sure which counted for proof of address and which counted for proof of our life together. There's a bit of overlap.
From what I understand, proof of vie commune has to come in the form of a document with both partners' names on it, or else both partners need to supply the same document showing they both receive a service at the same address (like health insurance or a bank account). For example, Jonathan and I have a top-up health insurance (mutuelle) together. This document has both of our names on it. It clearly counts towards our vie commune.
I tried to additionally offer up my document showing that I am covered by France's health insurance program (Attestation de droits à l'assurance maladie), which also has our address. The agent turned to Jonathan and asked for his proof of health insurance. Jonathan replied, "I'm French. Of course I have health insurance." End result: The agent did not take my document and explained that in order for it to count we both needed our documents to demonstrate that we separately had health insurance for the same address. Sorry, Jonathan. Even if you're French, you have to prove yourself.
Burden of Proof
PACS partners need to prove 12 months of vie commune in France

You can generally start this process before you have 12 full months together and hand in the rest of your paperwork later

Married spouses who

didn't

arrive on a long-stay visa need to prove 6 months in France
Married spouses who arrived on a long-stay visa—nothing specific

Don't let the vagueness of this fool you—People will tell you that the spouse of a French citizen has a right to the CdS VPF. This is more or less true, but don't go walking into your appointment expecting it will be automatically granted. You still have to prove that you meet the criteria.
Zee Proof
This is a list of literally everything I brought with me. You don't need it all, as you'll see from my notes, but do bring everything you have. The more trees killed, the better your chances!
Attestation de vie commune—Simple document swearing that you have established a vie commune for X amount of time

This document is obligatory

Renter's insurance (Assurance habitation)
Rental contract (Contrat de bail)

The agent didn't want this even though it's a standard document to prove life together…

Rent receipt (Quittance de loyer)

Our rent receipt still hasn't been corrected to have both of our names on it, so we brought it, but didn't hand it over

EDF—Contract (Attestation titulaire de contrat) or Bill (Facture) or Receipt (Quittance)

France's biggest electric supplier… this is gold for proof of address, etc.

Mobile phone bill (Facture mobile)

I didn't end up giving this, as it seemed we had enough documents

Internet bill (Facture Internet)

I didn't end up giving this, as it seemed we had enough documents

Joint French tax statement (Avis d'impôts)
Health insurance (Attestation de droits à l'assurance maladie)
Top-up health insurance (Mutuelle—Justificatif d'assurance)
RIB (relevé d'identité bancaire)

We don't have a joint account, but they took my personal banking account details. You could potentially submit the RIB for both partners going to the same address.
---
Did this guide help you? Say thanks with a cup of coffee!

---
Fees
The total cost for this procedure and card is 225 euros (about $268). If you did not arrive on a long-stay visa, you will need to pay a total of 200 euros more. Of that extra fee, 50 euros will be paid upfront when submitting your file.
You will settle your balance upon receiving your card. All fees will be paid by timbres fiscaux.
The Appointment
Note: Your partner's presence is required at the appointment.
Unfortunately, I have had the pleasure of going to the Paris Préfecture more than once. It specifically says on your convocation that you should not arrive early as you will not be allowed in before your appointment time.
Under normal circumstances, there is ONE huge line outside the préfecture, and they allow people inside in the order in which they arrive with no regard for appointment times. No, you can't skip ahead. We asked an officer about this, worried we would be late to an appointment, but they said not to worry about it, and that the agents inside would be understanding, because they know the line is long. Apparently, they don't care if you don't arrive on time, but if you want a less stressful experience, arrive early. On that note, be ready to spend 2-3 hours there total, so bring a snack and a book!
Covid Regulations
Most recently, we went to the préfecture at the very end of August 2020. For Covid times, there are about four different lines outside in the plaza. There is, of course, no signage telling you the purpose of each line, forcing you to ask an officer. No worries, there are several officers strolling about, because it's obviously easier to pay people to do nothing instead of taking the time to create signs.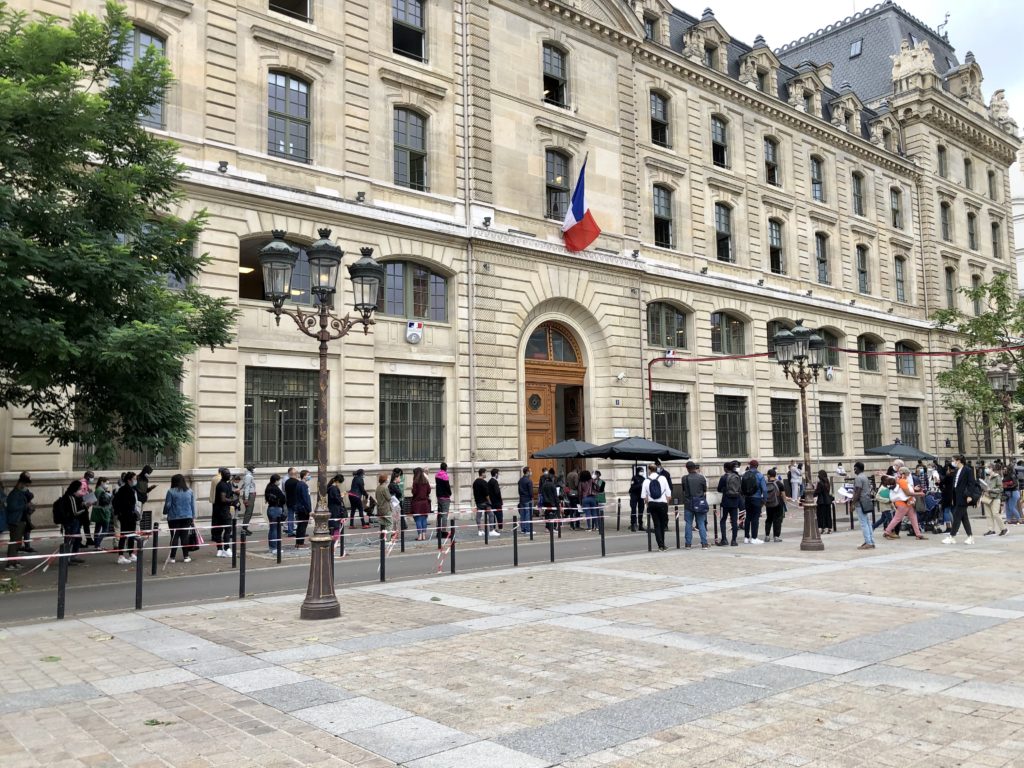 The officers we talked to actually examined my convocation sheet and told us to come back half an hour before the appointment. We came back then and were asked to wait again. We were finally allowed forward to the queue for security 15 minutes before our appointment. Going through security was fast and easy. It was similar to going into a museum.
The Labyrinth
Good luck deciphering how to get to the appropriate room. Rooms are numbered of course, but unless you noted it down ahead of time, it likely won't say on your convocation form. And you guessed it—clear signage is not the forte of the Paris Préfecture. This is your first test! Ok, it wasn't that bad, just not straightforward. As an American, requesting to stay in France, we reported to Salle 4, which was located near stairwell F, on the ground floor.
Here, we waited in another line and checked in with the person at the desk. She just wanted to see my convocation and then give me a ticket with a number. In the waiting area, there is a small screen which displays the current number being called and the window you should report to. When your number is called, take a deep breath and put on a big old smile. It's showtime!
Hi! Please Let Me Stay in the Country!
We sat with the agent for about 15-20 minutes, handing in papers. I was also fingerprinted. The agent might ask some questions or for further paperwork. Don't be too worried if you don't have something specific they are asking for. Keep in mind that they're trying to collect as much evidence as possible, and it's to help your application. If you realize they want something that you have access to on your phone, offer to email them!
Decision Time
They'll package up your file and send you away to wait. I believe they hand off your file to someone else who makes the decision, but I am unsure. You'll be called up later to the same window where the agent will let you know the decision.
Don't expect any celebration over an approval. If approved, the agent will give you a print out of your récépissé, which is essentially a receipt giving the full rights of the carte de séjour while your file is being processed and your card is being made. Feel free to squeal (on the inside). If your application is not immediately approved, you might be given the opportunity to hand in some more documents within a certain time frame or have another appointment set up for a later date. In case of absolute refusal, read up on your rights.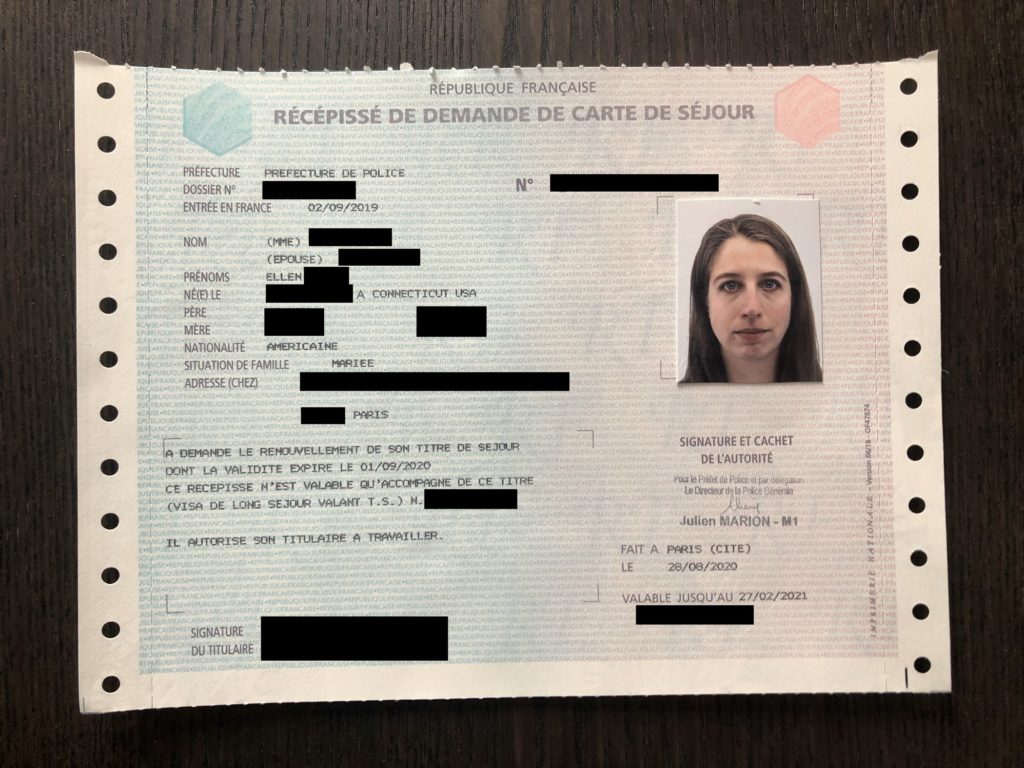 While you have someone in front of you, ask questions if you have them! Don't be shy. It is a rare occurrence to have someone knowledgeable about the process right in front of you. (Well, hopefully they're knowledgeable. Believe me—it's not a guarantee.) Ask what the next steps are, what the current processing time is, or any other clarifying questions that you have.
Processing Times
Processing times can vary wildly depending on your préfecture. Larger cities generally have longer wait times. In Paris, I'm expecting to wait at least a couple of months, and my récépissé is valid for 6 months. I will update this post when I actually get the card. Hopefully, it'll arrive before I need to renew it! Since this is my first year with the VPF status, my card will be temporaire, meaning that it will only last one year, instead of a pluriannuelle card, which for the VPF lasts two years.
When the card is ready, you will receive a text message. If you want to check on the status of your application, you can contact the Paris prefecture online.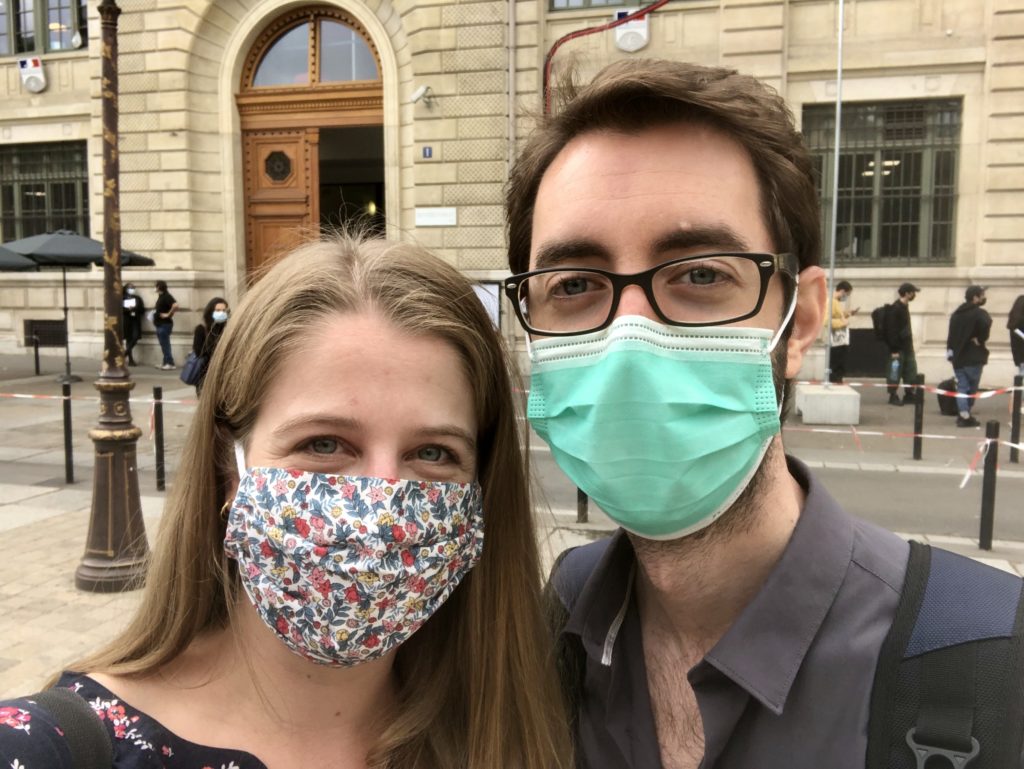 I finished this procedure just in time to celebrate one year in France! What a relief!
Picking Up the Carte de séjour
About a month after my appointment at the préfecture, I received a text message with a date, a time slot, and the amount of tax I would need to pay. The new date was about a month in the future. (There is a new procedure for Paris in which you are notified via text that your card is ready, but you need to book an appointment online to pick it up. )
What to Bring
Récépissé
Passport
Timbre électronique / Timbre fiscal (Same thing—two different names)
The tax is paid online, but you need to provide proof of purchase. You have a few options for receiving the scannable code. I recommend having the PDF emailed to you and then downloading it to your phone. Since it was my first time picking up a residence card, I printed out a copy of the timbre fiscal just in case, but it was not necessary. They were able to scan the code on my phone with no problem.
Be Prepared to Wait
You will enter the préfecture the same way you did for applying for your card. Show an officer your text message, and you should be allowed to begin queuing for security during your time slot.
There is a special room just for handing out residence permits (Salle des remises – Salle 2). It's on the ground floor. I waited in the line to enter this room for about an hour. Once inside, the process was again the same as my first appointment. I received a ticket from the receptionist and waited for my number to be called up to a window. At the window, I handed over my récépissé, showed my timbre fiscal, and signed a paper.
An hour and half after arriving at the préfecture, I left with my plastic card. It has been valid starting from the date of my first appointment, meaning that I will carry this around for only 10 months. Can't wait to start this process over again!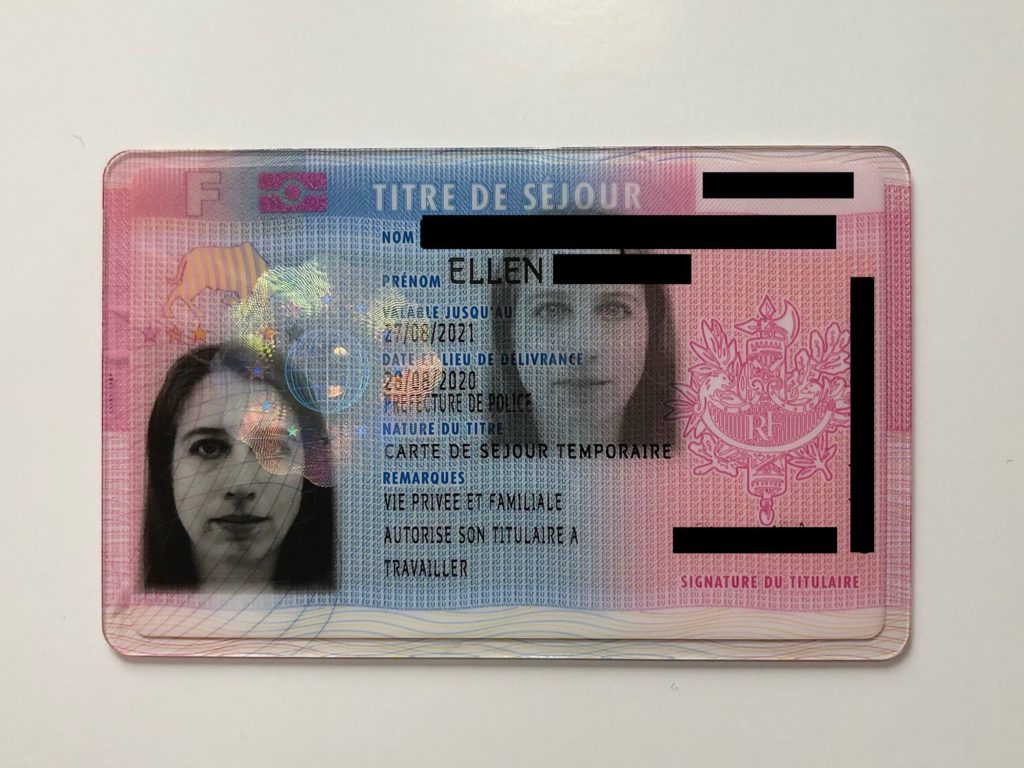 How I Got the Carte de séjour "vie privée et familiale" Through Marriage