This post may contain affiliate links, meaning that if you click and make a purchase, I may earn a commission at no additional cost to you. Read the full disclosure here.
Last updated: December 30, 2021
Those who have been following my story for a while know how tricky French bureaucracy is. Getting access to the national healthcare system is a BIG win in my book.
I have a permanent numéro de sécurité sociale (social security number) and the highly sought after green carte vitale (health insurance card). I've included all the steps for how I did it in this post.
➡️ Quick tip: In France, your social security number (numéro de sécurité sociale) gives you access to the national healthcare program and your numéro fiscal de référence (also known as NIF—numéro d'identification fiscale) is used for taxes. Your social security number and your tax number are distinctly different and unrelated numbers.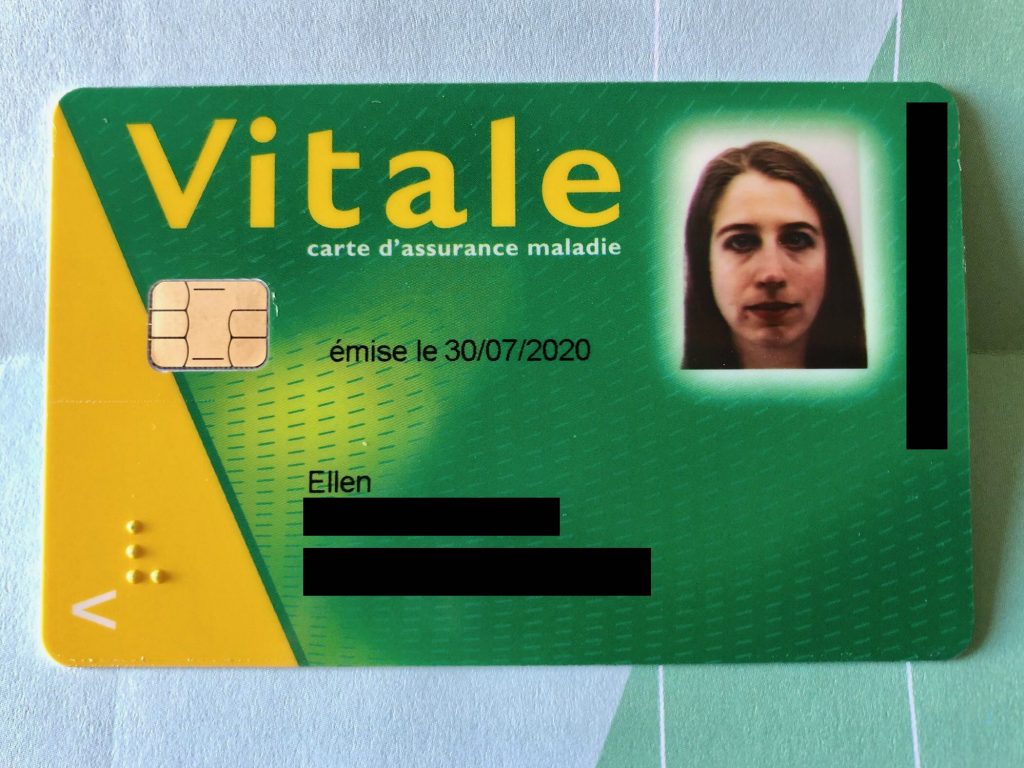 Who Qualifies?
Through Protection Universelle Maladie (PUMA), anyone living or working in France for at least three consecutive months is eligible for coverage through the national health insurance program. There are some exceptions to the three month rule. For example, family members, such as spouses and children, do not have to wait three months before applying for health insurance if they are moving to France to join a family member who is already insured and has established residence in France.
Even If you are unemployed, you may be able to access health insurance, but you need to justify that you are living in France "de manière stable et régulière" ("legal and stable manner"). I think the vagueness of this statement is intentional! It's up to you to prove that you have established residency and plan on sticking around (for at least 6 months of the year).
Let's move on to the paperwork, shall we?
Documents
Disclaimer: Please note that I am writing this post based on my own personal experience as an American on a long-stay visitor visa. I am also married to a Frenchman. Use this information as a guide, but make sure you fulfill all requirements for your situation.
When working in France, getting covered by the national health insurance program is relatively straight-forward, in that the paperwork is really more of a formality. Your employer typically gets the ball rolling on your behalf (unless you're self-employed!). Not to mention, you are a contributing member of society, so of course you are entitled to health insurance. Since I am not employed, I definitely supplied more documents than necessary, just in case!
I submitted the following documents in my health insurance application.
Form: Demande d'ouverture des droits à l'assurance maladie (PDF below: available in French and in English)

Required supporting documents are listed on the second page of this form
This form is used for first time requests or if you've lived in France previously, had a SSN, and just need the account reactivated. French social security numbers are for life, even if you're not French.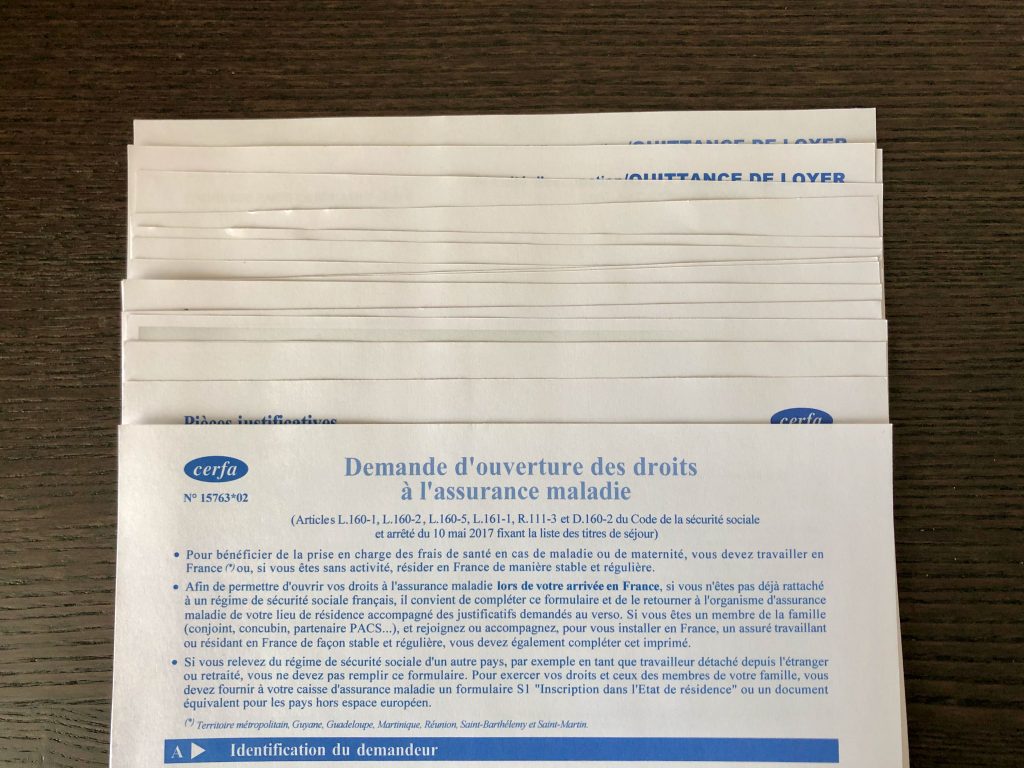 Submitting the Paperwork
You can either submit documents in person or by mail. In either case, you need to look up your local CPAM (Caisse primaire d'assurance maladie). When you go to the Ameli website, a window pops up for you to enter your zip code. The website will then auto-populate with information that you need, including addresses and contact information.
If you live in Paris, here is the address:
Assurance Maladie de Paris
75948 Paris CEDEX 19
I sent in my paperwork by mail. I don't think that going in person makes the process any quicker, so I didn't want to waste my time (also Covid).
The office might not contact you if they need further documents or they might contact you by mail, which can take weeks. It is best to be proactive and call. (See the next section below for the 3 phone calls I made!) You can find contact information and calling hours on the Ameli website after you've entered your zip code.
Assurance maladie (CPAM) phone number for all of France: 36 46
Monday-Friday, 8:30am to 5:30pm (Paris CPAM hours; hours in other departments may vary)

English helpline for Ameli and French health insurance questions:
09 74 75 36 46 (from France)
0033 974 75 36 46 (from other countries)
Monday-Friday, 8:30am to 5:30pm
Personally, I switched back and forth between the French line and the English line. I found both to be helpful, but sometimes one of them didn't work.
Sécurité sociale, carte vitale, & Troubleshooting
Unless you've previously lived or worked in France and had a social security number, you might be issued a temporary number first. It will arrive by mail. You will not be able to open your account on the Ameli website (used for tracking reimbursements, etc) or apply for a carte vitale until you have a permanent number.
Permanent numbers are recognizable because they start with a 1 for males and a 2 for females and each of the following numbers has a specific meaning. Temporary numbers usually start with 7 for males and 8 for females and/or they may have several zeros in the middle. Your temporary number can be used right away, but you'll need to pay in advance and then manually complete and submit une feuille de soins with each visit.
Phone Call #1: Following Up on Paperwork
When your permanent number arrives, you can create your account on Ameli and request your carte vitale. In my case, I had previously worked in France, so my permanent number was simply reactivated. I found out that my paperwork had been successfully processed by calling. After asking why I didn't know that my number was active (and had been for the past month and a half, btw), he immediately emailed me my Attestation de droits. This form states that you are covered by health insurance and includes your numéro de sécurité sociale. (Why was this not just emailed to me automatically?!) He told me I should set up my account online and order my carte vitale.
I attempted to create an account on Ameli (TIP: Enter just your last name where it says nom.) but was met with the message, "Votre situation actuelle ne vous permet pas de créer immédiatement votre compte ameli." (Your current situation does not allow you to create an ameli account at this time.) Considering I had previously lived and worked in France, I tried to log in and say that I forgot my password. This didn't work either.
Phone Call #2: Trying to Create My Ameli Account
When I called for the second time, the woman on the phone said that I needed a code provisoire (temporary code) to log in for the first time, and she texted me the 4-digit code. (Why was this not given to me when I called the first time?!) Feeling confident, I logged into the Ameli account, checked my information and began filling out my request for the carte vitale (Mes démarches -> Commander une carte Vitale). A new message: "Nous vérifions actuellement les données vous concernant. Pour plus d'informations veuillez contacter votre caisse." (We are currently verifying the details of your account. For more information, contact your local CPAM.)
Phone Call #3: Ordering My Carte Vitale
During phone call number three, the woman I spoke with confirmed that yes, indeed, my account was blocked, but she wasn't sure why. As a result, I would not be able to order my carte vitale online. She would send a special green form to my address that I could use to request my card. According to her, the form would arrive within 2 weeks. (Spoiler alert: It arrived after 3 weeks.)
Feeling frustrated, but not defeated, I continued to try and order my card every day following this phone call. After a week, I was finally able to submit my request. (Never give up!) You'll need to upload a copy of your passport and a passport size photo that conforms to French standards. I took a photo of a French-size passport photo. You will receive an email confirming your request, and you can check the progress online. My card arrived in less than two weeks. I'm still recovering from the shock of that quick turnaround time.
⚠️ Beware of carte vitale scams asking you to pay for your card!
Timeline
These are estimates based on my own experience and stories that I've heard!
Mail documents by registered mail

Get confirmation of documents received by CPAM—3-5 days

Receive temporary number—1-2 months
Receive permanent number—anywhere from 2 months after receiving the temporary number to your guess is as good as mine (or perhaps you'll be issued a permanent number straightaway!)
Receive carte vitale

If requested online—two weeks (best case)
If requested by mail—three weeks (best case)
As always, there are a lot of variables at play here, and the process can take significantly longer. When I lived and worked in France with the Teaching Assistant Program, it took about 8 months for me to receive my card from when I first started the process. For some people, this whole process can drag on for a year or two, so be sure to call early on to avoid any unnecessary delays.
If you've been assigned a number before, if you are currently working, or if you are rather lucky, this whole process might go quicker. On the other hand, your paperwork might be lost multiple times. It's anyone's guess really!
---
Did this guide help you? Say thanks with a cup of coffee!

---
Médecin traitant
In order to benefit from the maximum reimbursements available through your health insurance, you should declare a médecin traitant . It is not required to do so, but definitely advantageous. You can change to a new médecin traitant at any time. The médecin traitant can be a general practitioner or a specialist. This doctor, if they agree, will keep track of your medical records.
When choosing your primary doctor, you might want to ask if they are taking new long-term patients before you make your consultation appointment, otherwise you might end up wasting your time. A doctor can refuse your request. Personally, I chose to go to a medical group. In this way, the medical center will be in charge of my records and all the doctors in the group are considered my médecin traitant.
Many doctors now submit the paperwork online. In my case, the doctor gave me the paper version of the form, I filled out my information, and then I mailed it to my local CPAM. Less than a week later, I was able to see that my médecin traitant was noted in my online Ameli account.
Mettre à jour la carte vitale
Your carte vitale needs to be updated at least once per year and should be updated anytime your situation changes (i.e. employment status, marital status, pregnancy status, lol, etc. ) Failure to do so could result in your card not working properly. Updating your card involves sticking it in a machine for less than a minute. Many pharmacies have the machines to do this (it typically looks like a credit card reader) or you can do it at a borne multiservice (electronic kiosk / information point) located in a nearby health insurance agency.
Carte Européenne d'Assurance Maladie
The European Health Insurance Card (EHIC) facilitates the reimbursement process for health expenses when traveling within Europe. Without this card, you still have the possibility of being reimbursed, but you'll need to pay all costs upfront. In this case, you should be especially careful about saving your receipts.
You can request a carte européenne d'assurance maladie (CEAM) through your Ameli account under the Mes démarches tab. It is recommended to order the card at least 15 days before your departure date. I ordered mine and received it 5 days later. This card is valid for up to two years.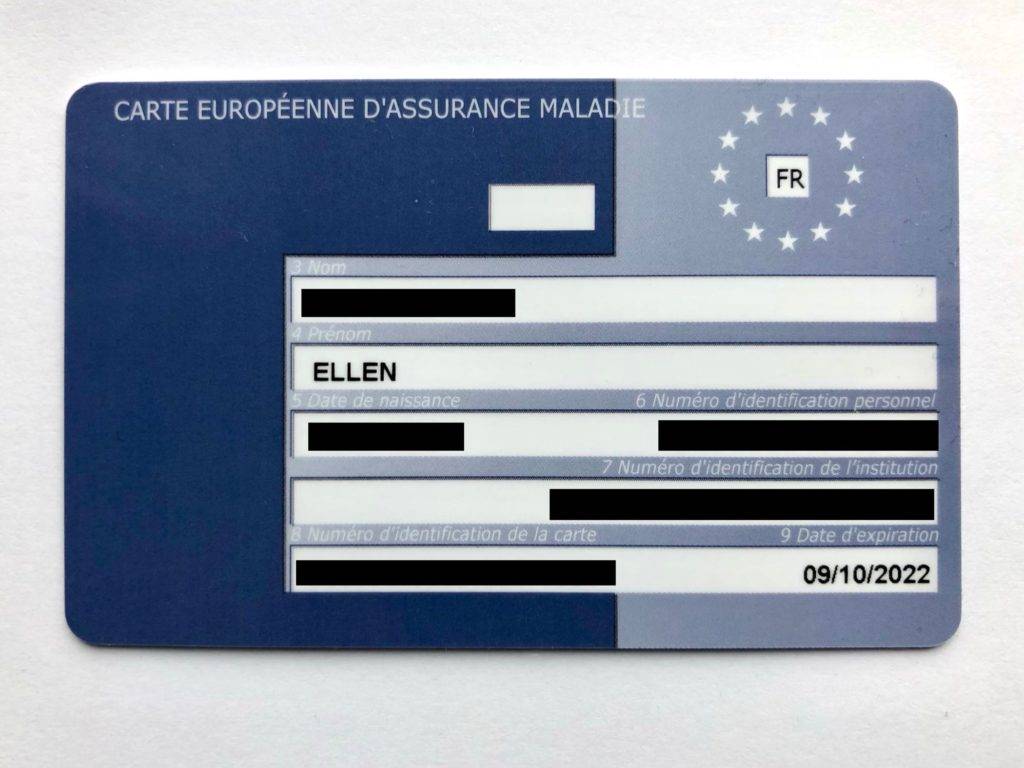 How to Apply for Health Insurance in France as an Expat