This post may contain affiliate links, meaning that if you click and make a purchase, I may earn a commission at no additional cost to you. Read the full disclosure here.
Nothing boils my blood quite like seeing people being taken advantage of. And as expats living in France, we are far more susceptible to potential phishing scams, all the more so when we are desperate to finally have that elusive carte vitale we've heard so much about!
Watch out for these common carte vitale scams and read the answers to these FAQs carefully so that you can determine the legitimacy of texts, emails, and phone calls you may receive from the French health insurance program (Assurance Maladie).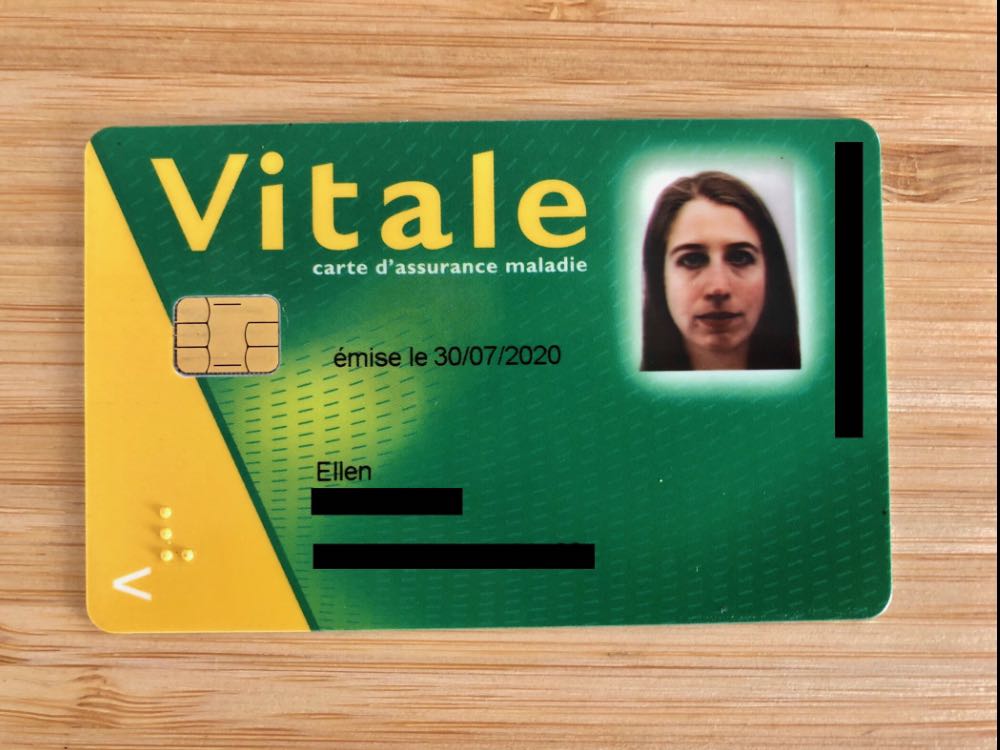 Common Carte Vitale Phishing Scams
Phishing (hameçonnage) is a major problem in France. This is when you are contacted by someone posing as a legitimate institution in order to get personal information with the purpose of accessing your accounts. When successful, phishing results in identity theft and/or financial loss.
In my time in France, I have only ever received 2 legitimate text messages from Assurance Maladie. The rest have all been fraudulent.
The first valid SMS text message I got was when I was in the process of creating my online account with Ameli. I called the number for assistance and they immediately texted me a temporary password to access the online interface. This was a text message I was expecting to receive.
The exact phone number that I received the message from isn't of much consequence, but something to note is that any authentic communication will generally be from a 5-digit number as opposed to a typical phone number like the scams I've received.
The second instance when I received a verifiable text from Ameli was when I tested positive with Covid.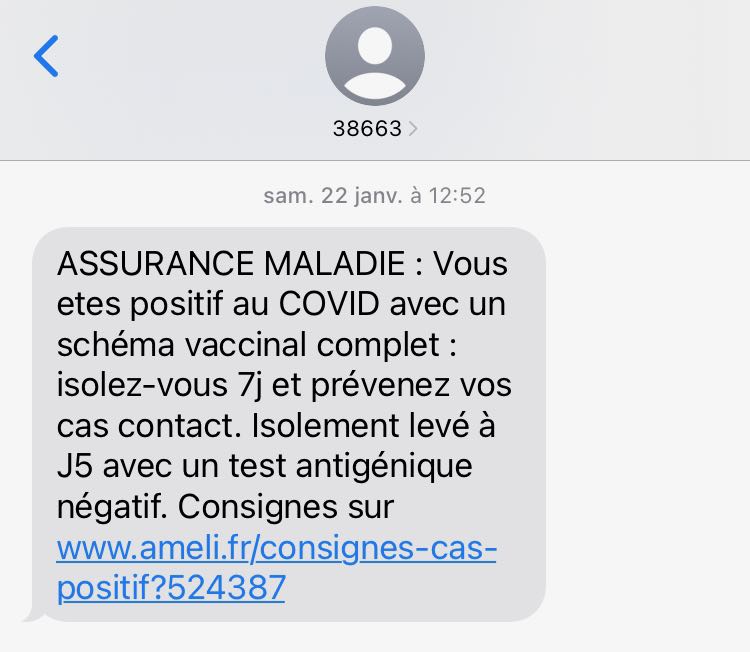 As you can see, it's not typical for the French healthcare program to contact you via SMS text messages. If Assurance Maladie needs to notify you about something regarding your account or the carte vitale, it is unlikely that they will text you.
Indications It Might Be a Scam Text, Email, or Phone Call
Asking for very personal information such as bank account numbers, login details, etc

A request for more information or documentation is more likely to come in the form of a letter or email
Assurance maladie will never ask you for your full bank account number over the phone nor will they ever ask you for login information

Requesting payment for a carte vitale or to cover shipping or delivery costs

There are no fees associated with getting your carte vitale

"Click here to receive this very large reimbursement sum."

Unlikely.
You had to submit bank account information when you signed up for health insurance. They'll send along any reimbursements automatically.

Fear-mongering messages urging you to act, such as saying that your French health insurance card is due to expire or that you will no longer be covered by health insurance if you don't fill out a certain form

Resist the urge to react immediately and check out the FAQs below!

Shortened weblinks (such as cutt.ly or bit.ly) or other illegitimate websites

The French government is not cool enough to know how to do shortened weblinks ✌🏻
Two official websites to keep in mind: ameli.fr and monespacesanté.fr

Text messages from a telephone number other than a 5-digit number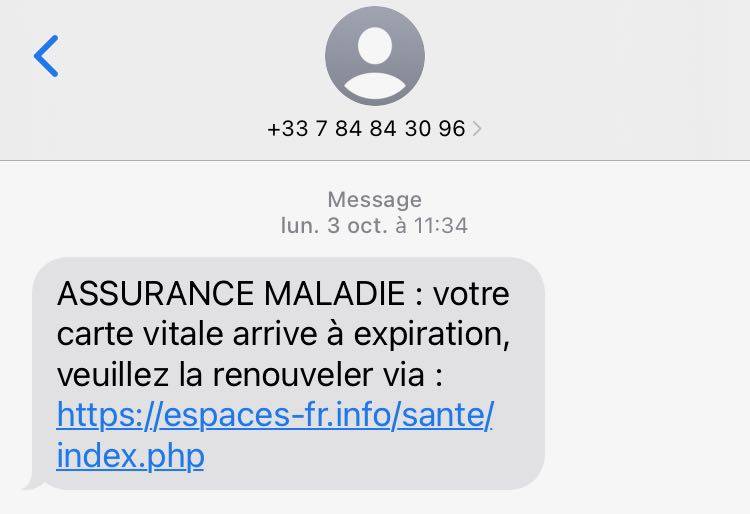 Examples of Scams You May Receive via SMS Text Messages:
ASSURANCE MALADIE : votre carte vitale arrive à expiration, veuillez la renouveler via : https://espaces-fr.info/sante/index.php
ASSURANCE MALADIE : Votre nouvelle carte est disponsible, veuillez remplir le formulaire ci dessous afin de rester couvert : ameli-info.fr
[Espace santé Caisse]: Après les derniers calculs annuels pour l'exercice de votre activité, nous vous informons que vous avez un remboursement de 888€. cliquant ici : https://fr-espacesante.com/compte
---
Did this guide help you? Say thanks with a cup of coffee!

---
What is a carte vitale? How does it work?
A carte vitale is a microchipped physical card that certifies your access to the French healthcare system (Assurance maladie). All adults and children from the age of 16 have their own card if they benefit from French health insurance. Children under the age of 16 are linked to their parents' cards.
Medical professionals such as doctors and pharmacy technicians can use your card to report medical expenses on your behalf. This allows for an automatic, electronic transmission of your expenses and sets in motion the reimbursements that you are potentially entitled to from the health insurance program as well as any top-up insurance (mutelle) that you might be enrolled in. Since your bank account is (or should be!) linked up to your account, reimbursements will arrive directly to your bank account.
What information is on your carte vitale?
The physical green and yellow card shows your photo, full name, and French social security number. There is also a microchip on the card. This card is used to identify yourself in medical situations such as at the doctor's office, at the pharmacy, or at the hospital, etc.
When medical personnel checks your card, they have access to limited information. For starters, they can see if you are registered with the French health insurance program and the rights you have. (Independent workers are enrolled in a different program than salaried workers, for example.) The microchip may also contain mentions of your médecin traitant (if you've declared one) or your mutuelle (top-up insurance). It does not contain your medical history or other sensitive, private information.
What is Ameli?
Ameli refers to the secure interface through which you can access the French health insurance system. On this portal, you can request a carte vitale, check the status of medical reimbursements, update your personal information, and more.
Ameli is accessible through the website ameli.fr or through the Compte Ameli smartphone app.

What is Mon espace santé?
Mon espace santé is a relatively new initiative from the French government. A personal online space was created for you so that all of your health data is in one spot. This is supposed to provide for an easy and secure way to manage your health history and also to be able to share it with your health professionals.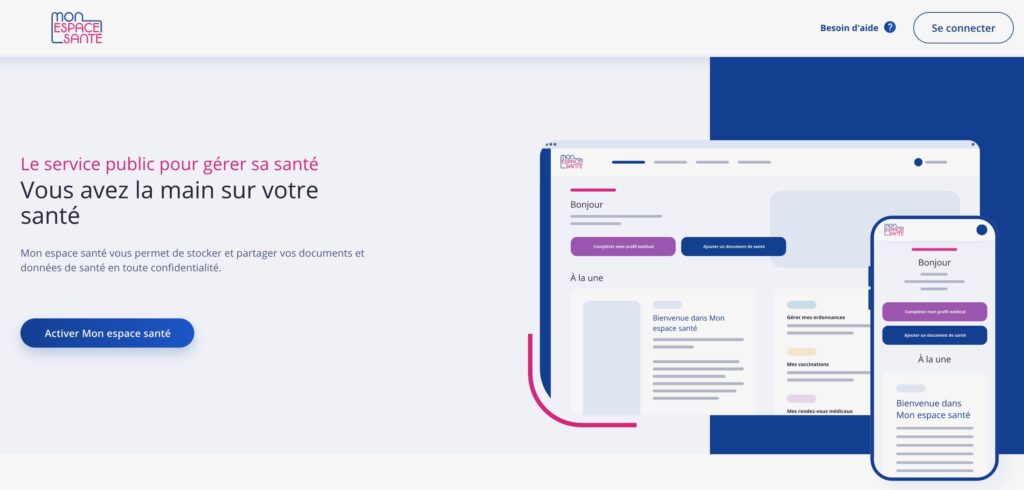 How do you get a carte vitale?
Applying for French health insurance and applying for a carte vitale are two separate processes. You must first have rights to health insurance and a permanent social security number before you can request a carte vitale.
How much does it cost?
The carte vitale is free of charge. There is no charge for the card itself or for its delivery.
What if you don't have a carte vitale yet?
You can still get reimbursed for medical expenses even if you don't have a carte vitale yet, as long as you have a social security number. In this case, reimbursements are requested by filling out a feuille de soins with your temporary or permanent numéro de sécurité sociale.
How long is it valid for? Does it need to be renewed?
The carte vitale has no expiration date. Therefore, it does not need to be renewed. However, it should be updated yearly and/or anytime your situation changes (marriage/divorce, address change, job change, pregnancy, etc).
This update can be done at most pharmacies. Just tell the pharmacist that you would like to do une mise à jour and hold up your card. They'll either do it for you or direct you to a small machine that looks like a credit card reader and have you do it yourself. Once the card is in the machine, the update only takes a minute or so. Nothing more is required of you!
Alternatively, you can also venture into one of your local health insurance agencies (caisse primaire d'assurance maladie, CPAM) and update it yourself at the borne multiservice (electronic kiosk / information point).
What happens if you lose your card? Or if it stops functioning?
If your carte vitale was stolen or lost or if it no longer works, you can report this to Assurance Maladie and request a new card, all via the Ameli website.
Mes démarches > Effectuer une démarche > Déclarer la perte ou le vol de carte Vitale

---
Have you encountered any deceptive scams regarding your carte vitale? Share your experience in the comments below!
The Carte Vitale: Scams to Avoid & FAQs