This post may contain affiliate links, meaning that if you click and make a purchase, I may earn a commission at no additional cost to you. Read the full disclosure here.
Last Updated: November 12, 2022
A feuille de soins is a reimbursement form to claim back medical expenses. Most of the time, the feuille de soins is submitted electronically on your behalf via your carte vitale. However, in some cases, you will pay all medical fees upfront at your appointment and in order to get a reimbursement, you will need to manually submit a request. This will be the expectation if you do not yet have a carte vitale or if you forgot to bring it to your medical appointment. As another example, some doctors do not have a carte vitale reading machine or occasionally those machines malfunction.
Obviously, you can only get reimbursed for medical expenses if you have French health insurance. Even if you don't have your permanent social security number yet, you can still submit these forms as long as you have a numéro provisoire (temporary number). If you do not have any number at all, hold onto your feuilles de soin. You may be able to ask for reimbursements retroactively if your application is being processed.
Guide: How to Apply for Health Insurance in France as an Expat
Getting a Feuille de soins
At the end of your appointment, the doctor will give you the feuille de soins if you fall into one of the scenarios mentioned above. You can also get one from the pharmacist if you are picking up prescriptions at the pharmacy. Don't hesitate to explicitly ask for one if you are unsure.
Here is a sample Feuille de soins so you can see what it looks like.
The doctor or pharmacist will partially fill in the form with their contact information, the total cost that you paid out of pocket, and they'll sign the bottom of the form. They may complete some of your personal information on the form as well. It is up to you to fill in the rest of the form and mail it or drop it off to your local CPAM (Caisse primaire d'assurance maladie).
Completing the Feuille de soins
If you are the one who received care and you have your own health insurance, fill out numbers 1-5 as indicated in these photos and described below.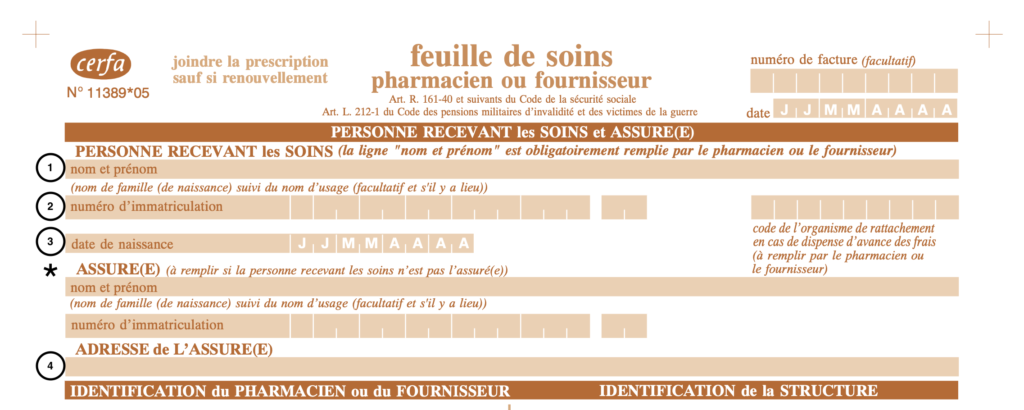 "PERSONNE RECEVANT les SOINS" (Person receiving care)
nom et prénom (LAST NAME First Name)
numéro d'immatriculation (social security number)
date de naissance (birthdate in this format: DD/MM/YYYY)
ADRESSE DE L'ASSURE(E) (address of the insured person)

5. signature de l'assuré(e) (signature of the insured person)
*In some instances, the person receiving care is covered under someone else's health insurance. This is the case for children, for example. If a child is receiving care, their name and information will be in the top portion under "PERSONNE RECEVANT les SOINS" and their parent/guardian's information will go under "ASSURE(E)".
Submitting the Form and Supporting Materials
The feuille de soins form will be dated in the top right corner. You have up to two years to submit your reimbursement requests.
Supporting Materials
If you have a prescription (une ordonnance), include it with your form. A prescription provides proof that you needed these services and will ensure that you receive the highest reimbursement. When seeing a specialist, a prescription/referral from your designated primary doctor (médecin traitant) also shows that you have followed the expected path of medical care by seeing your primary doctor first. (Note: You can see some specialists directly without a referral, like the eye doctor or gynecologist.)
For example, before going to the foot doctor, I went to my médecin traitant who wrote me a prescription for a consultation at a foot doctor as well as custom-made orthotics. A prescription or referral is not a requirement. If I had gone directly to the foot doctor without seeing my médecin traitant first, I would still be reimbursed but at a lower rate.
Reimbursement rates are listed on the Ameli website.
Where to Submit Your Feuille de soins
You can either mail the form or drop it off to your local caisse. You can find the address for your local caisse on the Ameli website. Enter your postal code in the pop-up window.
If you live in Paris, here's the mailing address:
Assurance Maladie de Paris
75948 PARIS CEDEX 19
You can send multiple feuilles de soins in the same envelope. Keep in mind that the weight limit for a regular stamp is about three pages, so if you're sending more sheets than that, you'll need to add more postage. If the reimbursements are for different people (different social security numbers), I would caution against sending them together in order to prevent any confusion.
➡️ TIP: Before mailing your paperwork, make a photocopy or scan it for your own records. If you don't have a printer/scanner at home, download the AdobeScan app, an essential phone app for life in France!
These forms can be sent by regular mail. Some people prefer to mail them by registered mail. Personally, I don't want to spend the extra money on that service, so I keep a copy of all my sheets. Fortunately, I have not had any problems with my documents arriving to my caisse. However, one time, I had to send in a copy of a form because CPAM claimed that the original was unreadable. They accepted my photocopy though and they processed my reimbursement!
---
Did this guide help you? Say thanks with a cup of coffee!

---
Reimbursements
Reimbursements will be paid directly into the bank account that you supplied when you applied for health insurance. If you need to change your bank account details, you can do so on the Ameli website or by mail.
If you have an account with Ameli, you can track your reimbursements. You can also check the current processing times at your caisse. In your Ameli account, click "Mes Démarches" and then "Consulter les délais de traitement de ma CPAM." Expect the reimbursement to take at least a week or two, but it could take months, especially if you're not yet set up in the system and don't have an Ameli account.
⚠️ Beware of SMS text messages from Ameli asking you to fill out a form or click on a link in order to get your reimbursements. This is a common health insurance scam.
How to Fill Out a "Feuille de soins"