This post may contain affiliate links, meaning that if you click and make a purchase, I may earn a commission at no additional cost to you. Read the full disclosure here.
Last Updated: December 2, 2022
If you're moving to France from the United States and you're not sure what American products to bring with you, I've got you covered!
I'm sharing my personal list of things that I bring back to France from the United States of America. Every time I'm back in the States, I reference this list so that I can stock up on my favorite food products, ingredients for cooking and baking, personal hygiene items, and pharmaceuticals. This cheat sheet started out as a note in my phone and here it is now, in all its glory!
When I have extra space in my luggage, I pack things that are non-existent or hard to find. Sometimes, my excuse is simply that it's a whole lot less expensive in the United States. For example, why would I spend $5 (or more!) on a small jar of peanut butter in France when I can get a brand I actually like for much cheaper?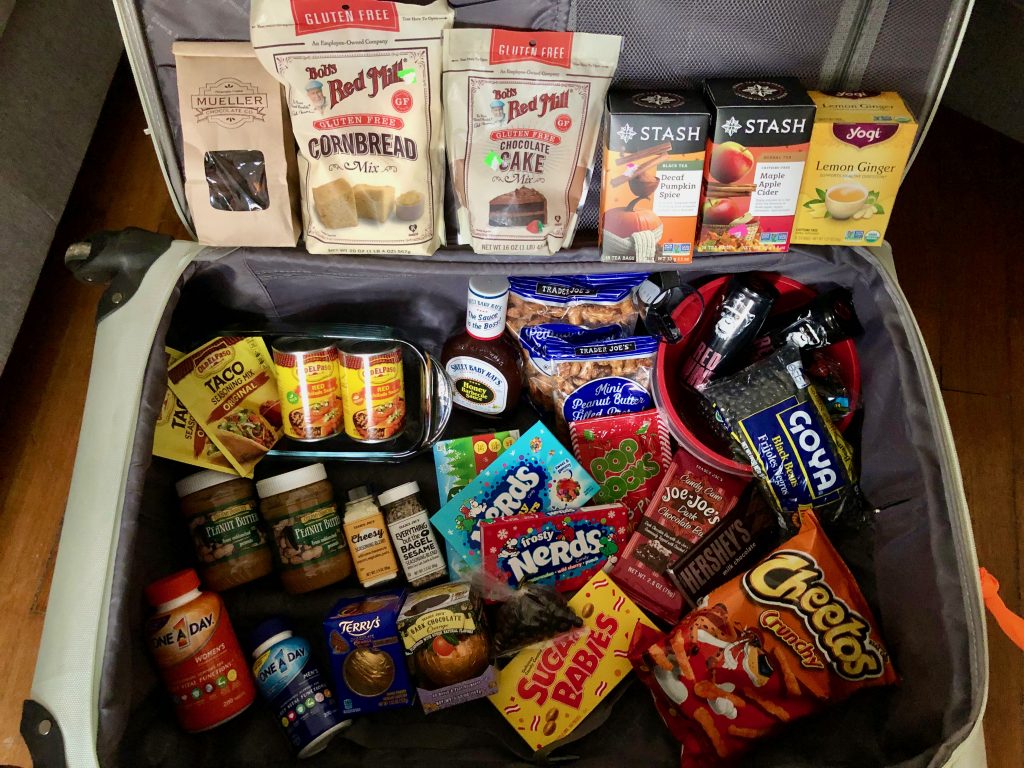 So, this is NOT a list of things that you cannot find in France. The truth is, France, and especially Paris, have become more and more international. French grocery stores have changed greatly over time, with an ever-increasing selection of international foods and imported goods. There are many specialty stores, including "American" stores where you can get just about anything you need. (Yes, even Flamin' Hot Cheetos!) And if you can't find exactly what you are looking for, you can often find a suitable replacement.
Read more: French Grocery Stores vs. American Grocery Stores
This list will come in handy if you are moving permanently or for an extended period of time. Likewise, if you are visiting an American friend living in France, they would probably love it if you packed a few of these things in your suitcase. Some of these items could also make great gifts for French people. Remember to always check the rules on imported products before packing your bags.
A Note on Creature Comforts
On American expat forums, I see these questions come up regularly: What should I bring with me to France? What things are hard to find? What won't I be able to find at all? What do you miss since moving to France?
Inevitably, someone will respond by saying that there is nothing you need; you should be embracing the new culture and learning to like new things. Ugh. I can embrace having yogurt after lunch and also crave Annie's Mac and Cheese for dinner. I want good foie gras so I can put together an awesome apéro, and I also want molasses and shortening from America so I can continue to make my family's favorite cookies.
Don't let anyone make you feel bad about wanting things that remind you of home. We are creatures of comfort and habit. It doesn't mean you aren't embracing the new culture, and it doesn't make you less grateful. It makes you human.
Related: 10 Things You'll Only Understand if You've Lived Abroad
Baking
I'm an avid baker. I've been able to find nearly everything that I need in France, but there are a few things that I'm glad I found room for in my suitcase for the convenience they provide.
Baking powder (Baking soda is easily found in a good-sized bag/box, but baking powder tends to come in small packets of about 10 grams—2 teaspoons. Additionally, you are likely accustomed to using double-acting baking powder in the States, but French baking powder is commonly single-acting, which may have an affect on the final product!)
Brown sugar (this sugar from Monoprix has the right texture, but Domino brown sugar is the best, isn't it? You can also find brown sugar in some asian supermarkets. Look for key words like sucre muscovado or cane sugar.)
Chocolate chips (The bags from the French grocery store are so small, they're laughable. These days, I usually just break up a chocolate bar.)
Cream of tartar (essential for snickerdoodles)
Gluten-free mixes, such as cake mix (gluten-free options are still limited in France, so this is great to offer as a gift!)
Molasses (you can find molasses here, but it has a much stronger flavor which you might not like; Grandma's molasses all the way!)
Real vanilla extract (most of the liquid extract you find here is the fake stuff unless you go to an organic store or you can make a switch to powdered vanilla)
Shortening (bring a small tub of Crisco if that's your jam; these shortening sticks are super convenient)
Cooking
Jonathan and I cook a lot, and we use a variety of spices. Spices in Paris can be pricey, so head to specialty stores to buy in bulk, and you'll definitely save money.
It is harder to locate spicy seasonings and sauces because French people literally cannot handle the heat. If there is something special that you like to use, bring it with you. I like spicy food, but I'm a baby on the spicy scale.
I've had some grocery store disappointments in France and unfortunately, the disappointments have continued with Marks & Spencer, a British grocery store, closing most of its stores in Paris. I used to find a lot of great things there to supplement what I couldn't find in the regular grocery store (like actually good bacon!), but now the couple of stores that still exist post-Brexit are poorly stocked.
Clearly, I'm missing quite a few things…
BBQ sauce (Sweet Baby Ray's is obviously the best)
Black beans—dried (I've found canned black beans by the brand Cassegrain but they are seasoned with lemongrass which can alter the taste of your dish depending on what you're making. Other options and dried black beans are starting to make an appearance in the capital, but it's hit or miss. You can also check out asian supermarkets for black soybeans which can be used as a substitute.)
Black-eyed peas
Chili powder (It exists here, but it doesn't quite have the same full flavor, in my opinion.)
Enchilada sauce (Most of the Mexican supplies here are disturbingly sweet.)
Hot sauce
Maple syrup (the real stuff)
Onion powder (I've only ever seen dried onion flakes)
Peanut Butter (Skippy is readily found, and you can now find natural peanut butter in many stores, but you'll save some money by bringing your favorite.)
Pinto beans—dried (if you want to make refried beans)
Powdered cheddar (don't bother with bringing boxes of mac and cheese, buy Anthony's powdered cheddar, use this recipe, and thank me later)
Ranch dressing/dip (Hidden Valley packets are very portable!)
Red pepper flakes
Taco/Mexican seasoning
Unique spices/mixes, like Trader Joe's Everything but the Bagel Sesame seasoning blend
Snacks & Candy
Most snacks don't pack very well, so while there are quite a few American snacks I can't find in France, I tend to not bring many over. Not to mention, my favorite cereal or a bag of chips in a flavor I really like isn't going to last very long, so it doesn't make sense for it to take up precious space in my suitcase. Cut your losses on any food items that fit this description.
Get ready to embrace French snacks and/or pay a premium whenever you have a craving and need to visit one of the American grocery stores or order online. But if you do have a little bit of room…
Seasonal/Holiday
I don't even like candy corn that much. But do I want my yearly one piece of candy corn while I'm in France? Yes, absolutely. Bring on all the artificial colors.
Candles tend to be a bit more expensive in France. In order satisfy my obsession, I like to bring over a candle or two. My favorite brand is WoodWick because it makes a crackling fire sound as it burns. My recent purchase of the Sand & Driftwood scent is amazing! Stock up on any of your holiday scents or favorites.
Medication
Over-the-counter medications and supplements in France tend to be expensive and the packs usually don't contain many pills. This is such an easy thing to bring to France, so stock up.
Advil/ibuprofen (big bottle!)
Allergy Medication
Multi-vitamins
Big bottles of your go-to vitamins / over-the-counter meds
Personal Hygiene
Until you're able to test and find something you like, you might want to have some of your favorite supplies on hand.
Burt's Bees' products
Deodorant (most French deodorants are roll-on liquid style, although selections are expanding)
Floss (much fewer options available if you're particular about what you like)
Make-up (more expensive in France)
Toothbrushes (Alright, this is weird, I know. Obviously there are toothbrushes in France. But I live in Paris, and I find it annoying that for the price of one toothbrush in Paris, I could easily buy a 4-pack of the same brand in the US.)
Tide to Go stain remover sticks
---
As you can see from my notes, most things are not essential and are really just convenience items. If you're coming to France for just a short period of time, I recommend you only take what you truly can't live without as there are tons of great products for you to try out here!
Before moving to France permanently, the longest period of time that I lived in France was a school year. Sure, I missed some of these things, but knowing that I'd be back in the States relatively soon, those things ultimately weren't important, and I didn't regret not bringing them. When you don't know when you'll be back, you tend to cling to the last advil in the bottle a little more dearly.
So, what would you add to the list? Let me know in the comments below.
Things I Bring Back to France From the United States