This post may contain affiliate links, meaning that if you click and make a purchase, I may earn a commission at no additional cost to you. Read the full disclosure here.
I love visiting grocery stores in other countries. I think it really gives you a window into the culture of the country you are visiting. When travelling, I think you should do your best to try new things and embrace the culture that surrounds you. When it comes to French food culture, there are many habits that I have adopted!
However, now that I'm trying to make France my home, I have a slightly different view when going to the grocery store. There are certain items that I am used to finding and cooking with on a regular basis. I have yet to truly explore specialty stores, like co-ops and ethnic markets, but here are a few things that I have to get used to when shopping at the typical grocery store in Paris.
1. Peanut Butter
Peanut butter on toast with honey. Peanut butter crackers. Peanut butter and jelly. Peanut butter on cut up apples. Peanut butter cookies. Noodles with Thai peanut sauce. A good old spoonful of peanut butter straight from the jar. I know I'm not alone in this. We are down to half a jar left. Not quite crisis mode yet, but we might need to start rationing it if we hope to make it until our December flight to the States. Believe it or not, Jonathan is actually the bigger consumer of peanut butter in this household.
Peanut butter exists in France. Can you spot it?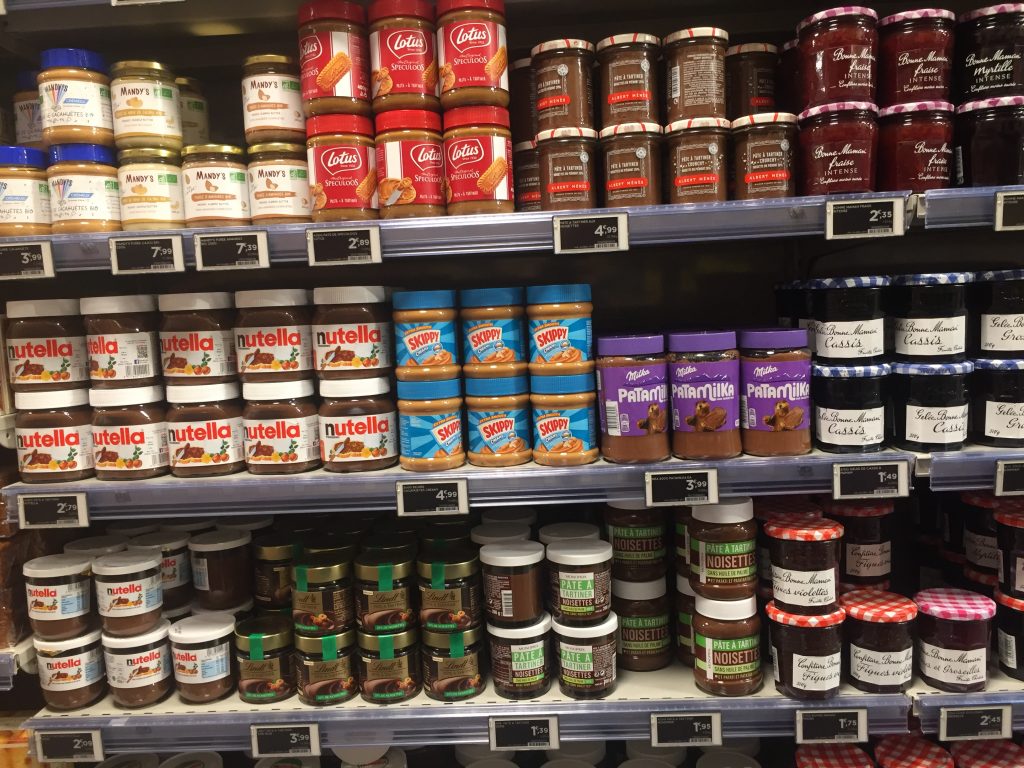 Check out the price on that! A miniscule jar of Skippy for 4.99 euros ($5.47). Skippy isn't even great peanut butter. I guess I've become a peanut butter snob, because I no longer buy it if it contains any ingredients other than peanuts and salt. In case anyone is worried about our upcoming peanut butter shortage, I really like Trader Joe's creamy peanut butter.
2. Black Beans
I am a huge fan of black beans. I often use them as a protein in vegetarian dishes, and they fit into a lot of Mexican recipes. Black beans do not exist here. I know- I'm in shock, too. Jonathan said I should just use red beans, and I suppose they'll taste the same. I'm not sure how I'll feel about seeing red beans sticking out of my enchiladas though….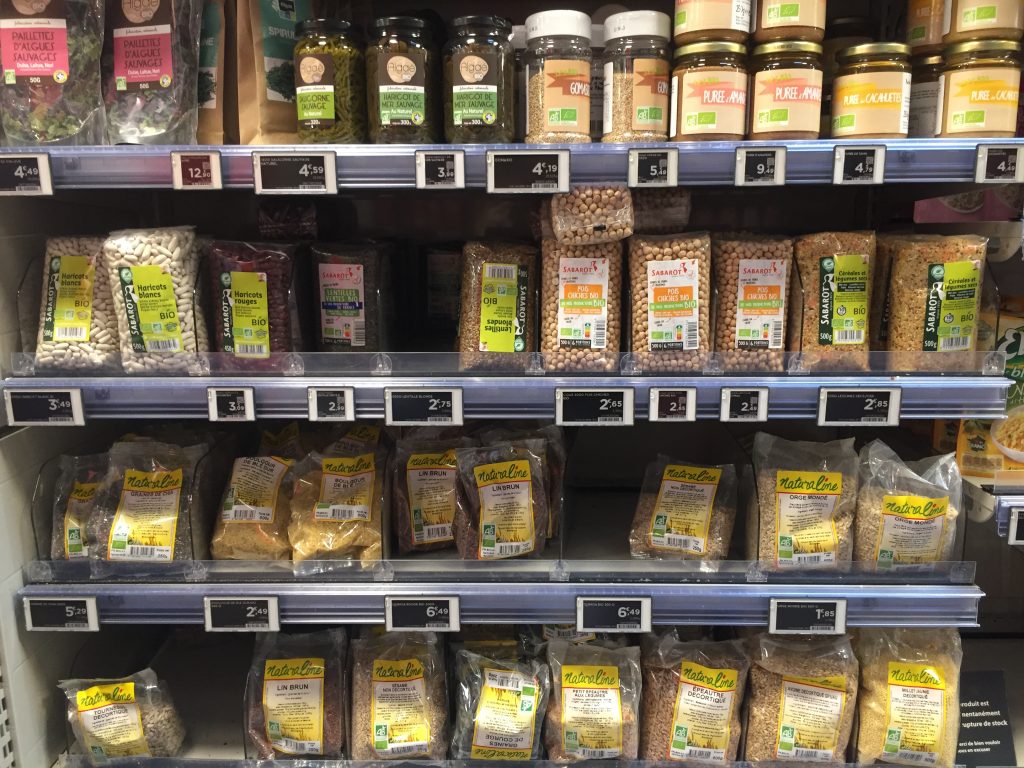 3. Mexican Food
Growing up in the States, I've been spoiled all my life by readily available, good Mexican food. It's also generally easy to prepare (if you have black beans 😂). At the very minimum, I require a regular supply of good chips and salsa. I guess I'll be exploring how to make my own salsa soon.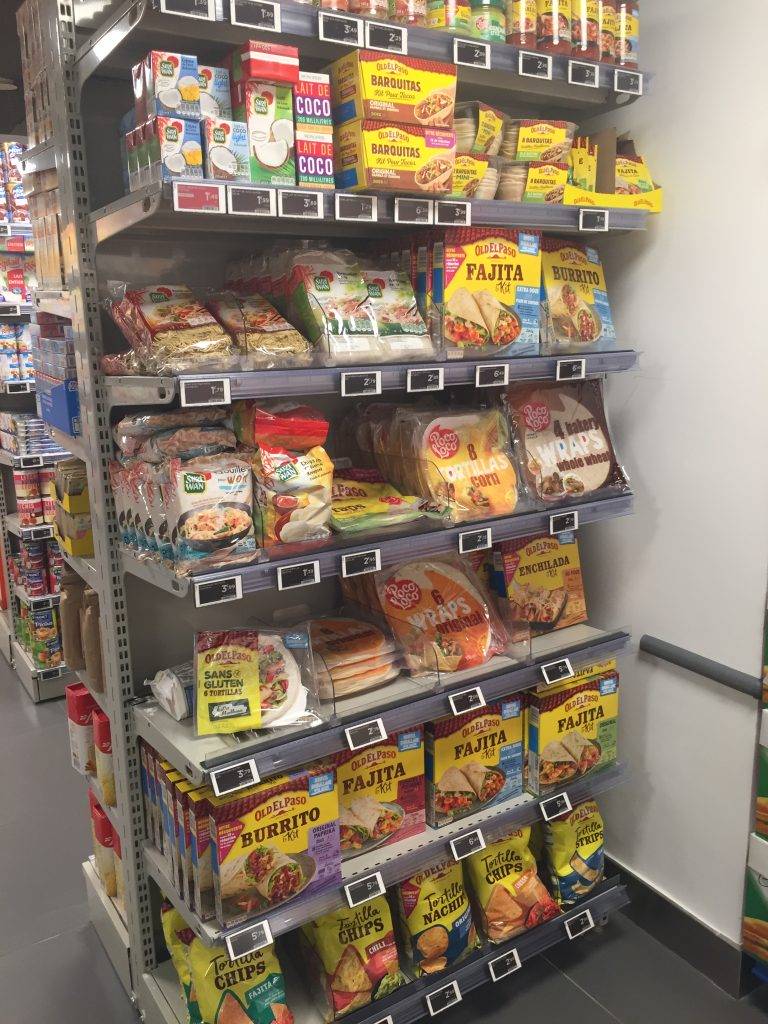 4. Italian Cheeses
At any given time, I used to have three to five different cheeses in my refrigerator. The staples were: shredded cheddar, shredded mozzarella, parmesan, and then usually some kind of French cheese, like a brie or goat cheese. I know that I'm currently living in the land of great cheeses, but Italy got a few right too, and they're essential if I want to make a good lasagna or baked ziti. Somehow, I think the shredded emmental cheese (swiss cheese) will just not cut it.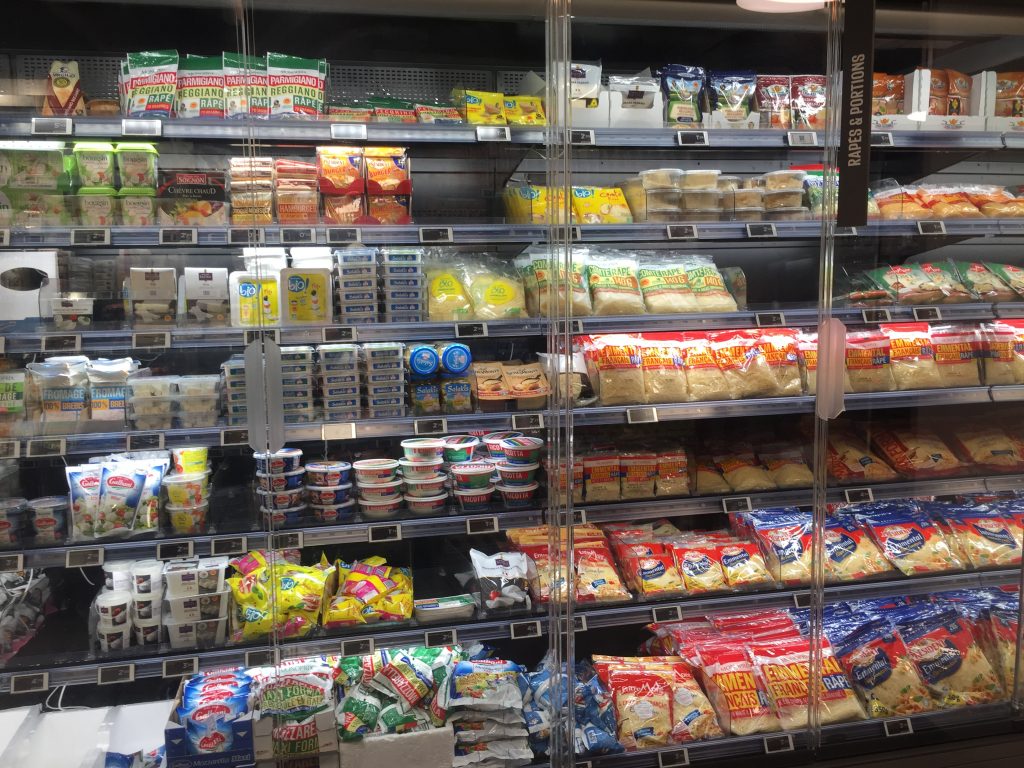 And that, my friends, is what you're seeing in this picture. Bags upon bags of emmental cheese. Not a low-moisture mozzarella in sight. There are a few containers of grated parmesan cheese, but the selection is small.
5. Ground Turkey
Is buying ground turkey weird? Apparently, I've gotten really used to cooking with ground turkey, and now that I'm in France, I'm questioning my habits. It tends to be less expensive than ground beef and, being a more bland meat, takes on flavors a lot more readily. There is no ground turkey here.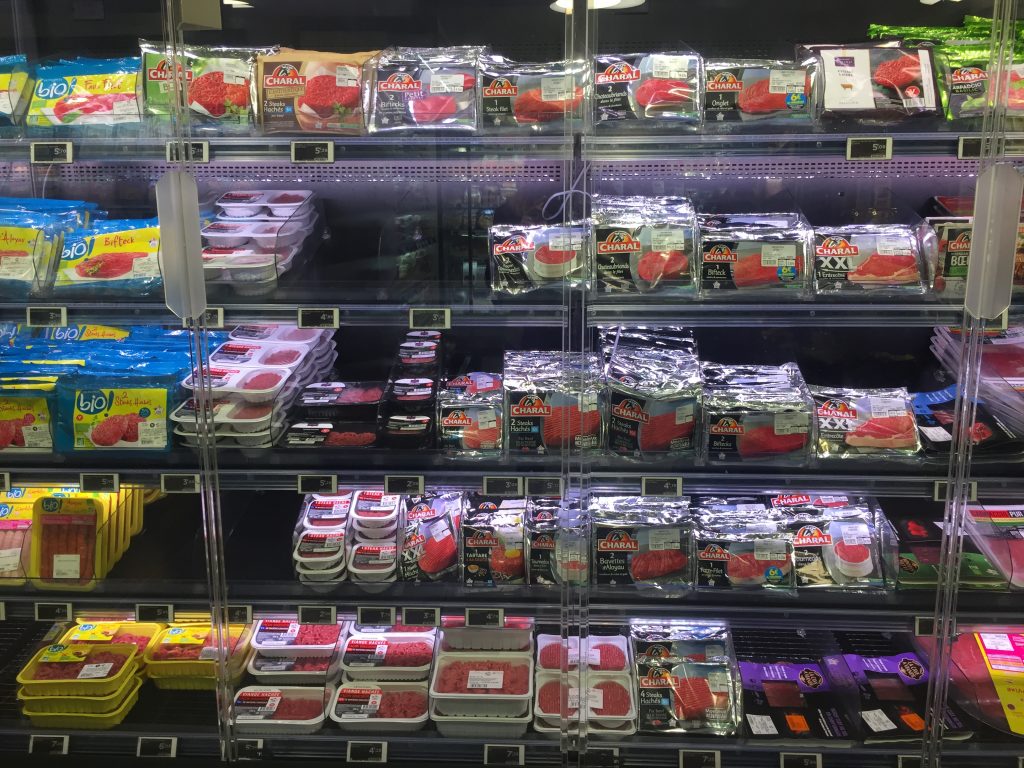 6. Boneless, Skinless Chicken Thighs
What is it about Americans buying meat, boneless and skinless? At some point in time, I got brainwashed into thinking that that was the only way, too. Now I'm in the real world, and this convenience is no longer available to me.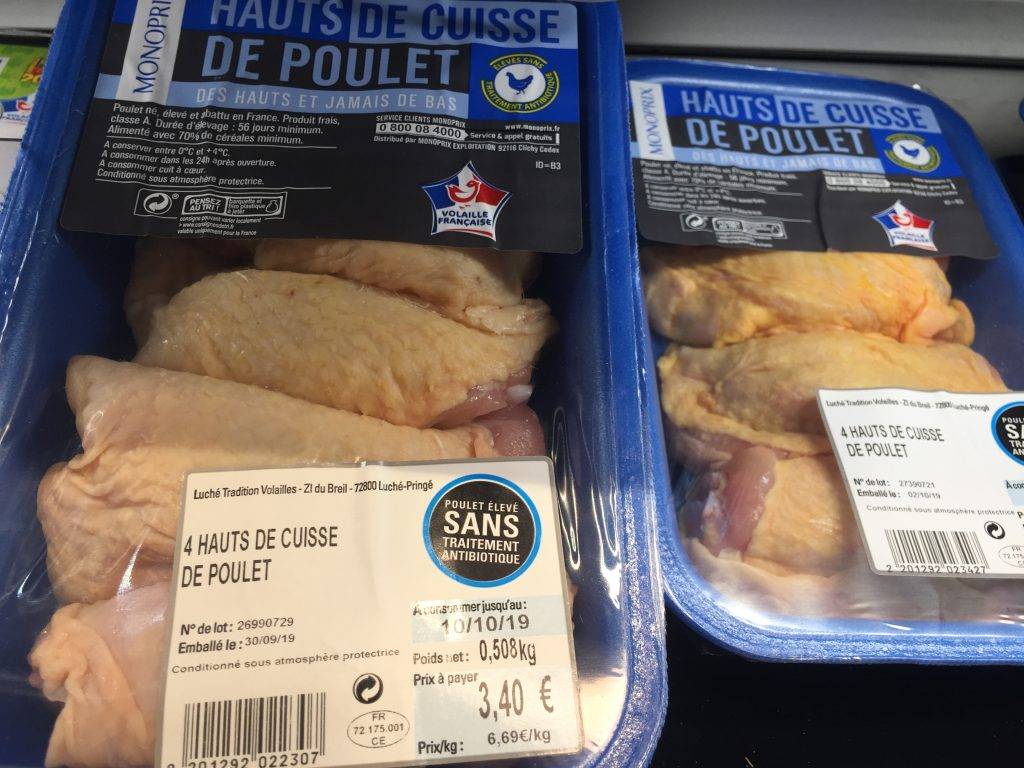 "Des hauts et jamais de bas" – Tops of the thighs: The tops and never the bottoms… Because chickens don't wear pants. Get it? #grocerystorehumor
7. Bacon
Real bacon. Crispy bacon. Not that Canadian crap. That's false advertising. That's just ham. Real bacon can now be found in France, but I laughed out loud when I saw it.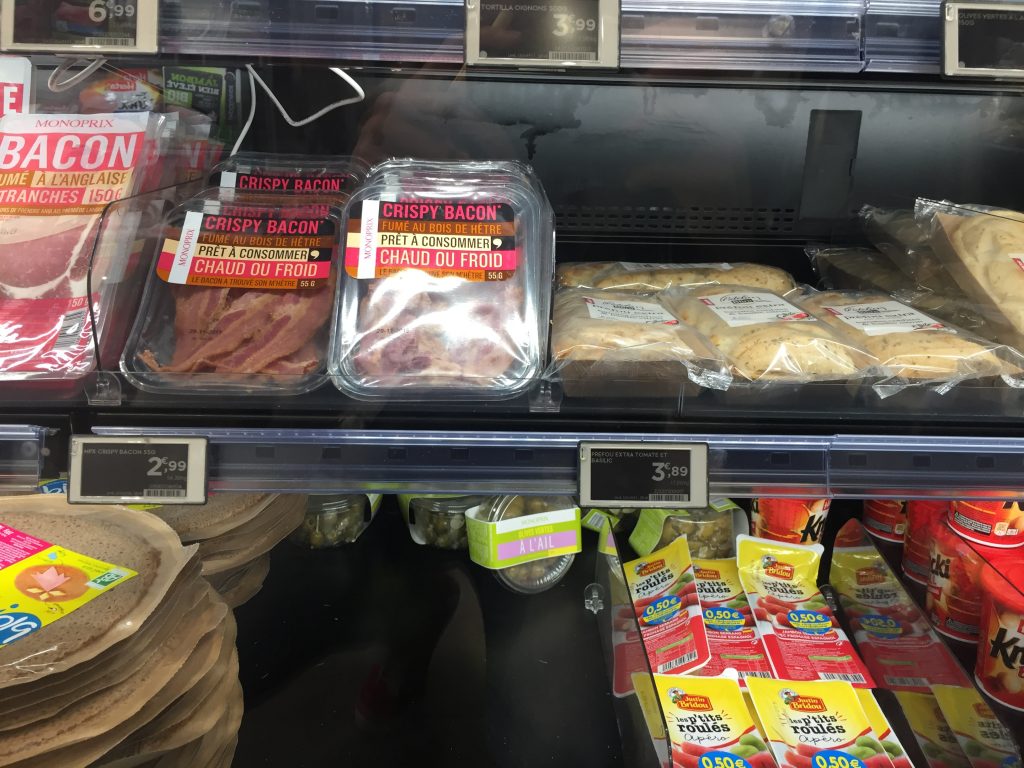 We already tried it. It's Jonathan-approved. But, with only a few slices at 2.99 euros ($3.28), it won't be coming home all that often. Plus, there's something great about a house that smells like bacon after it's been slowly cooked. I feel like I've been robbed of that, when they did all the cooking for me.
---
Mac & Cheese Update
You might remember that I brought powdered cheddar cheese with me in preparation for France's lack of macaroni and cheese. (Clearly an essential item on the packing list when moving across the ocean.) Powdered cheddar + milk + butter + hot noodles. We made some this week using Anthony's Cheddar Cheese Powder and this recipe from Kitchn. It was wildly successful. Seriously, even if you have access to boxed mac and cheese, give this a try!!
Related: Things I Bring Back to France From the United States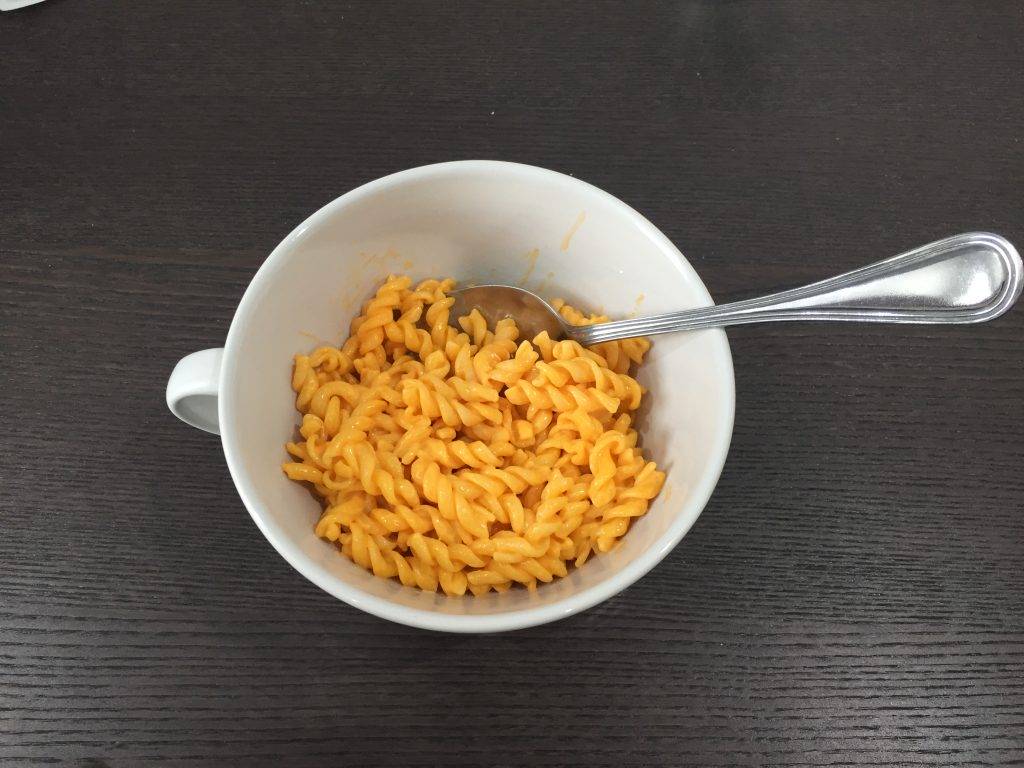 ---
Stay tuned for more Paris grocery store disappointments when I start baking this winter. That will be interesting!
7 Paris Grocery Store Disappointments