This post may contain affiliate links, meaning that if you click and make a purchase, I may earn a commission at no additional cost to you. Read the full disclosure here.
Do I talk about food a lot? And if yes, do you have a problem with that? No? Good!
Here are some French food habits I've picked up over the years. As always with my cultural comparison pieces, I write from my own experience and from a place of love. Enjoy!
1. Taking Time to Eat
Americans are trained early on to rush through meals, especially lunch. Students at the middle school where I used to work had 15 minutes to eat, which included getting their food from the cafeteria line and finding a place to sit. When I taught in France with the Teaching Assistant Program, all of the teachers in the school met in the faculty lunchroom and had an actual break that lasted half an hour. Compared to the 10-15 minutes I spent at my desk eating and working or worse yet, spent standing up during cafeteria duty, half an hour felt luxurious.
In France, multitasking and eating don't go together. This is not to say that there aren't French people who end up working through their lunch. Simply put, I think that meals are more often regarded as a pause and a convivial moment to enjoy with others, rather than something to check off the to-do list. This has been a hard habit for me to develop, but an enjoyable one.
2. Cutlery Etiquette
As you likely already know, a knife is obligatory at every meal in France, not only for cutting food but also for pushing your food onto your fork. French people tend to hold their fork in their left hand and their knife in their right hand throughout the meal, even if they're a leftie!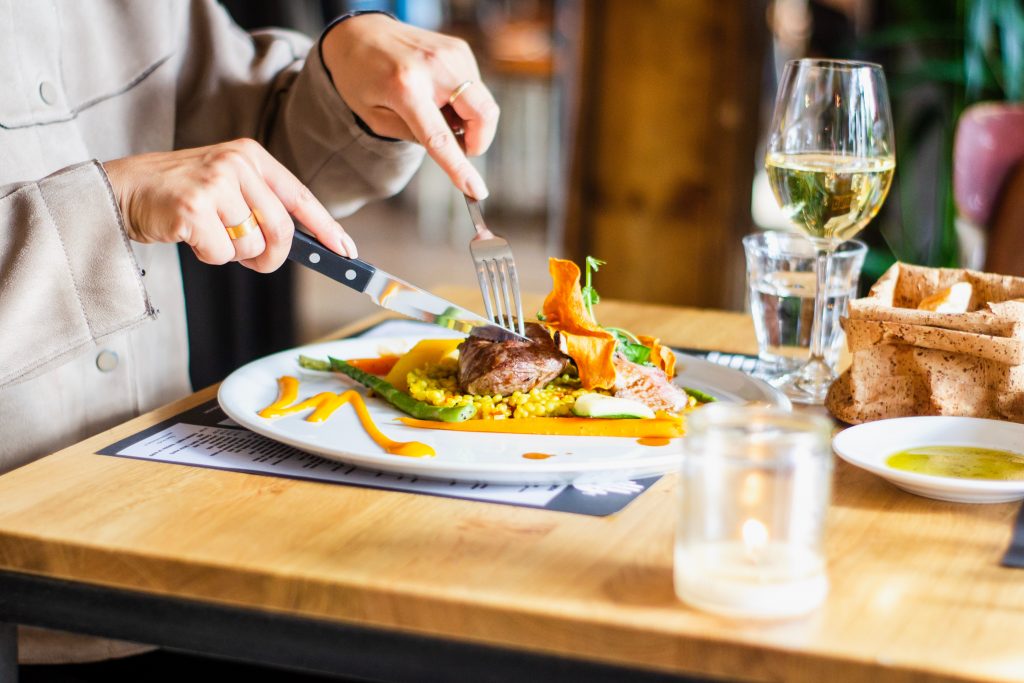 On the other hand (sorry, pun could not be avoided), Americans tend to hold their fork with their dominant hand throughout the meal. When cutting something, they put the knife in their dominant hand, cut a few pieces, put the knife down, and switch back to the fork. If you want a visual comparison of the American and European styles of dining etiquette, check out this video (starting around 55 seconds in). I have obviously adapted the European style, because it is a far more efficient way of eating.
3. Entrée Plat Dessert
I will be the last person to complain about a stack of pancakes bigger than my face, but you know what is also nice? Actually enjoying one or two courses because the portion sizes aren't ridiculously big. In the States, when dining out, you have to plan your meals wisely if you'd like an appetizer and/or a dessert in addition to the main course. I can't tell you how many times I've said, "I'm going to bring the rest of this 10 pound steak home so that I can save room for the caramel cheesecake brownie sundae delight." (or something along those lines)
In France, you can often finish what's on your plate without feeling like you forced yourself. Interestingly, a law recently went into effect in France requiring restaurants to supply you with un doggy bag if you request one. Although uncommon to see people ask for this, it can be done—I tried!
4. Meal Times
In general, lunch is eaten around noon and dinner is eaten late, around 8pm. Given how long the sun stays up, I have no trouble adapting to this late dinner time. On one occasion, we met up with friends at a restaurant for a 10pm reservation. That was admittedly a little rough for me.
I like to eat regularly, which is why it will come as no surprise that I have fully accepted le goûter, also known as le quatre-heures—4pm snack time! Truthfully, it can happen anytime between 4pm and 6pm, and it's mostly for kids when they are done with school. It's also for adults who get hangry, like me! I usually have something sweet, and I think of it as a mini meal to tide me over during the longggg afternoon.
5. "Dessert" After Lunch
What do you think of when I say dessert? In France, a common dessert, especially after lunch, consists of fruit or yogurt. While I'm still not sure I qualify these items as dessert, I have embraced this habit. It's a refreshing way to end a meal. Sometimes I'll have applesauce, with cinnamon of course. Jonathan regularly likes to finish off his meals with some cheese, the stinkier, the better. I'm not at that level yet.
Speaking of stinky cheese, we recently purchased this Tefal cave à fromage (cheese cellar) to keep our cheese fresh. It has charcoal filter inserts at the top to soak up all the stink, and it really works! I thought Jonathan was being silly for buying this, but honestly, I can't imagine not having one. Have you ever seen one of these?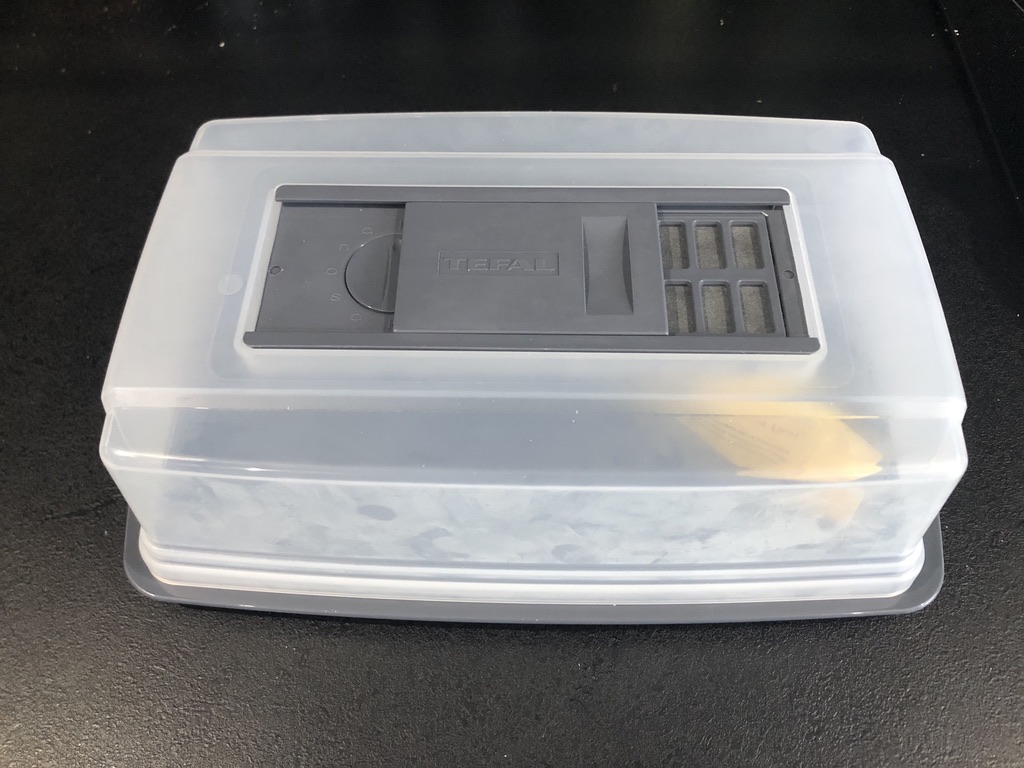 5 French Food Habits I've Embraced