This post may contain affiliate links, meaning that if you click and make a purchase, I may earn a commission at no additional cost to you. Read the full disclosure here.
This was by far one of the most frequently asked questions I received whenever I announced my big plan to move to Paris. Valid question. I had been living on my own, renting a small house, and over the past 5 years, I had acquired an impressive number of belongings, despite having only 540 square feet to my name. From plants to paintings, to cooking spices and kitchen accessories, things accumulate, even if you're a minimalist like me.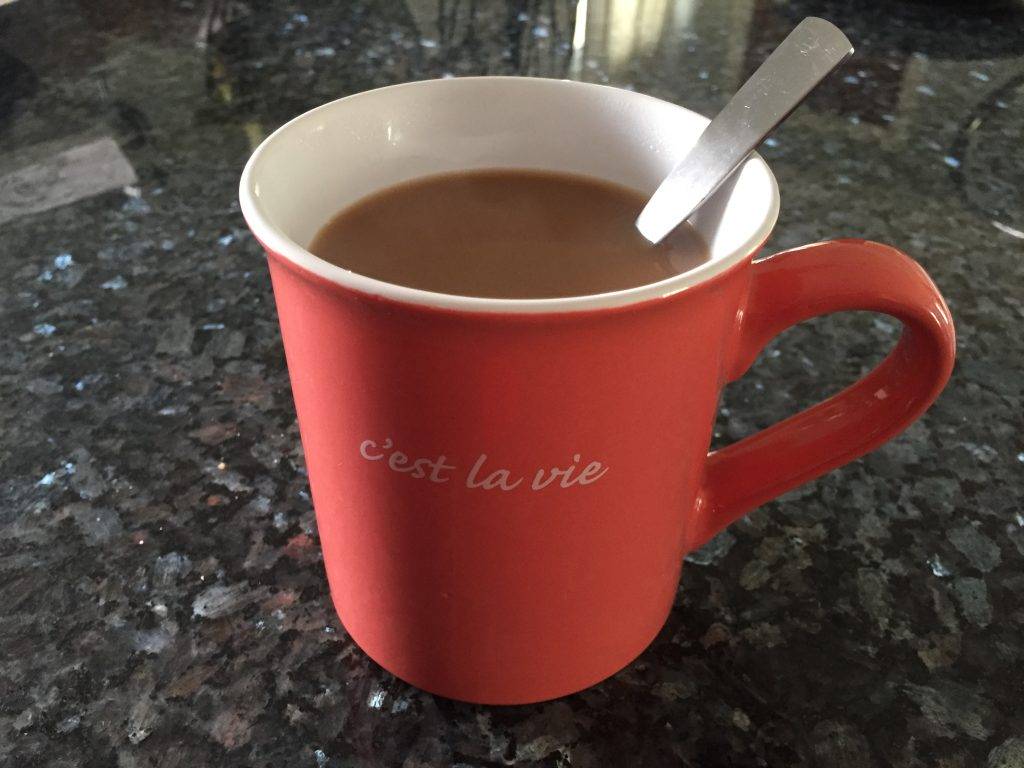 Moving is an excellent time to reevaluate the belongings that have accumulated in your home. Moving to a different country might actually make this evaluation a little more straight-forward, because there are a lot of things, such as electronics and furniture, that simply can't come with you. My embarrassingly large collection of Eiffel Tower and French-themed paraphernalia, from my former life as a French teacher, was also a no-brainer for obvious reasons.
Fortunately, I'm not a particularly materialistic person so the thought of downsizing didn't faze me too much. I sorted my possessions into three categories: Things to Get Rid Of, Things to Store at Mom's House and Things to Bring to France. Mom also participated in the repartition of my belongings. She created this category: Things Mom Would Like to Keep for Herself. My KitchenAid Stand Mixer, my KitchenAid Immersion Blender, and my couch, among other things, were assigned to this category…
Things to Get Rid of and How to Get Rid of Them
Tag sales can be a great way to get rid of a lot of stuff as long as you're willing to put in the time for an all-day commitment. The big upside here is that people literally remove things from the premises. Even if you're not making a lot of money, you no longer have to figure out what to do with those items. Promoting your tag sale is essential for success. We posted for free on Facebook (as an event & also on Marketplace), Craigslist and Yard Sale Search, and we also hung up several signs around the neighborhood a few days in advance. We found that not nearly as many people come on the second day and early birds tend to arrive about an hour before the posted start time. If I were to do this again, I would instead go all out during a one day tag sale.
We tried our hand at selling what remained from the tag sale on Facebook Marketplace. This has been rather successful and relatively easy. We mostly listed bigger ticket items, like bookshelves and silverware, but we also made groupings of like items. For example, we posted a pie plate, a pie crust protector and a silicone dough rolling mat as one listing. When a buyer contacts you about your listing, you set up a meeting point for the transaction. Grocery store parking lots are perfect for this. Most buyers have been pleasant to interact with and have showed up on time, with the exact amount in cash. If you're looking to get rid of some things at home, this is a solid approach.
Anything that we felt was not worth the time it would take to sell on Facebook Marketplace was donated to Goodwill, immediately following the tag sale. Essentially, anything with a value of less than $10 fell into this category.
I tried selling some clothing and bags on Poshmark, but I haven't had much success. This site seems to be flooded with sellers, and it's hard to make your items stand out. I've only had one sale, and I'm proud of myself! Considering I went through the trouble of taking nice pictures, writing detailed descriptions, and creating postings, I'm just going to leave my account active and play the waiting game. All of these items are sitting at Mom's house.
Things to Store at Mom's House and Why
If there was anything that didn't make sense to transport to France, yet I couldn't bear to get rid of, I stored it at Mom's house. This included old childhood toys, momentos and notes, books in French, and my teaching materials. I had to ask myself while sorting, "If I were to move back to the United States, would I be upset about no longer owning this item?" Also, if my best friend Sophia wrote, "Don't throw this away" on it, I kept it, even if it was a weird drawing from elementary school. She'll know…
Things to Bring to France and How to Bring Them There
When flying, checked bags usually have a limit of 23 kilograms, or 50 pounds. On international flights from the USA, many companies give you one checked bag for free, but unfortunately, this is not always the case. Some airlines charge for each checked bag. The cost for checked bags vary greatly depending on the airline and the flight class that was booked. Paying around $100 for a second checked bag seems to be the norm.
Through Air France, as a Flying Blue member, we paid 40 euros ($44) for a second bag when we called ahead of time. In comparison with other airlines, this is a great deal! In total, we checked in three large suitcases (paid only for one) and brought two small carry on suitcases. The only thing missing from this photo is a laptop bag and a purse.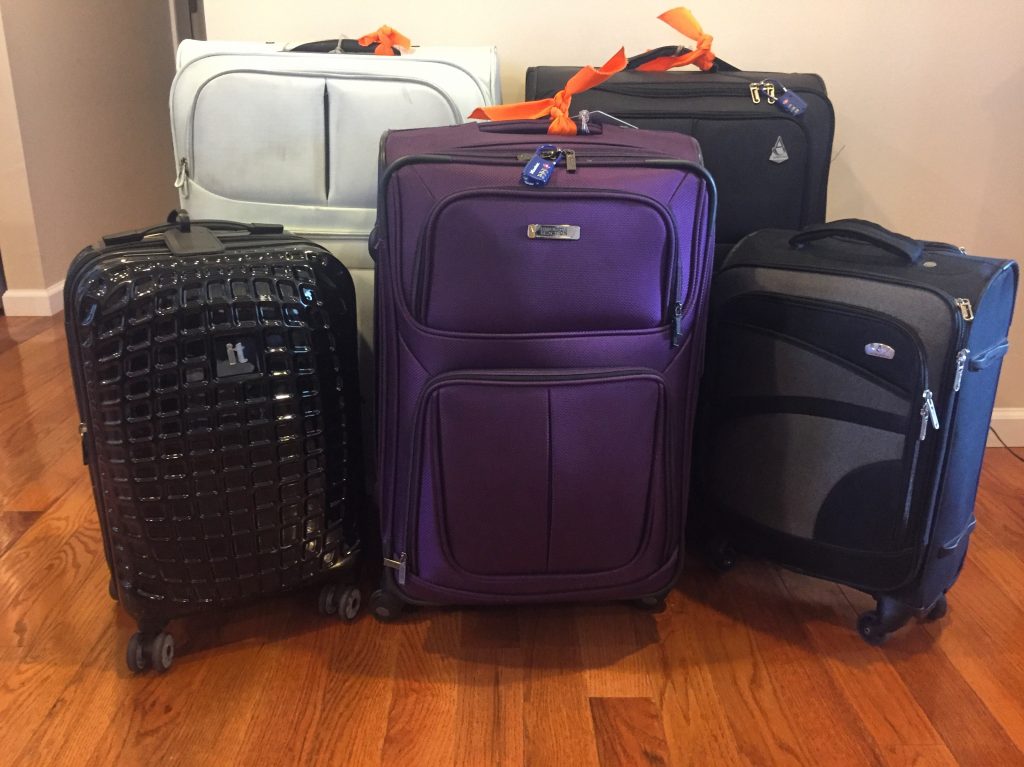 Shipping internationally is really expensive. Let's consider shipping the equivalent of one suitcase. Shipping 23kg would cost over $125 through FedEx, DHL or UPS. Considering this price point, checking a second bag with Air France was the obvious choice. Granted, we didn't bring everything with us this time, but we're planning to return to the States around the holidays, so we'll bring more things over on our way back to France.
What Did I Actually Bring to France?
I have no shame in admitting that Jonathan's clothes took up approximately one-third of one of the large suitcases!
As for what could be found in the remaining space:
My clothes, shoes, and accessories (purses, scarves, jewelry, belts, etc) by far took up the largest percentage of real estate in the suitcases.
Kitchen accessories that had either been given to me as a gift or that could not easily be replaced in France: Pyrex glass measuring cups, measuring spoons, Farberware stovetop coffee percolator, The Pampered Chef garlic press, Prepworks citrus juicer, a super old wooden spoon, etc. I'm not sure that I could provide a definitive list. I'm still unpacking and finding things wrapped up in shirts… I'll admit that, given my affinity for cooking and baking, I'm weirdly sentimental about kitchen accessories.
Food (in preparation for grocery store disappointments) – Please keep in mind that this is a judgment free zone: Anthony's cheddar cheese powder (how else will I make mac & cheese?), two bottles of good old CT wine, peanut butter, liquid smoke, and bourbon barrel aged maple syrup. In retrospect, this is a really questionable list.
My favorite recipe books
Sentimental items: painted tile that my grandfather made, my grandmother's oven mitts
Technology: computer, phone, kindle, Anker Portable Charger (this one is fast and powerful), cords (Anker Lightning Cable), etc
Manduka Yoga mat (Heavy, but clearly worth it!)
Coloring book & colored pencils, because I'm a child
Related: Things I Bring Back to France From the United States
If you were moving to another country, what's something that you would absolutely have to bring with you??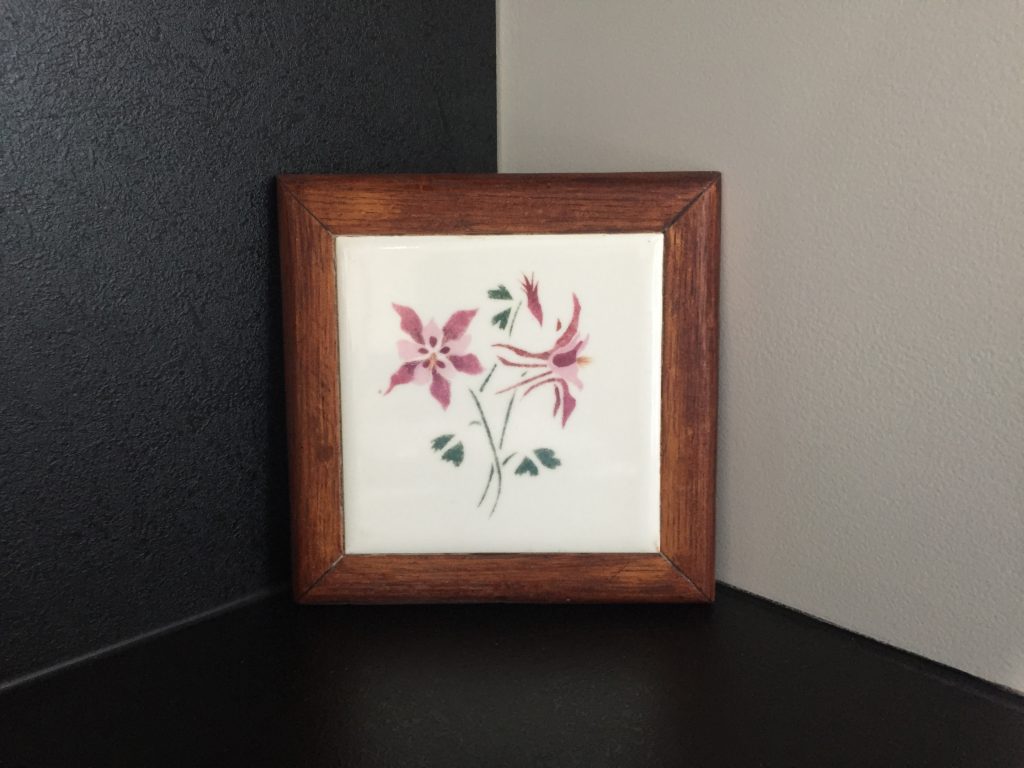 What Are You Going to Do with All Your Stuff?