This post may contain affiliate links, meaning that if you click and make a purchase, I may earn a commission at no additional cost to you. Read the full disclosure here.
Wondering what to bring as a gift to French people from the United States of America? Here are some ideas of American products and foods that you can pack in your suitcase on your flight to France. These would be great as gifts if you are visiting French friends or if you have French family members.
Most of the items that I've included on this list are more expensive in France than in the United States. Therefore, they're kind of seen as high-ticket items even though as Americans we might not consider them as such.
Remember to always check the rules on imported products before packing your bags.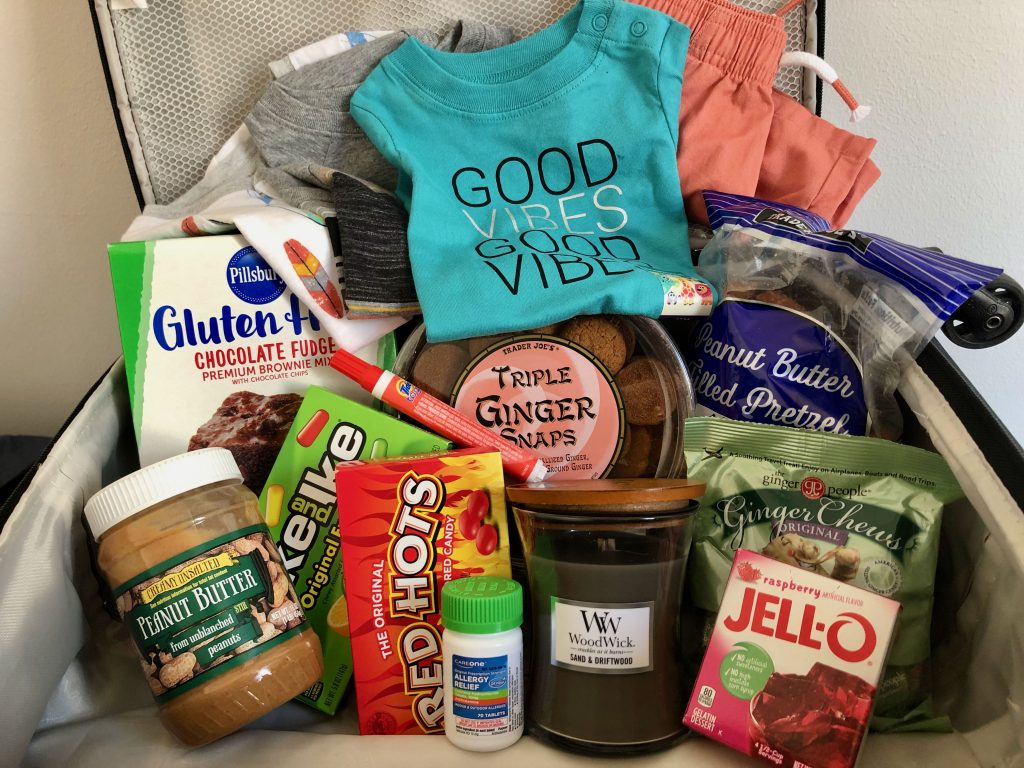 Candles
Candles make excellent gifts and you're likely to find scents that are a little bit different than what you find in France. WoodWick candles in particular are a unique option because they make a crackling fire sound as they burn. (I've never seen them in France!) I'm currently obsessed with this Sand & Driftwood scented candle that I bought on my last trip to the US.
Food or Candy
Edible items are my favorite gift to offer when I return to France. I'm a big fan of bringing back things that will actually get used. This also allows the opportunity to taste something new and opens up a discussion on culture.
Start off by choosing some food items that can easily be added to an apéro. In the past I've brought many new things for my French family to try: canned wine, peanut-butter filled pretzels, and Hershey's chocolate. You know, now that I've listed that out, I'm quite surprised my in-laws haven't kicked me out of the family yet. They're very good sports!
For more ideas on what American foods are not available in France, check out this blog post: Things I Bring Back to France From the United States.
Gluten-Free Products
It's a lot easier to be gluten free in France than it used to be, but the US still has a much bigger market and range of products available. This is especially true of baking mixes. Most of the major American brands offer a gluten-free line of products these days.
If you have any French friends or family members who are gluten free, check out King Arthur gluten free fudge brownie mix or to really give the Frenchies you love something different to taste: Bob's Red Mill gluten free cornbread mix.
Regional Products From Your Home State
Consider food specialities from your home state or region of America.
Here are some ideas:
maple syrup or maple sugar candy if you're from the Northeast
Taza chocolate from Massachusetts (uniquely textured chocolate for eating or making hot chocolate)
apple cider or pumpkin spice flavored stuff
pumpkin or apple butter
saltwater taffy if you're from the coast
local honey or jam
local beer, wine, or liquor
Electronics
If you have a bigger budget and you really like your French friends and family members 😅, shop for electronics while you're in the United States. American-made electronics tend to be significantly less expensive in the US (think: Apple products, for example).
I took advantage of being stateside to buy Jonathan an Ember mug as a birthday gift. His coffee is always getting cold while he's stuck in meetings, so he loves his new temperature-controlled mug. These are available in France, but they are more expensive. We have a small collection of simple grounded adapter plugs just for this kind of thing!
Baby Clothes
If there is a baby on your gift list, American brand baby clothes make a great gift. I've found baby clothes to be far more costly in France, so whenever I'm in the US, I feel like I can go all out and spoil my nephew. I usually try to pick some clothing separates with English words on it.
In particular, I really love the brand Garanimals and always find a cute selection at Walmart. This brand is of good quality and relatively inexpensive.
College Sweatshirts & Athletic Apparel
I regularly see French teens wearing college tee-shirts and sweatshirts in Paris. However, most of the apparel is meant to look like the real deal, but the college they're citing doesn't even exist! Get them an actual college sweatshirt. Source it from a nearby college/university or your alma mater to make the gift more personal.
Athletic apparel brands like Nike & Adidas are super popular (and expensive) in France. Sports apparel with your favorite team or a local sports team could also make a good gift.
---
What are your favorite gifts to bring French people from the US?
Gifts to Bring to French People From the USA