This post may contain affiliate links, meaning that if you click and make a purchase, I may earn a commission at no additional cost to you. Read the full disclosure here.
Last Updated: August 20, 2023
Traveling to Paris, France? I have some thoughts about what you should do on your upcoming trip to Paris, and my advice might ruffle some feathers. I know some of you will disagree with me, but I hope you'll hear me out. My honest, unpopular opinions regarding the City of Light might even get you to change a couple things on your itinerary!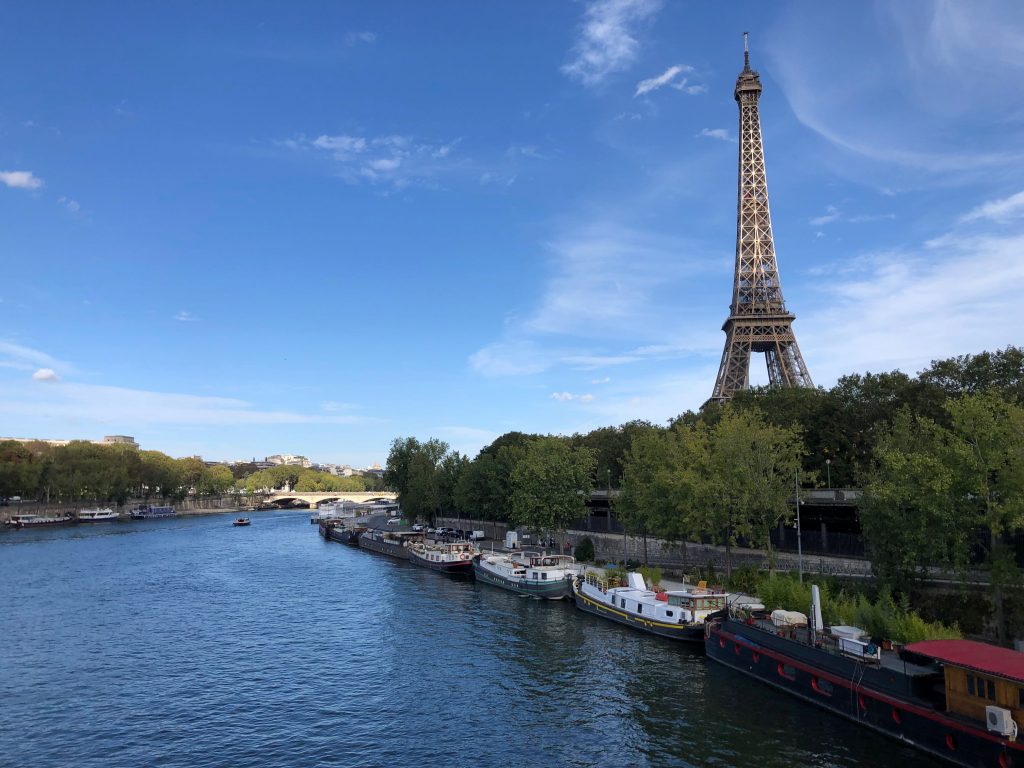 You don't have to visit the Louvre.
Undoubtedly, you've heard of the Louvre Museum, a gigantesque and well-known museum in Paris. While it shows up as a "must-do" on every guide for visiting Paris, for most people, it's overwhelming (due to its sheer size) and it's also rather crowded (due to its fame). A visit to the Louvre can easily eat up a large part of your itinerary. Overplanning is a mistake a lot of tourists make when they visit Paris.
If you're not very into art and you're only going because you feel like you "have to," I am hereby letting you off the hook! There are so many other interesting Parisian museums that are more manageable in size (here are my top 3 favorite museums in Paris). Of course, if you were in an art major in college, you are obligated to go to the Louvre. Otherwise, I heard your diploma will be revoked. 😬
I will also add that the exterior of the Louvre is structurally beautiful and a sight to see, especially when illuminated at night. I would recommend walking by there in the evening to see it lit up. But again—there's nothing that you have to do!
The best view of Paris is NOT from the top of the Eiffel Tower.
I prefer seeing the Parisian cityscape with the Eiffel Tower in it. How would we know it's Paris otherwise??
Personally, I love the view looking out from in front of Sacré-Cœur Basilica in Montmartre. All of Paris stretches out before you! Some people really like the view from the top of the Arc de Triomphe. Not too high up, this vantage point allows you to easily identify many monuments. A few jokesters particularly appreciate the view from Tour Montparnasse because then you are no longer subjected to seeing this ugly building in the cityscape! Do you have a favorite view of Paris?
Everyone should go on a bateau mouche at least once.
Ok, I know I said that there is nothing that you have to do, but I'm just giving strong recommendations here. This is my blog after all. You're free to act as you please.
The bateaux mouches, also known as fly boats, are largely seen as tourist traps and therefore, an activity to be avoided. I disagree! It's an interesting view of the city from the Seine River. You get a good lay of the land, and it's a nice time to get off your feet, sit back, and relax. I equally love these open excursion boat tours both during the day and at night.
Many of these tours sell out in peak tourist season, so book your one-hour Seine River cruise in advance! If you have more time, opt for the Seine and Canal Saint-Martin boat tour. You'll go through several locks and bridges, as well as the underground vault below Place de la Bastille. This is the one I take my friends on when they're in town!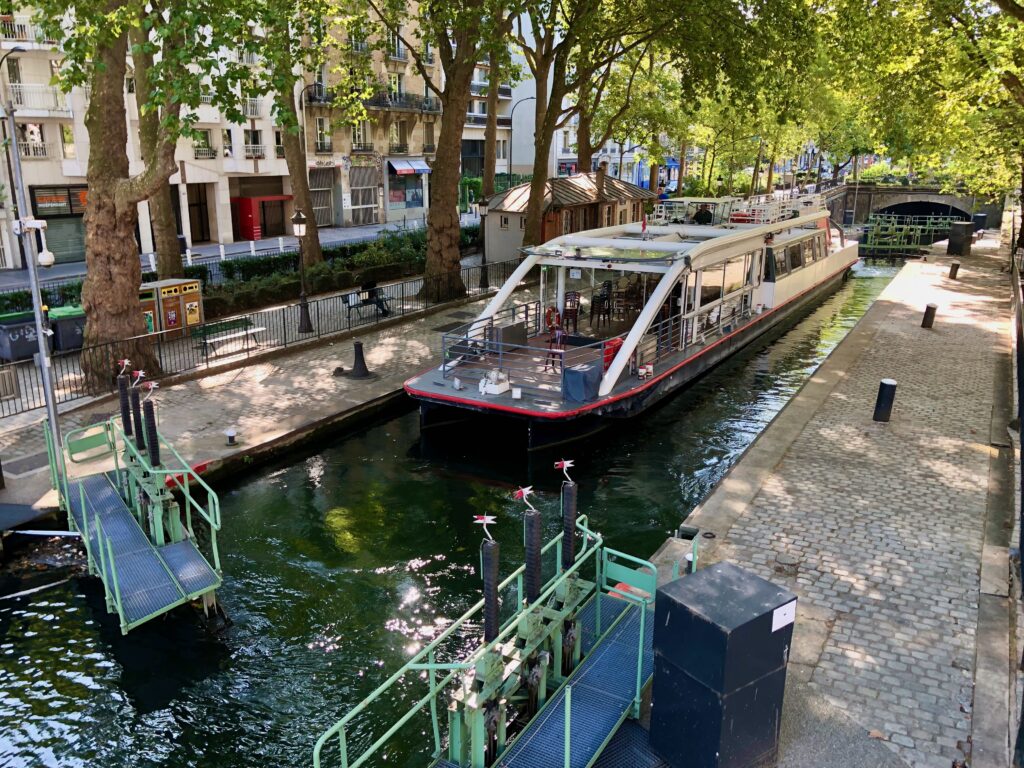 Paying for a taxi to and from the airport is totally worth it.
Tourists are often tempted to take public transportation into Paris from the airport because there is a direct line that runs through the city center. However, the Paris metro was not made for large bags and schlepping luggage through the metro is NO fun. If you choose this route, you'll have to navigate stairs, tunnels, turnstiles, and plenty of Parisians that will give you the stink eye. Not to mention, you're going to be tired if you're arriving after a long-haul international flight.
I think a lot of people avoid taxis because of the potential cost, but taxis in Paris have a fixed rate between the airport and the city. You'll know in advance exactly how much you are going to pay according to which airport and which side of Paris you are traveling between. (This is one of those things you should check on before you get to Paris!) It may not even cost you that much more than buying individual tickets for public transportation if you're traveling with someone or in a group.
---
Want more practical tips for your trip to Paris?
---
Since a taxi provides you with door to door transportation, it'll often be quicker than taking the metro or RER. So, the 35€ to 62€ that you'll spend will save you time and the hassle. Be sure to avoid taxi scams!
The best crêpes are from street vendors.
There are definitely wonderful, sit-down, Breton-style crêperies in Paris that I love, but there's something about strolling along the street with a fresh, hot crêpe in hand. It's a delightfully tasty cliché. One of my favorite orders is a simple lemon juice and sugar crêpe.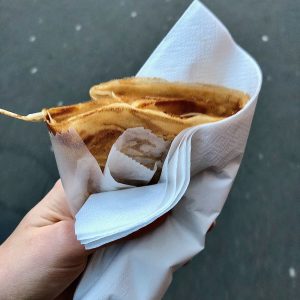 Also, yes, I'm talking about those rolling carts with questionable hygiene. Don't overthink this.
Paris is beautiful in the rain.
In an ideal world, every day of vacation would be bright and sunny. It does rain in Paris and quite significantly at times. Many people, including locals, stay home when it rains. As such, there are less people out on the streets, few lines at the open-air markets, less of a wait at restaurants, etc. There are tons of benefits to a rainy Paris and plenty of things to do!
I would go as far as to say that you should hope for at least one rainy day during your stay so that you can take in the light reflecting on the glistening sidewalks as you sip a hot chocolate under the cover of a café terrace.
August is an excellent time to visit Paris.
The month of August in Paris tends to get a bad rap among travel guides, but this stems primarily from an incorrect belief that "everything" is closed. Yes, many establishments close for a couple of weeks to a month in the summer months. If you have your heart set on a particular restaurant or bakery, this could lead to disappointment.
However, plenty of places are open, so you're certainly not going to go hungry. Furthermore, tourist attractions don't close during the summer and there are tons of unique summer events to look forward to in the capital. When you venture away from main sights, you'll find more businesses that are closed, but you'll also find cute, quiet streets because a lot of Parisians have left the city for vacation. I'd argue this is a plus! Another bonus? Hotel costs and flights tend to be cheaper because so many people think they should avoid Paris in August.
---
What do you think about these unpopular opinions about Paris travel? If anyone came here to add "Don't Visit Paris," as their unpopular Paris travel opinion… don't bother—I already wrote that article 😆
Unpopular Opinions: Paris Travel Edition