This post may contain affiliate links, meaning that if you click and make a purchase, I may earn a commission at no additional cost to you. Read the full disclosure here.
Last Updated: September 15, 2022
Sorry for the long gap in posting. I was busy getting married! Turns out planning a civil ceremony in France is more stressful than I had anticipated!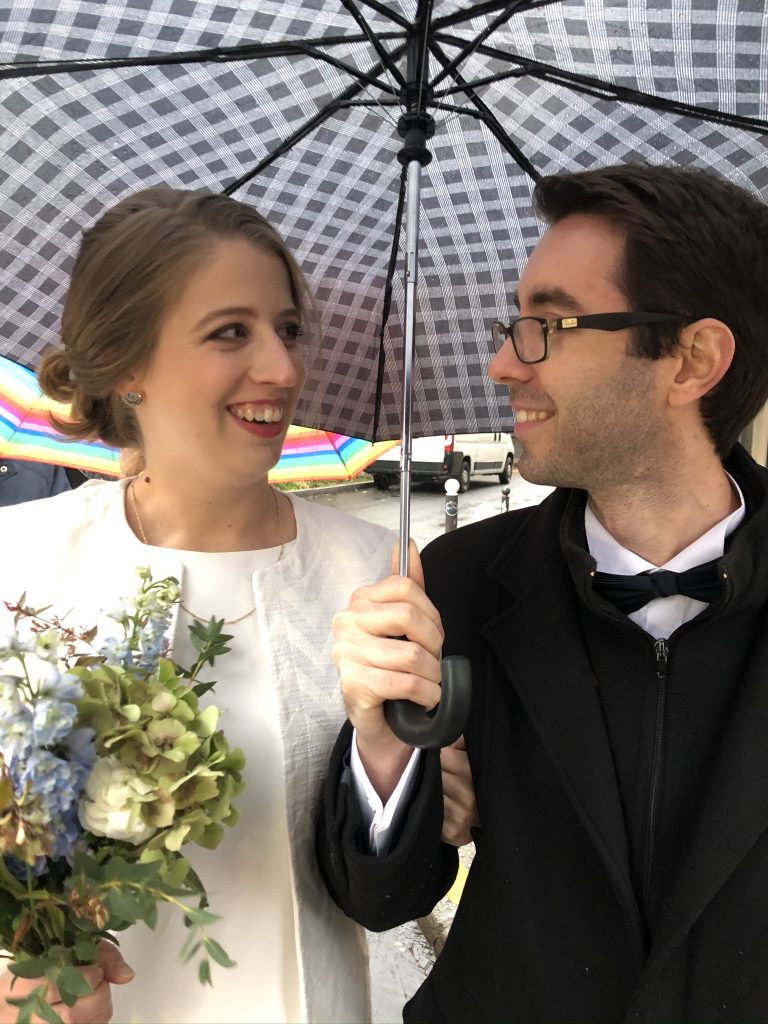 Wedding-Ready in One Month
A true procrastinator at heart, I'll admit that I had done little to no planning before securing our wedding date. Given how long it takes for paperwork to be processed in France, I figured I would have a while before our dossier de mariage was approved. And then we secured our civil ceremony date, and our wedding was suddenly a little over a month away.
I imagine this scenario might send the average bridezilla straight into a panicked frenzy, but I was only planning a small civil ceremony, and therefore, the panic didn't set in until about a week before the wedding when all I had was a dress, a hair appointment, and a wine bar booked for post-ceremony libations.
Something Old, Something New, Something Borrowed, Something Blue
I probably would have been a lot more stressed if not for my personal stylist—Sophia. If you are also grumpy, uncooperative, and indecisive when it comes to shopping for clothes, I highly recommend a personal shopper. Find one that sends you several links a day, and all you have to do is rate clothing items 1-5 based on how much you dislike them. Yea, I'm not sure why she puts up with me either.
Come autumn, white dresses are nonexistent in stores, so thankfully Sophia had the foresight (and benevolence) to do some shopping for me online, stateside. She arrived about a week before the wedding with two dresses, a jacket, and a pair of backup ballet flats, which all miraculously fit. Not only did she clothe me for my wedding, she also kept me from having to enter an anxiety-inducing bridal salon.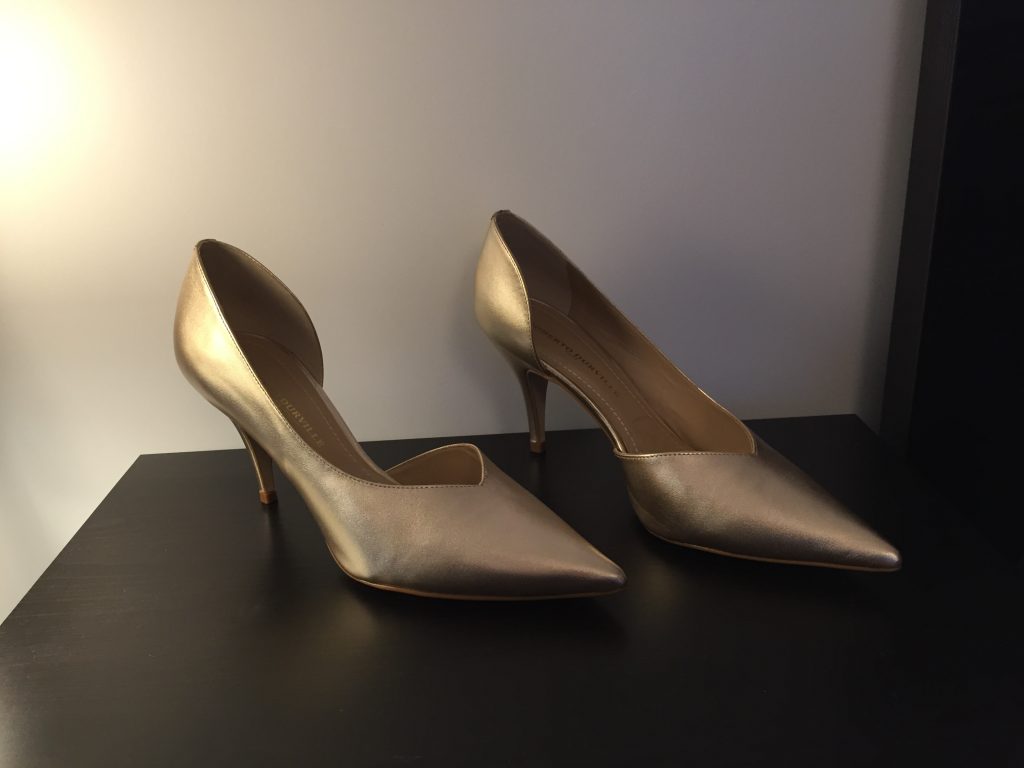 I did manage to pick out some accessories on my own, believe it or not.
Hair, Make-Up, and Flowers—Oh My!
Finding reasonable prices for marriage-related things in Paris is not easy. Apparently, once you even think the word "marriage," prices double and triple all around you. My hair and makeup, including a trial run for the updo, amounted to 130 euros total ($145) at Dumont. Broken down, that was 50 for the trial updo, 50 for the day of, and 30 for the makeup. Many salons start at about 150 euros for all of that when you mention that you're the bride. More often than not, the price is not disclosed on the website, forcing you to call or stop by.
I found the same to be true when looking for a florist to arrange a bridal bouquet for me. Many florists do not have detailed websites, so I carefully read reviews on Google Maps. I ended up stopping by Horticus, a well-rated florist in the neighborhood, and asked for a bouquet to get a feel for the quality and price of this boutique. I hit the jackpot. He arranged a 10 euro ($11) bouquet of dahlias for me that day and after meeting with him again a few days before the wedding, a gorgeous bridal bouquet for 35 euros ($39).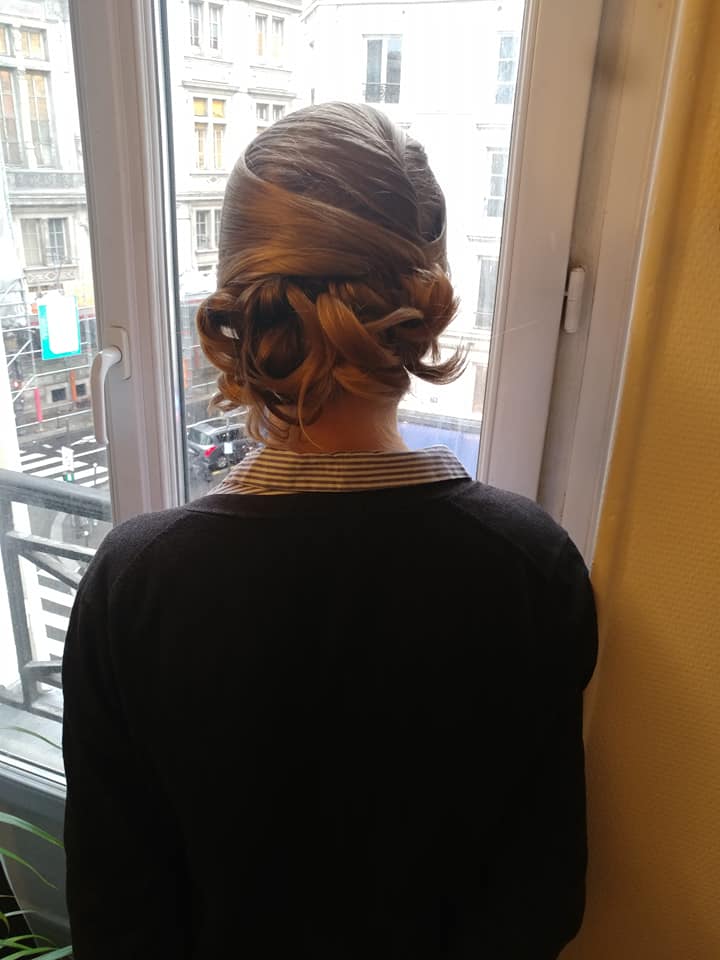 Oh, You Want to Know About My Husband?
Guys have it so easy! We went to a suit shop and said we wanted a suit that was versatile enough to be worn for the wedding, as well as, business meetings or other occasions later on. We were presented with three different suits, swiftly made a choice, got him fitted, and picked up the altered suit about a week later. There's really nothing more to say here…
The Civil Ceremony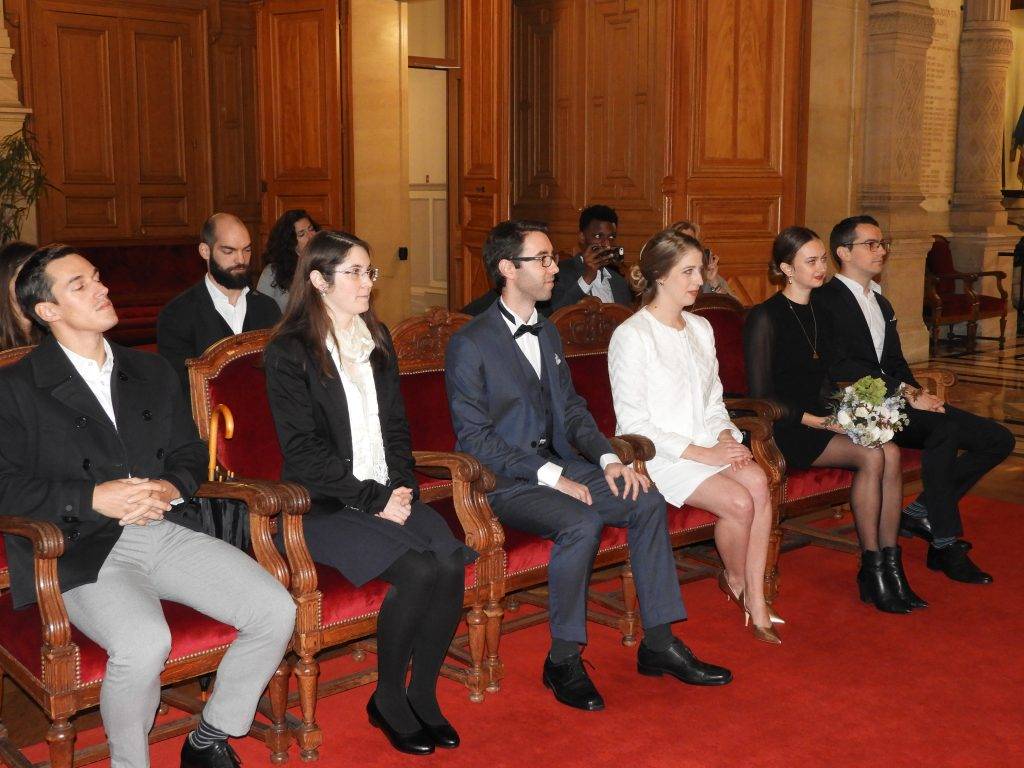 Each town hall has one (or more!) marriage rooms. We were led upstairs to ours. Jonathan and I sat in the middle of the front row, with our witnesses by our sides.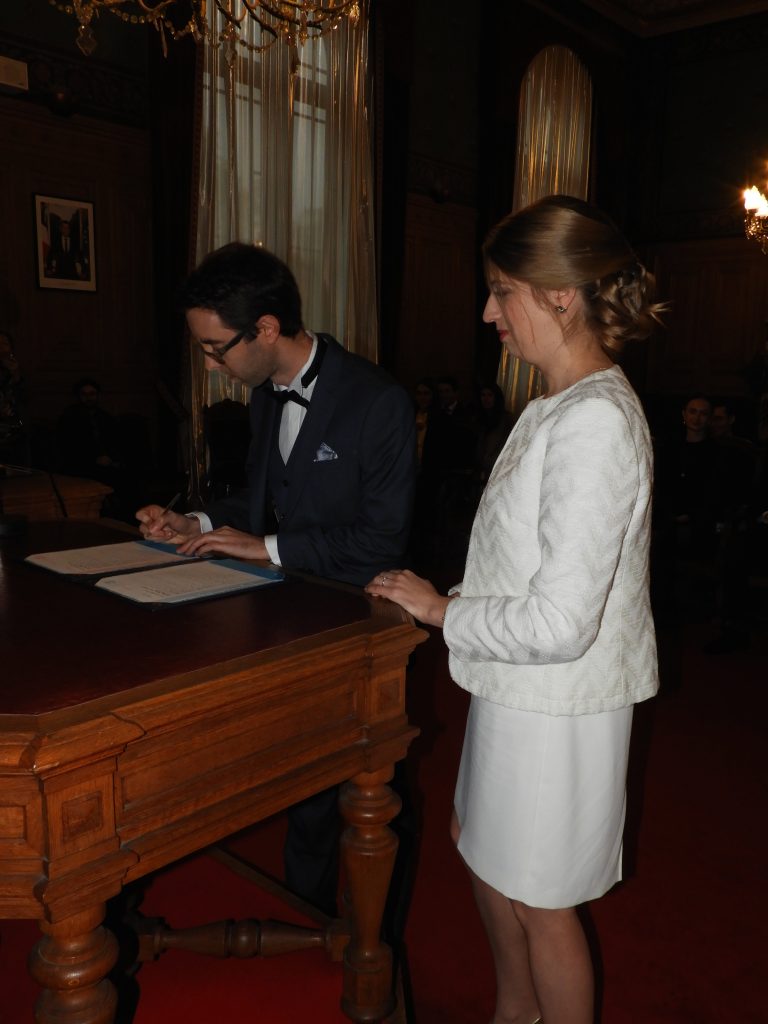 After a quick identification check (passports were required for us and our witnesses), the ceremony started with a reading of marriage laws. We were asked if we take each other as spouses, and promptly after replying with "oui," we were pronounced unified in marriage. We signed a marriage document, followed by our witnesses.
Then came the exchanging of the rings. It should be noted that even if you practice this ahead of time with your future spouse, there is no guarantee they'll remember which hand to put the ring on when under pressure.
Finally, we were presented with our livret de famille, a small book which has our information and plenty of pages for our eight future children. Yes, eight.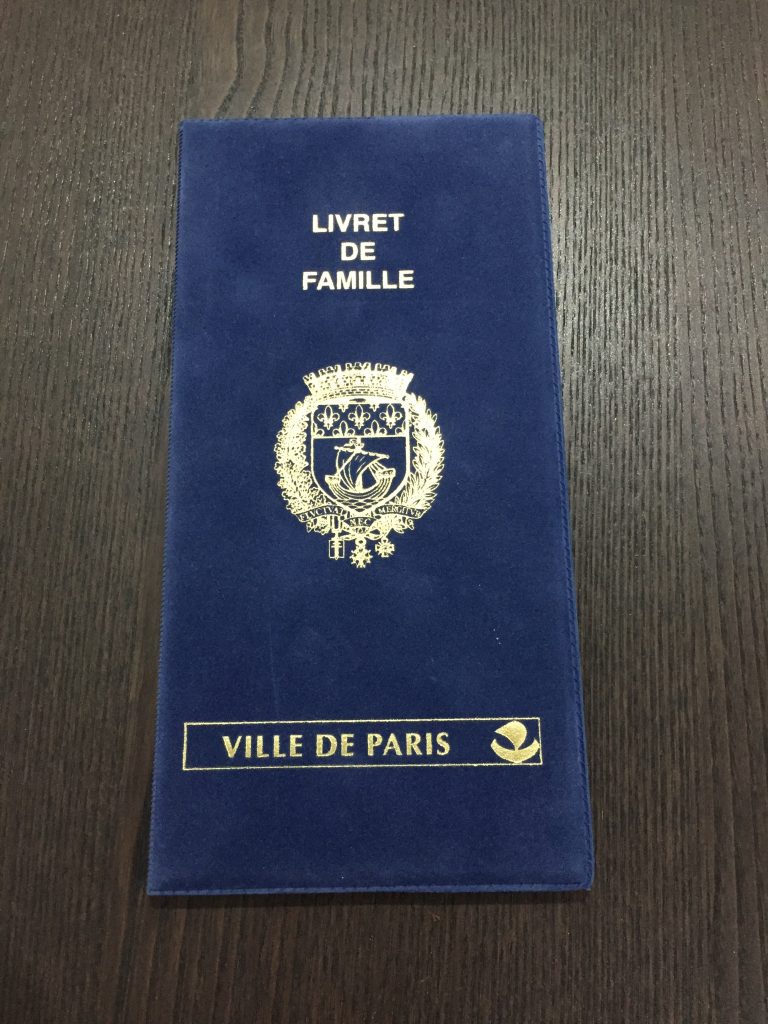 The whole ceremony took a whopping fifteen minutes. We took our time with pictures, and then we walked down the street for Part Two.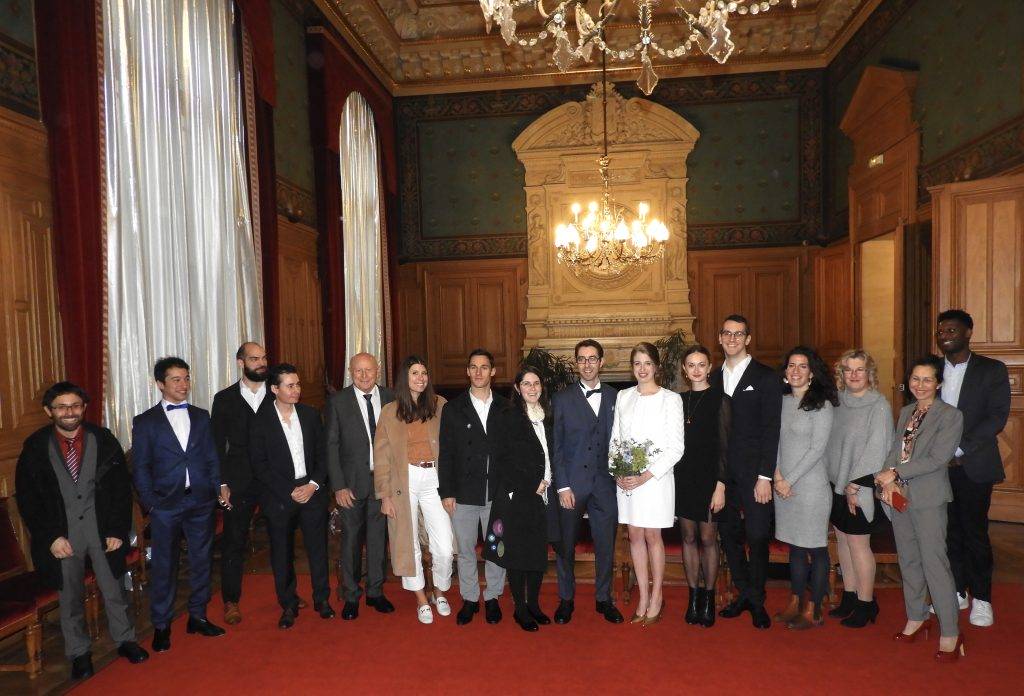 The Celebration
Our town hall ceremony began at 3:20 in the afternoon on a Friday. We decided we wanted to do a casual aperitif with champagne, wine, charcuterie, and cheese. Most restaurants close for a few hours between their lunch and dinner services, so it was very hard to find a place that would accommodate us. We took our chances on La Zinguerie and loved it.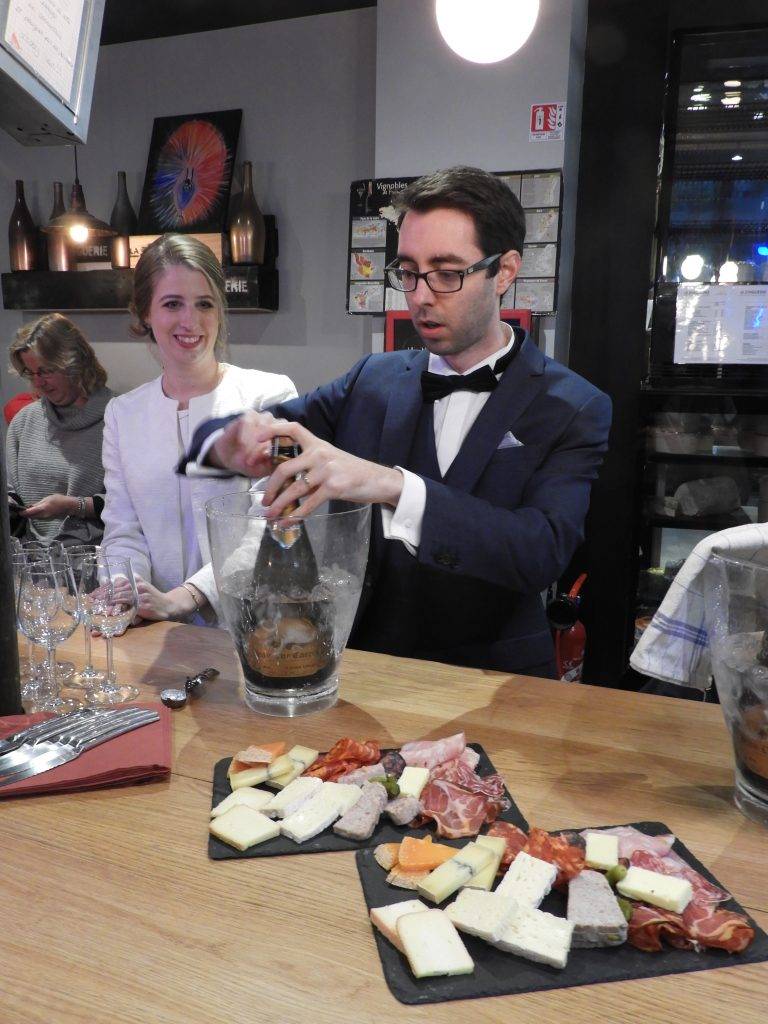 Our little civil ceremony and celebration was bursting with love and laughter from beginning to end.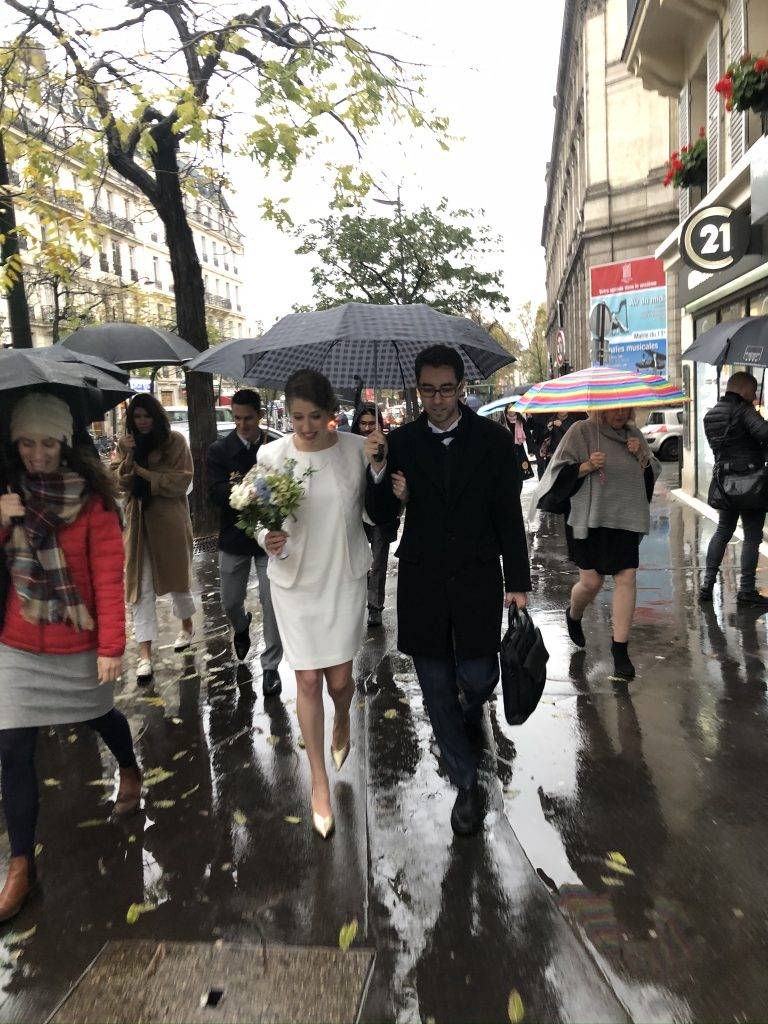 Our French Civil Ceremony