This post may contain affiliate links, meaning that if you click and make a purchase, I may earn a commission at no additional cost to you. Read the full disclosure here.
Last updated: June 7, 2023
Preparing for marriage in France is a complicated process, even if you're French. As an American wanting to marry a Frenchman, there were a few extra steps. Knowing that it was my intention to get married ASAP, many friends asked me on the regular if I had secured a wedding date yet. Read on to find out why it just isn't that simple.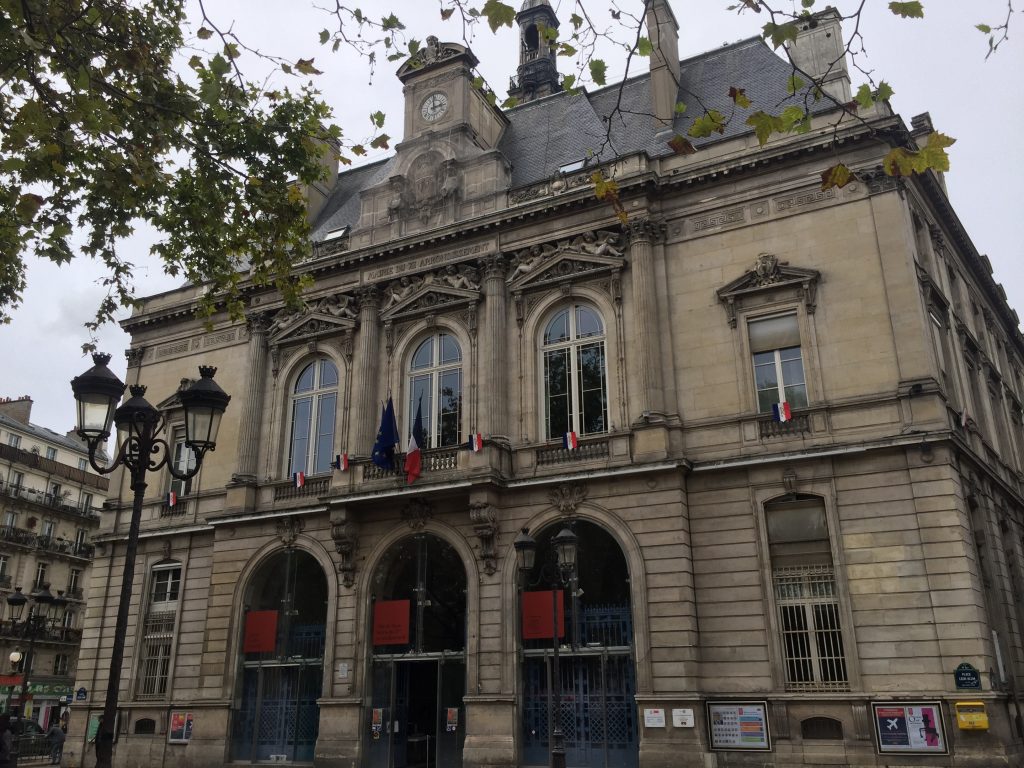 French Civil Ceremony at Town Hall
First off, it is important to note that the only marriage that is recognized in France is the marriage performed at town hall. You can only get married at the town hall where you or your future spouse lives, or where your parents live. It is possible to have a religious ceremony immediately following the town hall ceremony, and some couples opt to do this.
To get started, some information is given online about the paperwork needed for a French wedding. The US Embassy in Paris also has General Guidelines for Marriage and Civil Partnerships (PACS) in France, which further clarifies the specific case of an American foreigner getting married in France. However, in true French administrative fashion, not everything is listed online, and it is absolutely necessary to go to the town hall to inquire in person. We called ahead but were told that we did not need an appointment for this initial meeting at our Paris town hall.
---
Are you like me and planning on moving or living in France following this wedding? We should talk—I have so much to share with you.
---
Dossier de Mariage
Small towns might only have one receptionist in their town hall, while large towns and cities might have a marriage office. In the bureau de mariage, they will give you a dossier de marriage with a handy checklist indicating all of the required paperwork pertaining to your situation. In most cases, someone will sit down with you, explain all the paperwork, and answer any questions that you have regarding acceptable paperwork as a foreigner. They should also be able to give you an idea of the timeline for processing paperwork and when the soonest possible wedding dates might be for that specific town hall.
Side note: There was a single agenda/notebook into which every wedding date was literally penciled in. What century are we in??
His Paperwork, as a Frenchman:
Information sheet, provided by town hall (address, parents' info, etc)
Proof of identification (passport) & photocopy
Birth certificate, dated within three months
2 proofs of address: pay stub and renter's insurance (a utilities bill would have also worked)
My Paperwork, as an American:
Information sheet, provided by town hall (address, parents' info, etc)
Proof of identification (passport) & photocopy
Birth certificate, dated within six months, with apostille and translated into French, by a traducteur assermenté (certified translator). I got the birth certificate and apostille ahead of time while I was still in the United States and got the translation done in Paris.

UPDATED (July 2020): If your country of birth never changes or updates its birth certificates, there is no time limit. (For reference: 1. Quels sont les documents à réunir pour le dossier de mariage ?, 2. Durée de validité d'un acte d'état civil, and 3. Legal Code)
Your town hall might insist upon a recent birth certificate despite these references. Had I known about this rule when preparing my file, I still would have supplied a new birth certificate if possible to avoid any delay or problem. I've provided these links as a tool in case you're in a tight spot but I wouldn't count on them as a guarantee. (If you've been able to get married using an "old" birth certificate, please let me know in the comments below. Your story might help someone!)

2 proofs of address: attestation d'hébergement – sworn statement by Jonathan saying he is housing me (this paper was provided by the town hall) and renter's insurance. It would also work to prove residence in your home country, but we thought this would be easier.
Attestation tenant lieu de certificat de coutume et de célibat (see below)
Other Paperwork:
Witness information sheet (profession, contact info, etc.)

At least 2 witnesses are required, and 4 is the max
Copies of their proofs of identification (passport)

Contrat de mariage: If you are planning to have a prenuptial agreement, the notary's certificate must be filed with your marriage paperwork, at least a couple weeks before the wedding.
If you are not fluent in French, an interpreter will need to be present for the ceremony.

It is up to the town hall to decide if your level of French is adequate, for the proceedings. They will make this informal decision during your meeting(s) to go over the paperwork. While some town halls are more strict than others, you certainly don't have to have a perfect command of the language. Make sure you engage during the meeting and make an effort to answer questions instead of defaulting to your partner.

If you have been married previously, or have children, further documentation will be needed.
Attestation tenant lieu de certificat de coutume et de célibat
Establishing Your Marital Status
Since polygamy is illegal in France, this document is a sworn statement saying that you are free to enter the contract of marriage. You can get this notarized at the US Embassy in Paris (4 Avenue Gabriel) for $50. Save time by printing and filling out the form (new form as of July 2020) ahead of time. Just don't sign the bottom until you are in front of the notary.
---
UPDATED (July 2020): As of April 25, 2020, the U.S. Embassy and Consulates are no longer notarizing these forms. The new form can be signed without a notary present. If your town hall insists upon a notarized version, you can still schedule an appointment to have that done at the U.S. Embassy in Paris or the U.S. Consulate General in Marseille or Strasbourg. If you don't need to read about the appointment at the consulate, skip to the next section!
---
When the notary looked over my form, she said it was great except I should have written out Connecticut instead of using the abbreviation—CT. Thankfully, she had extra forms readily available, and I filled out a new one right in front of her. It felt silly to have to do a completely new form for such a little thing, but I'm glad there was no problem in getting a new form.
Consulate Appointment
You have to schedule an appointment at the embassy for notarial services. When I scheduled my appointment mid-August, the first availability was about four weeks away. I was glad to have checked on this before leaving the United States. I am unsure whether the town hall would accept a similar document from a public notary outside of the American consulates in France.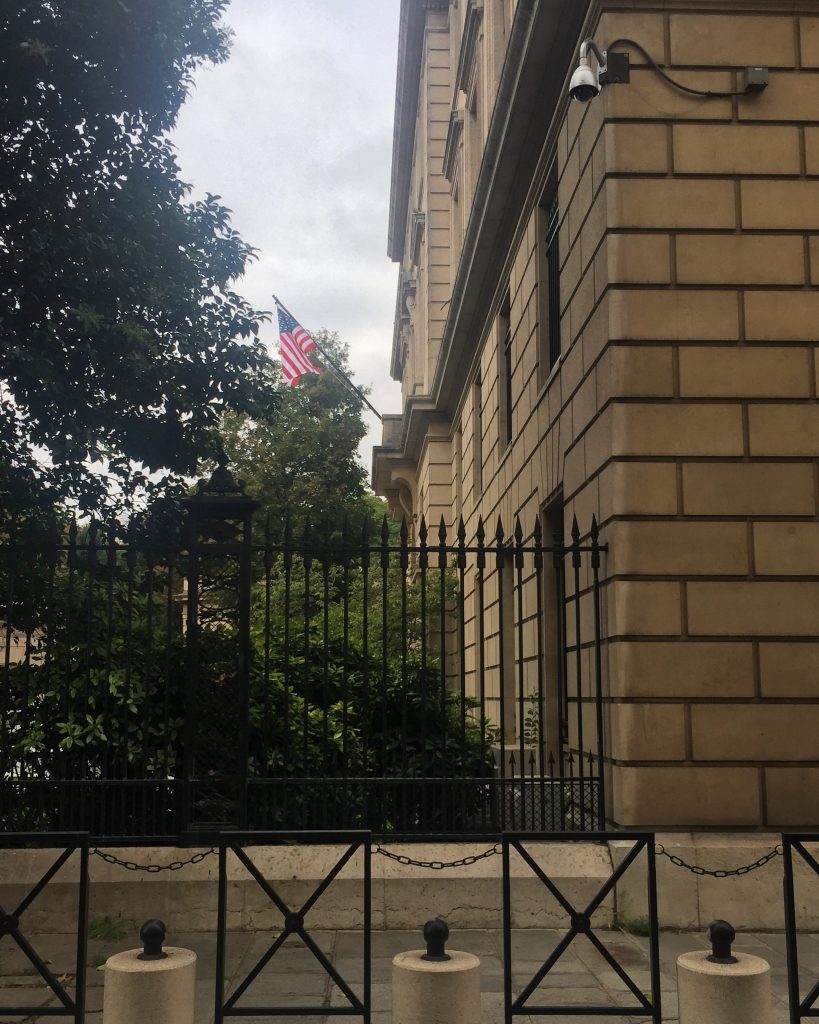 You are advised to arrive 15 minutes before your scheduled appointment time, and this is no joke! It took me a full 20 minutes to pass through security. They call people, from the sidewalk, to go through security based on appointment times. You have to completely turn off your cell phone, and they will hold it for you while you are inside the building. No electronics bigger than a cell phone are allowed to enter the premises. They won't let you go through the checkpoint with your laptop. I saw a few people with laptops turned away and directed down the street, but they returned 5-10 minutes later with no laptop. I wasn't close enough to hear, but maybe there's a nearby museum or shop that is willing to stow larger electronics? I'd just as well leave them at home.
American Efficiency… Yea, Right.
As an American citizen, I did get to bypass one of the lines of waiting people. Yay, perks! Inside, I was directed to find a seat after being given a ticketed number. Another perk! Above, screens indicated the number being helped and at which window. I had to wait quite a while before I was called up. She checked my document and then directed me to a different window to pay and come back with my receipt. At the cashier, they ask for identification when paying with a credit card. The funny thing is, the first person had my passport! Luckily, I carry around my driver's license, but I saw some people of French nationality struggle with this. In France, a driver's license is not considered a proof of identification, so it is not obvious to pull this out when asked for ID.
There was no line at the cashier, so I was able to pay and immediately go back to the first window. She took my receipt and asked me to sit back down and wait for my name to be called. More waiting. When my name was called, I swore that my statement was true, she notarized the document, I signed it, and then I left. Getting back my personal effects at the end was quick and easy with a plastic lanyard. The total time, including security, was about an hour and fifteen minutes. A bit longer than one might hope for, but if you've ever flown to or from JFK airport, you know that Americans do not excel in efficiency.
Setting the Wedding Date
Rendez-vous Number Two
We made an appointment and handed in our dossier de mariage at the beginning of October. "Handed in" is a very generous way of saying we sat down for another long meeting at the bureau de mariage. She went over all of our paperwork with us to verify that it was acceptable. When I say that she "went over all of our paperwork", what I really mean is that she recopied all of the information onto another sheet of paper, by hand.
And yet, despite her thoroughly reading and rewriting all the information, as well as, mispronouncing many of the American names, our file would still need to be validated and approved. I'm not sure how much more validation could possibly take place, but it might have something to do with the straight pins she used to attach our documents to the file folder. Watching her accomplish that was, in and of itself, quite the cultural experience.
➡️ PRO TIP: They will want to keep your precious apostilled and translated original birth certificate. Tell them how much it cost you to get it with all those bells and whistles, and you may very well shock them into accepting a humble photocopy. My total cost was about $140 (birth certificate from town in Connecticut = $20, apostille from CT = $40, translation in Paris = $80) It costs nothing for a French person to obtain a birth certificate, so this is generally news to them.
Call Back in Three to Five Weeks!
At the conclusion of the second meeting, we thought that we would be able to select a wedding date. Nope! Although, we did get an update on which weekends were no longer available. She told us it would take about three to five weeks for our file to be checked and approved. Furthermore, in order to know whether it had been approved or not, we would need to call the town hall.
As we had opted for a contrat de mariage, we decided we would go back to the town hall about a week and a half after submitting our file in order to submit the notary's certificate. In this way, we hoped we would be able to check in on our paperwork and maybe give it a little nudge. SUCCESS. The man behind the counter asked if we had a wedding date yet. He then pulled out our file, briefly scanned our paperwork, and asked us when we would like to be married. And just like that, our date was secured.
---
Did this guide help you? Say thanks with a cup of coffee!

---
Publication des bans
France has, in my opinion, an archaic tradition of publicly announcing future marriages. So, just in case someone wants to object, they have a full 10 days to do so during which the announcement is posted at the entrance to the town hall. After the paperwork is approved, the bans are automatically put up. The marriage cannot be performed until the bans have been posted for at least 10 days.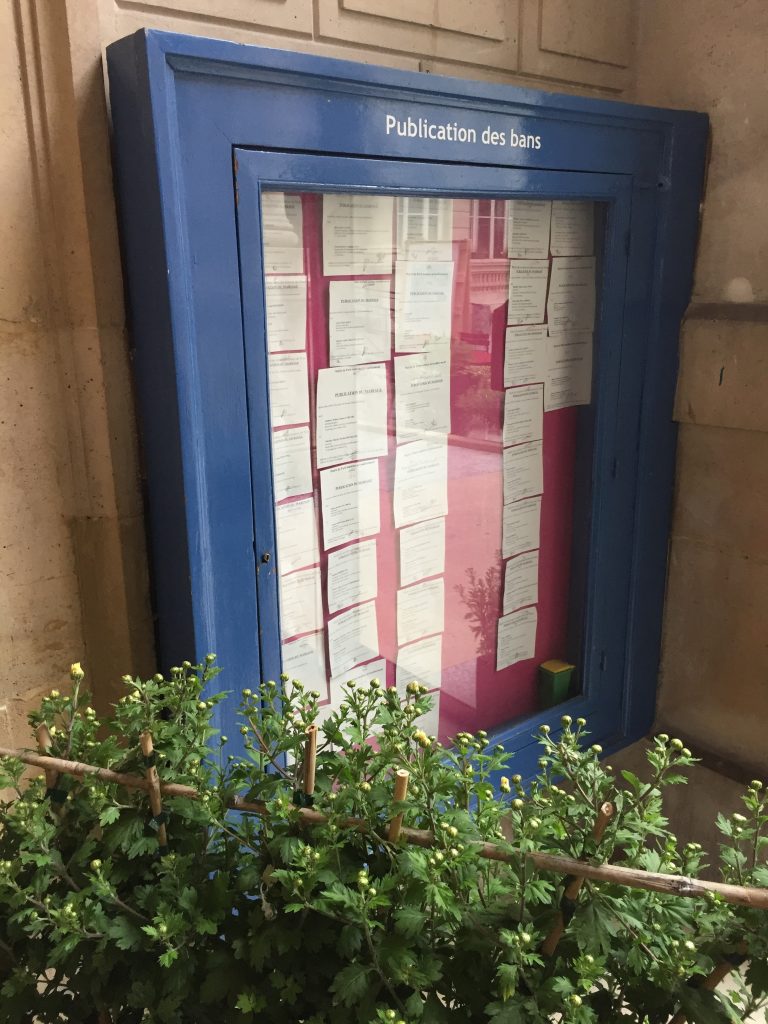 After securing our wedding date, we decided to look for our wedding announcement. We found the bulletin board tucked away in the corner of the town hall entrance. Turns out our paperwork was approved a mere two days after turning it in. Go figure!
Next stop: Civil Ceremony!
Related: Changing Your Last Name After Marriage in France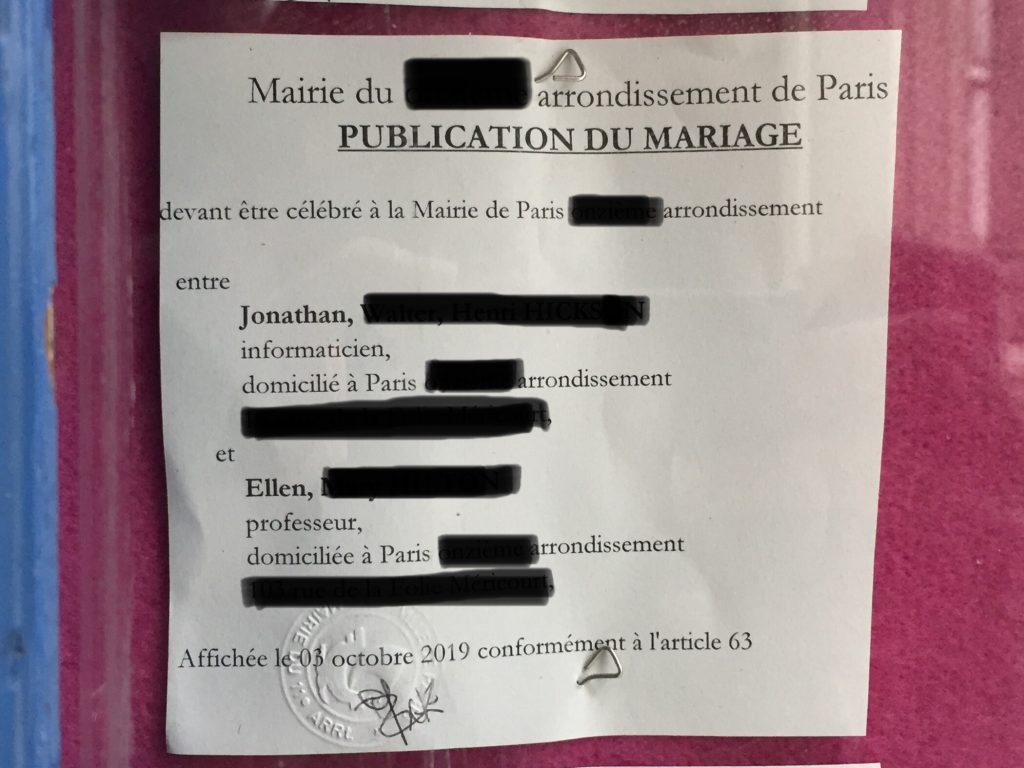 Marrying French: Preparing for Marriage in France as an American