This post may contain affiliate links, meaning that if you click and make a purchase, I may earn a commission at no additional cost to you. Read the full disclosure here.
Sure, Paris can get a bit crowded during the holidays. And let's face it, the sidewalks are even more congested this holiday season with the current indefinite strike. For those of you who don't know, the strike against pension and retirement reforms started on December 5, 2019 and has severely disturbed the transportation system ever since. Adding to this charm is the fact that Paris gets "cold" (it's all relative when you're from New England) and more gray than usual by the time December rolls around. But if you can look past all that, there are plenty of things to keep your spirits up during the holidays in Paris.
1. Decorations Galore
White lights, colored lights, twinkly lights, old-fashioned big bulbs, tiny bulbs… The City of Light is on crack, people. And I love it.
Around every corner, you can find more decorations: Christmas trees with bows, festive wreaths, cheery lights strung across streets, ornaments dangling from awnings.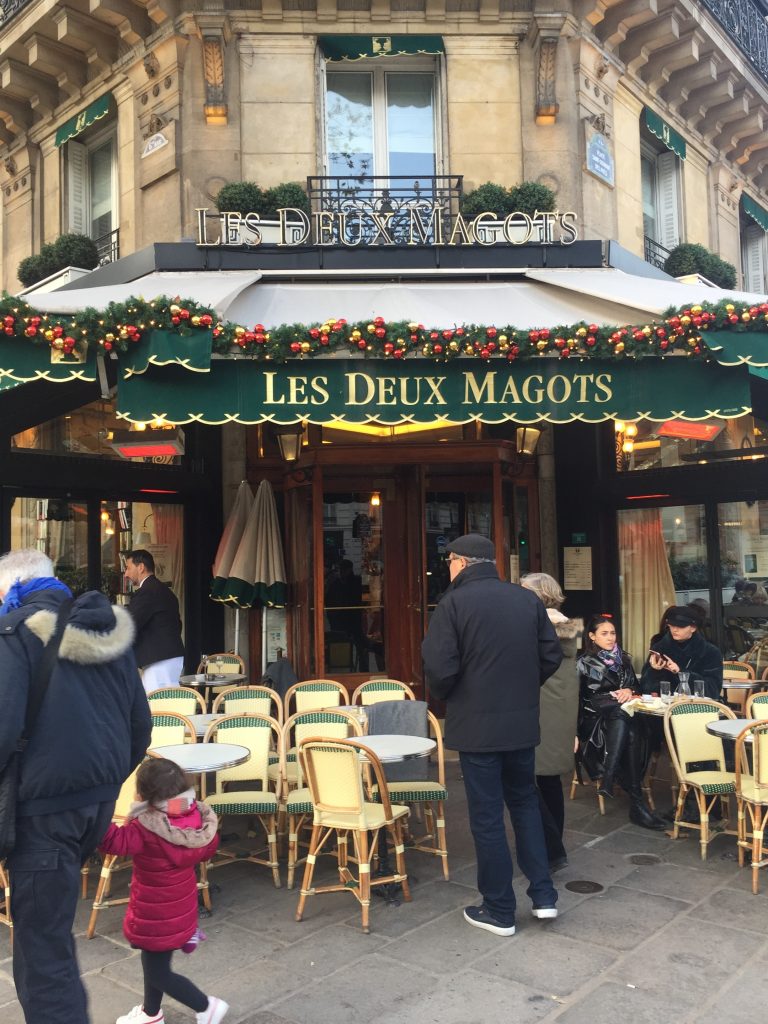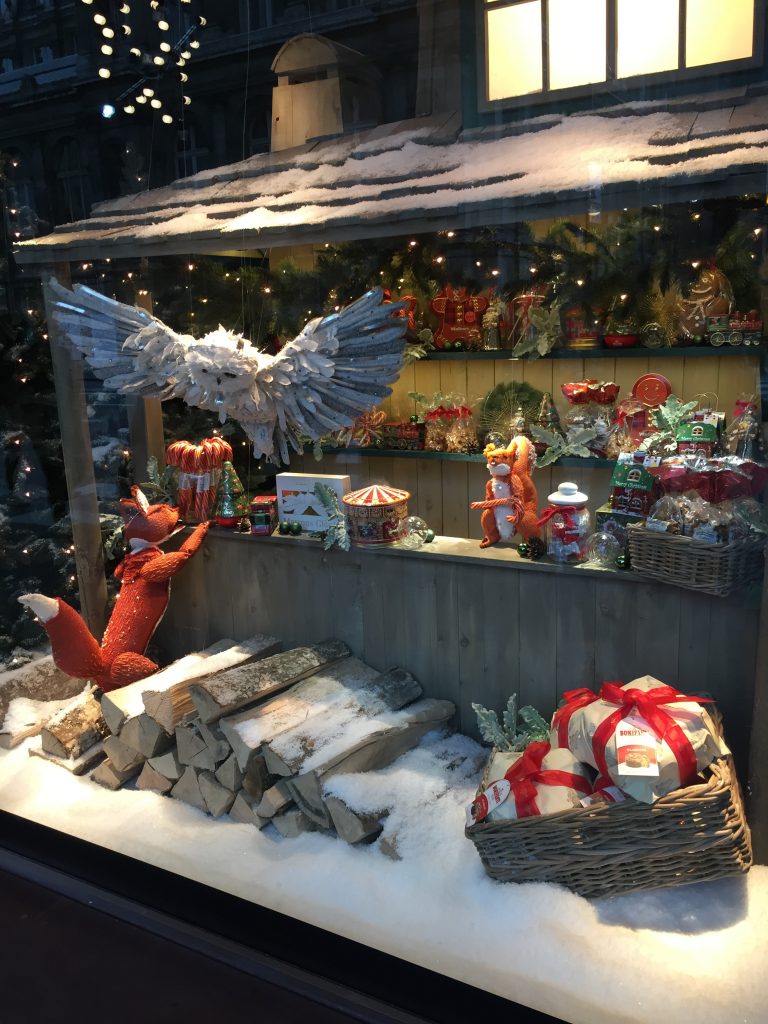 The whole city participates, from small boutiques and restaurants to big malls. Big shopping centers, like Printemps Haussmann and Galeries Lafayettes, put up themed window displays with animated figures every year. Here's one at BHV Marais ->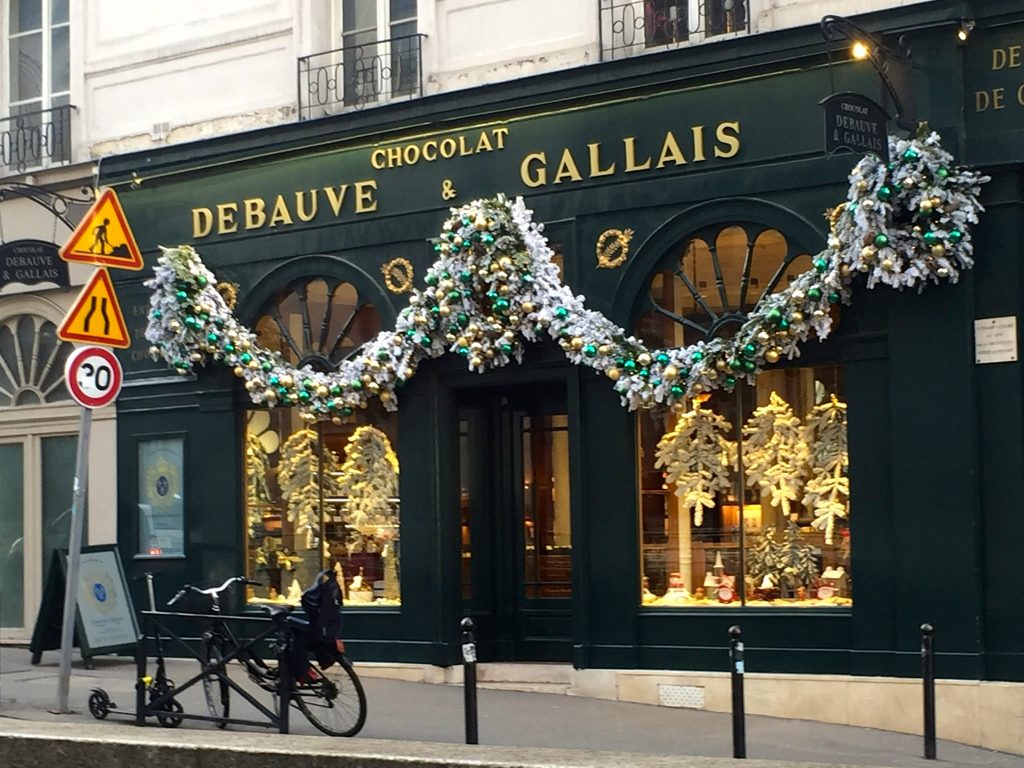 How can you look at all this and be in a bad mood? It's the kind of scene that can warm even the grinchiest of hearts. So go ahead and "ooh" and "ahh" to your heart's content. I know that I am!
Read more: Where to See the Best Christmas Lights in Paris
2. Vin Chaud
I can smell it now. And it smells like Christmas. Vin chaud – literally "hot wine", but the anglophone version is called mulled wine. Wow, it sounds wayyy better in French.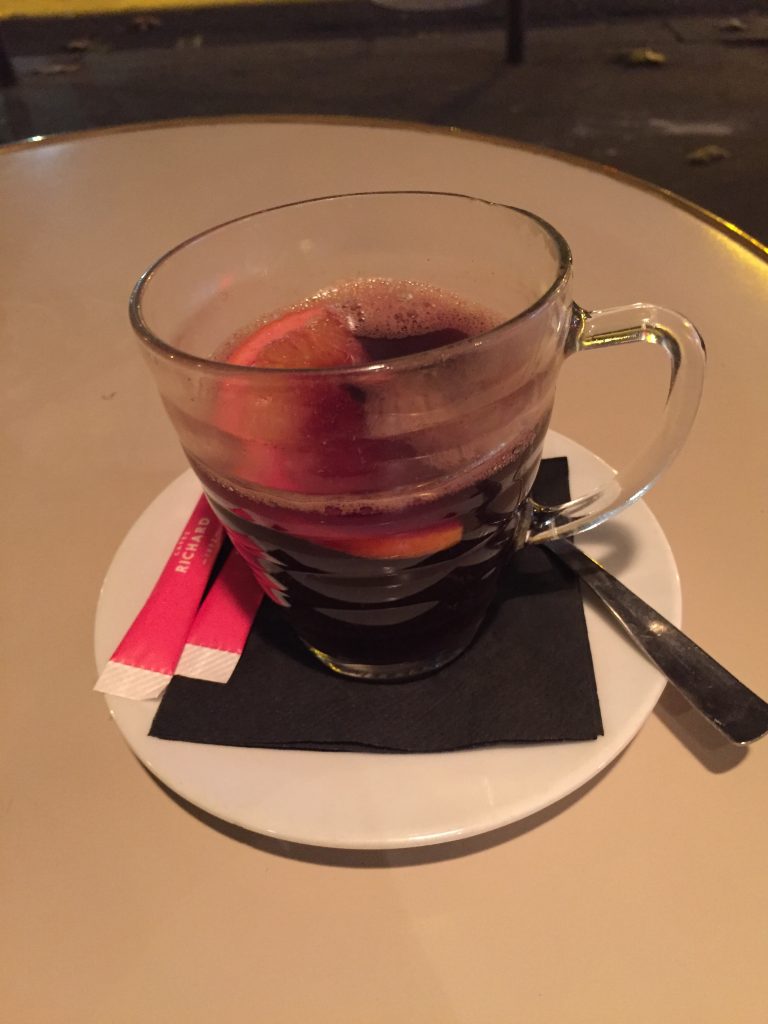 Red wine is usually the base of this hot drink, to which is often added cinnamon, orange or lemon juice, and an orange slice. If not already sweetened, it may be served with some sugar on the side, so you can sweeten it to your liking. I generally prefer it as is. Admittedly, it's not what one would consider "good" wine, but I'm not one to turn up my nose in this kind of situation.
Most cafés, even if they don't advertise it, will have a prepared pot of it ready to be served. It's a great way to warm up while taking a break from holiday shopping. You can even sit outside in the comfort of a heated terrace. They can be found all over Paris. And while we're on the topic, why are there not more heated outdoor seating areas in the US?? Wouldn't it make winter happy hour so much better?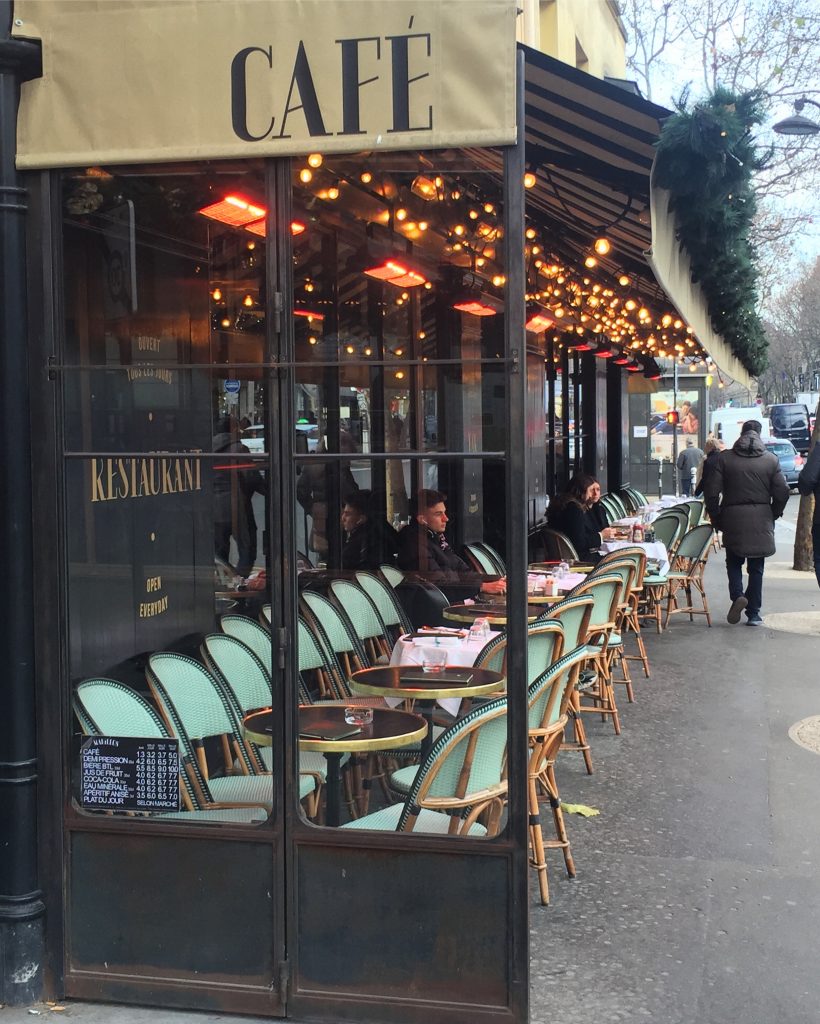 How great are these outdoor heating lamps? A big YES to extending the season of outdoor seating and people watching until…well, forever. There is far less competition for seats than there was a month ago, and this Connecticut girl is not afraid of a little breeze. Admittedly, most of the people sitting outside on the coldest days are smokers… but I'm not going to let them ruin this for me!
3. Marchés de Noël
There are so many Christmas markets throughout Paris. The smaller, often more specialized, ones may only be scheduled for one weekend, but several markets set up camp and stay open for weeks. They can be a bit touristy, but it's still fun to stroll around. Grab some of the aforementioned vin chaud or chocolat chaud, if that's more your thing, and check out the offerings.
Artisans set up their wares in chalets – wooden stands, fashioned to look like little houses. Jewelry, scarves, ornaments, wood carvings, dried sausages, cheese, spreads, linens, ceramics, chocolates, soaps, lotions, etc. There's usually a section with comforting, warm food and drinks as well.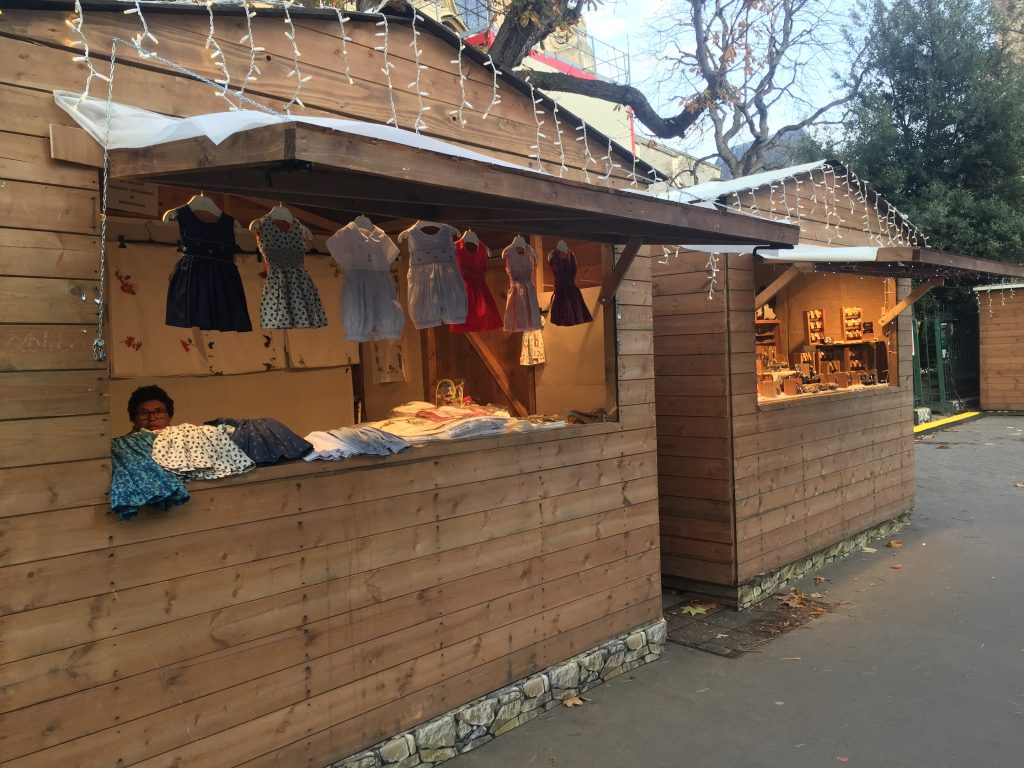 Some of the bigger markets have rides, like at a carnival. I personally never go on structures that are meant to be taken apart a few weeks later. That just doesn't sit well with me.
I recently discovered that the Christmas markets often have a lot of the same chalets. After visiting a market in the city of Lille a few weeks ago, near the Belgian border, I then saw a couple of the same stands at the Jardin des Tuileries market in Paris. While disappointing to see the commercialization of the Christmas markets, I'm sure that some stands still feature small artisans, and I'll be sure to pay more attention to those ones!
Et toi? What brings you joy during the holidays? I feel pretty lucky that I can enjoy the best of both worlds: French festivities and American treats.
3 Reasons to Love Paris During the Holidays