This post may contain affiliate links, meaning that if you click and make a purchase, I may earn a commission at no additional cost to you. Read the full disclosure here.
Last Updated: August 30, 2023
Are you working in France? Did you know that you might have funds waiting for you in a personal training account? Here's everything you need to know about the Compte Personnel de Formation (CPF) and how to access your funds.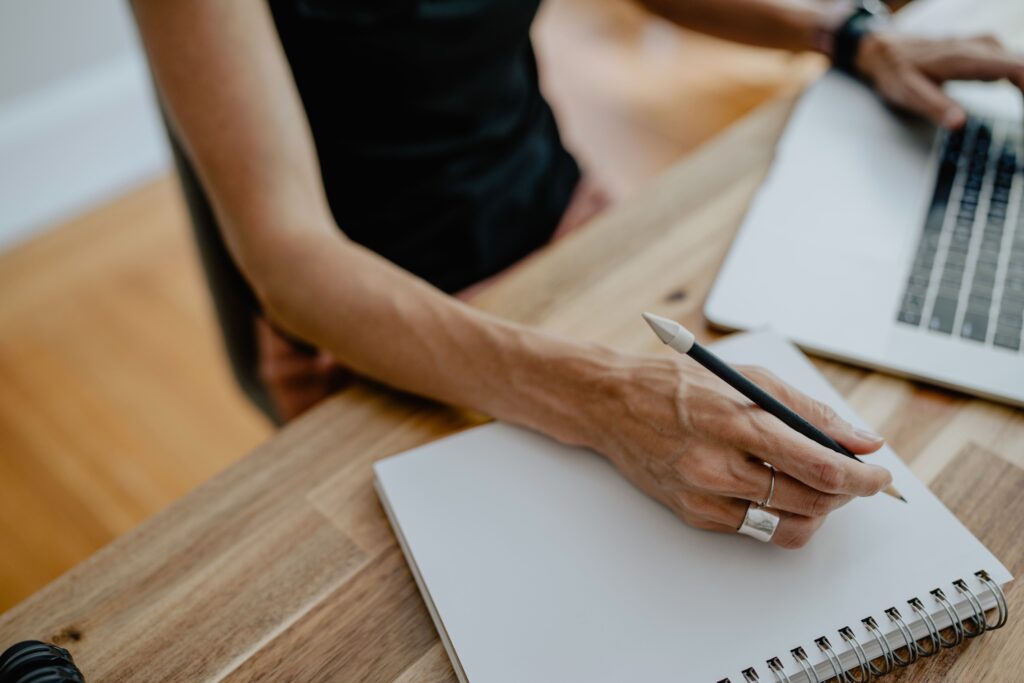 What is CPF?
Created in 2014, the Compte Personnel de Formation (CPF) is a personal account that allows residents in France to pay for various professional development opportunities. The funds in this personal training account can be used towards qualifying classes, workshops, and even some tests and certifications.
➡️ Pro Tip: You can use CPF credits towards a language class or language test. For example, I used funds in my account to take a test de connaissance du français (TCF). The results of this test prove that I have a sufficient level of French to qualify for my 10-year residence permit as well as French nationality.
Just about everyone in France has access to this program throughout their active working life until retirement. The amount you are entitled to as well as whether this amount is allocated in hours or euros depends on the sector you work in. Full-time and part-time job status can also play a role in the calculation.
Benefits are credited in euros, with the exception of those working in the public sector. A public civil servant (un fonctionnaire) receives hours, calculated according to the number of hours they've worked (full-time or part-time). Public agents must generally go through their employers to take part in a training and cannot usually purchase courses through the CPF website on their own.
Even if you are not currently working, you can benefit from the money already in your account. In the case of unemployment, if you don't have sufficient funds to cover the training you'd like to take, you may be entitled to additional funding coordinated through Pôle Emploi as a job seeker.
How Much Money Do You Get Through CPF?
For those working full-time or at least part-time, the standard amount is 500€ per year worked. The maximum accumulation is 5,000€.
For reference, I am registered as a self-employed, freelance auto-entrepreneur, which falls into the category of Travailleur non-salarié (non-salaried worker). 500€ are deposited into my account for each year of activity.
How to Check Your CPF Funds & Find Trainings
You can connect to your Compte Personnel de Formation online. It is also available as a phone app. If you're not eligible for FranceConnect+, you'll need to create an account using your numéro de sécurité sociale. Signing up to access your CPF account is quick and easy!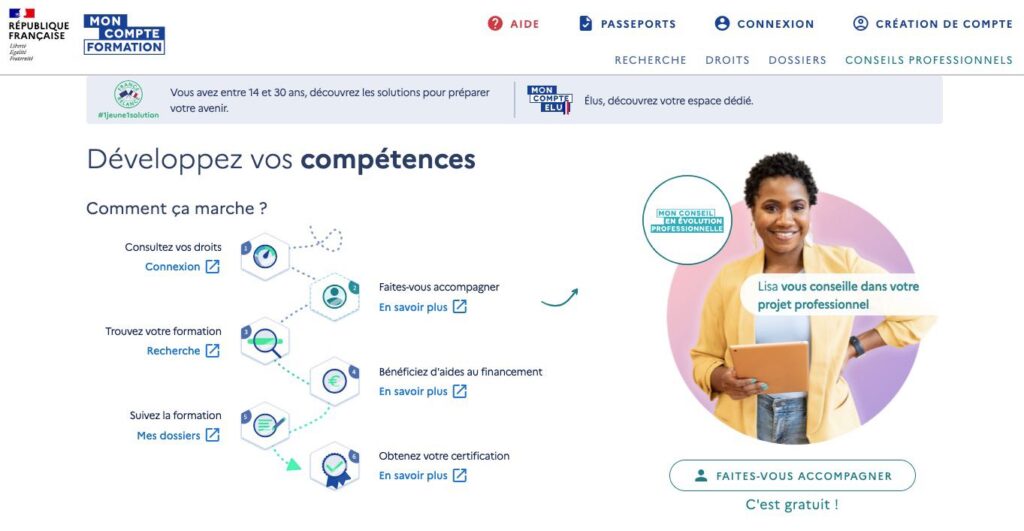 ➡️ Reminder: Your social security number is the number on your green carte vitale and designates your access to French health insurance.
When you are logged in, you'll be able to see your current funds and search and register for qualifying classes, trainings, and certifications.
How to Pay for Training Using Your CPF Account
As of October 2022, you can only use the funds in your CPF account if you are connected to FranceConnect+.
You are likely already familiar with FranceConnect, which allows you to log into various government portals through one single interface. For example, you can use your Ameli (health insurance) log-in credentials to access the French tax website. FranceConnect simplifies log-in procedures in a secure way.
FranceConnect+ is a step above this in terms of security, by electronically verifying your identity and creating an Identité Numérique. It appears to be a straightforward process.
However, you are only able to register for this service if you are a French citizen or a holder of a residence permit that is valid for at least 5 years. As you can imagine, many immigrants are not eligible for FranceConnect+.
What to Do if You're Not Eligible for FranceConnect+
If you are not eligible to validate your identity through the online verification process, you can submit your documents through the mail and have your identity manually validated.
Documents Needed to Verify Your Identity for CPF
Demande de vérification d'identité pour l'achat de formation CPF

Fill out the third page on the computer or by hand, using capital letters & black ink
Everything on the application with an asterisk needs to be completed
On the bottom half, you'll check Box #2, "Mon titre de séjour a moins de 5 ans" as the reason for why you are sending your documents manually
Date (DD/MM/YYYY) and sign!

Un justificatif d'identité
Un justificatif de sécurité sociale
Mail your application and documents in a simple envelope to the address indicated on the form. "Libre réponse" in the address means that the postage is covered by the recipient, so there is no need for you to include a stamp on the envelope.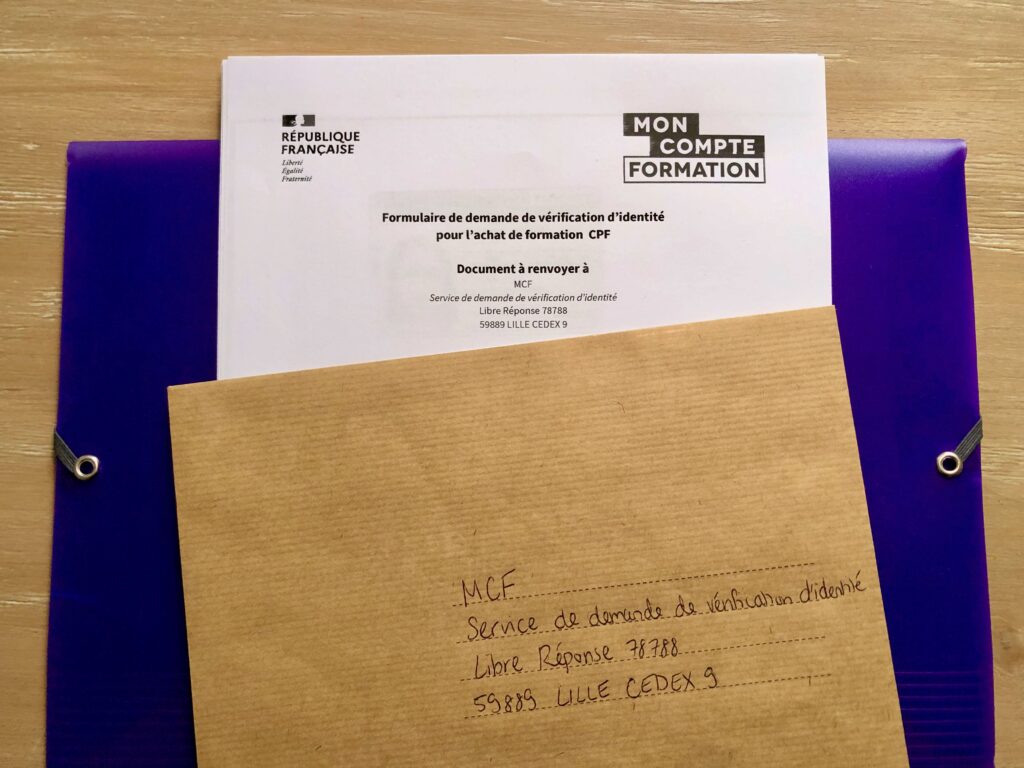 ⚠️ Make sure you have already created an account before sending in documents, otherwise, your request will not be processed.
Timeline for Processing Your CPF Verification
According to the website, this process takes approximately four weeks. However, when I made this request in February 2023, everything was all set in just over a week.
First, you'll receive a registered letter that needs to be signed for. Then, you'll get an email saying that your identity has been validated. The subject line for this email was, "Mon Compte Formation : Certification de votre compte."
Going forward, you'll log into the website with your social security number and usual password (not the FranceConnect+ option), and you'll able to proceed with signing up for a training!
---
Did this guide help you? Say thanks with a cup of coffee!

---
CPF Scams to Avoid
Scams regarding the funds in your CPF account are rampant. They come in the form of SMS text messages, emails, and even phone calls.
Fraudulent messages about your CPF funds are usually easy to detect because they rely on scare tactics and create urgency. Often, they claim that your funds will be expiring soon. Consequently, they incite you to log into your account in order to take action right away. The link they provide is, of course, a phishing link intended to get your personal information and login details.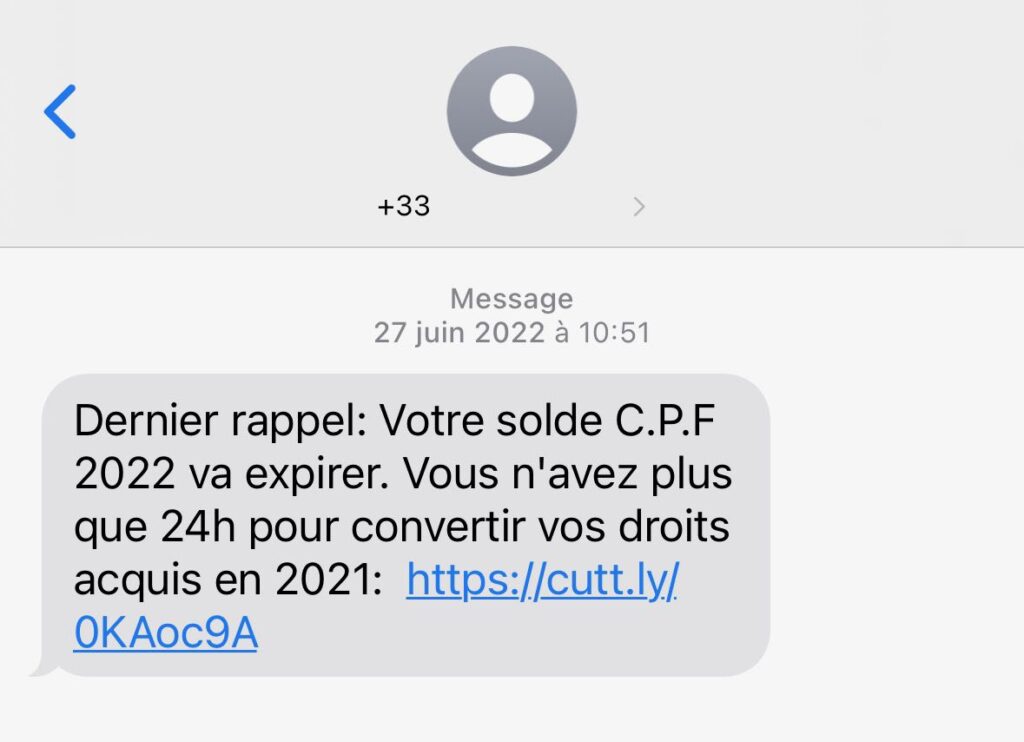 There are so many fake websites that pose as a way to access your Compte Personnel de Formation. Keep in mind that there is only one official website: https://www.moncompteformation.gouv.fr/
In reality, most correspondence coming to you about your alleged CPF account can be ignored entirely. As we've seen with carte vitale scams, French government services are not proactive in contacting you about your benefits!
---
Have you accessed your Compte Personnel de Formation? Used your funds for anything interesting? Let us know down below!
Compte Personnel de Formation (CPF) : Your Personal Training Account in France