This post may contain affiliate links, meaning that if you click and make a purchase, I may earn a commission at no additional cost to you. Read the full disclosure here.
When you think about Paris and art, you're likely envisioning conventional art in lofty establishments such as the Louvre or the Musée d'Orsay (one of my favorite museums in Paris, by the way). But you don't have to go to a museum to explore art in Paris—just head out on the streets, which is where a lot of artists first start out.
La Butte aux Cailles neighborhood is well-known for being an area active with ever-changing street art. If you don't have time to trek down to the 13th arrondissement during your stay in Paris, don't worry. Street art is all over Paris, and you're bound to stumble upon plenty of interesting pieces. Even if you haven't been in Paris long, you'll begin to recognize certain artists by their unique styles.
Here are a few of my favorite artists whom I enjoy scouting out on my walks. Maybe you already know some of them.
Aydar
Instagram: @a_ydar
According to Aydar's Instagram profile, they are "just a simple Parisian street artist." Their style, however, is far from simple. It is characterized by black and white portraits of men and women covered in intricate designs. What I love most is how expressive these faces are. You can't help but be drawn in, wondering what they are thinking.
HeartCraft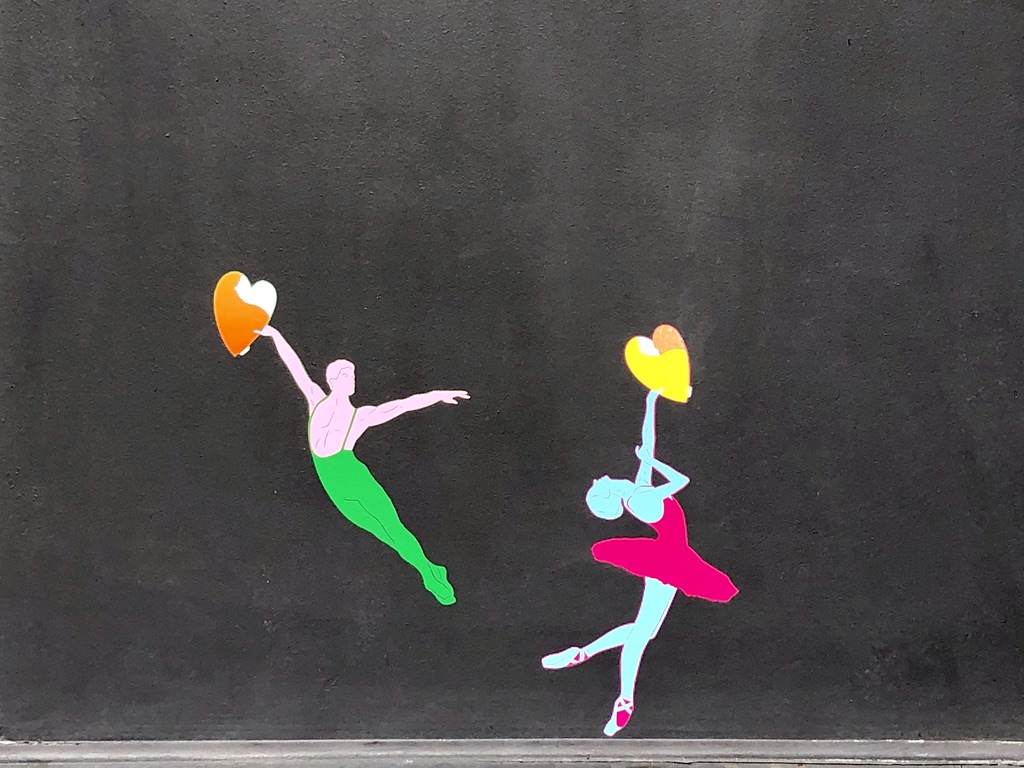 Instagram: @heartcraft_streetart
HeartCraft self-identifies as a "French urban artist," according to his Instagram account. The main theme in his work, which lends him to be easily recognizable, is the recurring heart that depicts two people kissing. The people's colors, genders, and sexual orientations change, but the message promoting tolerance and love remains the same. We are enriched by each other and our differences, no?
In Love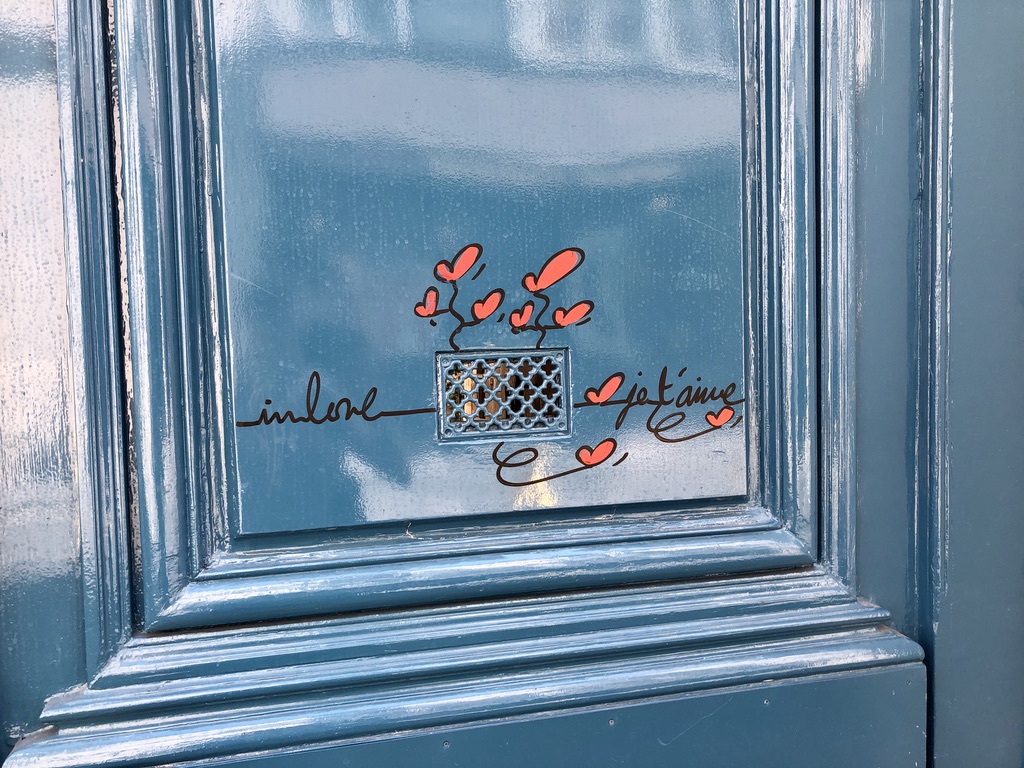 Instagram: @inlovestreetart
Website: Next Street Gallery
How can you not love these whimsy little doodles? According to this interview (in French), In Love's art was motivated by a desire to express his feelings to the woman he loves. He doesn't necessarily plan out his street art, but rather writes his love messages whenever he thinks of her as he's walking around. In particular, he likes the Marais, because the architecture is particularly magnificent there, and he believes that it enriches his work.
Invader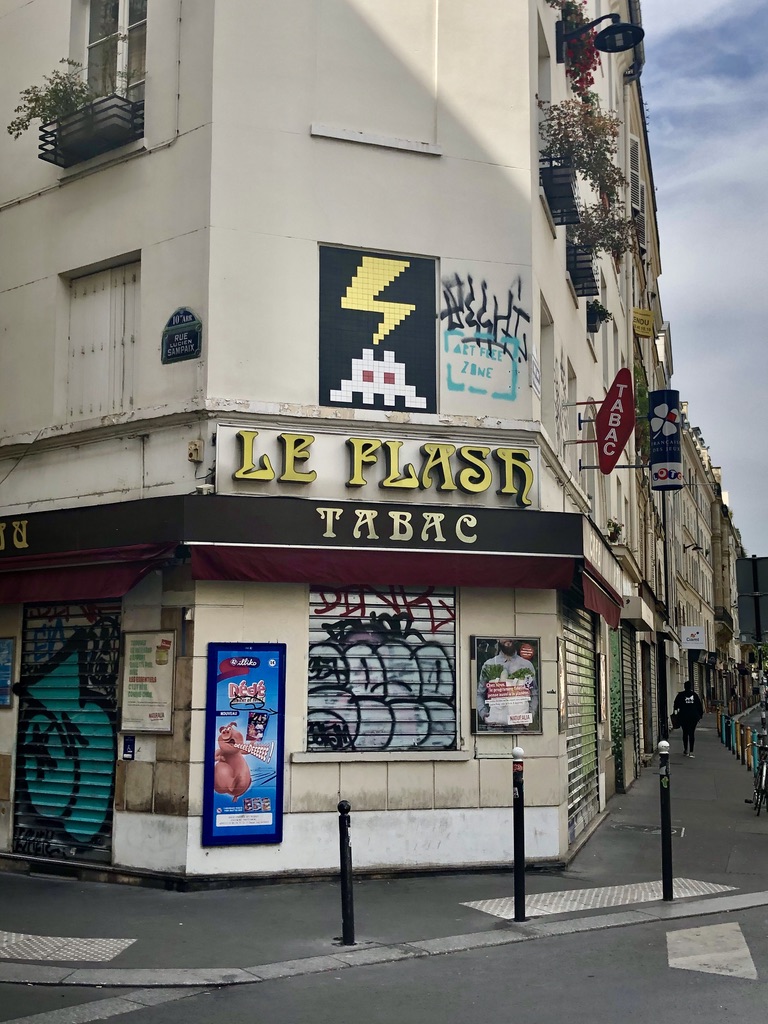 Instagram: @invaderwashere
Facebook: @invaderofficiel
Website: Space Invaders
Invader began this street art project in Paris in 1998. Since then, he has "invaded" many densely populated cities around the world with mosaic Space Invaders. This artist prefers to hide behind his pseudonym and never shows his face in order to remain completely unidentified. He likes to be able to visit his invasion sites without anyone recognizing him.
My favorite part about his project is the highly addictive game that goes along with it. FlashInvaders is a free Smartphone app and reality game. As you walk around and spot Space Invaders, you can "flash" them and earn points. By the way, the sound effects are awesome! The app keeps track of your score, and you can compete with other players all around the world. Let me know if you're on there! You can search for me: americaine_in_france.
Read more: 7 Essential Phone Apps for Your Trip to Paris
Mais oui tu es belle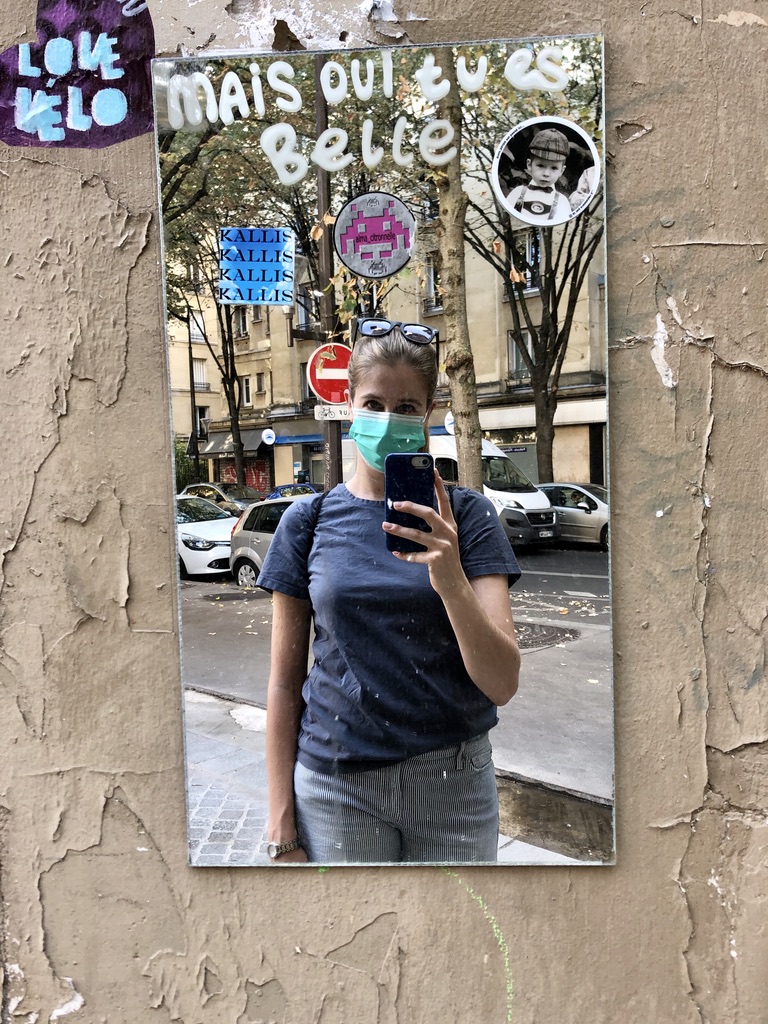 Instagram: @maisouituesbelle
Imagine turning the corner and finding yourself looking straight into a mirror and at the same time, seeing messages such as "But of course you are beautiful" and "Look how beautiful you are." This is an anonymous street artist, who directs their work largely towards women, which is evident by the use of the feminine form of the word for beautiful (belle). As you can imagine, the intention is to make the viewer feel good about themselves.
Miss.Tic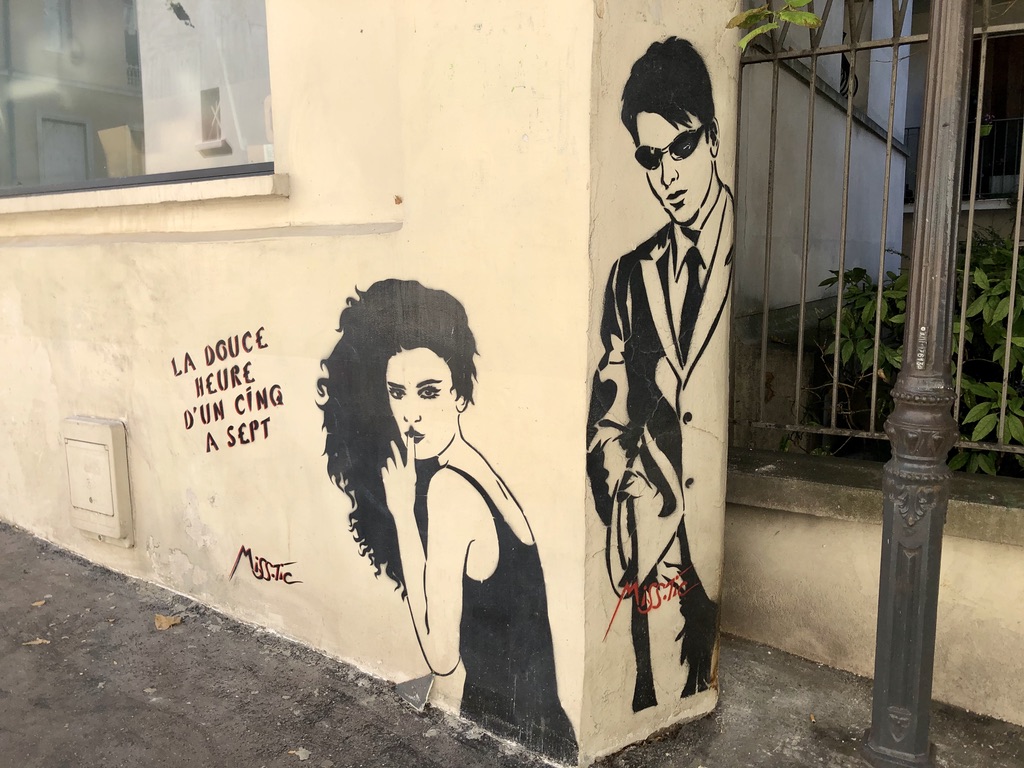 Instagram: @missticofficiel
Facebook: @missticofficiel
Website: MissTicinParis
Miss.Tic has been active as a street artist in Paris since 1985. She mostly depicts women in black and white, accompanied by little messages that are both light and serious, allowing the observer to form their own meaning. In particular, her work puts into question the stereotypes surrounding women. Internationally recognized, Miss.Tic is very well-known now, with her work often shown in galleries.
Vinie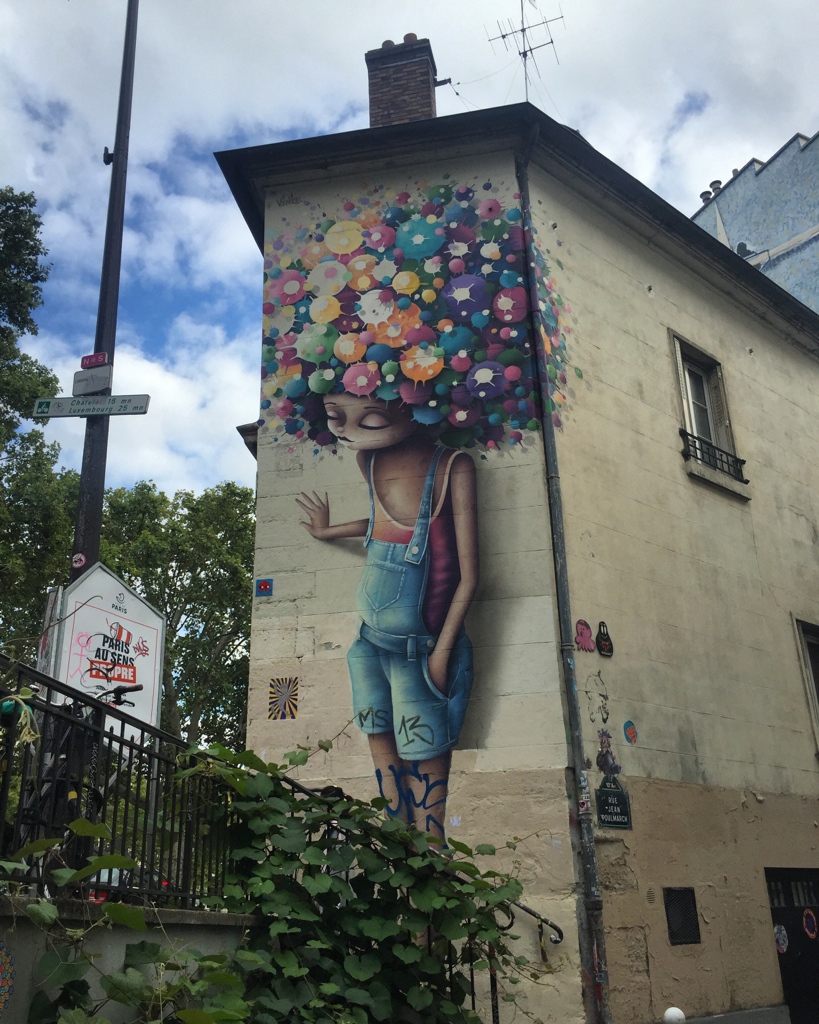 Instagram: @viniegraffiti
Facebook: @VinieGraff
Website: Vinie Graffiti
Vinie has a very distinctive style. In the street art world, which is largely dominated by men, she puts a spotlight on femininity. Inspired by hip-hop, the signature figure in her work is a woman with an enormous afro. Additionally, she makes use of a bright palette of color and often incorporates the surroundings into her work.
Words by Wabi Sabi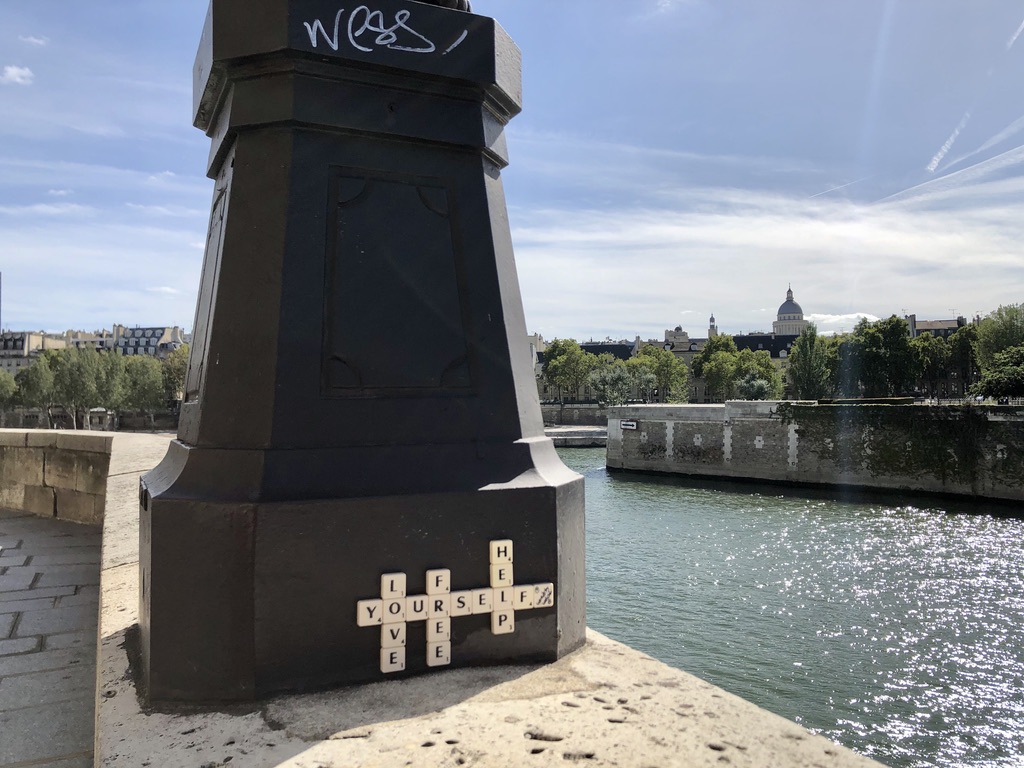 Instagram: @wordsbywabisabi
From Instagram: [wɒbi sɒbi] 𝒏. "Finding beauty within imperfection"
I only recently came across this artist, and now I'm starting to see their work everywhere. I love the positive messaging created with Scrabble tiles and the thought that goes into this. The art is a bit subtle, and I like that it uses a medium that I hadn't seen used as street art before.
---
What other street artists have you noticed in Paris? Do you have a favorite one?
Serial Street Artists in Paris: A Few of My Favorites