This post may contain affiliate links, meaning that if you click and make a purchase, I may earn a commission at no additional cost to you. Read the full disclosure here.
Last Updated: November 7, 2022
Considering France is well-known for its gastronomy, it may come as a surprise to you that French people typically eat a very simple meal for breakfast. Usually more sweet than savory, le petit déjeuner, as the French say, is not a very big or important meal in France. In fact, many French people don't eat breakfast at all, waiting until lunch to eat. Read on to find out what the usual French breakfast consists of.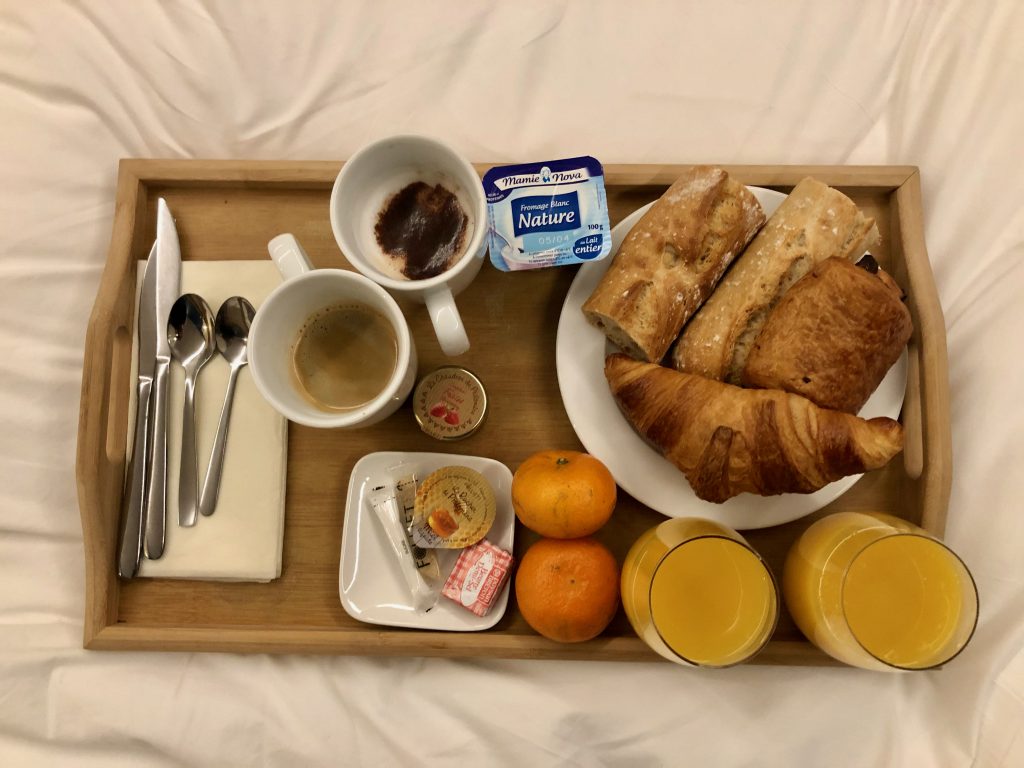 A Typical French Breakfast
Le petit déjeuner is what breakfast is called in French. This "little lunch," is a small meal in France. In contrast, "le déjeuner" (lunch) has a literal meaning of breaking the fast ("jeûner" means to fast). Interestingly, lunch is the biggest meal in France.
A typical French breakfast is carb-heavy and on the sweet side. At its most basic, breakfast in France consists of a hot drink and some kind of bread product, although many get by with just a black coffee alone.
What do French people usually eat for breakfast?
The stereotypical daily French breakfast is a croissant, but this is not quite the reality. Croissants and other buttery pastries are more often a special treat, reserved for weekends and holidays. Adults and children might grab something to go at the bakery on the way to work or school, but as a general rule, this is not an everyday occurrence. Other popular morning pastries include: pain au chocolat, pain aux raisins, and brioche.
More commonly, French people have tartines. In France, a tartine simply refers to an open-faced sandwich. While a tartine can be made on any kind of bread, for a true French breakfast, a baguette is the preferred choice. Sliced horizontally, toasted, and then slathered with butter and/or jam (confiture), it's the most standard thing you'll see on the breakfast table in France. It's not necessary to head to the bakery every day for a fresh baguette, as many people will store some sliced pieces in the freezer—they toast up great! I never realized I needed a pair of toast tongs until I moved to France!
Related: Things I Own Since Moving to France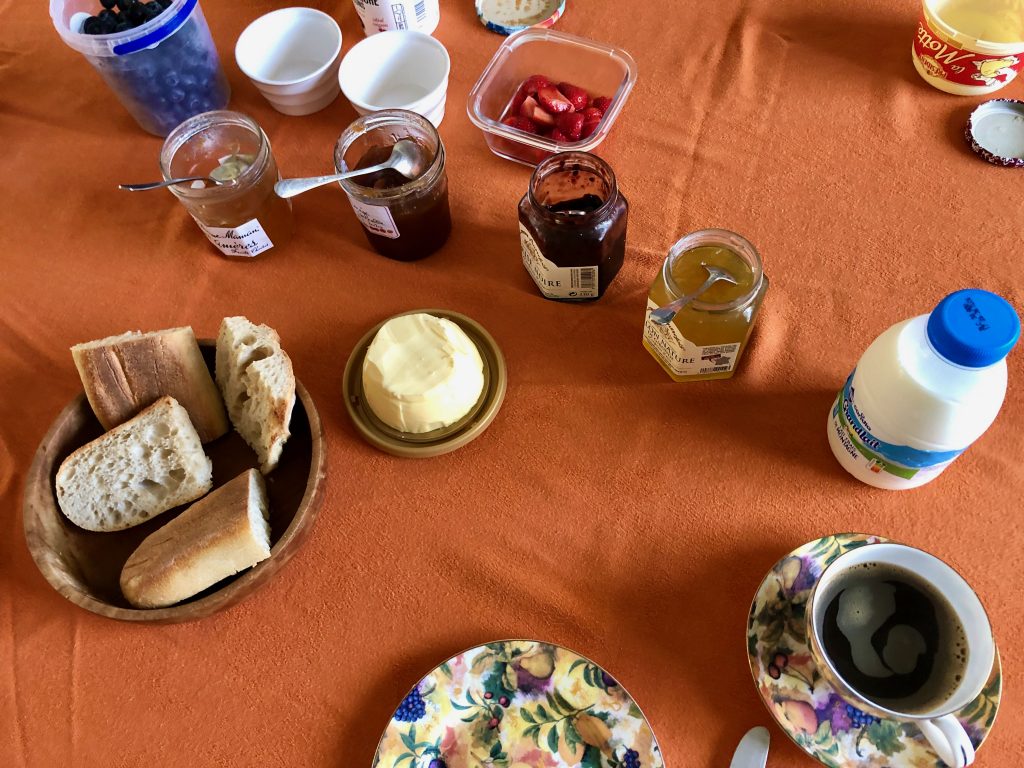 While we often hear that France has a slower paced life than in the United States, adults still need to get to work and children still need to get to school. Many French adults have been known to grab a breakfast biscuit to munch on, and many French kids pour themselves cereal with milk for breakfast. These options are easy and quick, allowing everyone to get out the door on time. Other common add-ons to the breakfast table include fresh fruit or yogurt with muesli, although these are more likely to make an appearance on the weekend when time allows for it!
What do French people typically have to drink at breakfast?
Chez les Français, a hot drink is often served with breakfast. Coffee is the most popular choice, regularly served strong and black. My in-laws often make coffee in a French press. Sugar is available though not everyone uses it. Tea is also a classic morning beverage.
Milky coffees, such as lattes, are more commonly served in the morning. However, to be honest, I've never heard more people insist that a coffee with milk causes upset stomachs than in France. There are so many countries where milk and cream are added to coffee, but at this suggestion, a number of French people will respond to you with a hearty, "Beurk !"
French people might also have juice in the morning with their breakfast. Fresh-pressed juice is prized, and orange juice and grapefruit juice are regularly offered. At many grocery stores in France, there are often commercial juice presses available for use to get yourself something fresh!
What do French people NOT eat for breakfast?
Breakfast in France is not very savory. You won't generally find meat (including bacon!), cheese, or eggs at the breakfast table. Surprisingly, omelettes fall under the lunch or dinner category, often accompanied by a vinaigrette salad. French toast (pain perdu in French) and crêpes are made well in France but are more likely to be served as a dessert or snack. Waffles and fluffy pancakes are not mainstream.
Going Out for Breakfast in France
Are you traveling to France and wondering what you can order for breakfast? There is not a big culture around going out to eat for breakfast in France like there is in the United States. Brunch is becoming a popular concept in larger cities in France (in Paris in particular), but don't expect it to compare to an American-style breakfast. At restaurants that serve a brunch, you'll find pancakes, bacon, scrambled or fried eggs, etc, but it will be different and not nearly as copious.
Most French cafés offers basic pastries, such as croissants and pains au chocolat. These are not always listed on the menu and they do run out, but don't hesitate to ask if they have anything to accompany your morning coffee. Alternatively, you can grab some pastries at a boulangerie (bakery) and your coffee somewhere else.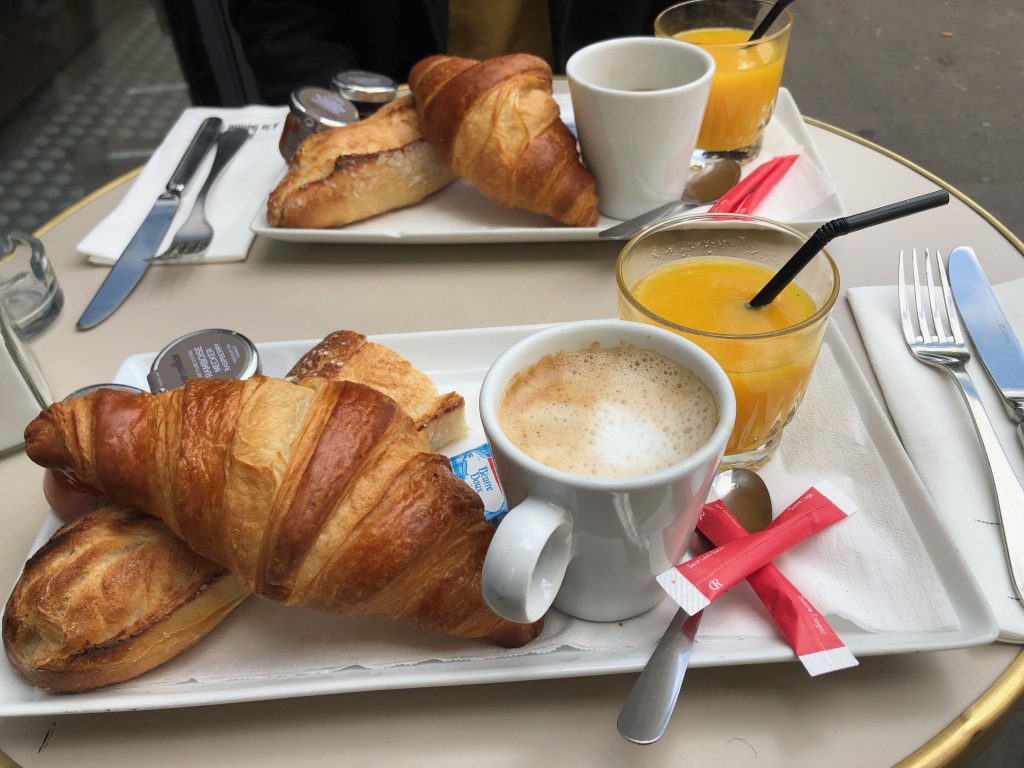 Many French cafés offer a formule at breakfast time. This is usually a special, reduced-price deal grouping together a coffee, a viennoiserie (pastry), a juice, and/or some tartines with butter and jam. If a breakfast deal such as this is offered, it will usually be posted on a black board outside the café or on a sandwich board on the sidewalk.
---
What do you think of the typical French breakfast?
What Do French People Typically Eat for Breakfast?