This post may contain affiliate links, meaning that if you click and make a purchase, I may earn a commission at no additional cost to you. Read the full disclosure here.
Last Updated: August 7, 2023
La rentrée ! Back to school time in France! Let's take a look at some typical school supplies that students in France need for the classroom.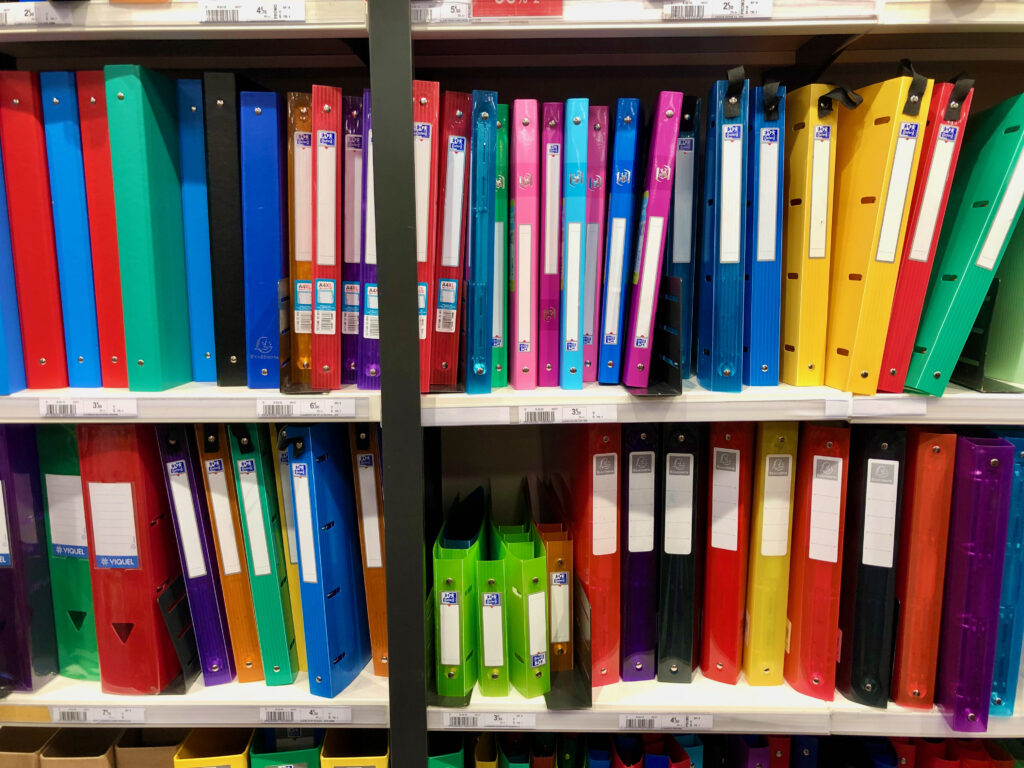 Getting Ready for La rentrée
The end of August and the beginning of September are a significant time in France. It's the end of vacation, so families head back home and get ready for la rentrée—back-to-school time. All students attending public schools in France start school on the same day throughout the country. For the 2023-2024 school year, the first day of school is Monday, September 4.
During the year I spent in a French elementary school teaching English with TAPIF (Teaching Assistant Program in France), I got to see first-hand the school supplies students used in their classrooms. In general, I found the school supplies in France to be sturdier and of higher quality than the supplies that I typically find in the United States.
Something that really stood out to me was that there wasn't much variety between the school supplies of different students. Everyone had just about the same thing! This is largely due to the detailed school supply list furnished by the schools. The Minister of National Education provides a general model list of school supplies, but the definitive list comes from schools and teachers.
The school supply list given to parents is very detailed, sometimes describing specific colors and sizes of notebooks. It can be stressful making sure that you get exactly what the teacher expects, down to the number of pages needed in a specific notebook. However, since students need to adhere to similar lists throughout the country, manufacturers produce supplies that directly correlate to the sizing typically requested by schools. So, while tricky, you don't have tooooo many choices to sort through.
Parents and/or guardians are responsible for buying school supplies for their children. As you can imagine with such a lengthy list, school supply costs do add up quickly. There is some help available for families in need, known as l'allocation de rentrée scolaire.
Where to Go Shopping for School Supplies in France
When shopping for back-to-school supplies in France, there are a number of options to consider at various price points. You can go shopping in-person or online.
Big office supply chain stores exists, such as Bureau Vallée and Office Depot. Large grocery stores, like Monoprix, or hypermarchés (outside of Paris) will usually have an office supply section in their store. At these types of stores, you can often buy packs of notebooks or other supplies in bulk to cut down on costs.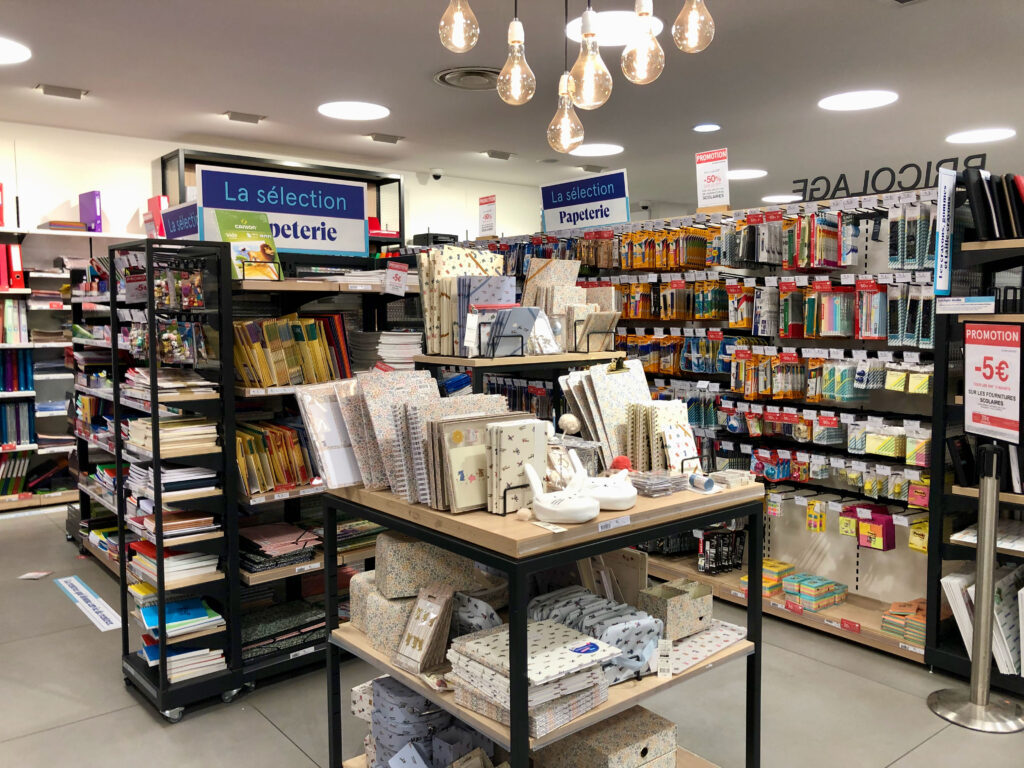 A local papeterie, being a stationary specialty store, will have more unique items and of better quality. Of course, this comes at a higher cost.
Some local stores might grab the school supply list from nearby schools in order to put together convenient kits for purchase. Likewise, parent associations might organize a pack fourniture.
Backpacks & Pencil Cases
There are two types of bags that students use to hold all their belongings. What Americans would view as a classic backpack is called un sac à dos in French. The backpack that's in the shape of a messenger bag, but still worn on the back, is known as un cartable. This particular style of backpack is generally used by younger school children. I've never seen this kind of bag in the US.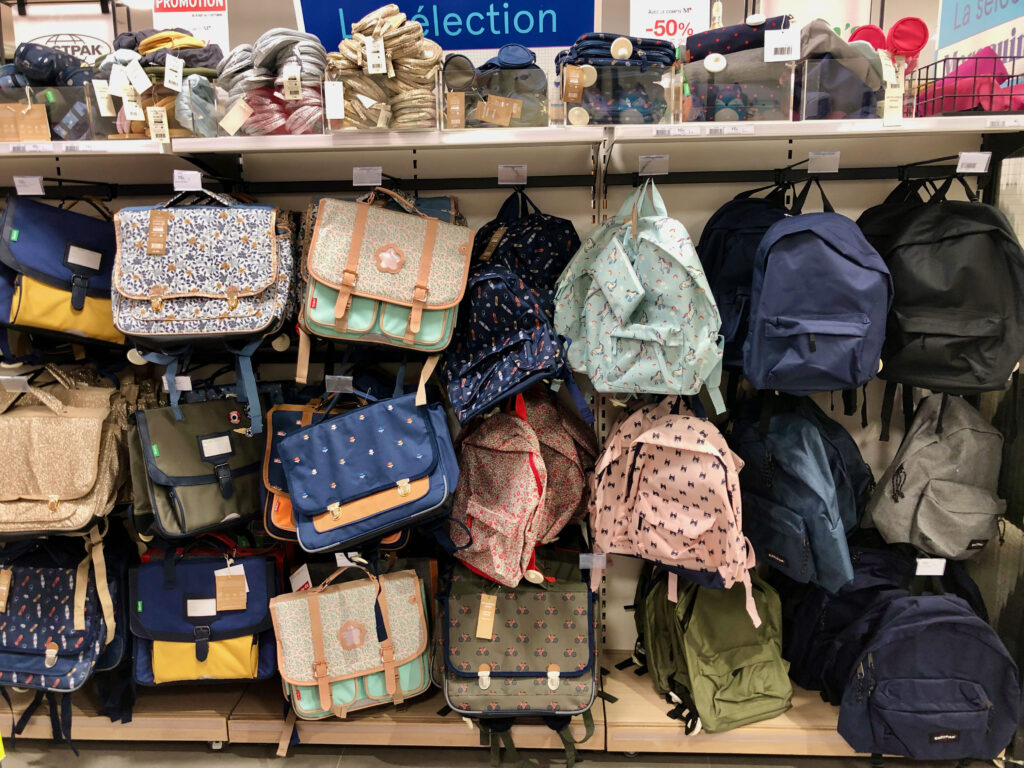 Students need a pencil pouch (une trousse) to hold their writing utensils. Some students may opt for two cases; one for writing utensils and one for art utensils. Tann's is a really popular brand.
Binders, Notebooks, & Folders
Binders tend to be used by older students only but notebooks are used at every grade level. In France, it seems like there is a notebook and/or a specific type of paper for every purpose. Walking down the aisle, you'll notice notebooks with staff lines for music class, folders containing thick drawing paper for art lessons, and lined notebooks in various sizes. Clairefontaine and Oxford are well-known notebook and paper brands.
Standard Séyès lined paper might be shocking to you at first due to… all the lines! This type of lined paper is common for all subjects, whether you are writing notes or doing mathematics. From a young age, students in France learn precise rules for how to neatly form their letters when writing and yes, they use those lines for guidance!
Sturdy and practical, I absolutely love the folders you can find here. They are far superior to the standard two-pocket folder in the US. Nothing will fall out of these folders with their secure elastics!
Writing Utensils
You won't find any classic yellow #2 pencils here in France. The standard crayon à papier (lead pencil) in France is green and eraserless. While pencils with attached erasers have become more commonplace, buying eraserless pencils along with a nice, quality eraser that will last is the norm. There are generally more options for regular wooden pencils than mechanical pencils.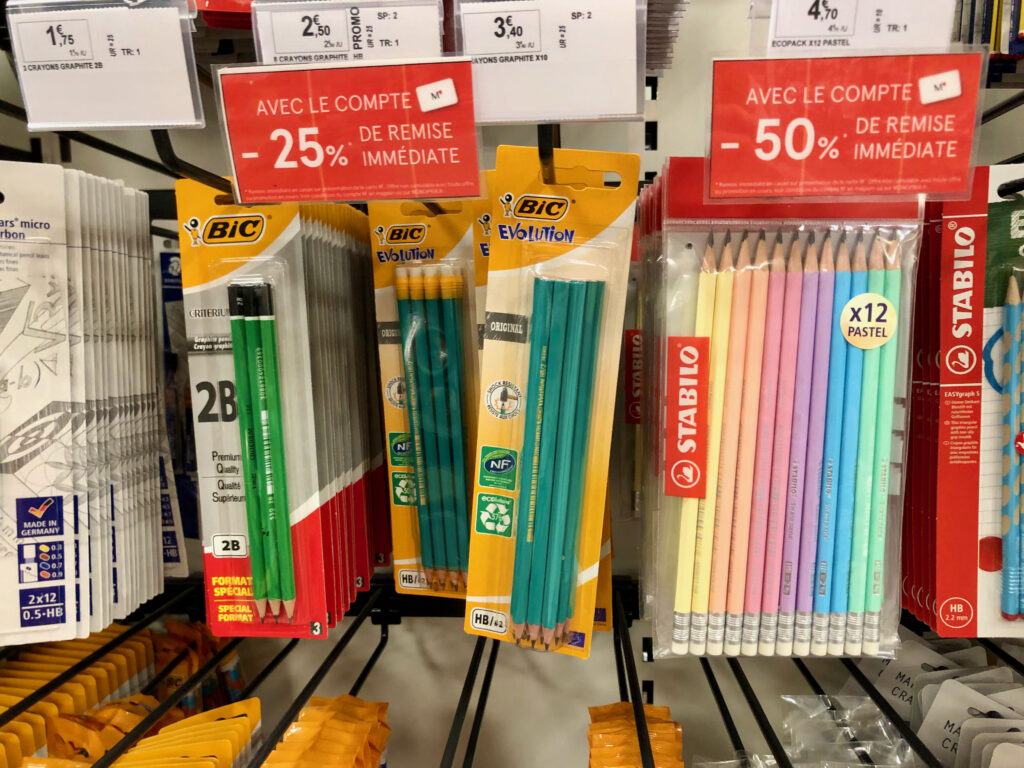 Erasable ink pens were cool and popular in France before they showed up in the States. Writing in ink seems to be encouraged more often than writing in pencil, even for subjects such as math! BiC 4-color pens are highly sought after as most teachers request pens in each color. I witnessed teachers dictating exactly which color pen to use and when. For example: write in blue, underline in red, and write special words or phrases (as indicated by the teacher) in green, etc.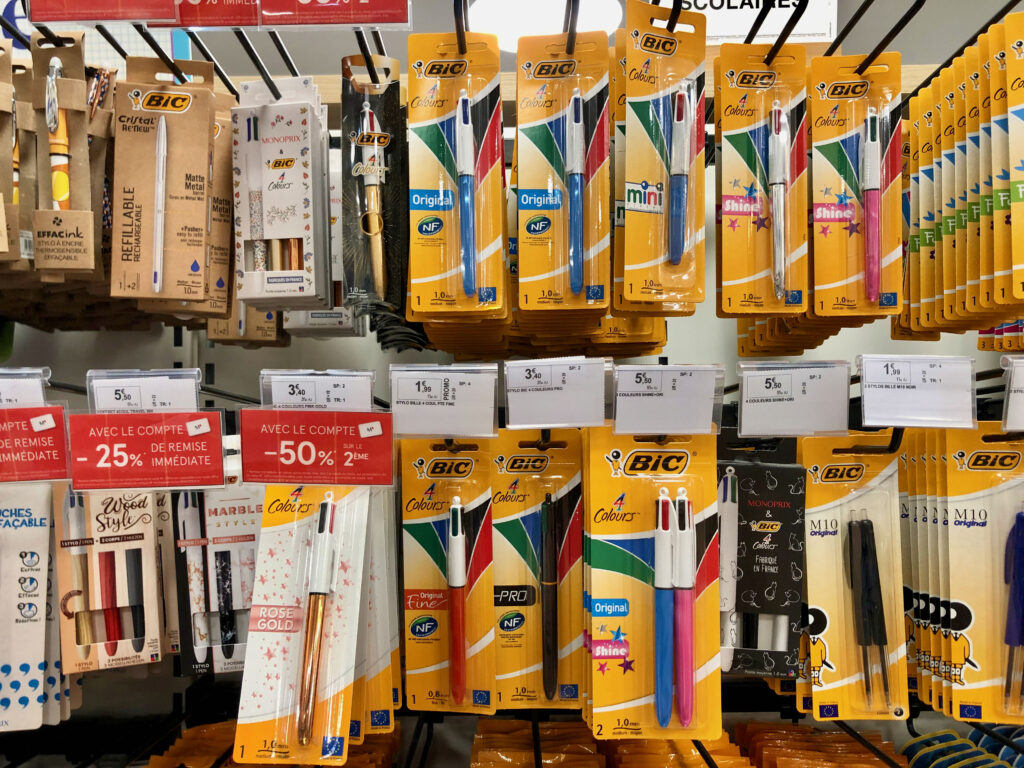 Fountain pen usage is on the decline in France. Indeed, as of 2023, I noticed that un stylo plume is no longer listed on the government school supply list!
If requested by the teacher, students might start using fountain pens in late elementary school. When I worked in a French elementary school (2012-2013), all of the 5th graders, the oldest students in the school, were so excited about their fountain pens and used them as often as possible. It seemed like a rite of passage to them. To me, a fountain pen has always seemed fancy, like what you'd use for calligraphy.
Economical, you can buy ink cartridge replacements instead of replacing the pen itself. There is also a special blue erasable ink that students use, paired with a magic corrector pen that dissolves mistakes and allows you to write over them.
Other writing utensils requested by teachers might include: highlighters, white-out, and personal whiteboards (des ardoises) along with various markers. Whiteboards are more commonly requested in the lower grade levels.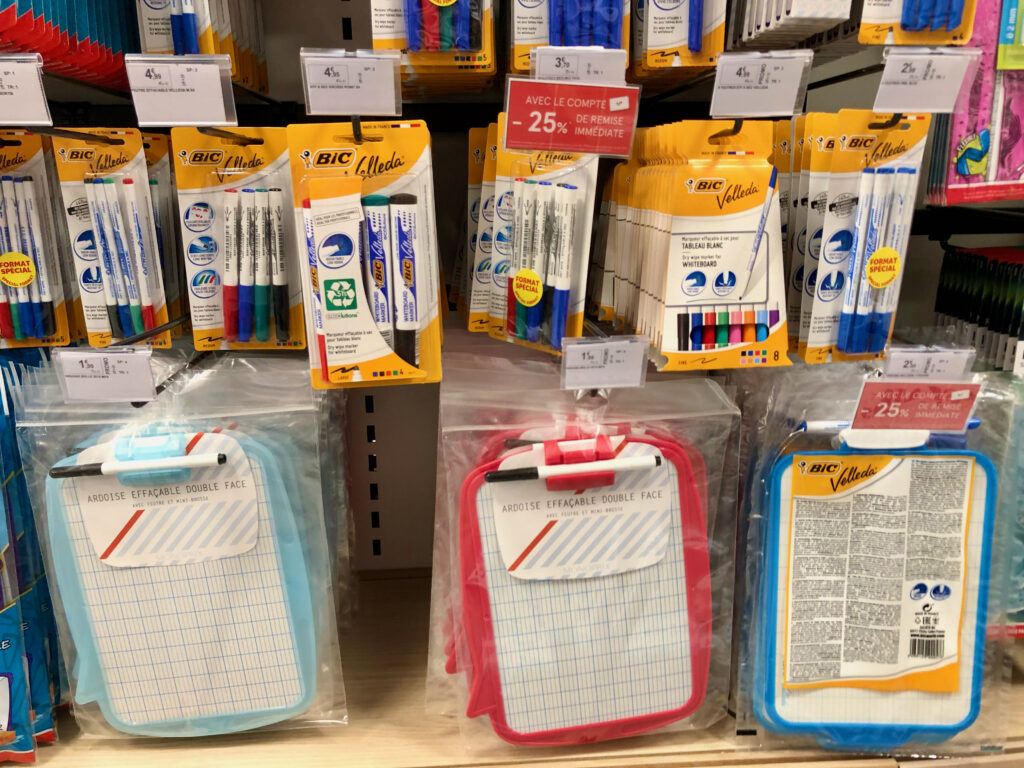 Art & Coloring
Fine-tipped markers and colored pencils reign supreme in France. You'll be hard-pressed to find crayons. I found one crayon option in the whole store.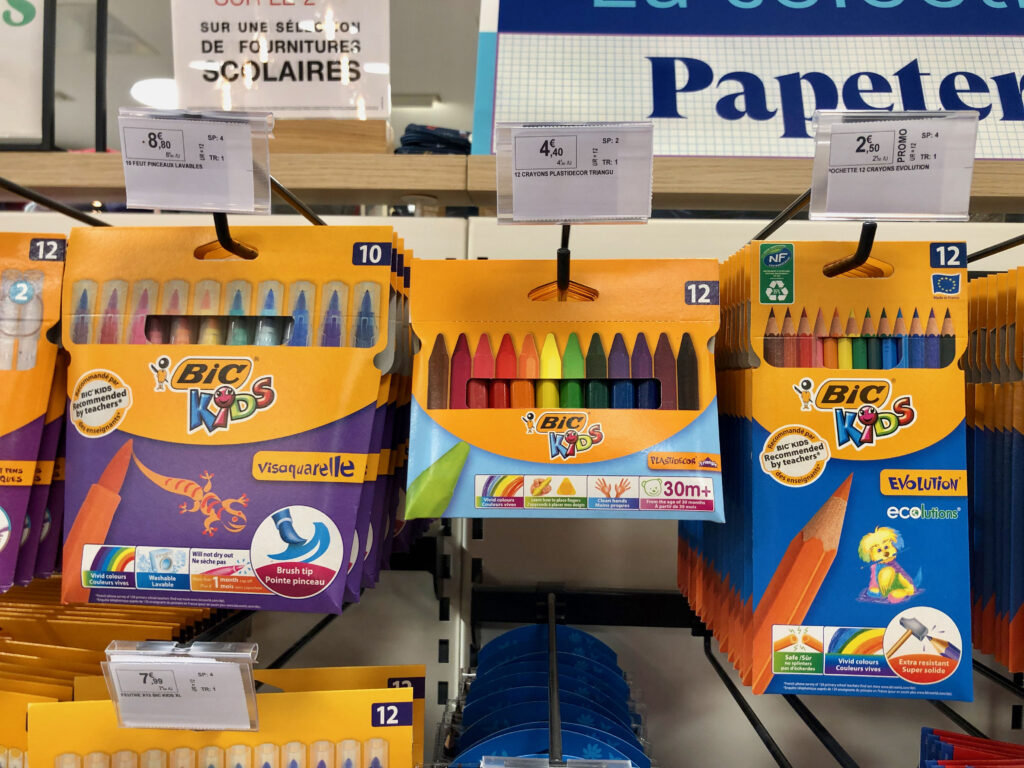 ---
What did you think of these common French school supplies? Let me know if you have any questions or comments below!
Typical School Supplies in France