This post may contain affiliate links, meaning that if you click and make a purchase, I may earn a commission at no additional cost to you. Read the full disclosure here.
This is a sponsored post written in collaboration with Orange Holiday and Disneyland® Paris via Agence Glucoz. As always, all opinions are my own.
On the fence about making the trip out to Disneyland® Paris during this summer vacation? Not sure if it's worth it or if you have enough time to fit it into your itinerary? Here's why you should consider heading to Disneyland® Paris during your visit to the French capital.
And just in case this isn't enough to convince you, Orange Holiday is offering you a chance to experience the magic during your upcoming trip to France! Every day through August 26, 2022, they're giving away 2 tickets to Disneyland® Paris through a special contest.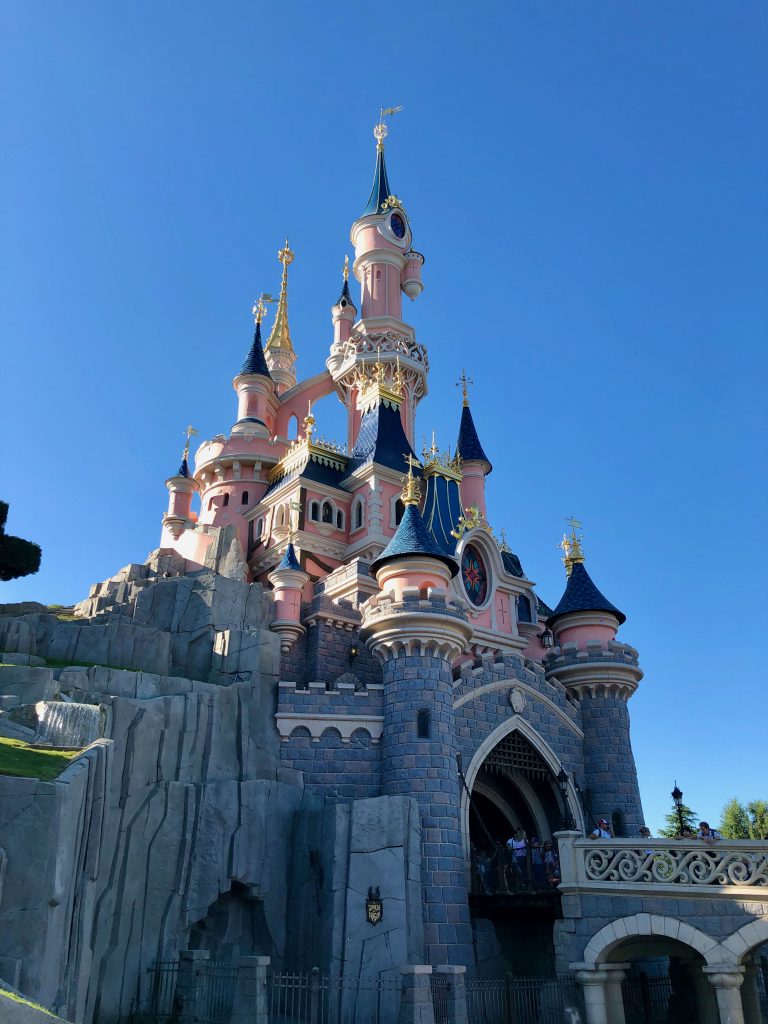 1. It's a manageable day trip from Paris.
A mere 40 minutes from the city center, Disneyland® Paris is very accessible from the French capital. In the mornings, the RER A leaves Châtelet Les Halles, the central transportation hub of Paris, every 5-10 minutes or so. You can hop on this red commuter line from other stations in Paris, too. It is well connected to many metro lines, so finding a reasonable itinerary will be no trouble at all. The full-fare ticket price is 5€ each way.
After your day at Disneyland® Paris, you can easily catch the RER A back into the city. The light show ends around 11:20 pm, giving you plenty of time to take public transportation before the last train of the night.
2. There's something for everyone to enjoy.
Disneyland® Paris is composed of two parks: Disneyland® Park and Walt Disney Studios® Park. Between the two, they offer a variety of entertainment that will keep you busy all day. For kids and adults alike, there's something for everyone to love, from shows to character meet and greets to fast rides. It's really no wonder that it's the most visited theme park in Europe.
Planning your day is easy using the Disneyland® Paris official app. You can use this app to navigate around the parks and see key information about the day's schedule and the availability of attractions in real-time. Rides are categorized so that you know what to expect. Seek out the "Big Thrills" for fast roller coasters or the "Family Adventures" for slower, themed experiences. You can also check height restrictions and current wait times. Additionally, there's the possibility to buy Premier Access passes through the mobile app in order to cut the lines and maximize your day.
💫 Check out my Disneyland® Paris Guide for more tips!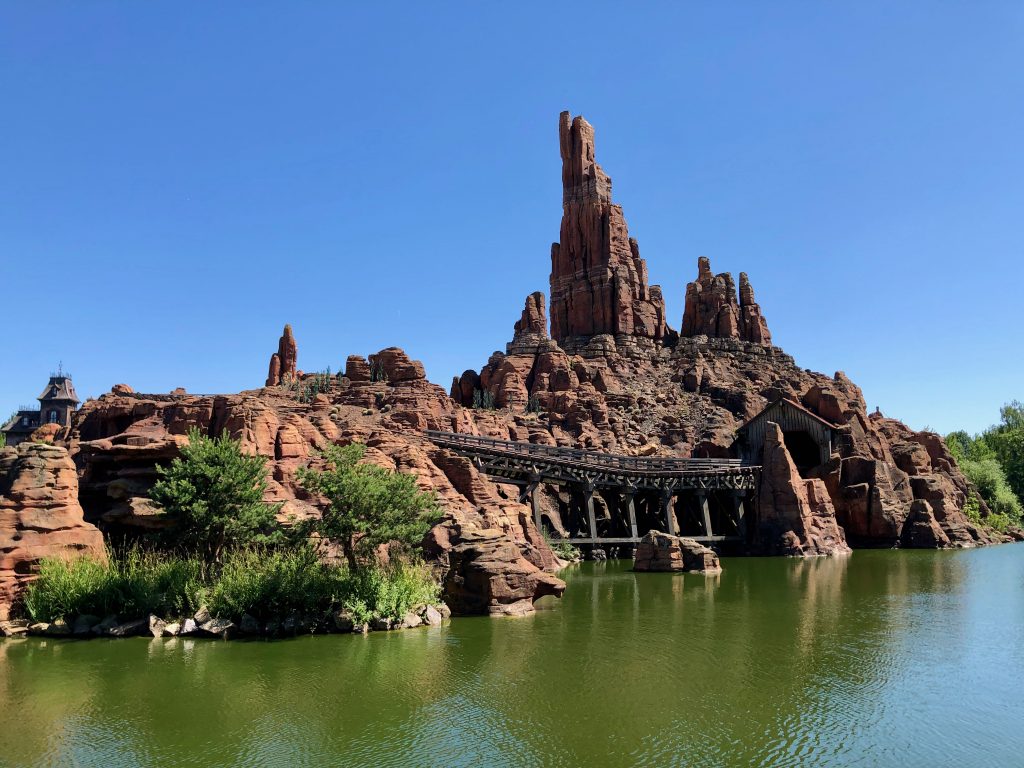 3. The Marvel Avengers Campus is opening this year.
Within the Walt Disney Studios® Park, the Marvel Avengers Campus is opening up this summer. From July 20, 2022, you can explore the new attractions, including the Flight Force roller coaster and the Spider-Man Adventure ride. This epic new land will add more dining, boutiques, and entertainment to Disneyland® Paris.
4. This year, Disneyland® Paris is celebrating its 30th anniversary.
For its 30th anniversary, Disneyland® Paris boasts captivating new shows, events, and installations to wow. Experience all the iconic shows with new costumes, music, and more. This is a great time to visit Disneyland® Paris.
Download the free "Celebration Quest" app to immerse yourself in a digital treasure hunt. It was created especially for the 30th anniversary by Orange, France's #1 mobile phone network and a longtime partner of Disneyland® Paris. Through this interactive app, you can explore the two parks, collecting badges for a chance to win prizes, like a smartphone or a stay in the parks!
P.S. Don't worry about mobile phone data while inside the Disneyland® Paris parks. Free wifi is provided throughout the site by Orange so that you can save your data for the rest of your vacation.
5. The light show is spectacular.
Every evening, the sky lights up with the special 30th-anniversary drone light show followed by the Disney® Illuminations light show. This combined fireworks and projected light display lasts about 20 minutes and is truly phenomenal. You're bound to recognize the various Disney soundtracks as their stories play out across the Sleeping Beauty Castle.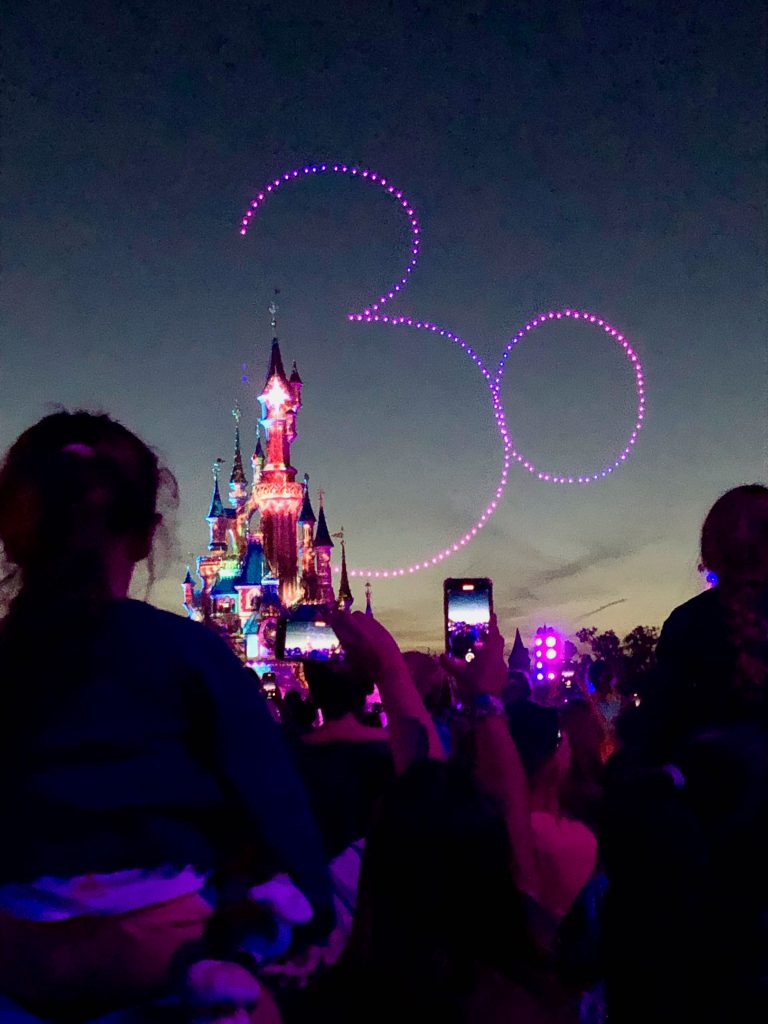 It's the perfect finale to this magical day. And you'll be singing the catchy "Un Monde qui s'illumine" song all the way home—I guarantee it.
BONUS! You can enter to win free tickets to Disneyland® Paris this summer!
Want a chance to win tickets to Disneyland® Paris this summer for the 30th-anniversary celebration? Every single day, now through August 26, 2022, Orange Holiday is giving away 2 tickets to the park. To enter this giveaway for your upcoming trip to France, all you have to do is register online! Bonne chance !
Orange Holiday is an all-inclusive SIM card allowing you to call, text, and use data while connecting to France's #1 mobile phone network. It's the best prepaid SIM card for tourists in France, allowing you to avoid high roaming charges and costly international phone plans from your local provider. (Read my full review here.)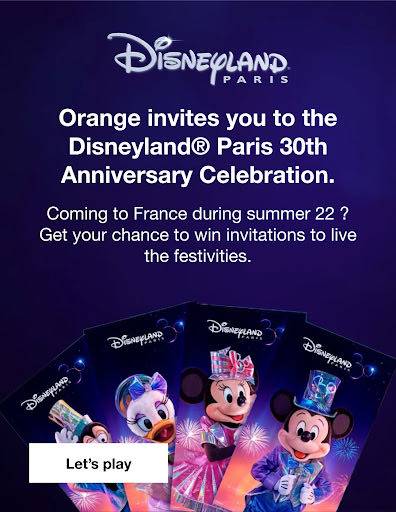 5 Reasons Why You Should Visit Disneyland® Paris This Summer