This post may contain affiliate links, meaning that if you click and make a purchase, I may earn a commission at no additional cost to you. Read the full disclosure here.
This is a sponsored post written in collaboration with Orange Holiday via Agence Glucoz. As always, all opinions are my own.
Our cell phones have truly become indispensable. Camera, GPS, phone, entertainment, organizational calendar, and more, I can't imagine traveling far without my smartphone and a reliable mobile data connection. Whenever I travel abroad, figuring out how I will stay connected without racking up charges through my local operator is always an integral part of my research.
Before moving to Paris, I regularly traveled to France for extended periods of time, alternating between tourist and student. Each time I came back to France, I chose the same French mobile provider—Orange. A few summers ago, I tried out the prepaid Orange Holiday SIM card for my 6-week vacation in France and Europe. I appreciated this service then and continue to recommend it to family and friends.
I am happy to partner with Orange Holiday today to share with you some things to consider when picking out the best tourist data plan for your next trip to France.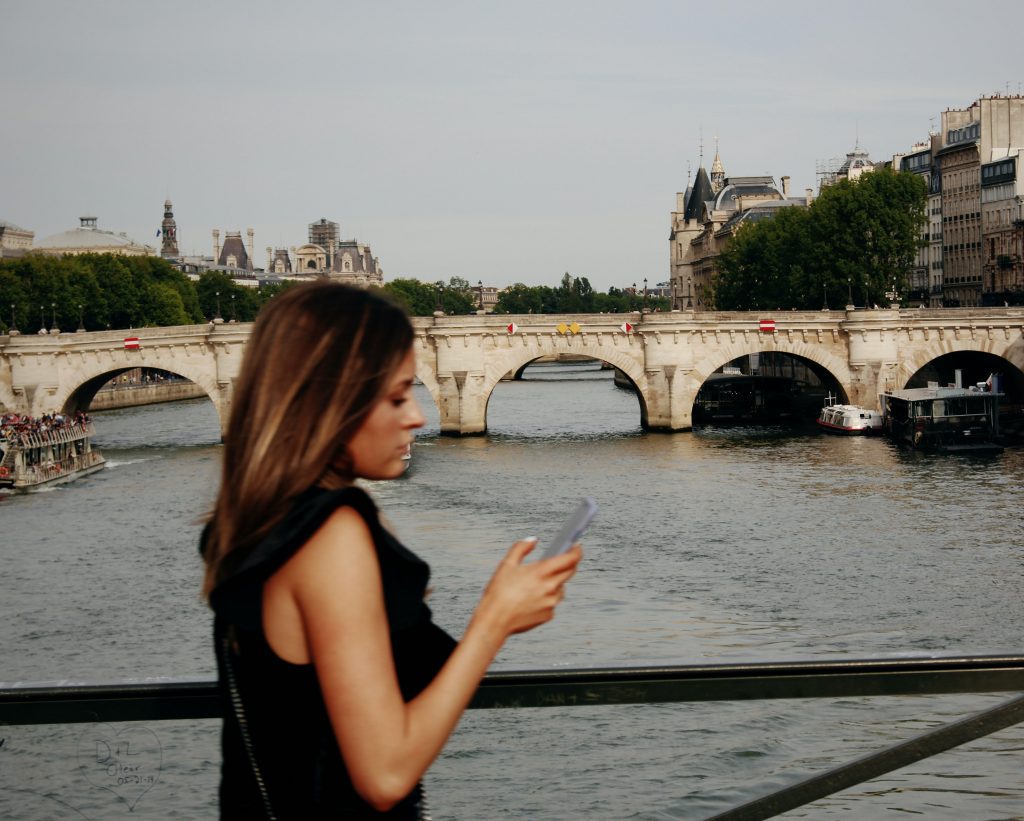 Will your cell phone work in France?
Technology has come a long way since my very first trip to France in 2009. Nowadays, it is likely that your smartphone is all ready for an international trip without any required preparation on your part. This is due to the development of SIM cards.
A SIM card is a small chip that is installed in your phone, allowing it to connect to a network. When you travel to another country without changing your SIM card, you will quickly rack up roaming fees as soon as you connect to a foreign network. There are a couple of options you can explore in order to avoid these excessive charges.
Many American cell phone providers allow you to activate an international plan while you are traveling. While this is an easy option and less costly than roaming fees, it can still be rather expensive unless your trip is relatively short.
The best option, especially for longer stays, is getting a local SIM card from your country of destination. This option is only available to "unlocked" cell phones. A "locked" phone, whether an iPhone or an Android, is generally one that was bought directly through your carrier and is therefore tied to the contract you signed. It will not work with other SIM cards. Only your carrier can unlock your phone, so be sure to check with them first if you have any doubts!

Looking into obtaining a local SIM card for the country you are visiting can be intimidating at first, but it's usually easier than you think and it's definitely worthwhile.
What do you need in a mobile data plan when traveling?
Reliable Service Coverage
My highest priority in choosing a mobile operator as a tourist is reliability. Not all carriers are created equal. You don't want to be stuck without service when you are trying to navigate around Paris and get to your dinner reservation on time.
Orange is the biggest and most-established mobile network operator in France. With Orange Holiday, you can rest assured that you will get excellent coverage through France's number one cell phone network. Not only will you be covered in France, but you will also be able to use the SIM card throughout Europe.
For better or for worse, with my Orange Holiday SIM card, I didn't have any "unplugged" time during my travels in France and Eastern Europe. I never had any problems with connectivity. I should mention here that Mom, of course, was very pleased that she could reach me at all times!
Data, Calls, and Texts
When you're shopping around for an international cell phone service, you'll see varying packages offering calls, texts, and data. Of these services, connecting to the Internet is generally the most important thing for travelers. With all of the apps that are available these days, your phone can be fully functional using only data.
Orange Holiday offers two different package levels at affordable prices.
What is the Orange Holiday card?
The Orange Holiday card is an all-inclusive prepaid card offering calls, SMS text messages, and data/internet on 4G LTE. You can select a physical SIM card or an eSIM card depending on the compatibility of your smartphone. (Check with your carrier first to make sure that your cell phone is "unlocked!")
This prepaid card is valid for 14 days from the date of activation and comes with a French phone number.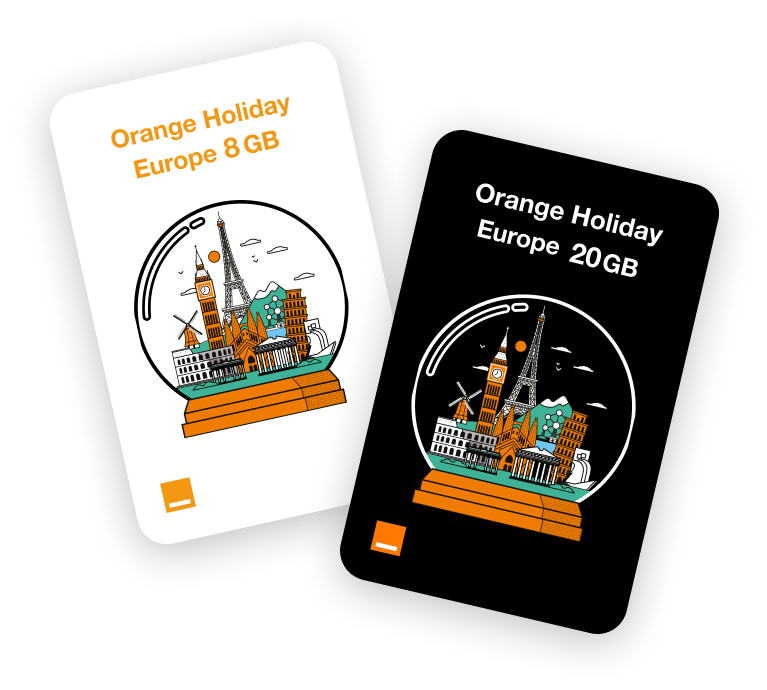 Orange provides excellent coverage in France and throughout Europe, making it a tourist-friendly option for those traveling to multiple countries.
There are two packages to choose from. Both packages come with unlimited calls and texts within Europe. The smaller card at 19.99 EUR has 8GB of data along with 30 minutes of calls and 200 texts from Europe to worldwide. The larger card at 39.99 EUR has 20 GB of data along with 120 minutes of calls and 1,000 texts from Europe to worldwide.
Here are my top pros and cons based on my personal experience using the Orange Holiday SIM card:
Pros:
Peace of mind with the great coverage provided by the #1 cell phone network in France
Service coverage not only in France, but throughout Europe
Affordable price from a well-known company
Orange boutiques throughout France in case you need assistance or help troubleshooting something (you won't!)
Available for purchase in advance of your trip to France
Top-up credit can easily be purchased online
Cons:
Initial card only lasts 2 weeks
Not the least expensive tourist SIM card out there
I am a strong believer that you get what you pay for. All in all, Orange offers an affordable tourist cell phone service that will leave you with one less thing to worry about so you can get on with enjoying your trip to France. Get your Orange Holiday SIM card here.
The Best Prepaid SIM Card for Tourists in France