This post may contain affiliate links, meaning that if you click and make a purchase, I may earn a commission at no additional cost to you. Read the full disclosure here.
Are you considering a trip to Disneyland Paris? Here's your guide for the magical visit, including tips for planning a great day trip and some frequently asked questions about the parks.
Disneyland Paris Overview
Disneyland Paris is comprised of two theme parks: Walt Disney Studios and Disneyland Park. Both parks have various attractions, rides, and shows as well as dining and shopping.
Walt Disney Studios primarily features the more modern Disney films and some of the notable Pixar shows. A new Marvel Avengers Campus opened recently in the summer of 2022. Disneyland Park, on the other hand, is the larger of the two parks. This is where you'll find the iconic pink Sleeping Beauty castle and entertainment featuring the well-loved Disney classics you grew up watching.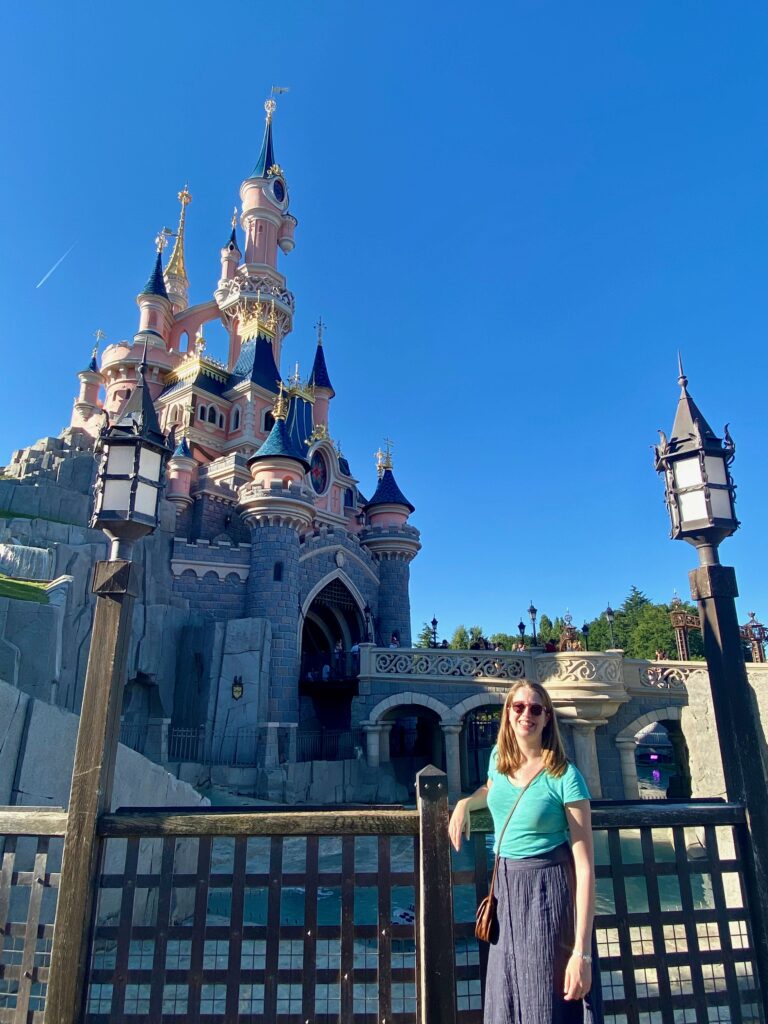 The two parks are within walking distance of each other. Tickets can be purchased for access to one or both parks and it's possible to hop between the two during your visit.
Disney Village, offering additional shopping and dining options, is within a 5-minute walk from the park.
How to Get to Disneyland From Paris
Located to the east of Paris in Chessy, France, Disneyland makes for a manageable day trip from the capital.
From central Paris, the best way to get to Disneyland is via the RER A, a commuter line. The ride from Châtelet Les Halles to the Marne-la-Vallée Chessy stop is less than 40 minutes, and trains leave every 5-10 minutes or so. The RER A is well connected to many metro lines, so you can hop on the RER A from other stations in Paris, depending on what's most convenient for you. The full-fare ticket costs 5€ each way.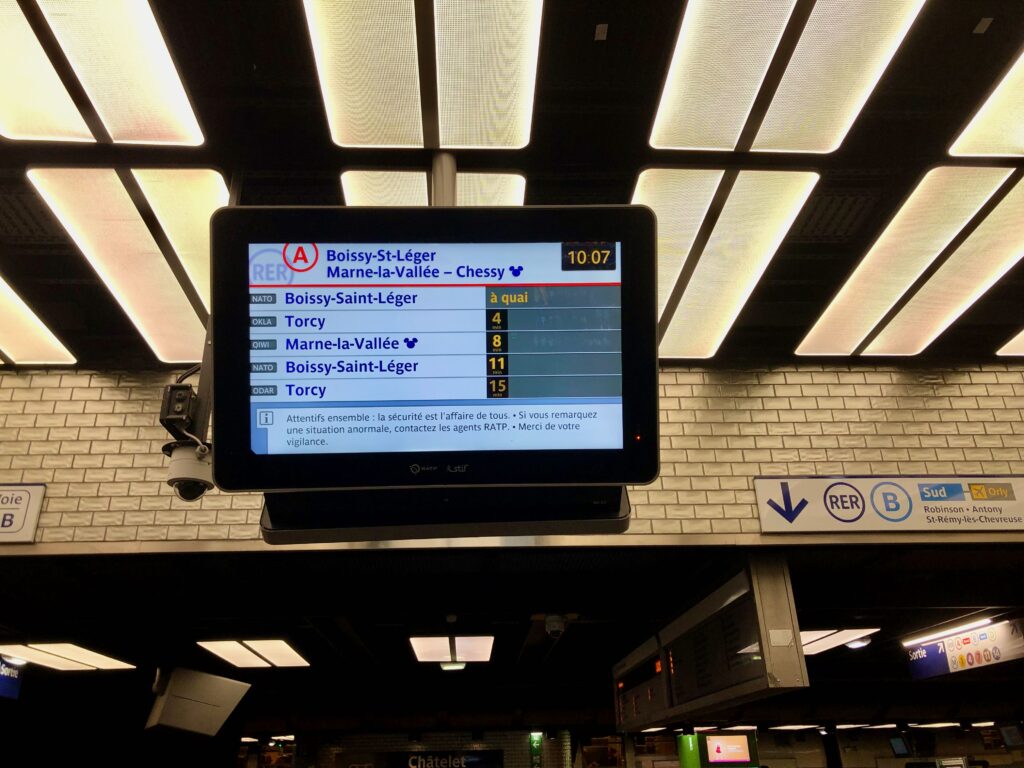 Even if you stay until the end of the evening light show at Disneyland Paris, you'll still have plenty of time to take the RER A back into the city before the last train of the night. Using public transportation is the best way to get to Disneyland Paris as parking can be costly.
➡️ Pro Tip: Buy your return metro ticket while still in Paris. If you wait to buy a return ticket for when you're leaving the park, you risk having to wait in a long line as there aren't many machines available.
Tips for Your Visit to Disneyland Paris
Buy your park tickets in advance and reserve your visiting date. Only a certain number of tickets are available each day. The calendar does fill up, especially during peak times, such as in the summer months and during vacations and holidays.
If you want fewer crowds, avoid weekends and public holidays when people are off of work. Disneyland Paris is a popular destination for European families particularly when kids are out of school. Prices spike at these times, so you can make predictions about the potential crowds by looking at ticket pricing.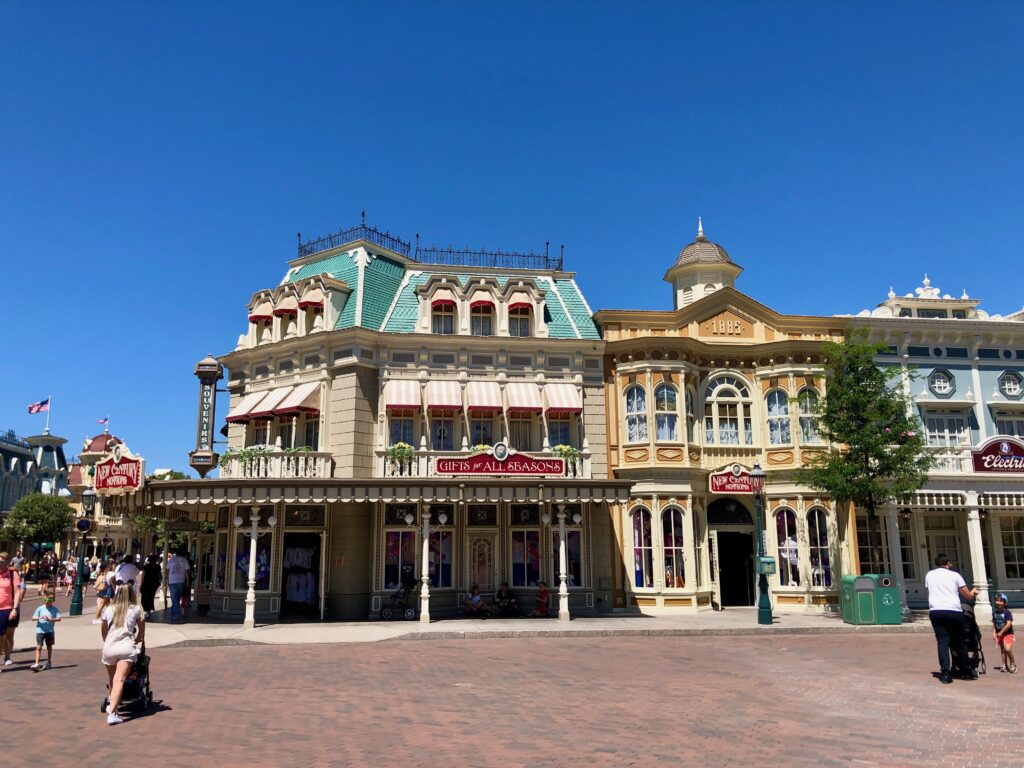 Dress for comfort. You'll be doing a lot of walking around and waiting in queues, so pick your shoes wisely. Consider the weather as well. Sunscreen is a must no matter the season. Some of the waiting areas are covered, but there aren't many shady spots throughout the parks. A hat is a good idea to keep off the sun.
Costumes and masks are not permitted for anyone ages 12 or older. However, you can take part in "Disneybounding." This means embodying your favorite Disney character or princess while dressing in regular, everyday street clothes.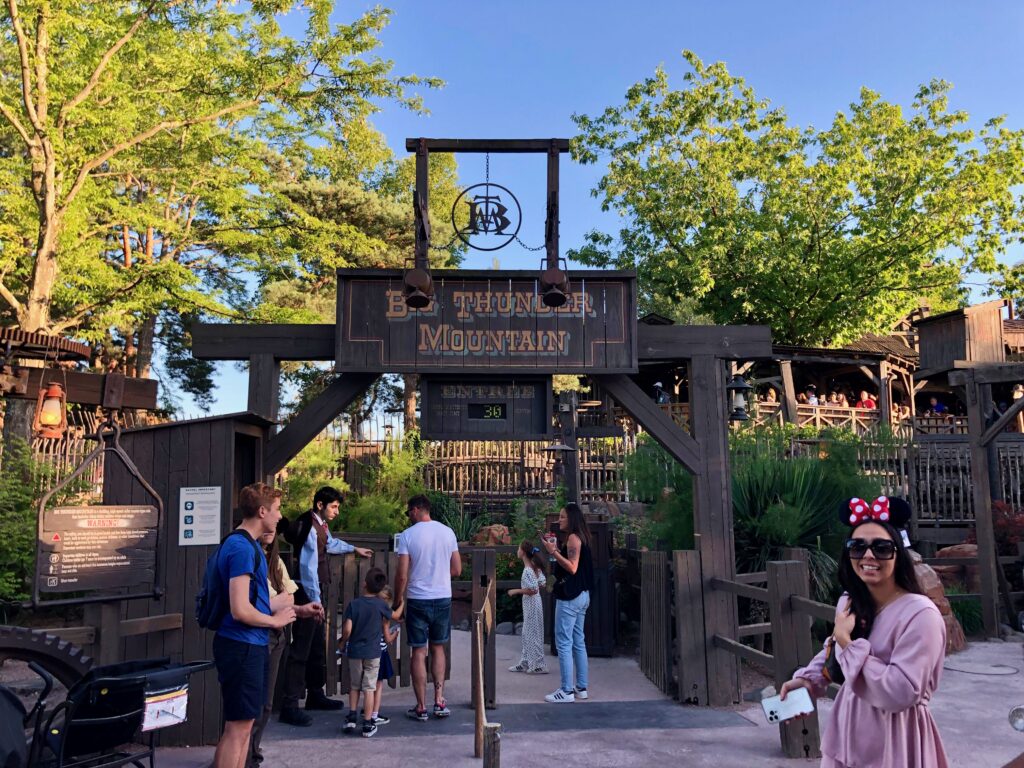 Food and drink are allowed in the parks. Pack a reusable water bottle and snacks. There are drinking water fountains where you can fill up during the day. While you can't really spread out for a full-on picnic in the park, you can eat your lunch without a problem.
If you plan to eat at one of the Disneyland Paris restaurants, keep an eye on restaurant closing times. The dinner service ended earlier than I expected. Considering making a reservation for dinner or risk missing out due to the long waits.
You can take as many pictures as you like, but selfie sticks are NOT allowed in the park!
Especially if you're just doing a day trip, plan out your day. Decide which attractions you definitely want to see. You probably won't be able to do everything unless you are staying for a couple of days, so you'll need to prioritize.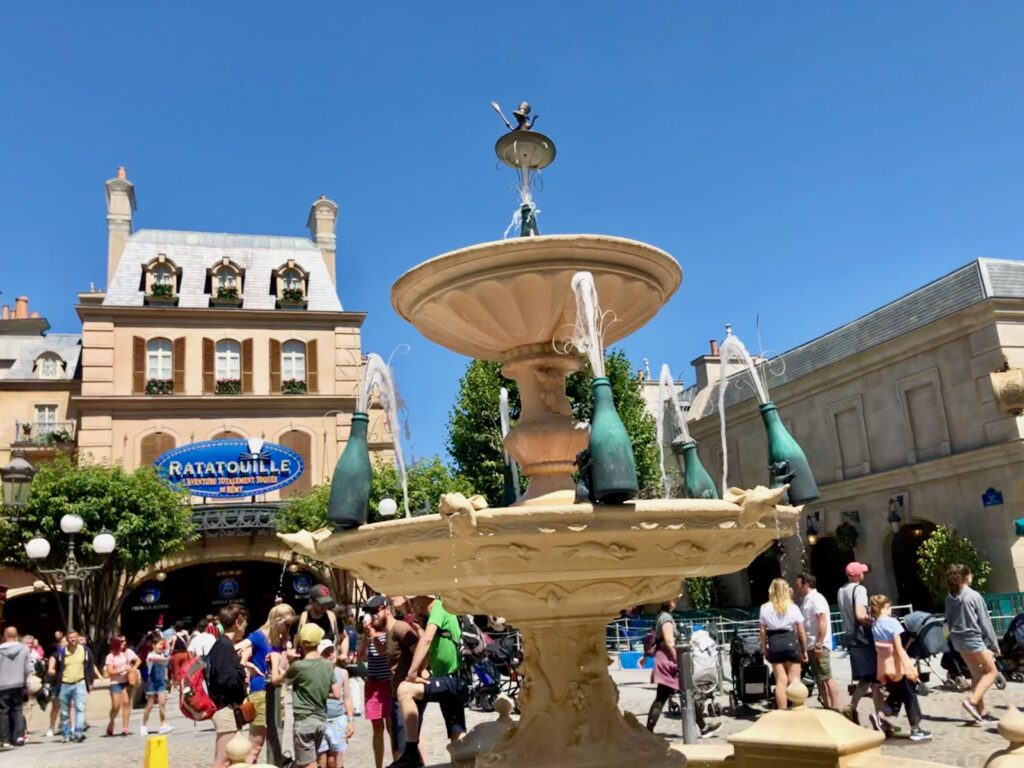 To make the most of your time in the parks, download the Disneyland Paris phone app. Besides a map for navigation, you can see which rides are currently open, check current queue times, and view the schedule for shows, character meet and greets, and the daily Disney Stars on Parade. Bring a portable battery charger as this app can be rather draining on the cell phone.
Take a small backpack for your gear: sunscreen, sunglasses, water bottle, food, and portable charger.
If you don't mind splitting up with your entourage, consider jumping into the Single Rider lane if it's an option. When lines are long, you can often get on the ride sooner. My friend and I did this for the Indiana Jones ride. We ended up being on the same ride, just not right next to each other.
Expectant mothers can get a special bracelet and enjoy priority access to attractions, shows, and meetings with Disney characters. Find out more about how to collect your bracelet as a pregnant woman here.
Stay for the Disney Illuminations fireworks show at the end of the night. It's a nice way to end the evening. For the 30th anniversary of Disneyland Paris, through September 30, 2023, there is also a D-Light drone show. It was really cool to watch!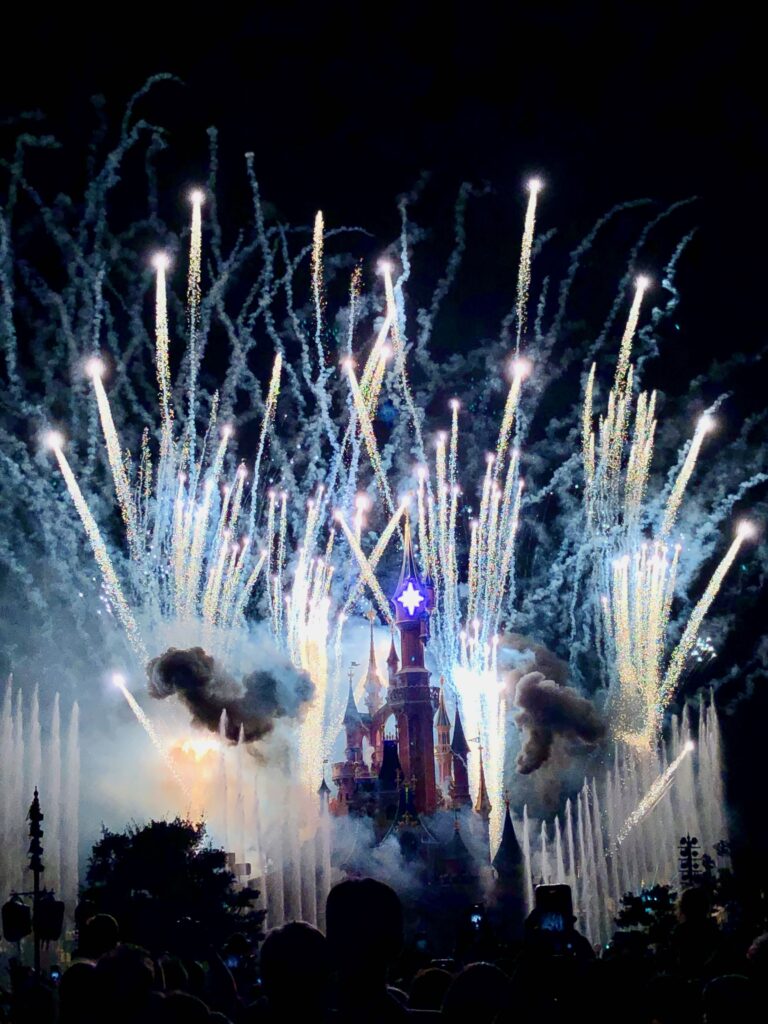 Frequently Asked Questions
Is Disneyland Paris worth visiting?
There is a little something for everyone at Disneyland Paris no matter your age. It's not just for kids or families. Compared to going to Disney in the United States, Disneyland Paris is more affordable. It is an accessible and easy day trip from Paris.
That being said, while I very much enjoyed my visit to Disneyland Paris, this spot probably wouldn't be at the top of my list if I were visiting Paris for the first time because there is so much to see in the capital itself. That's just my opinion though, and I can absolutely see why others would want to take advantage of the proximity of this theme park!
Can you do Disneyland Paris in one day?
Absolutely. You can even visit both theme parks in one day. However, note that one day alone isn't enough to do everything. You will have to prioritize, but you can likely do most of what you're interested in as long as you plan ahead and keep an eye on the Disneyland Paris app for changes.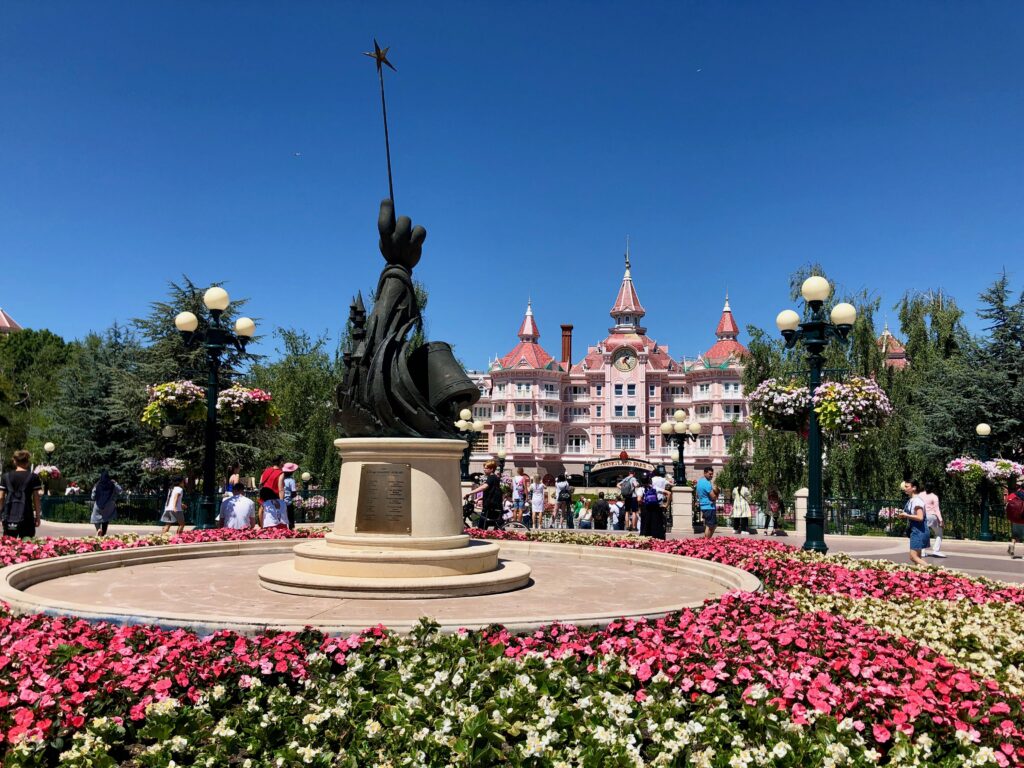 Is it possible to skip the line at Disneyland Paris?
Disney Premier Access is available for purchase as a way to get in the fast line and enjoy quicker access to multiple attractions. You can buy ultimate access and use it one time on each available attraction or you can buy single access to individual attractions. The cost for this skip-the-line service varies depending on the day and the rides.
What do you do with bags when on rides?
Bags are allowed inside the parks but large luggage and coolers are not allowed. You can bring your bag or backpack on most rides. Generally, you'll just stow it at your feet upon entering the ride, but listen for any special instructions from employees.
Aside from a couple of "Big Thrills" rides, the majority of attractions are gentle, with little risk of your bag flying out! When I was on the roller coasters, I simply placed my backpack on the floor with one of the straps looped around my leg.
Can you bring food into Disneyland Paris?
Yes, you can bring food and drink (no alcoholic beverages) into Disneyland Paris. Pack a lunch, snacks, and a water bottle to keep fueled all day.
---
Are you ready for your trip to Disneyland Paris??
This blog post is not endorsed by or in any way affiliated with The Walt Disney Company.
Disneyland Paris Guide & Tips