This post may contain affiliate links, meaning that if you click and make a purchase, I may earn a commission at no additional cost to you. Read the full disclosure here.
Although there are tons of options for grocery stores in France, open-air markets remain prevalent in French culture and are an excellent place to get fresh ingredients at great prices. In many cases, the produce found at these food markets is less expensive than at the supermarket.
I take great joy in heading to the outdoor market for my weekly shopping, but if you've never been to the French marché before and aren't familiar with the etiquette, this bustling atmosphere can certainly be an intimidating experience. Here are some practical tips for navigating the French food market like a local.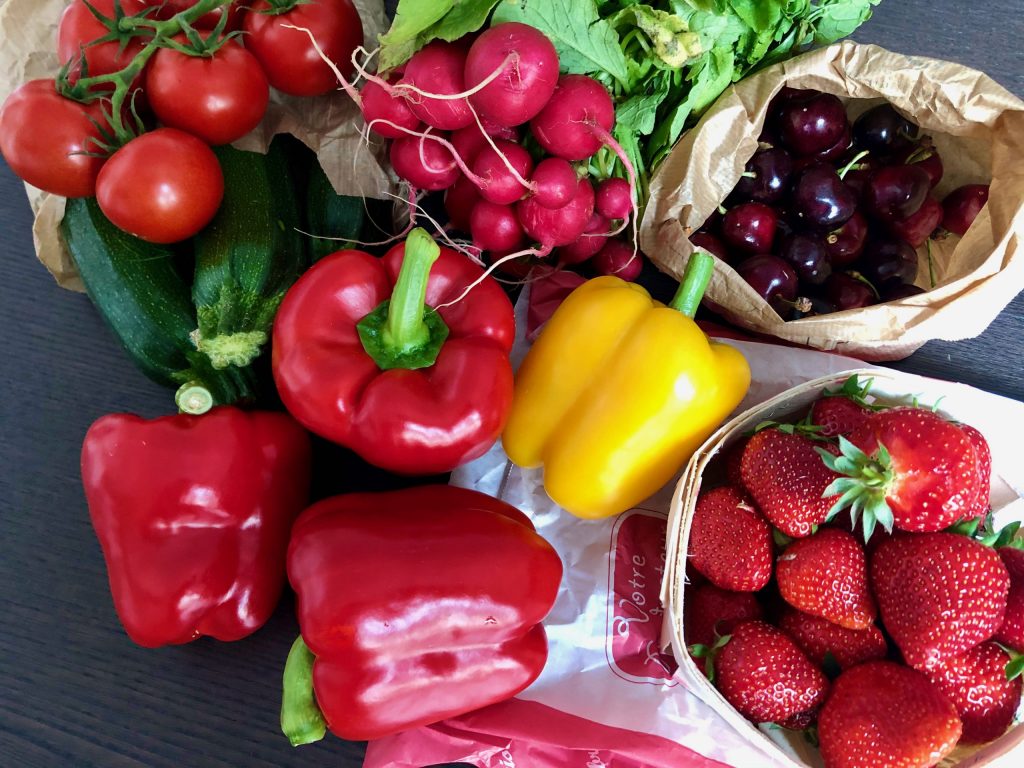 What can you get at a French food market?
There are a variety of things you can buy at the French marché. Fresh, seasonal fruits and vegetables are the backbone of every open-air market in France. After that, offerings can vary. You might find cheese, butter, eggs, bread, dried fruits, olives, nuts, fish, meat, flowers, and plants. Some markets might also have prepared and ready-to-eat foods (rotisserie chicken, hot meals, sandwiches), preserved products (jams, honey, foie gras), or practical items (baskets, caddies, clothes) to purchase.
The same vendors tend to participate every week, so once you've been there a time or two, you'll have a better idea of what to expect. Whether you are supplementing your grocery shopping with a market run or creating a picnic meal, you're bound to find a great selection of quality foods for a good value.
Go Early or Go Late
Check the opening hours of your local market. Make your way there early in the morning to avoid crowds and lines while also enjoying your pick of the best produce. Keep in mind that markets typically get crowded in the late morning just ahead of lunch time.
On the other hand, if you go on the later side, you might be able to scoop up some good deals from vendors that don't want to load everything back onto their trucks. This is particularly true of the fruit and vegetable vendors. Not all markets offer deals at the end of the day, but it certainly doesn't hurt to explore this option.
Bring a Bag
Bring a large bag, basket, or a rolling caddy. Vendors will usually have small paper or plastic bags to weigh up produce, but you'll want something bigger to put all your purchases in. You can definitely reuse paper bags or bring your own small sacks to have them weigh things in. Add a French touch to your market experience with totes like these mesh string bags or treat yourself to a woven basket that you can use over and over again.
Carry Cash
Some stands might have card readers. This is more typical at the stands where items are more expensive, like at the butcher or the cheese stands, for example. However, it's best to make sure that you have some cash on you. Paying with smaller bills and exact change make vendors very happy!
Take a Tour of the Market First
Before making any purchases, get a lay of the land and take a walk around the market to familiarize yourself with the offerings. Compare prices and the produce available. Identify the farmers/producers versus the re-sellers/importers. Many vendors will be selling similar fruits and vegetables, so be on the lookout for which stands have the best options.
Check the Origin of the Produce
Typically, you'll see small, often black, signs hanging above the stands. You'll notice that they list the origin of the fruits and vegetables by country. If it's important to you to buy more locally, then take note of this detail while you are walking around.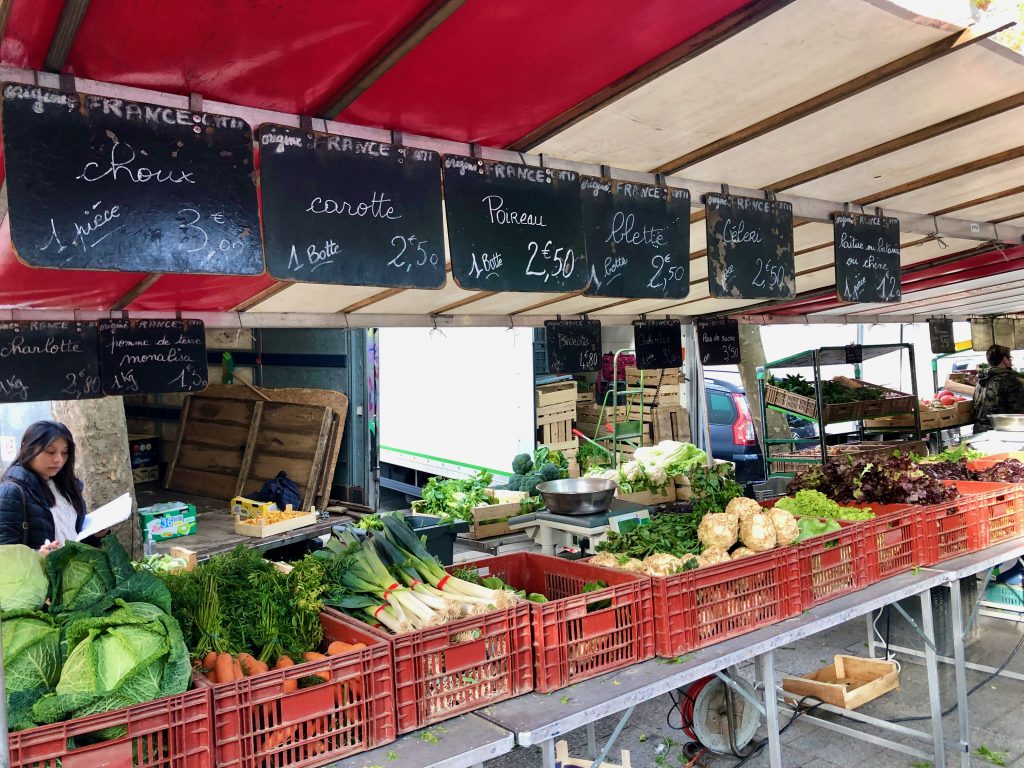 Buy Seasonal
Don't expect all fruits and vegetables to be available year round. Things are not typically sold out of season in France. If you want an idea of what is available each month, check out this seasonal calendar. This guide is a great tool for learning some useful French food vocabulary as well!
Identify the Producteurs
In order to have the label of a producteur (grower/farmer), one must sell their own produce, be local and seasonal, and respect certain guidelines. There are several clues you can look for in order to identify produce that's coming directly from local farms. Their stands typically look a bit more rustic, the range of items available is relatively limited, and you won't find any exotic produce. Additionally, they might have a sign indicating the farm that they are associated with. More often than not, these vendors witness longer lines during the peak hours and for good reason!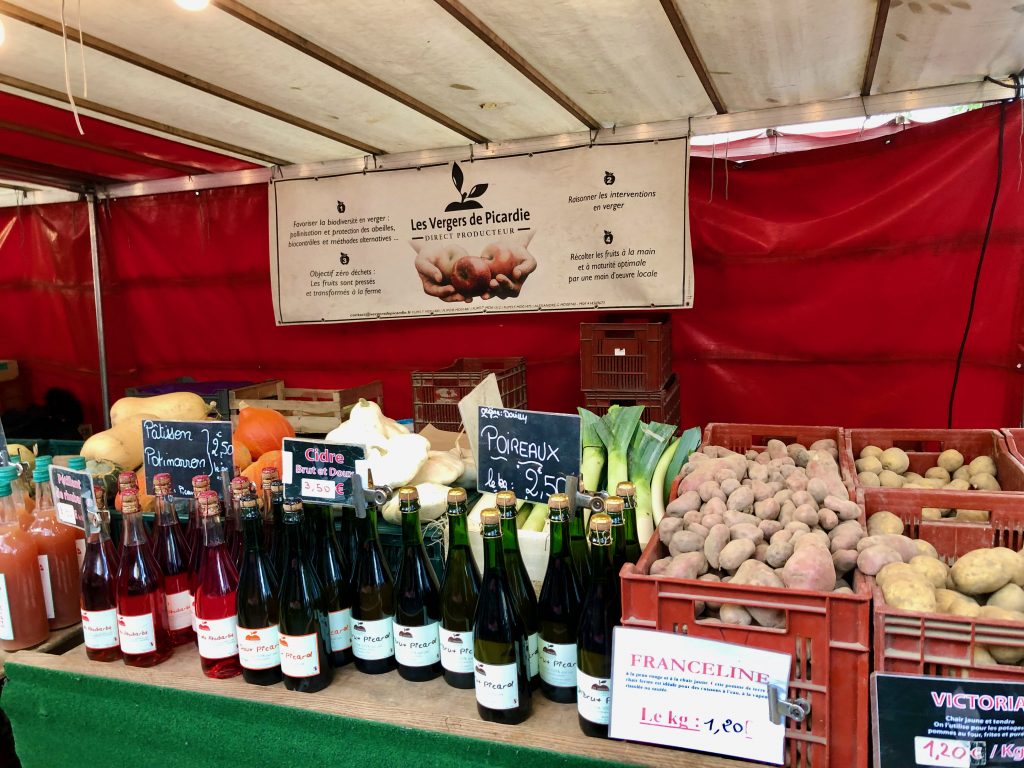 Look but Don't Touch
Unless you're certain, do not touch the produce or serve yourself. Be observant of signage and what people around you are doing. Some vendors have no problem with you picking out your own produce. They might even provide little baskets so you can choose all your items and then they'll weigh everything up for you. Other vendors will wait on each customer individually. If this is the case, you can still give your preferences for size, quantity, or even a specific squash that you're eying.
I actually like it when the vendor picks things out, because for some produce, especially fruit, they might ask you when you plan on eating it. In this way, you can get something that will be appropriately ripe for exactly when you want to enjoy it. They know their produce best!
Remember Your Manners
You might be a bit stressed in this environment, especially if you are not confident in your French, but don't let common pleasantries go out the window. A good way to ensure bad service is to forget your manners. Instead, start off your exchange by greeting the vendor, and don't forget please, thank you, and goodbye.
No Need to Be Nervous
If you're avoiding going to the market because you're nervous about speaking in French, you're going to miss out on a great experience. Pointing and gesturing works so well in this situation and you truly only need some basic vocabulary.
Build up your confidence by researching the vocabulary for the fruits and vegetables you're interested in ahead of time. (The WordReference Dictionary app is a great resource for vocabulary and what I would consider an essential phone app for life in France!) When you're at the stand, try to anticipate what the seller might ask you so that you can respond as best as you can. How many? Which one? What else would you like?
Get Familiar With Kilograms
Having a basic understanding of kilograms is helpful as prices are often listed per kilo. Take it from someone who has routinely gone over budget on expensive cheese. (Let it be known that I have no regrets.)
In general, you don't really need to know kilograms for ordering things. It is rare for me to say that I would like a kilo of tomatoes. I'm more likely to indicate the exact number or if they're on the vine, I say that I would like a bunch (une grappe). Likewise, I don't usually indicate the weight of cherries I'd like. Instead, I say that I'd like a handful (une poignée) or two. At the fish or meat counter, you can let them know for how many people you are making a meal. Don't overthink things! This is how a lot of French people make their requests as well so you'll fit right in!
---
Have you been to the French marché? How was your experience? Any other tips that you'd want to add to this list?
Practical Tips for French Food Markets