This post may contain affiliate links, meaning that if you click and make a purchase, I may earn a commission at no additional cost to you. Read the full disclosure here.
Heading to Alsace and wondering what traditional food you should try?
Alsace is a historic and cultural region of France on the border with Germany. Having changed hands and identities a number of times, the unique history of the area is reflected in the regional food and drink. Here are some of the best specialties you must try if you're heading to the Alsace region of France.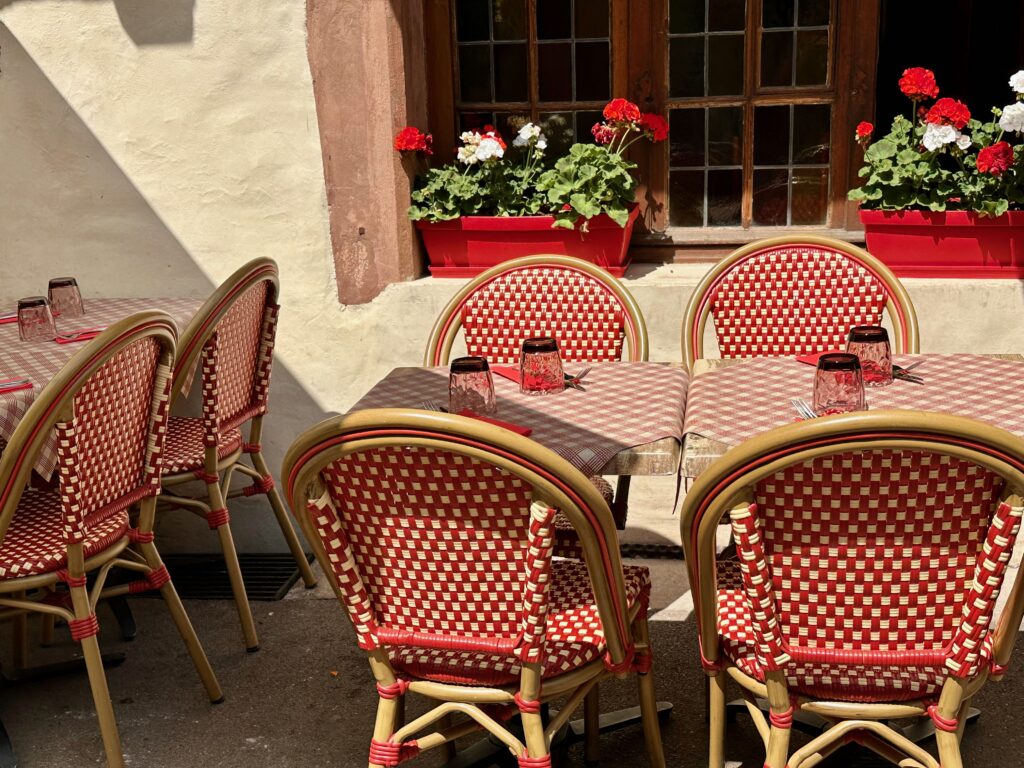 Alsatian Food
Baeckeoffe
Made from meat and vegetables, baeckeoffe is a hearty, traditional Alsatian meal. Potatoes, carrots, onions, and meat are cut and placed in a large, deep casserole dish along with some white wine and spices. This is then cooked for a long time to ensure that everything is perfectly tender.
Bouchée à la reine
Alsace lays claim to the origins of the bouchée à la reine. Veal, chicken, and mushrooms are incorporated in a creamy sauce. A vol-au-vent, a hollowed-out puff pastry, serves as the receptacle for this regional specialty.
Jonathan claims it is tasty, but I wouldn't know as I don't like mushrooms!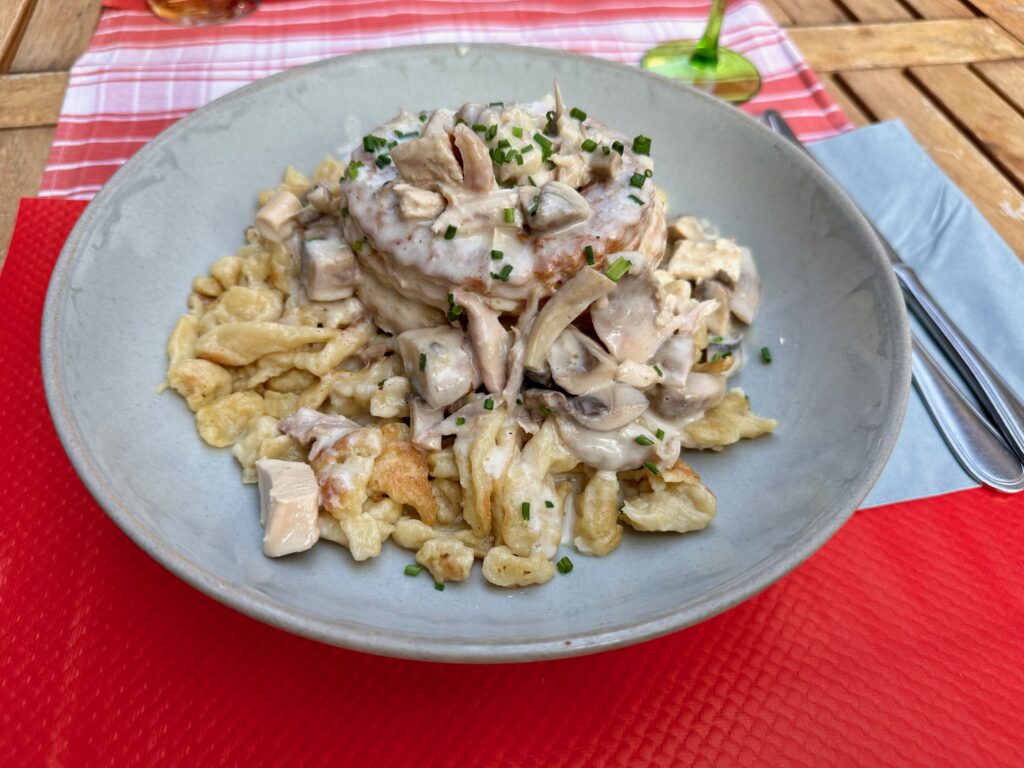 Choucroute garnie
One of the most well-known Alsatian dishes, choucroute garnie is a plate of sauerkraut with sausages, salted meats, and boiled potatoes. Dry white wine is a key ingredient in the preparation 😉 This is a meal that is sure to warm you up in the winter.
Flammekueche / Tarte flambée
Flammekueche, also known as tarte flambée, is an Alsatian specialty. It's a very thin and crispy dough topped with crème fraîche, onions, and bacon. (If you dare call it a pizza, be sure to do so at a whisper!) Other additions and variations exist.
We tried out several kinds. For research purposes.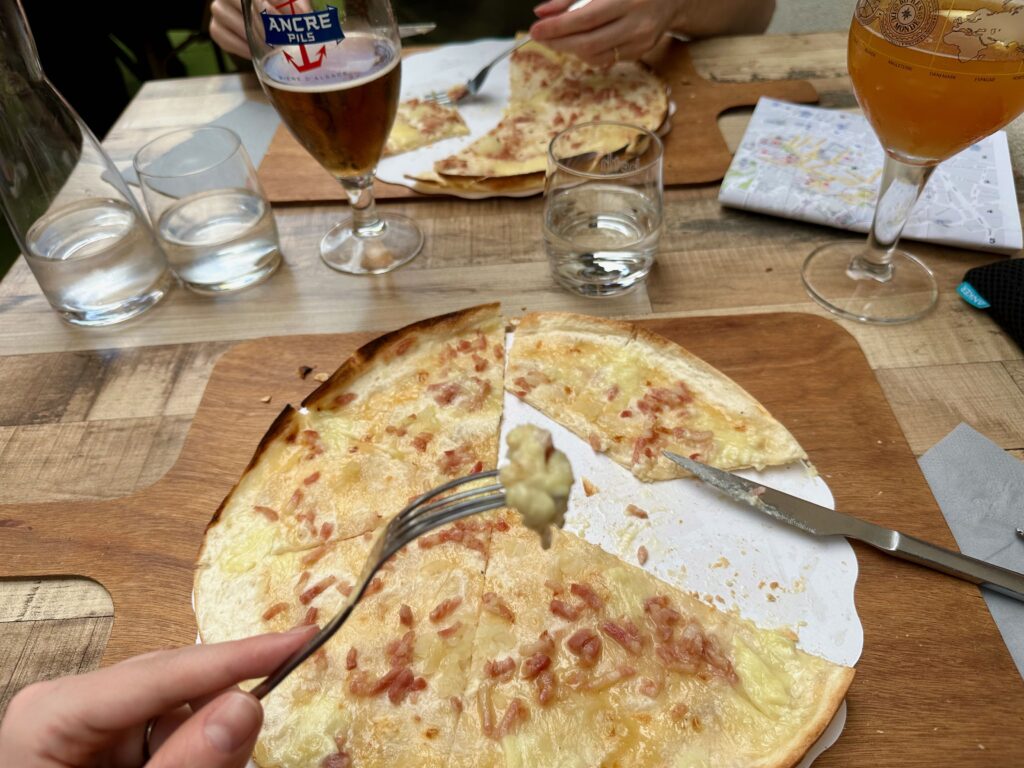 Flammekueche also comes in a dessert variety. And since these tartes are so light, it's easy to share a third one for dessert after your main meal. A popular sweet tarte flambée is with thinly sliced apples sprinkled with cinnamon.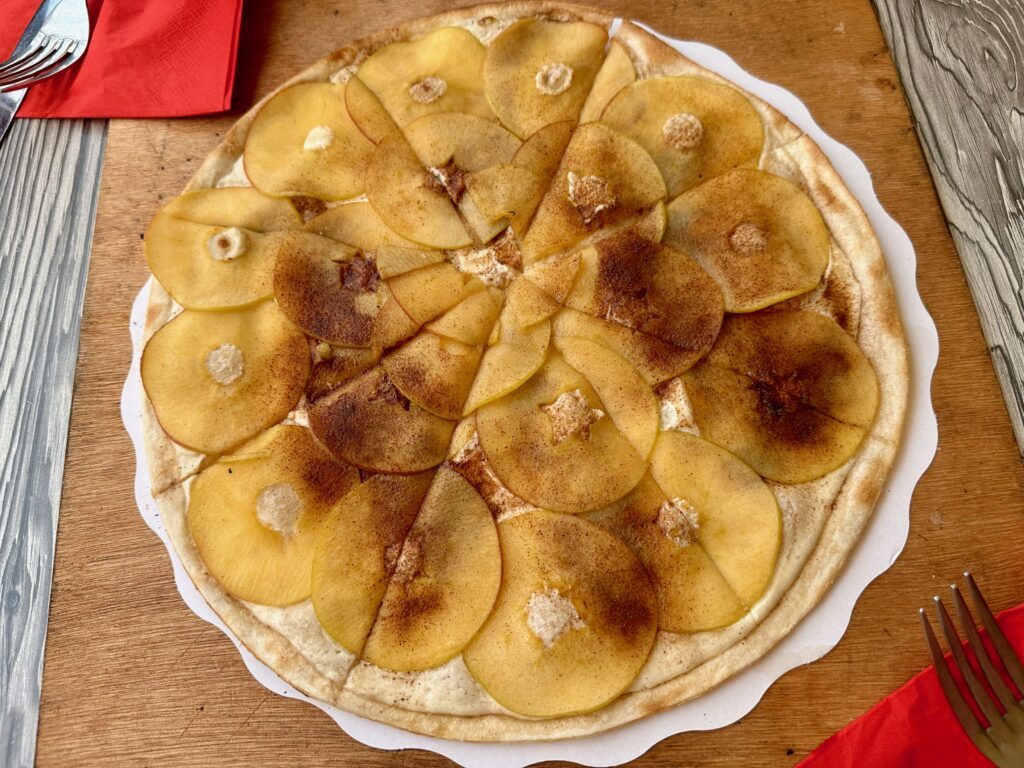 Spätzle
Spätzle / spaetzle are a type of egg noodle. These Alsatian noodles (pâtes alsaciennes) are small but irregular in shape. Eaten as a side or main dish, this pasta is typically served with a sauce or gravy as it would be rather plain by itself.
I ordered spätzle au fromage (spätzle with a cheese sauce) as a main dish alongside a salad. Could have done with a smaller portion, to be honest! It was a heavy meal.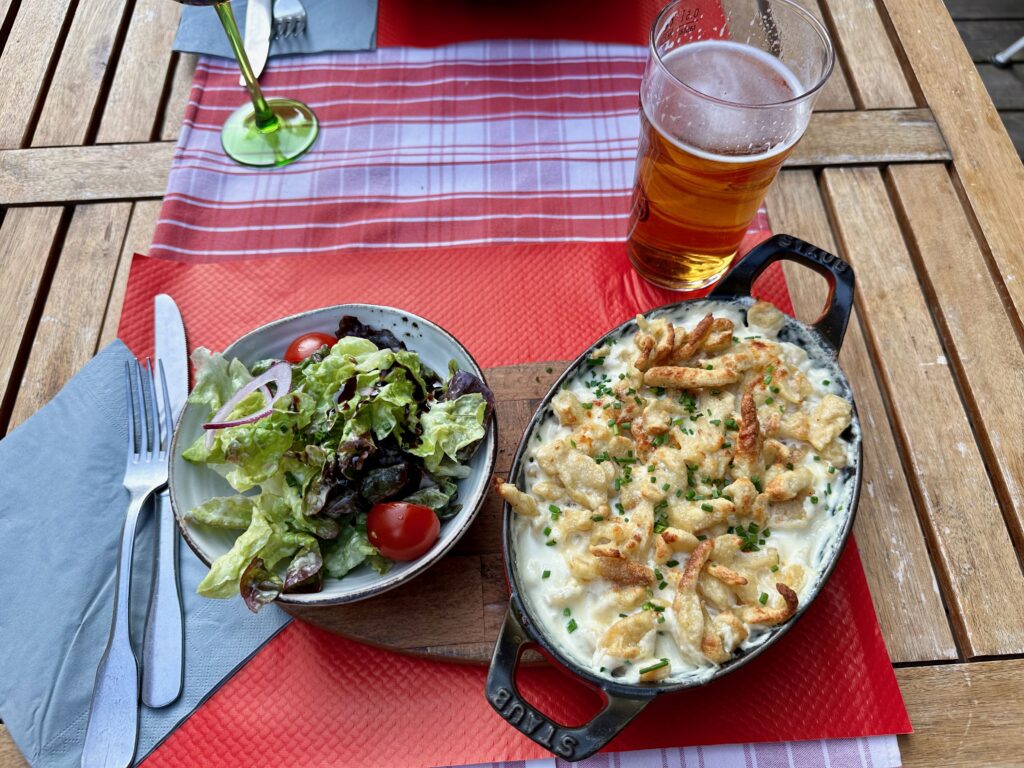 Alsace Snacks & Desserts
Bretzel
As seen in the logo for Alsace Tourism, the bretzel is, quite literally, a prominent symbol of Alsace.
Savory soft pretzels are most often sprinkled with coarse salt. Cheese and bacon are common additions as well (bretzel gratiné aux lardons).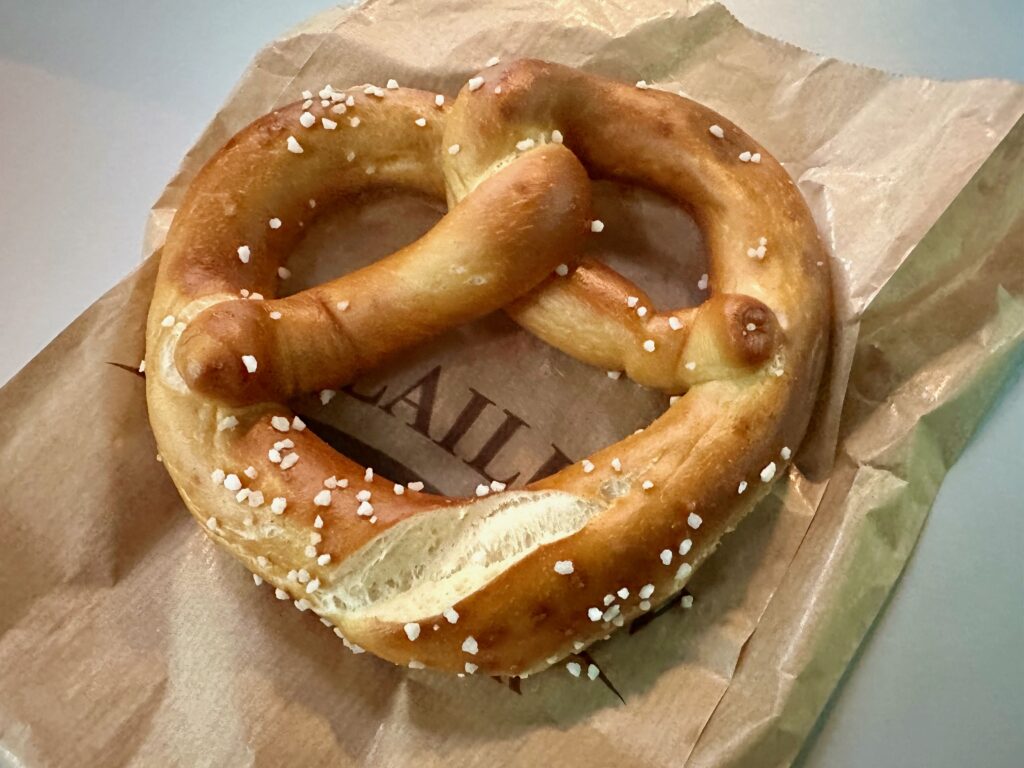 You can pick up bretzels (sweet and salty versions!) fresh from the bakery. Many bars and restaurants have them on the menu to accompany a beer.
Kougelhopf
Kougelhopf is an Alsatian brioche baked in a distinctive cake mould. The classic, sweet version is traditionally made with rum raisins and almonds, but you can also find kougelhopf with chocolate chips. Savory kougelhopf might contain bacon or nuts.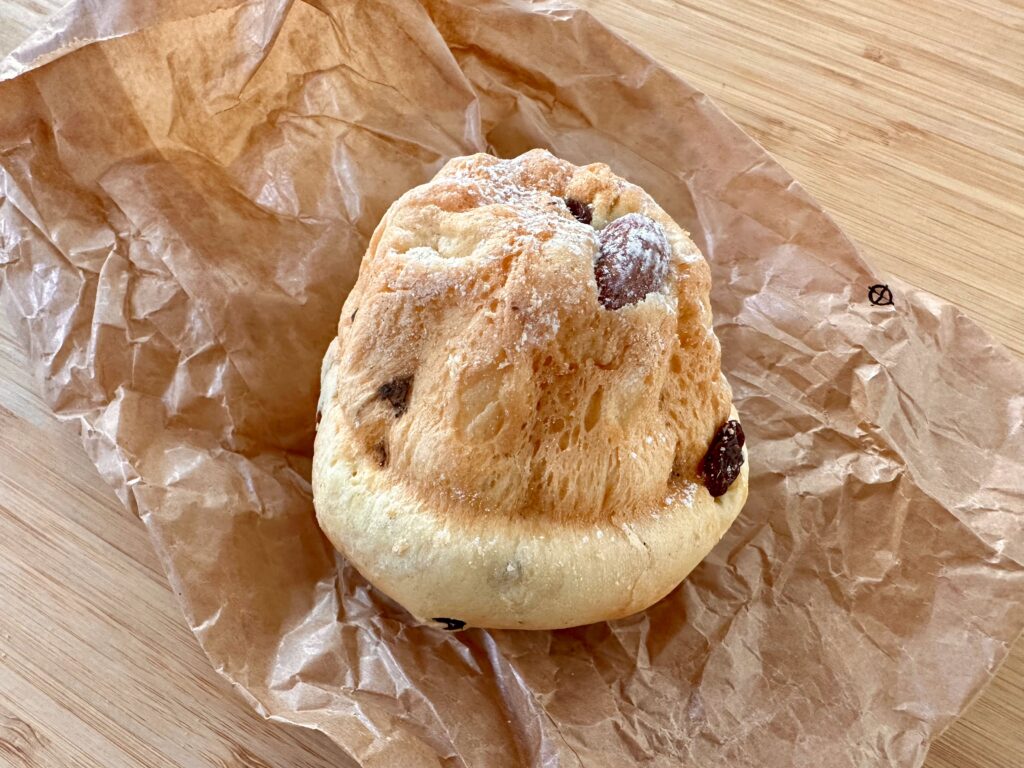 Tarte à la Rhubarbe
If you head to Alsace in the springtime, you're bound to notice plenty of rhubarb desserts, as cultivation of rhubarb is high in this region of France. Tarte à la rhubarbe is particularly popular and in many bakeries, you'll see a version with meringue on top (tarte à la rhubarbe meringuée). Enjoy!!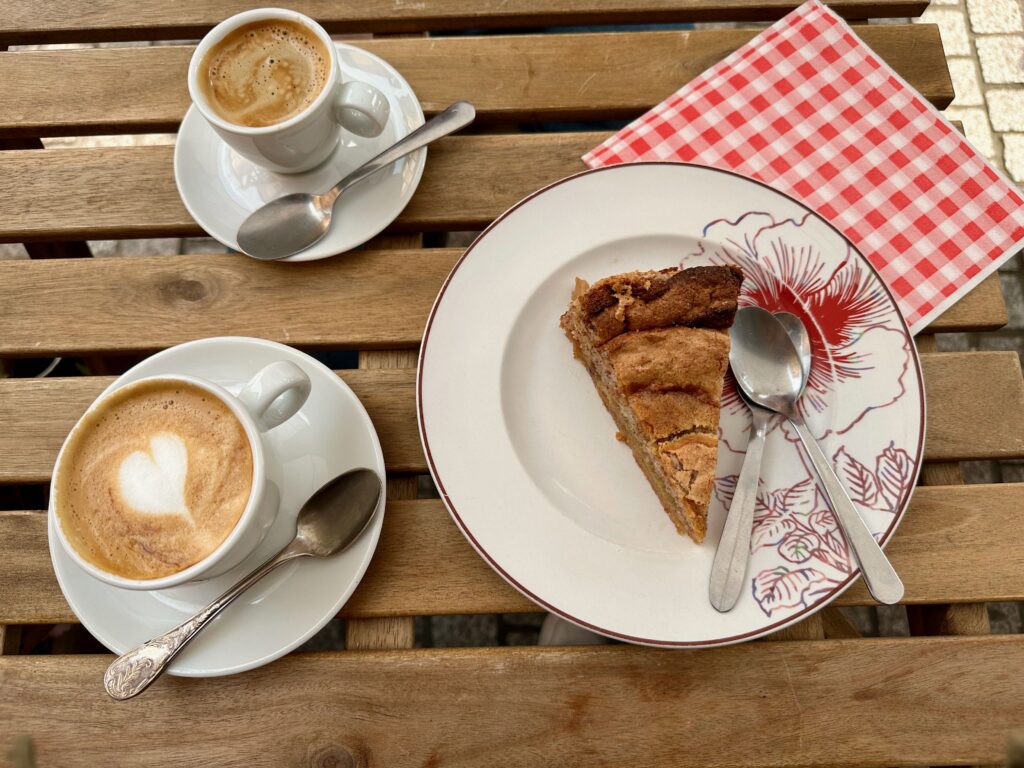 Alsatian Drinks
Beer
Most people think of wine when they think of the Alsatian region of France. However, did you know that Alsace is a major producer of beer? In fact, more than half of the beer consumed in France comes from Alsace!
Meteor, Fischer, and Licorne are some of the bigger names that you might see on tap. There are also tons of craft and artisanal breweries for you to discover.
Wine
Alsace is, of course, famous for its wine. If you're up for an adventure, you can explore the Alsace Wine Route (Route des Vins d'Alsace).
➡️ Planning on driving in France? Learn about road rules in France before you go!
Interestingly, wine in Alsace is generally made from one grape variety only. This is one of the requirements producers must meet in order for the wine to receive the AOC (Appellation D'Origine Contrôlée) label.
Alsace predominantly produces white wine, such as riesling, pinot blanc, and muscat. Pinot noir, a red wine, is an exception to the rule!
---
What do you think of these regional Alsatian specialties? Any you'd like to try?
Alsace Food & Drink: Specialties You Need to Try