This post may contain affiliate links, meaning that if you click and make a purchase, I may earn a commission at no additional cost to you. Read the full disclosure here.
Does the cuisine of Brittany amount to nothing more than butter and buckwheat pancakes? No! (Although, if that's all that was on the menu, I'd probably still be happy!)
Located in the northwest of France, la Bretagne, as we say in French, is sure to delight you with its varied regional offerings. Here are some of the must-try food and drink specialties of Brittany for you to discover on your trip!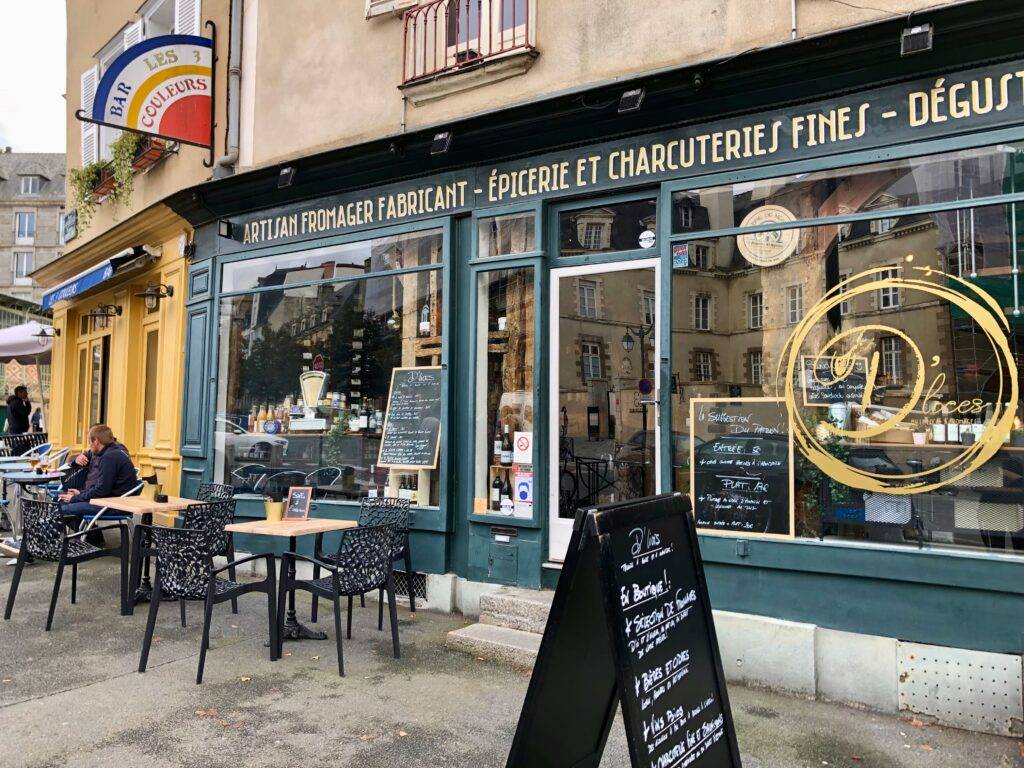 Breton Food: Main Plates & Snacks
Galettes & crêpes
Galettes and crêpes originated from this region of France, so even if you've had a crêpe before, you'll want to give them a try while you're in the area. These flat pancakes can be filled in a number of ways and the possibilities are as endless as they are tasty.
Galette is the word used for a pancake made with savory fillings, like ham, cheese, eggs, vegetables, etc. Made from buckwheat (farine de sarrasin), galettes are naturally gluten free, making them a great choice for those with an intolerance.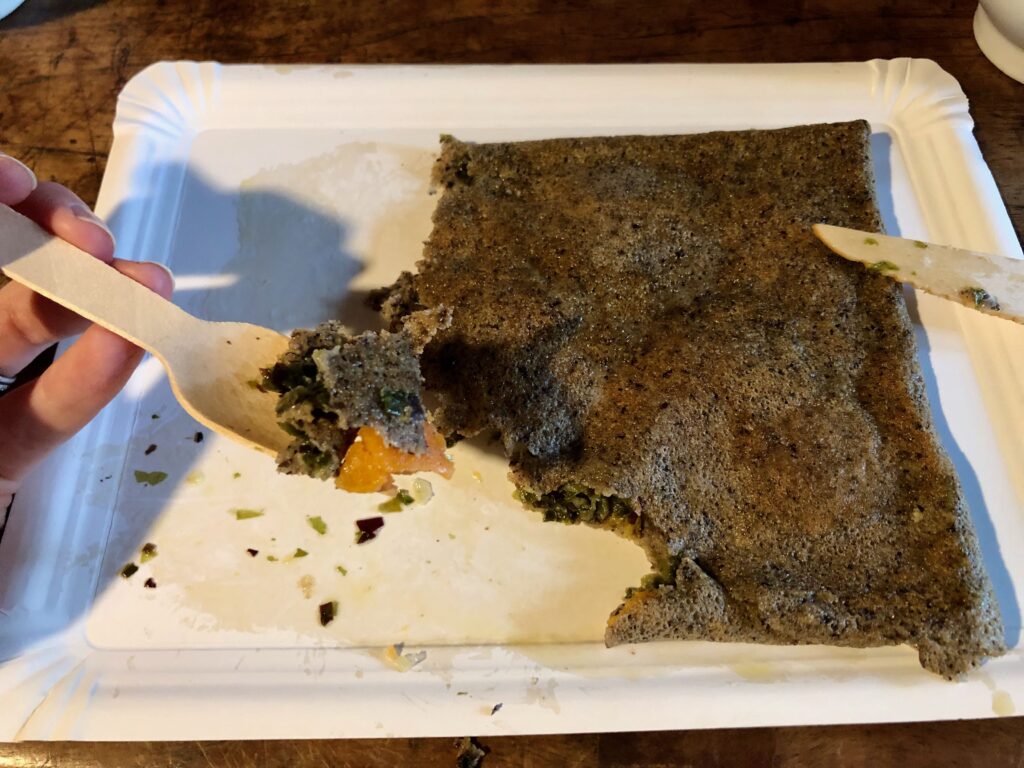 The word crêpe generally refers to the sweet, dessert pancakes that are made with regular flour. Fillings include chocolate, sugar, fresh fruits, whipped cream, ice cream, etc. By the way, if you have a gluten allergy, you can ask for them to make your dessert crêpe with the buckwheat flour batter and it's usually not a problem at all!!
Special mention for the very portable Galette-saucisse—a galette wrapped pork sausage and an excellent snack! We found a number of good options in Rennes and they are prominent at markets in general.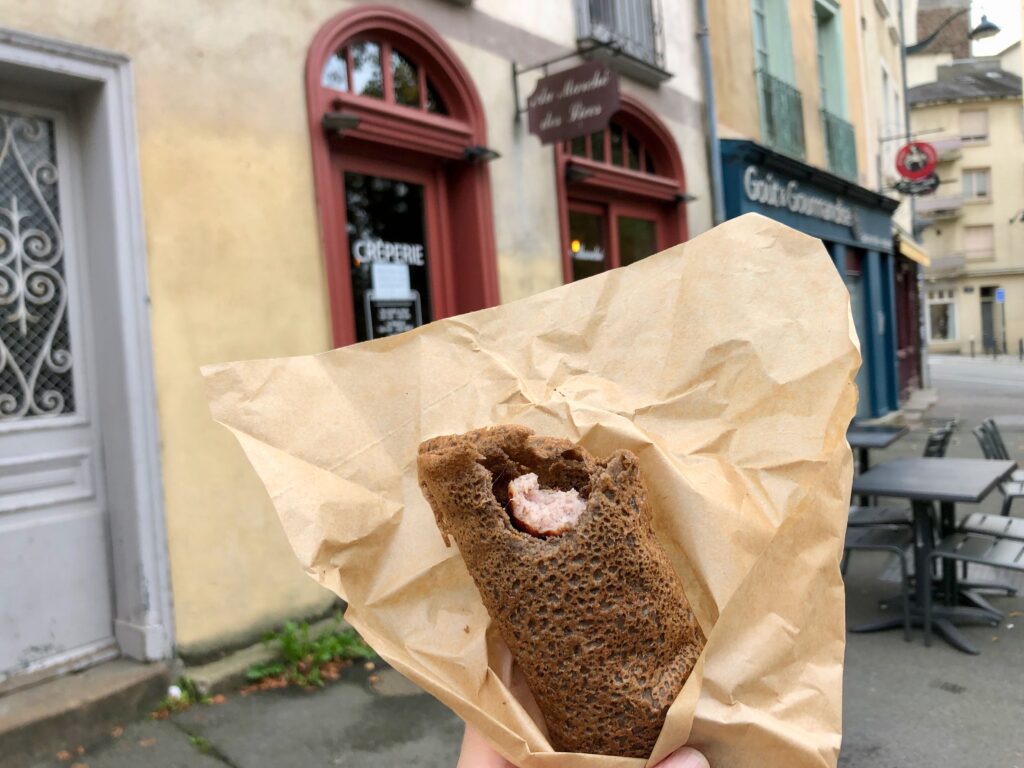 Kig ha farz
Someone told me that le kig ha farz is like a Bretagne pot-au-feu. Pot-au-feu is a boiled meat and vegetable dish. It consists of a selection of vegetables such as carrots, potatoes, leeks, cabbage, turnips, etc. Slowly simmered, it's a low maintenance dinner that can take a few hours to cook.
This dish is in the regional language of Bretagne, le breton:
Kig = meat, ha = and, farz = dough/batter
The farz is what sets this meal apart. Cooked in a special bag, a dumpling is made from buckwheat flour in order to make farz noir. This dumpling can then be sliced and served alongside the meat and vegetables or it can be crumbled.
This main dish can be a bit tricky to find as it's not mainstream throughout the region. In fact, it originates from Finistère, a department in western Brittany, so that's where you'll have the best luck finding it.
Le kig ha farz was the only item on this list that I haven't had a chance to try yet! We checked menus but didn't see it listed during our road trip along the northern coast of Brittany. As I was doing a bit research, I noticed that some restaurants only offer it on certain days of the week. This is probably reflective of the fact that it takes a long time to cook and can't just be whipped up to order! We'll try again next time.
Seafood
With over 5,000 km (3,100 miles) of coastline, it's no wonder that seafood is a specialty of Brittany. Fresh fish, moules frites (mussels w/french fries), oysters, shrimp, langoustines (jumbo shrimp), bigorneaux (perwinkles, small sea snails)—take your pick! If sea critters and shellfish aren't your thing, you can also try algues (seaweed).
Cancale, in particular, is known for its oysters. They are often enjoyed fresh with just a squeeze of lemon. At a quick stop for lunch in Cancale, we made sure to have a bit of everything, of course!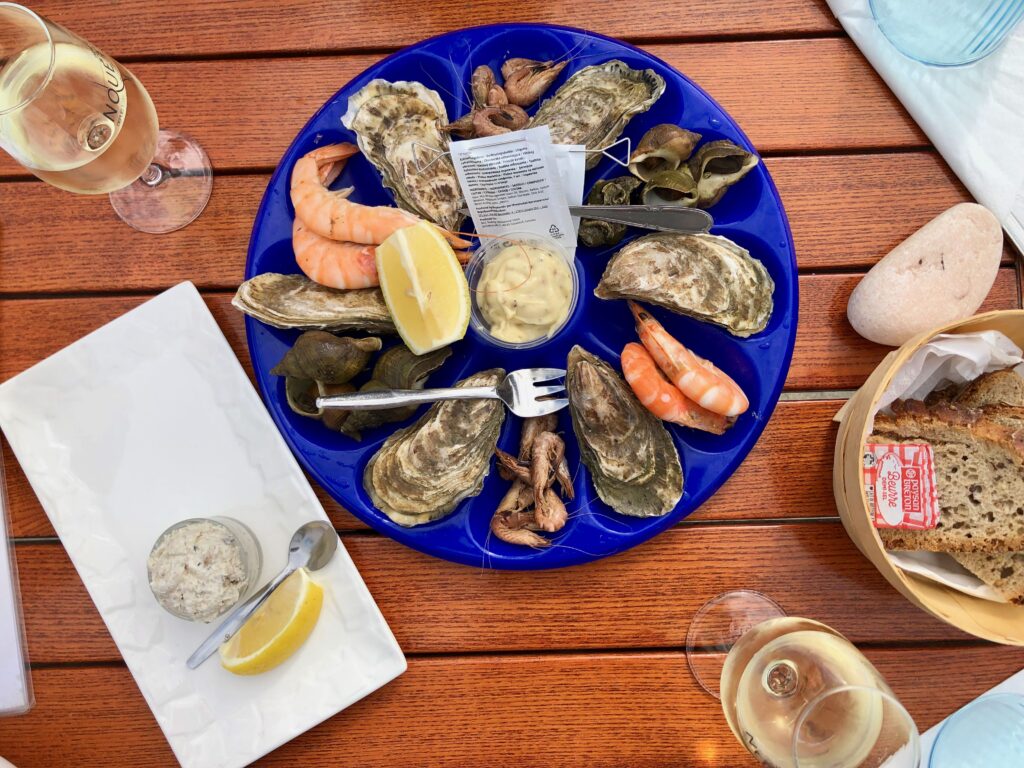 Salt & Salted Butter
The basis for many of its famous foods and drinks, Bretagne is well-known for its salt and butter. In particular, the fleur de sel de Guérande is a special, natural salt that is hand-harvested from the marshes in Guérande, a town in France.
And what do we do with all that salt… well, some of it goes into making butter! Are you Team Beurre Doux (unsalted) or Team Beurre Demi-sel (salted)? There's only one correct answer in Bretagne. You guessed it—demi-sel FTW!
Bordier butter, hailing from Brittany, is largely considered one of the best butter brands in the world and definitely the best butter in France.
As you'll notice with the next category, many sweets are very "butter forward."
Breton Food: Desserts & Sweets
Caramel au beurre salé
Salted caramel. Need I say more?
The Breton demi-sel (salted) butter is, of course, the star ingredient of this tasty concoction. A little jar of homemade salted caramel to drizzle over desserts (or to eat by the spoonful—no judgement here) makes for a great souvenir of your time in Brittany. There are many local bakeries that sell their own caramel candies and/or pots of caramel.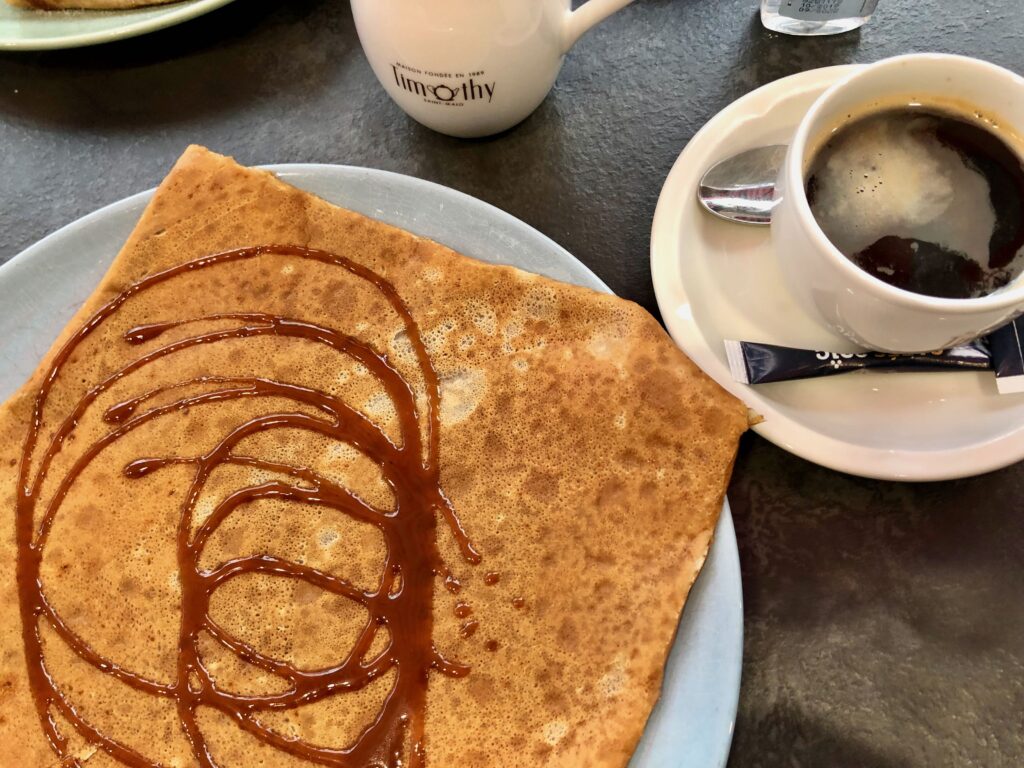 When reviewing the dessert menu at the restaurant, look for the words "fait maison" (homemade) next to the listing for caramel au beurre salé.
Croûte à thé
As indicated by its name, croûte à thé is meant to be accompanied by a cup of tea. However, it is absolutely delicious whether eaten with a warm beverage or simply on its own!
It is composed of a sweet shortbread pastry crust holding a moist, melt-in-your-mouth interior made chiefly from almond flour. The surprising green color is most often due to food coloring although some recipes call for matcha green tea. Yes, I've been looking up recipes because it was my favorite pastry from our trip to Brittany and I must now learn how to make it!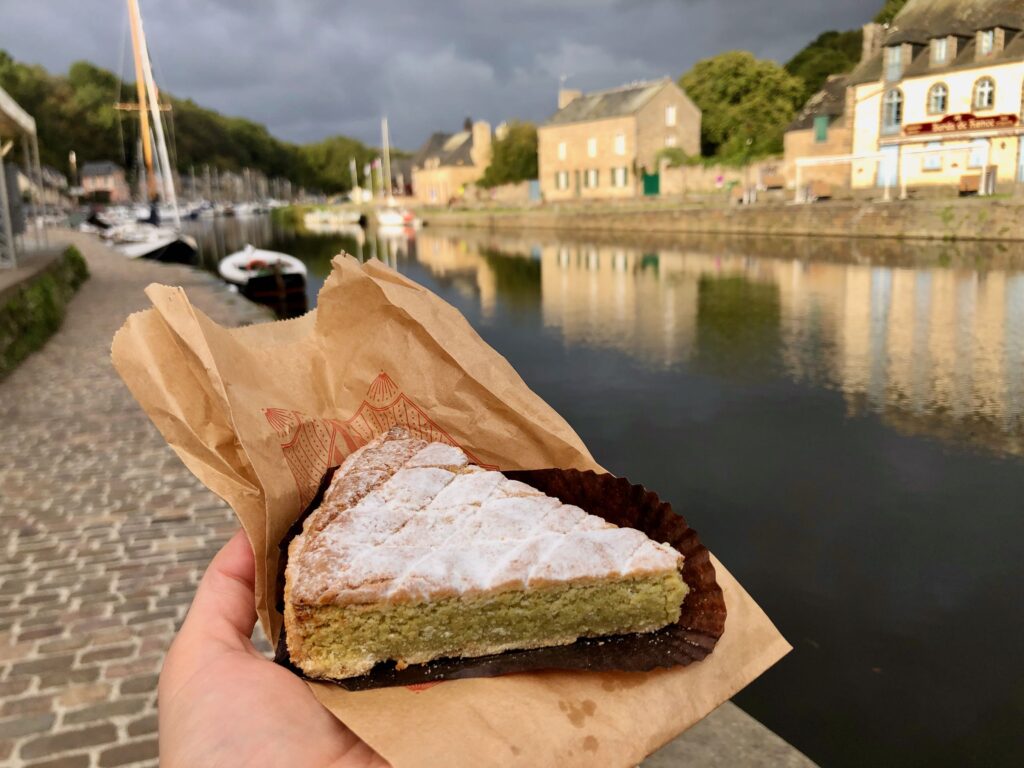 Far breton
The Far breton cake came highly recommended when I asked for suggestions on what to try in Brittany. I liked it, but it wasn't my favorite among the sweets that I tried. It's like a firm, dense flan with dried fruit scattered about at the bottom. Most typically, prunes are added in but raisins can also be used.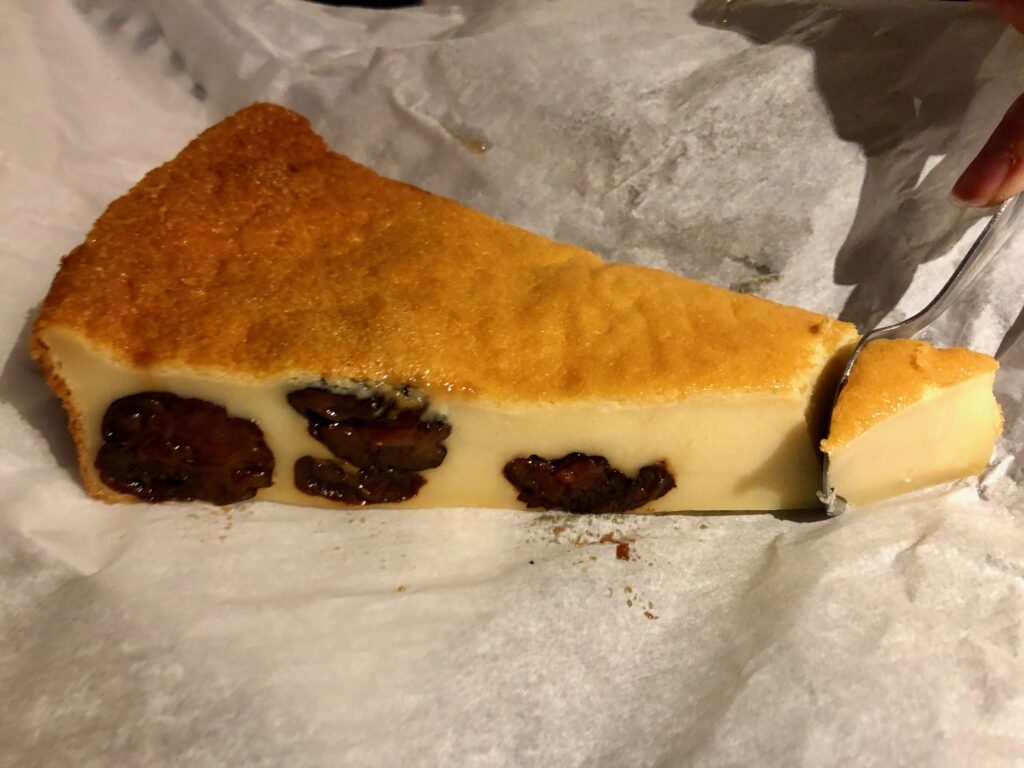 At the boulangerie, you buy it by the weight. The baker will cut it from a big wheel and you can indicate exactly how much you would like, similar to how cheese is purchased here in France. Keep in mind that it is rather heavy, so you can easily end up with a higher bill than expected!
Kouign-amann
This pastry is in the regional language of Bretagne, le breton:
Kouign = cake, amann = butter
Mmmm… butter cake…
Much like a croissant, kouign-amann is made from laminated dough—dough that has been folded with many layers of butter. Sugar is also added, and during the baking process, this seeps out to form a delicious caramelized crust.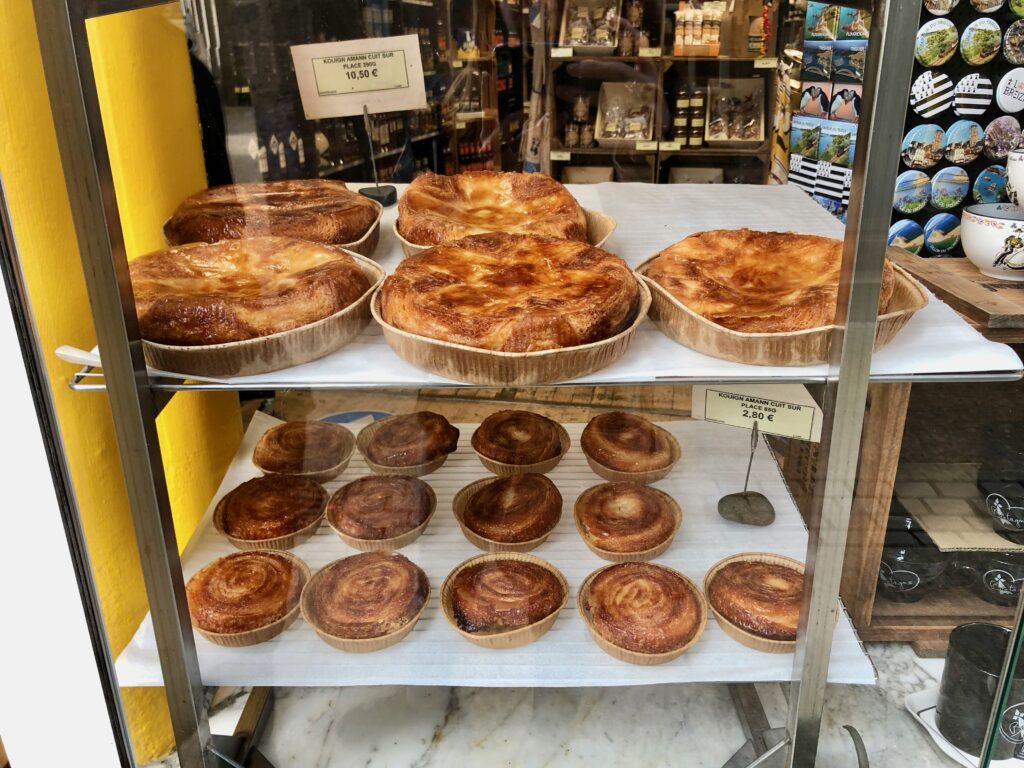 Palets bretons
Palets bretons are thick, crunchy, buttery cookies. Well-known, you can find packages of palets bretons at grocery stores all over France. They pair nicely with an afternoon coffee or tea.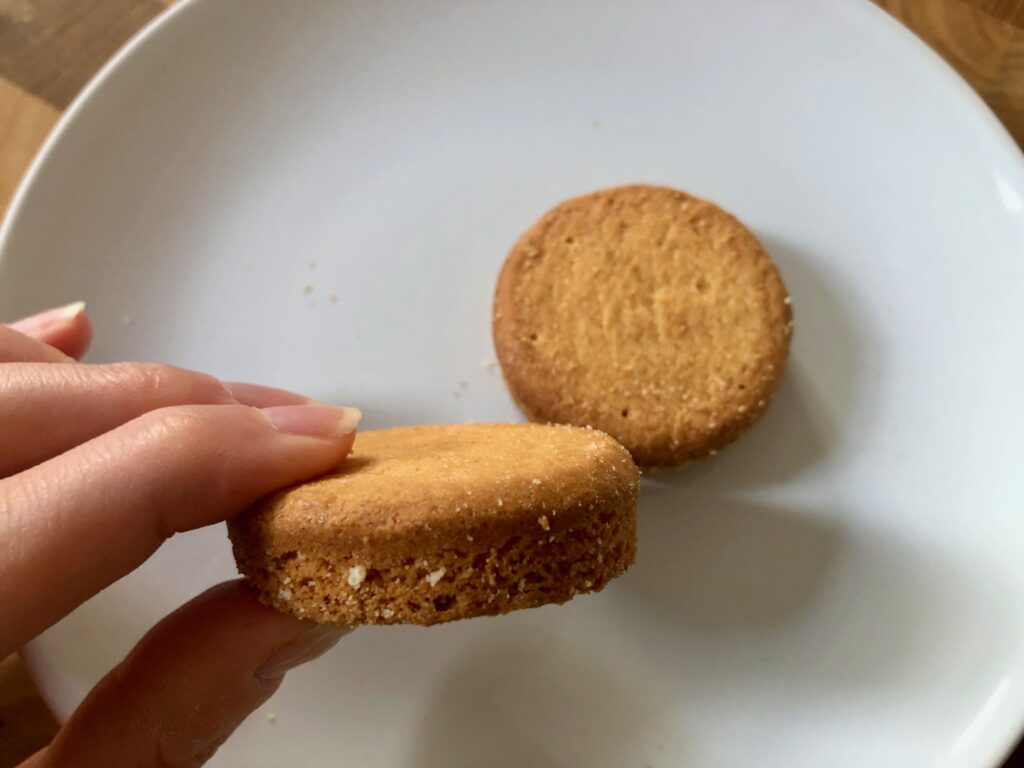 Drinks
Beer & Cider
Bretagne is less about the wine and more about the bière and cidre. Brittany has been brewing beer for a long time and there are many craft spots throughout the region, so just ask to see what they have on tap!
Cider is the typical drink of choice to accompany a savory galette meal. It is an alcoholic, bubbly beverage made from apples. Cidre doux is light and sweet, cidre brut is dry and not very sweet, and cidre demi-sec is between the two!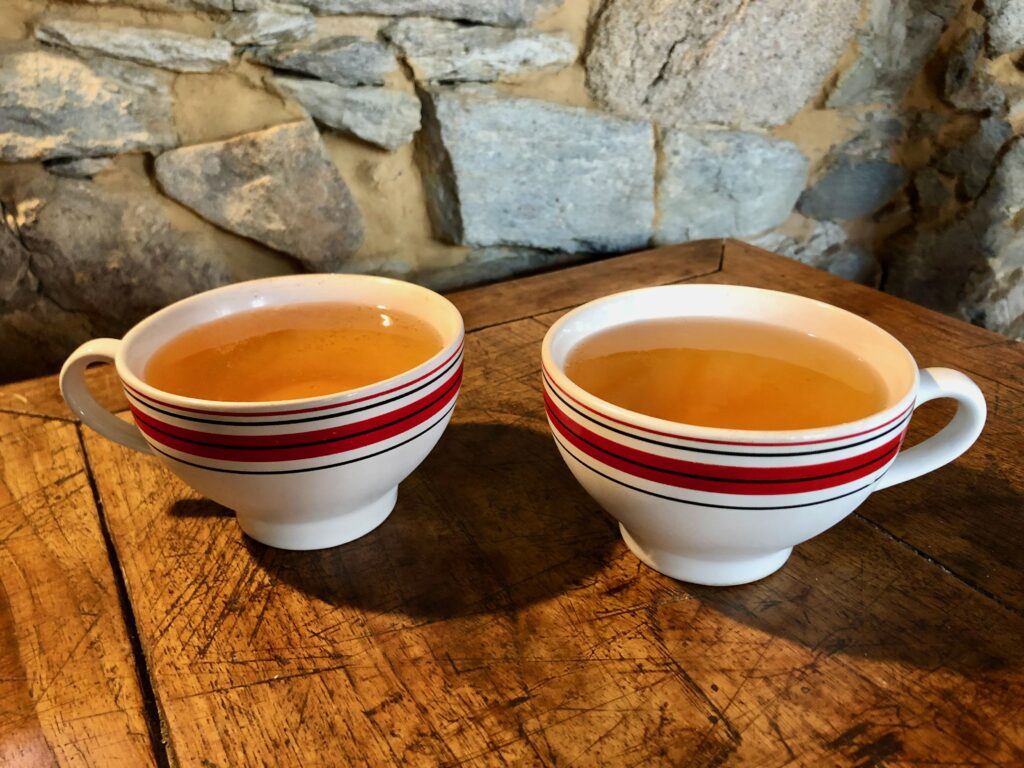 Breizh Cola
Breizh Cola is a regional product of Bretagne. This carbonated soda competes with more established brands and is very popular in the region. It is not easily found outside of Brittany although it has made an appearance in some major supermarkets.
We tried the local Breizh Cola alongside a Coca-cola to taste the difference. Truly hard to describe the difference, but there is one! (I liked them both.)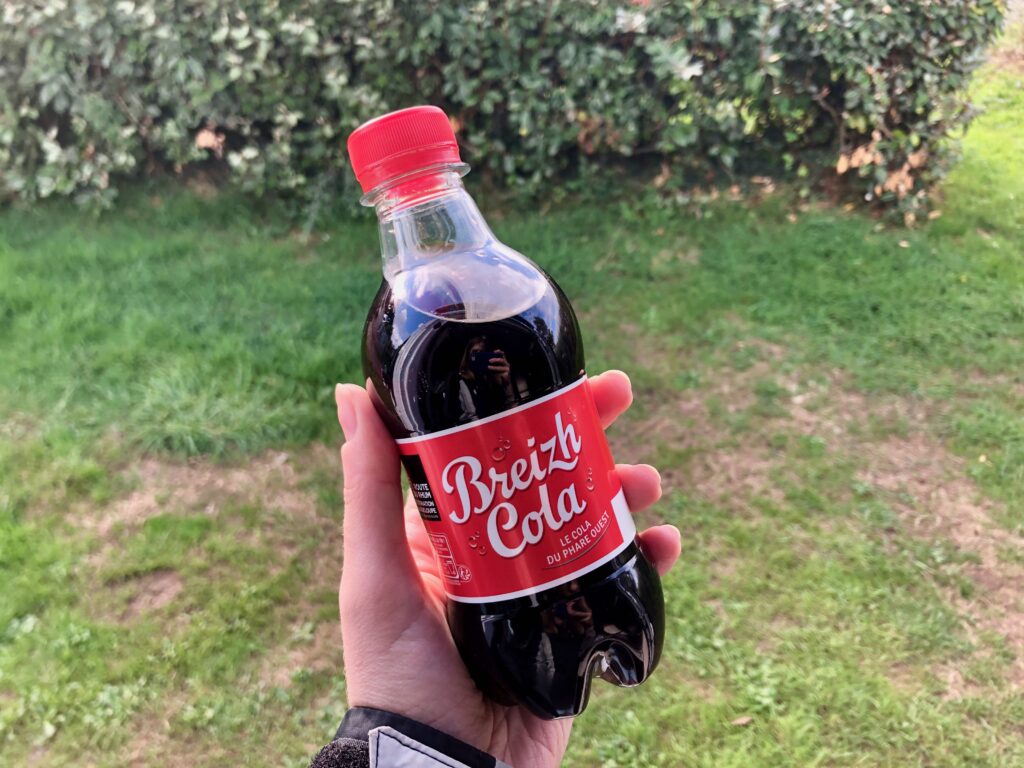 Chouchen
A type of mead, le chouchen is made from the fermentation of honey. The result is a sweet, slightly syrupy alcohol that goes down real easy and has a beautiful golden color.
Le chouchen is served chilled. Versatile, you can consume it before your meal as an apéritif (pre-dinner drink) or after your meal as a digestif.
Kir breton
Perhaps you've already heard of a kir, a popular French cocktail served as an apéritif. A classic kir is made by adding crème de cassis to white wine. Crème de cassis is a dark red liqueur made from blackcurrants. The combination makes for a light and refreshing drink.
The kir breton is created with cider in the place of white wine. This version might even be better than the regular one!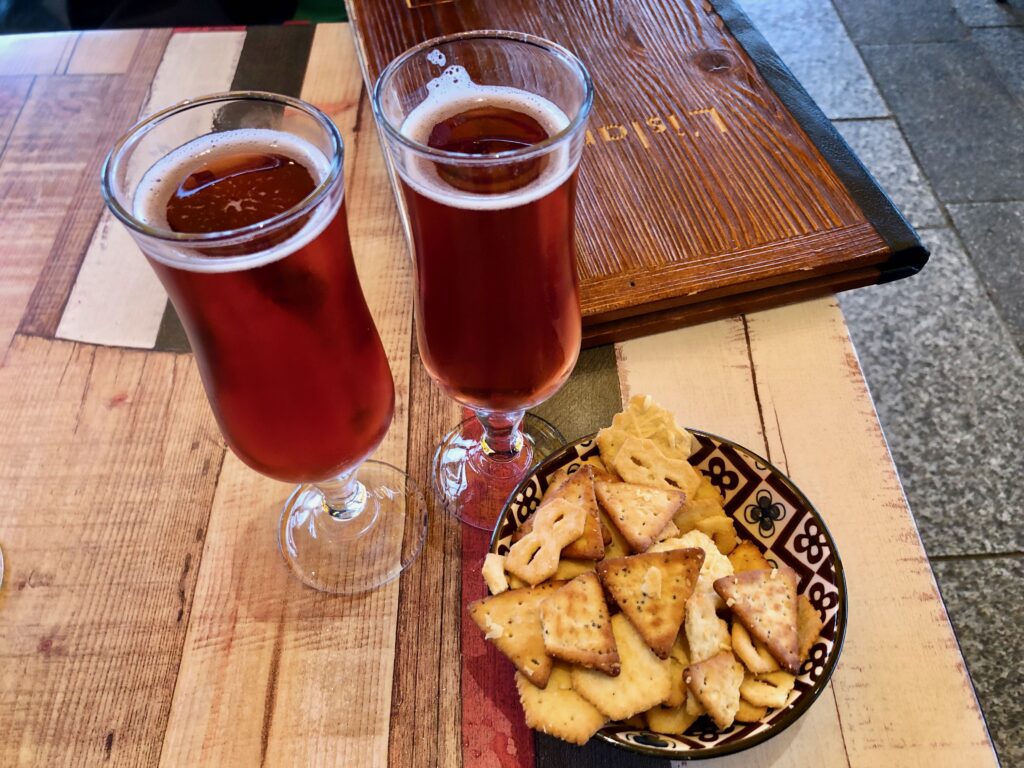 ---
As you can see, we made our way around to quite a few foods and drinks during our stay in Brittany. Did we miss anything??
Brittany Food Guide: What to Eat & Drink in Bretagne